Getting traction for a new eCommerce store might become a nightmare.
The competition is huge, and buyers are constantly bombarded with ads coming from anywhere; I mean just open your Facebook feed or your Instagram stories.
Lately, in Viral Loops, we have kind of fallen in love with the eCommerce and Retail industry- especially Shopify stores, so when Mastic Spa came up asking for our help we decided to dive head first and build a messenger giveaway with them.

Mastic Spa is a cosmetics brand with natural beauty products with Mastic; a resin produced only in the Southern part of Chios, a beautiful Greek island. It has multiple applications in cosmetology and pharmaceutical.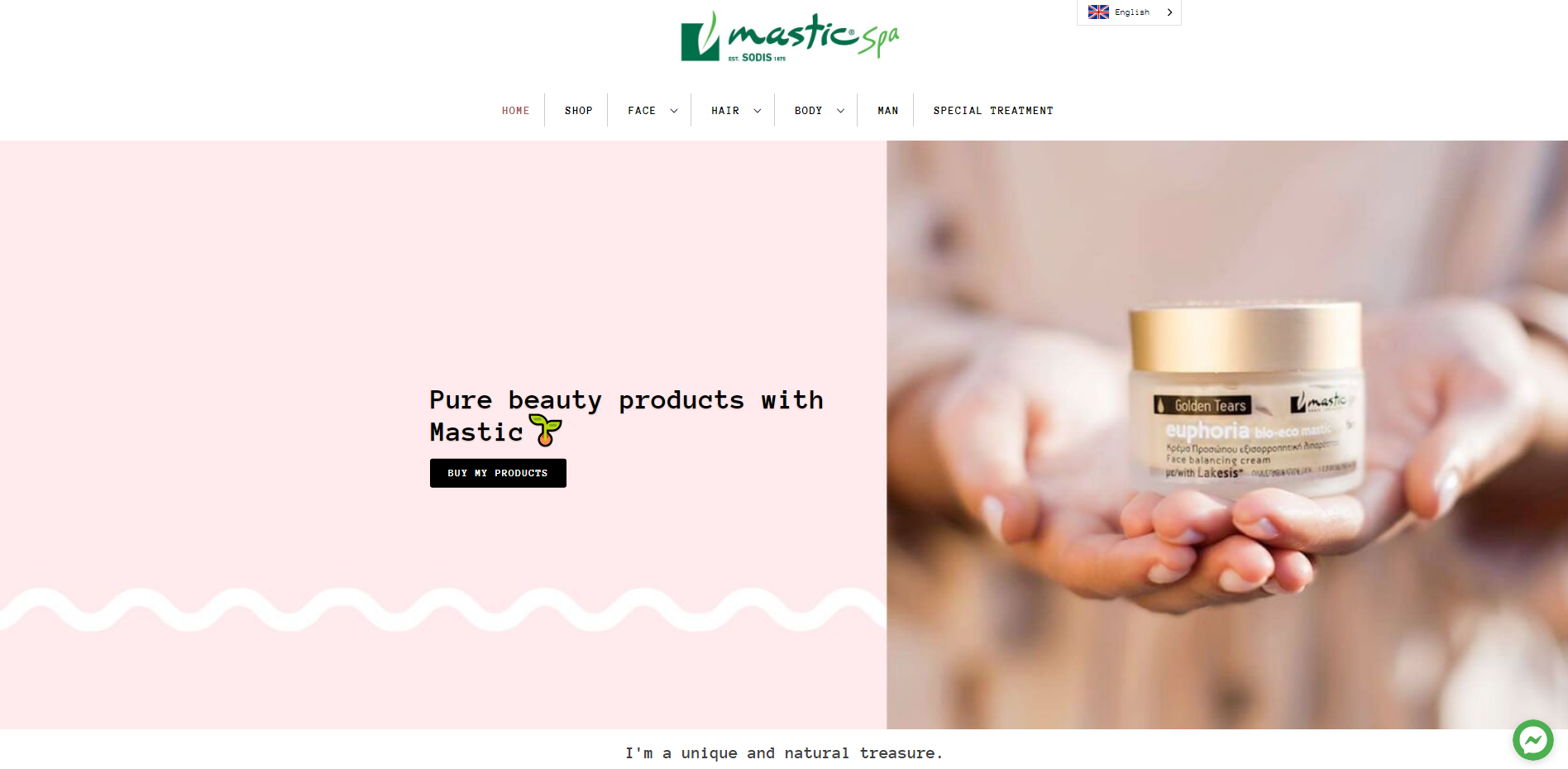 The exclusivity of the raw materials of Mastic Spa's products was a strong indicator of its potential, and we like things with potential.
If you ask me, that's the reason we managed to create an amazing experience that resulted in the success you're about to read about.
Enjoy!
The objectives.
As I told you in the open paragraph Mastic Spa is a new brand, and as every new brand its success comes down to 3 things:
Creating awareness for products and businesses is what Viral Loops does, so we knew that we could nail the first point above.
But what about gathering data and making it easy to use for segmentation and targeting?
Or what about sales?
We knew that we had to create a seamless experience both for the people at Mastic Spa and their customers; something that would make everybody's life easier.
Creating a viral giveaway with a Manychat seemed like a one-way road.

We knew it would work because we've already done it in the recent past for another client, gathering 35K leads in 20 days with a Messenger referral.
This type of campaign allowed us to grab leads, segment users based on their preferences (will explain how further down the article) and demographic, and drive sales directly from inside Facebook Messenger, since the app has more than 1.3 billion monthly active users.
People are used to it.
The first thing that we needed to take care of is the structure of the Manychat giveaway campaign.
What would be the rewards?
Mastic spa has a variety of cosmetic products, so we decided to create bundles of products for the winners depending on the body parts. We created 3 bundles:
The Messenger giveaway would run for 5 days straight, and every day we would pick a different winner that would receive the bundle of their choice.
After participating in the giveaway users would be prompted to invite their friends– the altruistic approach in the steps of AirBnb worked like a charm, and asked to follow Mastic Spa on Instagram in order to get 10 more entries increasing their chances to win.
If you are around more than 1 day, you know that Instagram is a brand paradise. That's the reason why pushing people to follow Mastic Spa was crucial for the brand.
Finally, for the people that didn't win anything from the Manychat giveaway campaign, we had a runner up offering them a discount for Mastic Spa's products.
Driving sales at that point is easier as people are familiar with the brand and the exclusivity of its products, which can really boost their desire to purchase. 
Allowing people to know about your viral giveaway prior to the actual launch, will give you a head start in gathering leads, but most importantly it will make an impact on the opening day of your Messenger referral campaign.
We had 5 days to gather as many entries as possible. Expecting for the campaign to start picking up fast by deploying our efforts the day of the launch would be a juvenile move.
On the time of the actual launch, we needed as many eyeballs on the giveaway as possible.
That's the reason we decided to start a pre-launch campaign. 
Since the whole giveaway would take place inside Messenger, leveraging Facebook for the pre-launch was the obvious choice. We created a Facebook post announcing there would be a huge giveaway and we asked people to leave a comment answering a question.
Every time a person answered the question, they were added in our pre-launch segment inside Manychat.
Here's how the post looked like:
This was possible by utilizing Manychat's Comment growth tool. If you want to learn how to set it up, I've made a short tutorial explaining everything you need to know:
Important Note: 
Facebook Posts linked to this Growth tool should not prompt people to leave a comment with a specific keyword. It should open up a conversation (as viewed on Mastic Spa's post above). In a different case, Facebook will probably give a low-quality score to your post, which would bring a significant drop in its reach.
The pre-launch proved to be a huge success as we managed to gather 2,405 leads, ready to participate in our viral Messenger giveaway.
So far, so good.
The day of the launch finally arrived, and we had 2 things to do:
In order to gather new leads, we created another Facebook post (similar to the one we created for the pre-launch) announcing the Messenger giveaway. Once again, we used Manychat's Comment growth tool in order to get people inside Messenger.
Here's what the post looked like:
Important Note: 
Facebook Posts linked to this Growth tool should not prompt people to leave a comment with a specific keyword. It should open up a conversation. In a different case, Facebook will probably give a low-quality score to your post, which would bring a significant drop in its reach.
That resulted in getting another 1,563 additional leads for the giveaway.
As you probably understand, the things I described up to this point have nothing to do with the actual mechanics of the Manychat giveaway campaign.
In order for the campaign to work, we used our Messenger Bot Giveaway template. Let's take a look at how the flows we used, look like inside Manychat's interface.
This is the first set of messages sent to both the pre-launch participants and the people who started participating after the actual launch of the giveaway.
As you can see in the image below, users were welcomed with a bit of info about the giveaway, followed by asking for their prize preference.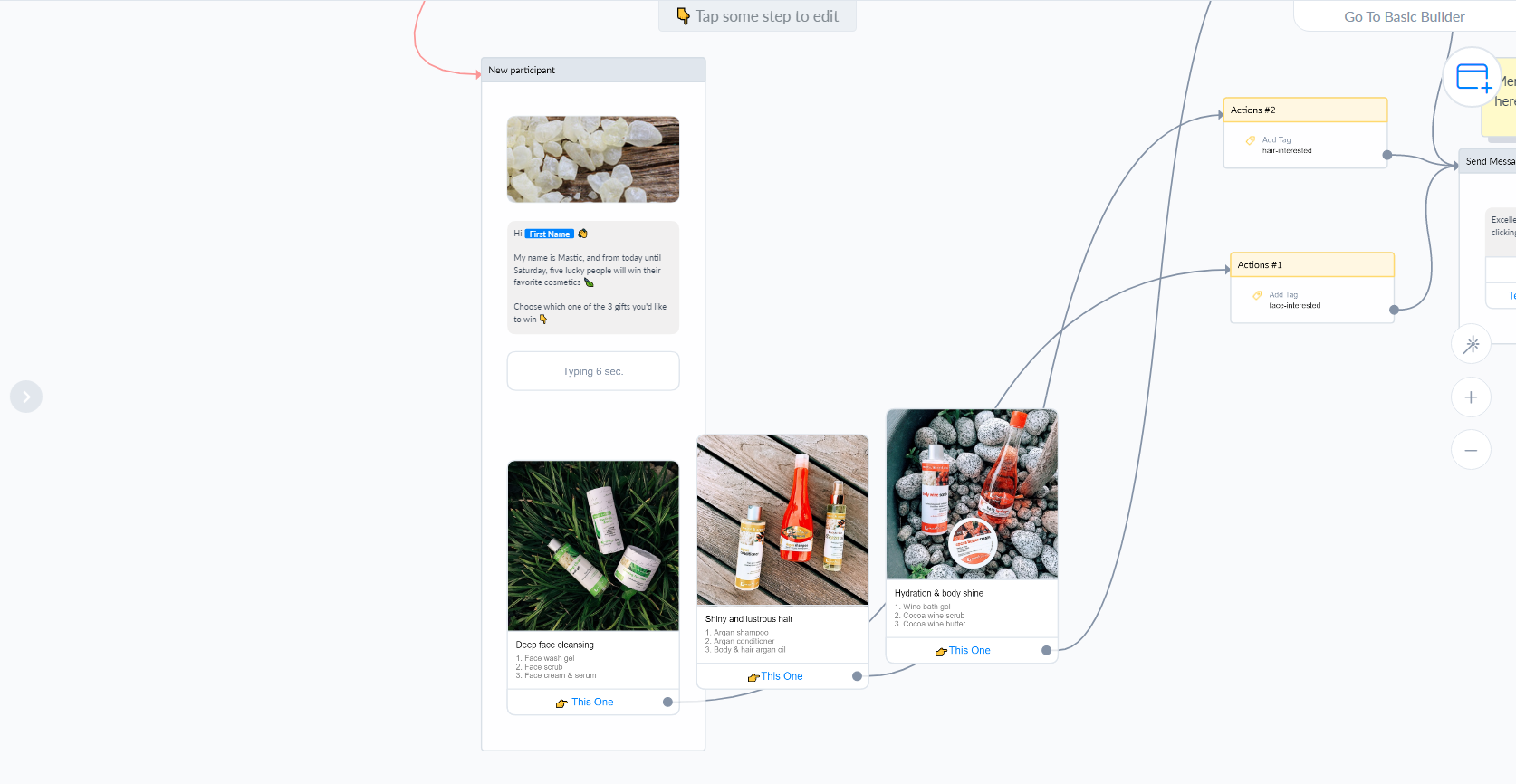 After making their choice users were asked to confirm their participation, and shortly after were prompted to share about the giveaway with their friends.
The reason for putting people to select their preferred prize before confirming their participation was simple; after having a glimpse of the value they could receive, it was almost impossible to abandon their onboarding.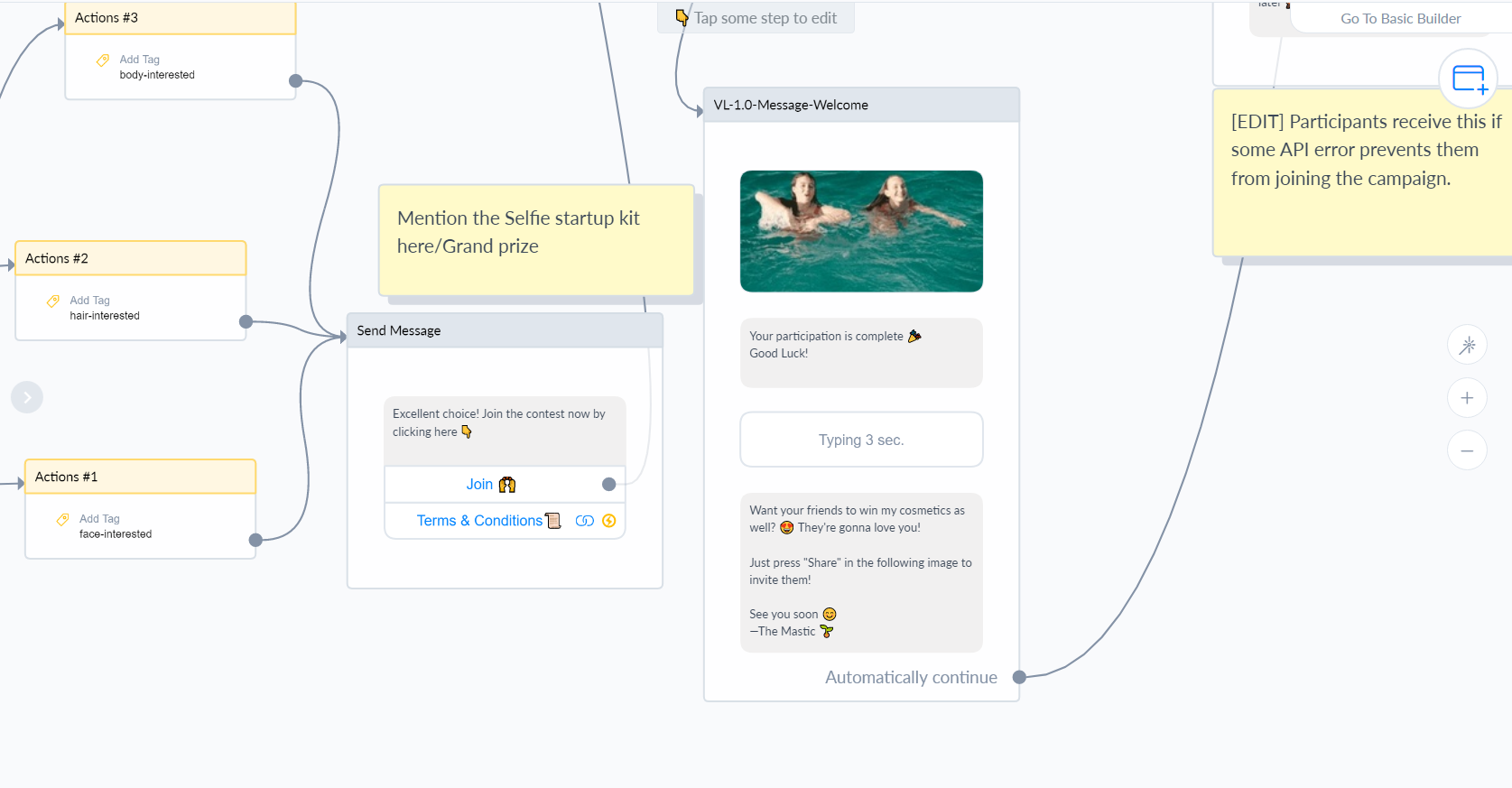 From the moment a user completed their participation, they automatically entered the invite flow.
As I explained a few paragraphs above, we decided to take an altruistic approach with our invite system. In the past, we used to offer participants more entries for inviting their friends, but that didn't seem to match with Mastic Spa's brand.
That's we kept it really simple.
We asked people to invite their friends in order for their friends to have a chance to win the prizes too. Friends appreciate a kind and altruistic gesture, more than a request based on incentive; and we wanted people to invite their good friends.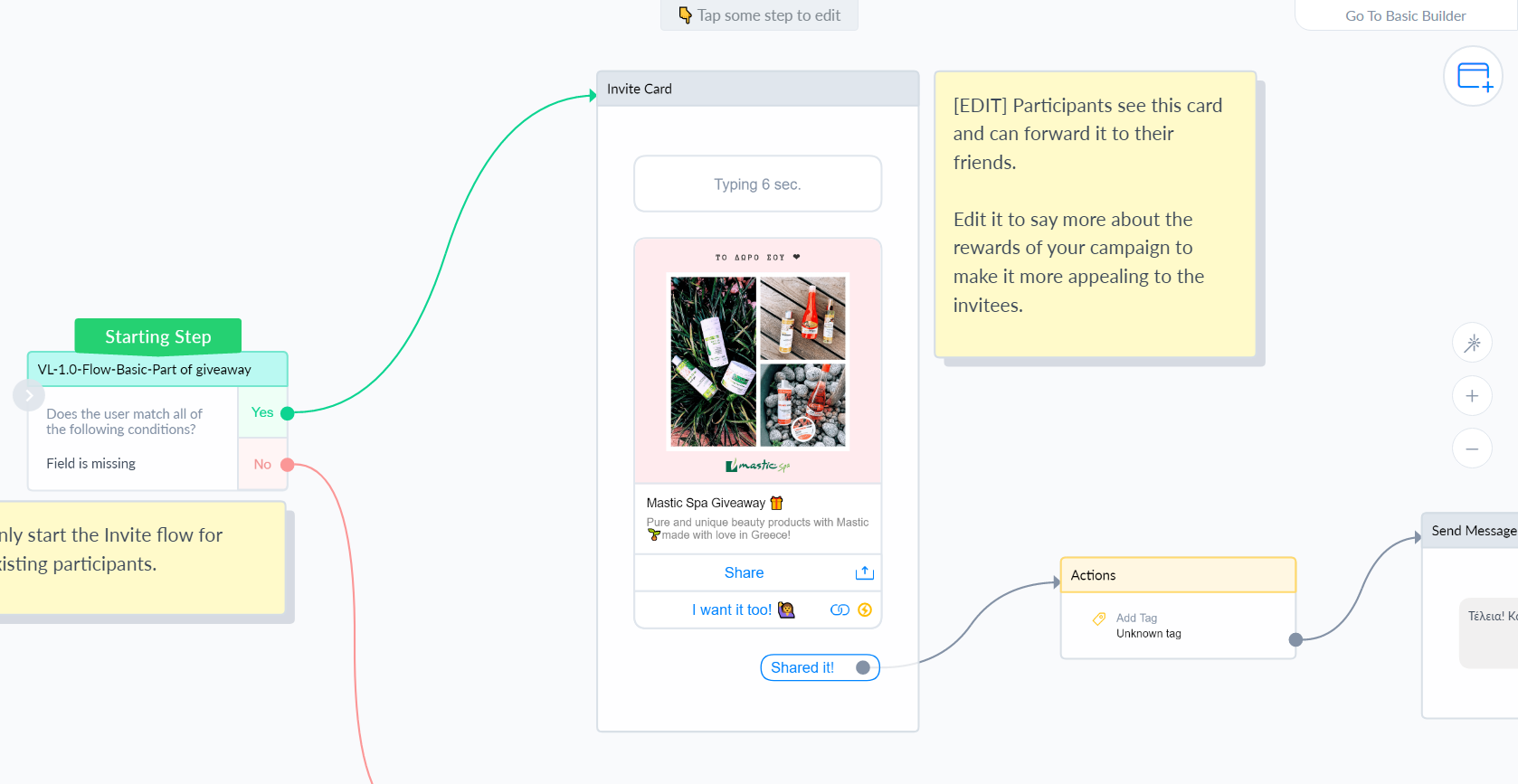 Asking people to follow Mastic Spa's Instagram account was our 1st re-engagement touch point. Every user that followed the account, got 10 additional entries to the Manychat giveaway campaign increasing their chances to win the prize of their choice.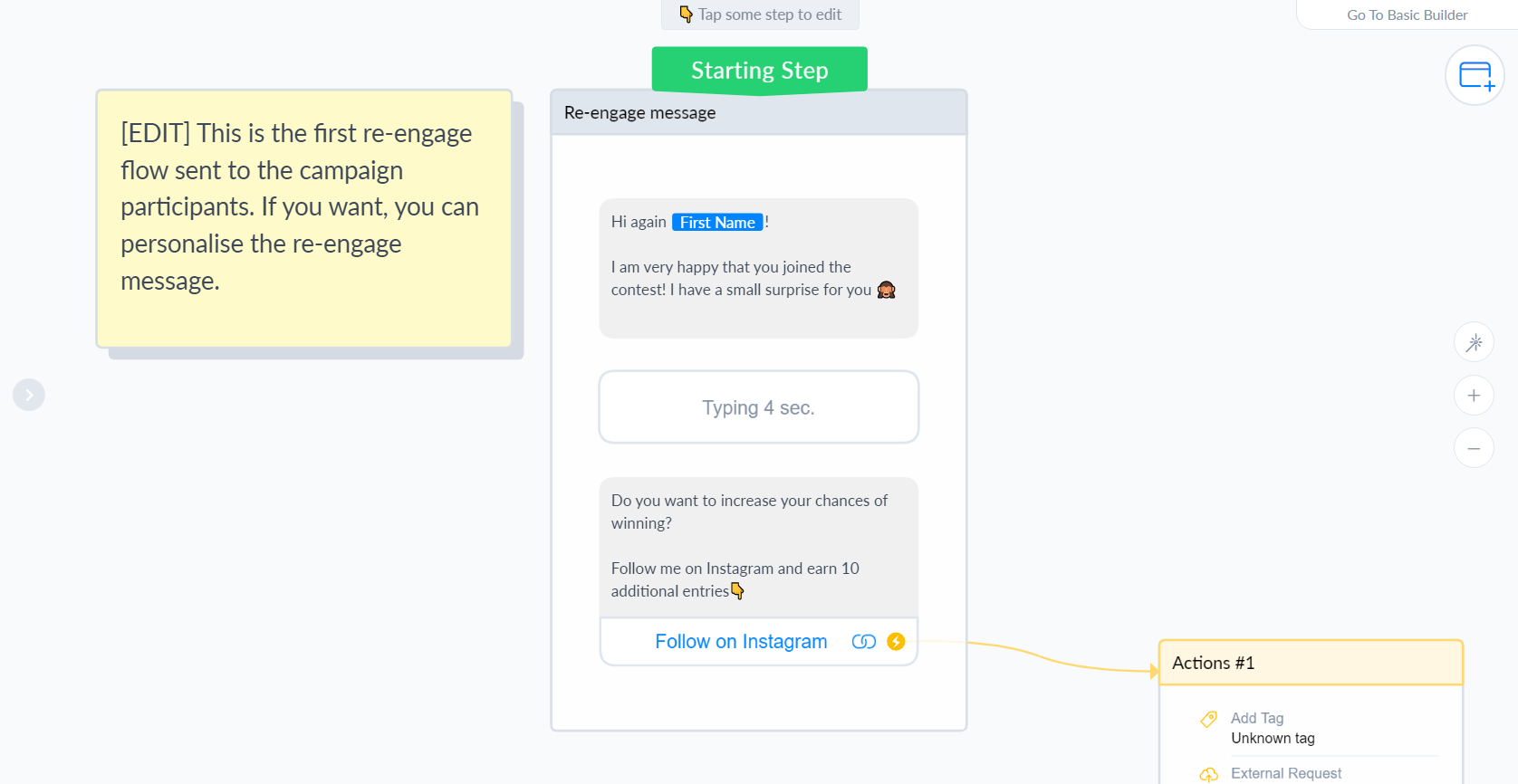 As you probably know Instagram doesn't offer an open API, so it's not possible to actually track which users really followed the account. That's why we offered the 10 additional entries to anyone that visited the Instagram account by following the link we provided.
The vast majority of people visiting the profile also followed it, but even if people didn't actually follow the organic reach of the Instagram account would peak quickly resulting in better discovery inside Instagram itself.
We needed a 2nd re-engagement touch point, and asking people to invite more of their friends is always a good idea when it comes to referral marketing.
The problem was that we've already asked them to do so when they first participated. 
What we needed was an excuse to contact them. 
Our excuse was to inform participants about the current number of their entries.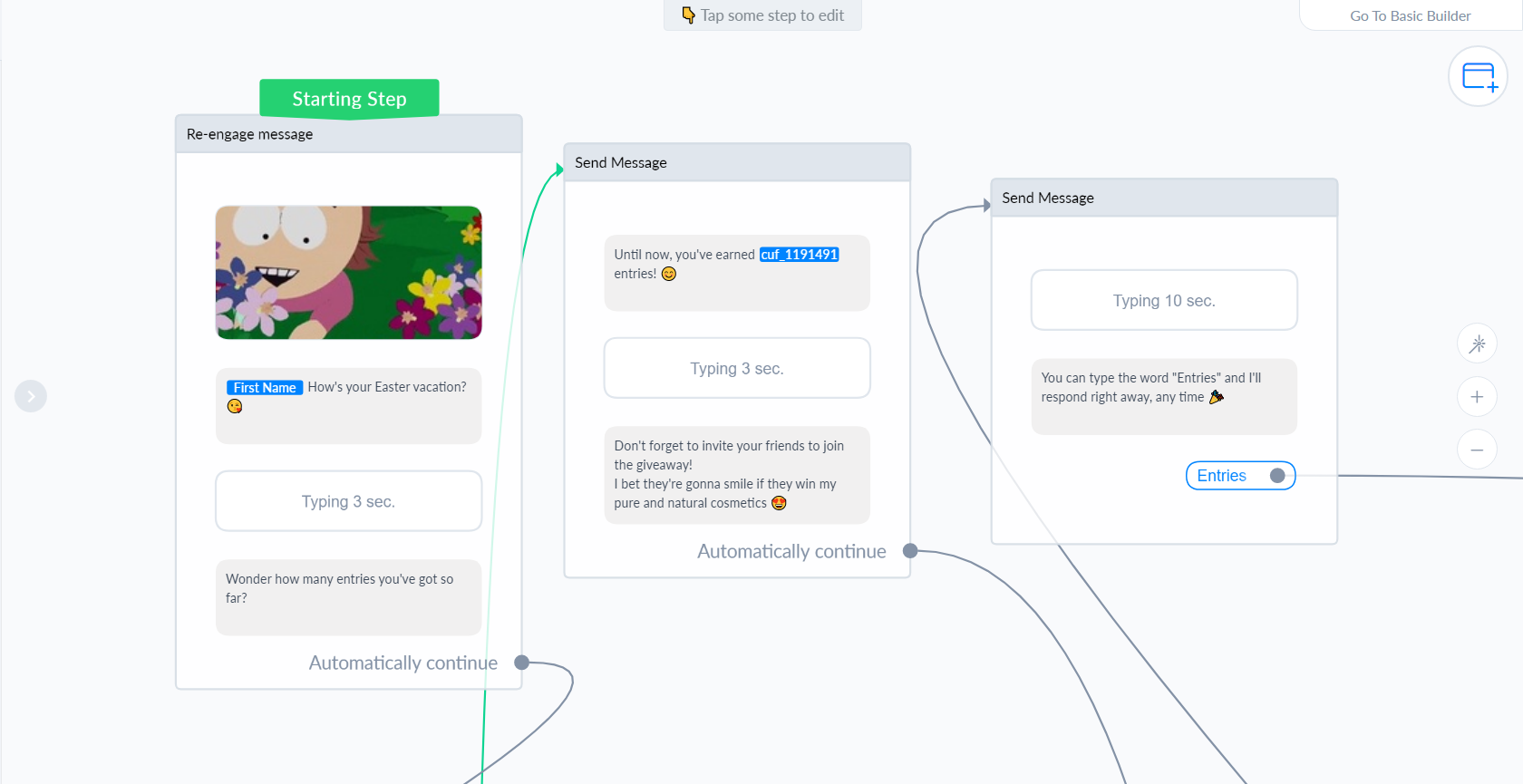 After providing that information, we were kindly asking them to share the giveaway with their loved ones.
Picking the daily winner of the Messenger referral marketing campaign is a piece of cake. I've made a short tutorial about how you can do it from inside Viral Loops:
After picking the daily winner, Mastic Spa posted the result on Facebook along with a funny GIF.
Apart from the Facebook post announcing the daily winner, we had to make sure that all of the participants were aware of it.
This announcement (via Messenger) gave us the opportunity to broadcast our runner up for bringing actual sales to the brand.
So, we crafted a message that informed participants about the daily winner and asked them if they wanted to receive a surprise from us.
By accepting our surprise gift, they were informed that we offered them 30% discount for their order in Mastic Spa's store.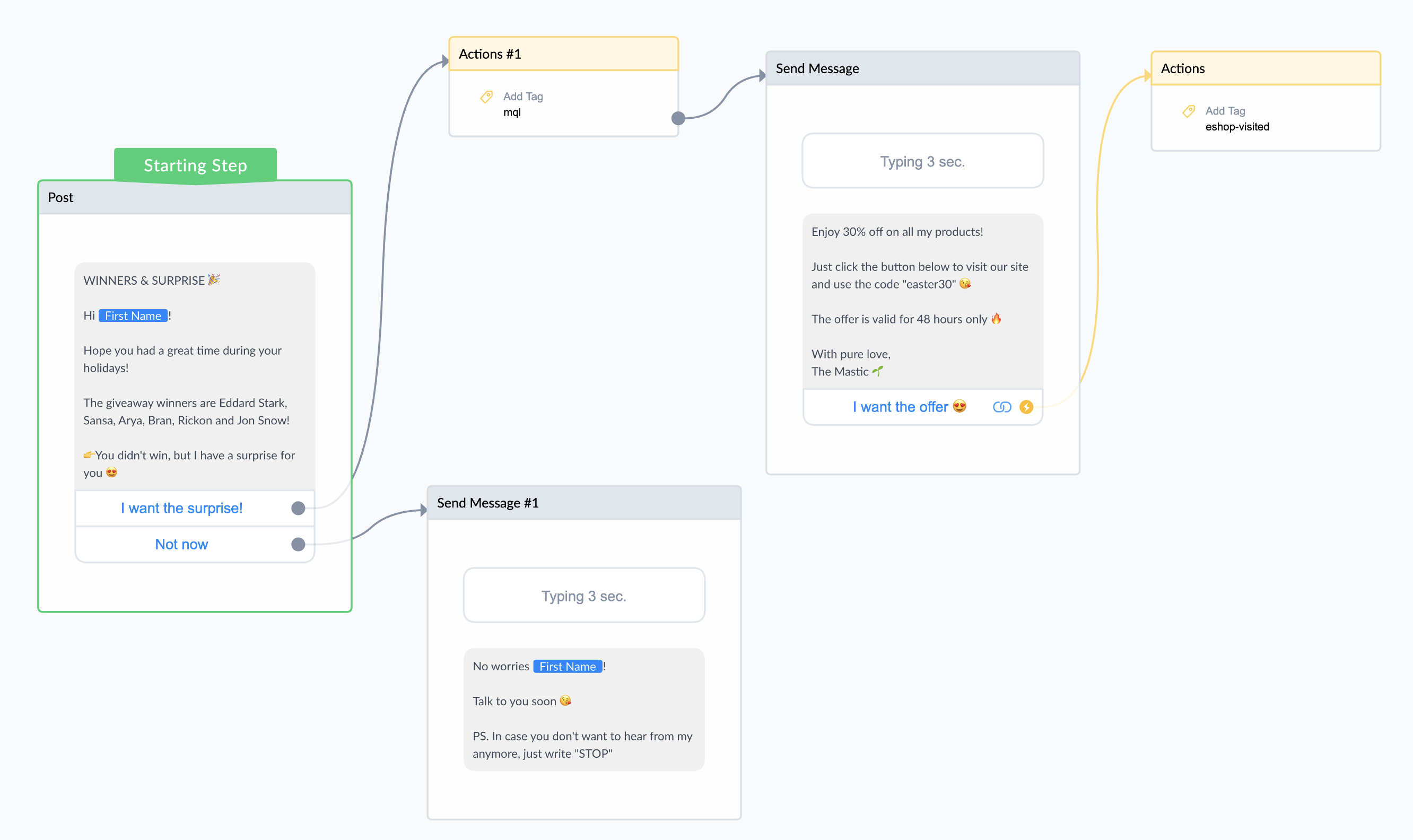 Needless to say, the campaign proved to be a huge success. The combination of high-quality products with carefully crafted copywriting and a really small ad spend budget (around $150), brought some amazing results.
Overall, this Manychat giveaway campaign resulted in:
Apart from a quick spike in engagement, leads, and sales, this Messenger viral giveaway offers Mastic Spa an amazing opportunity.
On the one hand, the brand has enough data to retarget the participants with products based on their preferences (like the kind of bundle they wanted to win), and on the other hand, Mastic Spa built a database of users ready to be nurtured through content marketing.
If that wasn't enough, those users are open to direct sales; something that could turn into great profit for the brand.
Viral Loops for Messenger is now available for you to run your giveaway via Facebook Messenger!
We can help you set up your campaign and start collecting leads that you can use to drive direct sales for your brand.
Build your Messenger Referral Marketing Campaign now!