I'm sure that each time the word
"Prelaunch"
crosses your mind, you start imagining this new fancy business that just popped around the corner and, like any other business in the 21st century, is hungry for your money or screen interaction time.
But what if I told you that this is not always the case and that even you, an existing, up and running Shopify brand/store owner, can benefit from a prelaunch campaign? 
"How", might you be thinking? 
Well, by just launching a new product that your customers never heard of before and generating massive buzz around it! 
Sounds super-weird, but at the same time, super-cool, right?

Moreover, the above can be translated in various ways, but to make things crystal clear, an eCommerce business can utilize product prelaunch campaigns mainly in two ways:
Launch an entirely new product

idea and build buzz around it.

Enrich existing product lines while

introducing new and limited products in them
More specifically, my goal is to explain and guide you through all the necessary steps and actions that you'll need to execute if you're willing to watch your new product's prelaunch campaign thrive!
I promise to keep it simple and to the point, for you to start executing everything we're going to mention here, just right after you finish reading this blog post.
Drum roll, please…
Decide the core details of your campaign
Deciding the offer that your customers will be able to take advantage of, is one of the key parts of your product prelaunch campaign.
If you think about it, the offer that you're going to share with your existing and potential customers is one of the very first touchpoints that your business will ever have with them.
And if we take for granted that customers nowadays have infinite choices to fulfill their shopping needs, you need to come up with an offer that is both tempting enough and provides real value to your audience.
Its whole approach was based around offering free products and great discounts to early adopters
.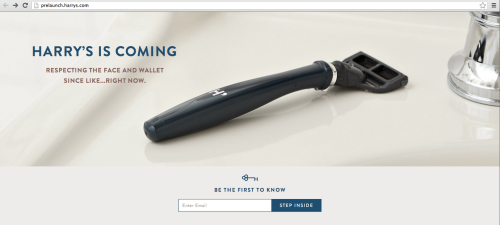 Feel free to read more about
referral marketing
and milestone campaigns, so you can better understand why they're killing it when it comes to prelaunch use cases.
Another great irresistible and more simple offer that's hard to ignore is the – up to 80% – flash sales that L
o
uis Vuitton experiments with from time to time:
Moreover, I tend to believe that as an eCommerce store owner you've seen various marketing schemes/discounts/BOGO
(Buy
One Get One Free) offers, etc., and that you're more than capable of deciding the offer you're going to publish for your customers. 
Just remember one thing; make it tempting enough.
Why should you set a specific timespan for your prelaunch campaign?
From a business perspective, it allows you to plan appropriately.
From a customer perspective, it generates urgency, or as we marketers like to call it FOMO
(Fear
Of Missing Out).
Before you start scratching your head wondering if I'm referring to something that doesn't even psychologically affect your customers, don't sleep on the fact that
60% of millennial consumers said they make a reactive purchase after experiencing FOMO,
according to
Strategy Online
. 
To illustrate what I'm talking about, you can just check this 20% offer that ASOS has put in place using some countdown timers; 
I'm now guessing that your next question is,
"okay
then, what's the perfect duration for my prelaunch campaign?"
Glad you've asked!
Some of our most successful prelaunch campaigns of existing businesses, at the history of
ViralLoops
HQ, with over 50,000 participants, usually last around a period of 1-2 months.  
But, when examining
"new-store"
cases, 4-6 months is the ideal for having the time to generate leads, ask for feedback and build relationships with their audience. 
Feel free to learn more about how the power of referral marketing can help you boost your prelaunch campaigns by checking out our awesome
actionable guide
.
Just pick your desired start and end date and forget about switching it.
Don't over-stress it; it's simple!
Your exclusive
"locked"
store
As the title of the article perfectly describes, we're willing to generate massive buzz around a new product launch.
So, to achieve that successfully, boost FOMO
,
and make your product look more exclusive while giving your customers an extra sense of urgency, is this:
LOCK your entire website!
Yeap, it may sound insane, but that's precisely what we're going to do.
That's basically what the
5th
does each time they release a new
"limited
watch" to enhance their existing collections
;
If you manage to properly blend an irresistible offer with a sense of urgency and FOMO your customers are going to get addicted to your products sooner than expected.
By locking our website and setting a simple
"secret
code" as our passcode, that we'll, later on, going to share with all our product prelaunch participants, we leverage the psychology of our customers and make them feel unique since they have the power to unlock our store even if it's publicly locked.
When someone uses the
"secret
code" you're going to create and share after your prelaunch ends, the first thing he's hyped about is the new product you've been trying to market him for the entire quarter.
That fundamentally makes our homepage a problem, because the default redirection after entering a password protected Shopify store, is the store's homepage.
Since we're willing to create a flawless funnel and user experience, this is something that we need to take care of before announcing the secret code to our customers.
In the same logic as the offer's landing page, we need to create a great landing page that we'll temporarily set and use as our homepage during our prelaunch.
There's no need to worry about your homepage though, since a great and faster alternative to entirely replacing your homepage, is to create a nice visual that you can use as an icebreaker when someone accesses your Shopify store for the first time;
Moreover, If you're willing to make it more interesting and maximize results, you can just follow the instructions that we're going to cover later on in the article regarding your custom homepage.
When I decided to start writing this blog post, I was so impatient to get at this point where I can write about ad copies and creatives.
By stating that, I'm not only referring to your paid advertising copies, but I'm also referring to your entire business and marketing messages.
Your copies should be short, sexy, AND to the point.
No joke, keep your messaging and visual creatives lean, smart, and offer-focused.
We live in an era of distractions.
The last thing your customers want to see while scrolling on Instagram or browsing your Shopify store is another set of bad visual creatives, accompanied by a massive chunk of text as their description.
I find it very useful, creating all sets of visuals and copies for the entire duration of my prelaunch and launch campaigns to be sure that my branding will always look & feel dope.
*Important Notice
A great tip to have in mind when constructing your ad copies is to remember that they should be equally simple to your entire funnel if you're willing to create a flawless user journey and experience, from the awareness stage down to the conversion event. 
Picking the right distribution channels can make or brake your prelaunch campaign.
You need to reach and get in front of your audience(s), where they usually hang out, and do it an a proper, well-planned way.
One way to do this is;
Think about what is the social medium or which traffic/audience source of yours provides your business the most qualified leads?
After writing down a simple 5-7 bullet list, you should keep the top 2-4 distribution channels and double down on them.
I find it better to focus on 2-4 traffic and audience sources

(i.e., E-mail, Manychat, TikTok, Facebook)

, to maximize their potential outcome than just hop from one social platform to another, desperately searching for someone to buy your product.
Plan ahead – set up a calendar and schedule time slots for social media posts and newsletters way in advance
Don't pretend to be amazed! 
You knew this was coming your way sooner or later.
How else were you planning to get in front of more eyeballs that might be interested in buying your brand-new unreleased product?
Well, we're all aware that Mr.Zuck and any other social media platform owner have recently butchered the organic reach we've been enjoying for so long.
Since that's the case, I suggest you have a pre-defined budget in mind that you're feeling comfortable spending.
Besides, feel free to check out our
paid advertising guide
so you can shape a better idea around Facebook & Instagram paid to advertise.
Your offer's landing page
When mentioning your offer's landing page, I'm referring to your virtual shop window display.
The key to more conversions in a prelaunch campaign is to communicate your branding and upcoming product offer so well, that even cold traffic that never visited your store before shows interest and eventually opts-in to your prelaunch.
Moreover, what you need to do in order to complete this stage of your setup correctly, is to create a lean and beautiful landing page that showcases the Unique Selling Points
(USPs)
of your upcoming product.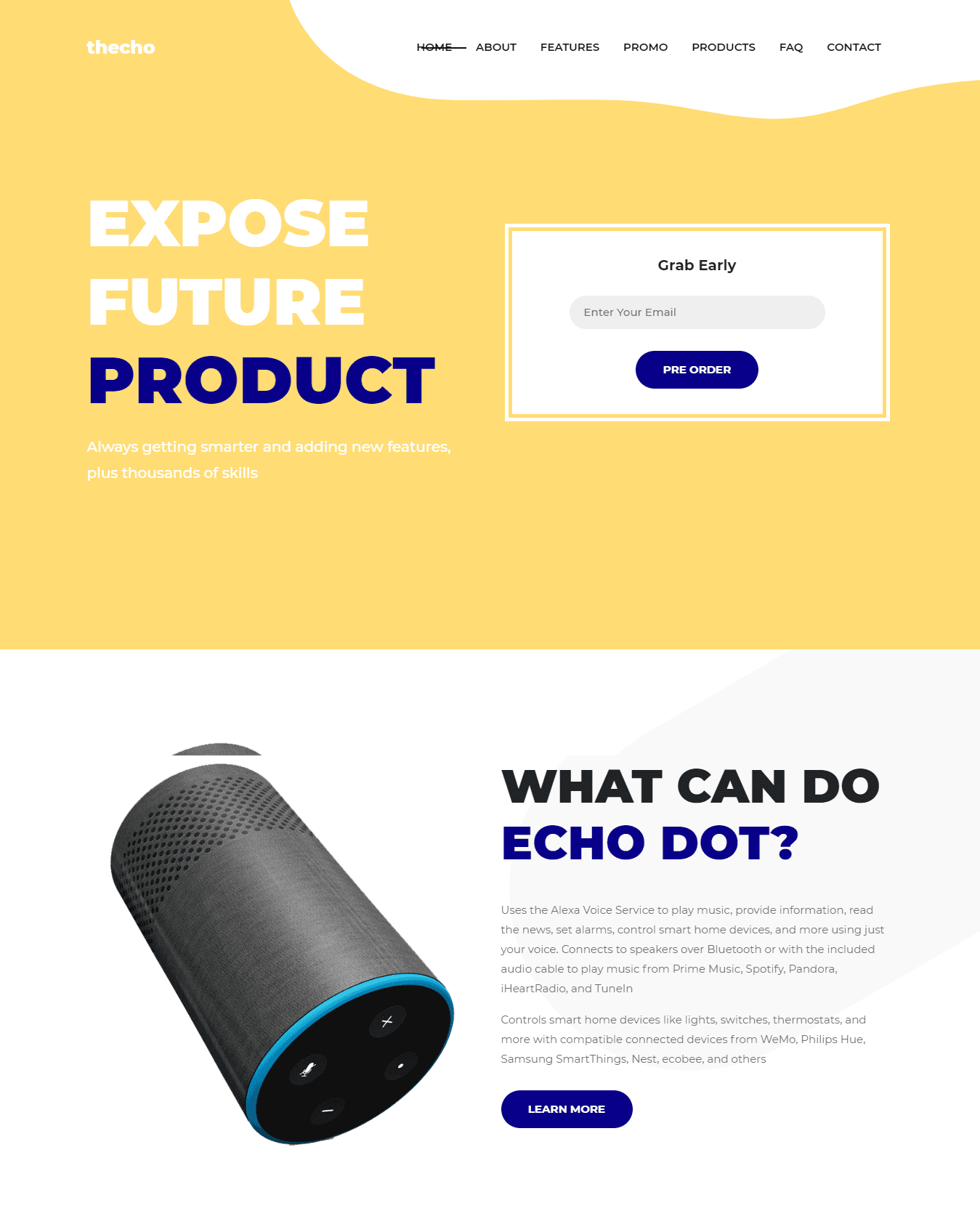 In addition, what you also need to include on your landing page, are some simple email fields/forms so users can provide their email to opt-in to your prelaunch campaign and eventually get informed when your product is released!
The end of your prelaunch campaign and the beginning of your sales
Fast forward to 1-2 months, and it seems that your prelaunch campaign has come to an end.
You're thrilled with the quality and volume of leads you've gathered/generated, and you're ready to blast your distribution channels
(if
not the whole universe).
The only thing that matters to you now is to announce that your new super-cool unreleased product is only two days away from your virtual shelves!
But, you don't have to rush that much yet!
There are some details that we need to discuss before blasting the universe, so let's not waste any more time.
As we mentioned, you need to
lock your Shopify store
and set a catchy and easy password that all your customers will be able to remember with ease
(i.e.,
"enter,"
"exclusive,"
etc.) after you share it with them through your distribution channels.
You can do that by merely following the exact steps below:
From your Shopify admin, go to Online Store > Preferences.

Scroll to the Password protection area, and check Enable password.

In Password, enter the password that you'll give to the customers who you want to be able to access your online store. Don't use the same password that you use to log into your admin.

In Message for your visitors, enter the message that you want to show on the password page. If you don't want to show a message, then leave this field blank.

Click Save.
Moreover, I would highly suggest checking out some apps that can help you customize your password page, such as
Shogun landing page builder
.
Such apps give you the freedom to personalize/tailor your Shopify store's
"coming
soon"/password page to make it feel unique by utilizing wisely your branding's vibes and messaging.
Another thing you should ensure when setting up your password page is to include a simple message that informs users who land on your page, why your site is locked at the moment. 
Besides that, make sure to include a simple field/email form for users to enter their email, so they can receive the
"secret
code" we've set on the previous step, even if they didn't opt-in on your prelaunch campaign by then.
The easiest way to create banger landing pages
In the same logic as the password-protected page, we also need to create:
1. Our offer's landing page
(where
people are going to opt-in from to our prelaunch campaign)
2. The landing page that we'll temporarily set as our homepage when our prelaunch campaign is live.
How are we going to achieve that without overcomplicating things?
Again, using a landing page creation Shopify app.
In addition to the above, both of the suggested apps have similar functions, and they both offer the choice to create a landing page and temporarily set it as your Shopify store's homepage.
It's the time we've been all impatiently looking forward to!
It's actually the time to pull the trigger and inform all your prelaunch leads/participants that your new product is finally available, and since they have received your message that includes the
"secret
code" to unlock your website, they can now purchase it first before it sells out!
Regardless of the medium/distribution channel, when it comes to communicating your message, the most critical factors you need to include to make your leads feel special, are the following:
Make your customers aware of the fact that they are currently in the minority group of customers that owns the password to unlock the gates of your online store.

Make your customers understand that this whole advantage and offer for the specific product, is going to expire in the next 3-5 days

(FOMO,

as we previously explained).
An extra piece of advice I can give you is to pump the same content, using the same wordings, on all of your distribution channels and offer messaging, so customers don't get confused because of variety.
Remember to switch back everything is normal
The final and equally important step of the whole process is to remember switching everything as it originally was set.
After all, your prelaunch phases have come to an end and the
"lock
phase" has also been terminated, the first thing you should do is revert everything to normal.
How to quickly achieve that?
My most preferred way to do it is; after constructing my whole product pre-launch scheme and tasks, I reverse engineer it to create a simple task list with the things I need to handle after my product prelaunch campaign completes.
It doesn't require much effort if you just think about it that way.
If you stayed until this section of the blog post, I'm sure that the only thing between you and your desired revenue growth, are the actions that you're planning to execute!
I'm convinced that if you execute all the above steps with high precision,
not only you're going to see a massive increase in traffic volume, but also in conversion rates!
Feel free to comment below or send me an email if there's something that came up during your execution phase, or you just need some more info.
See you at the next one!