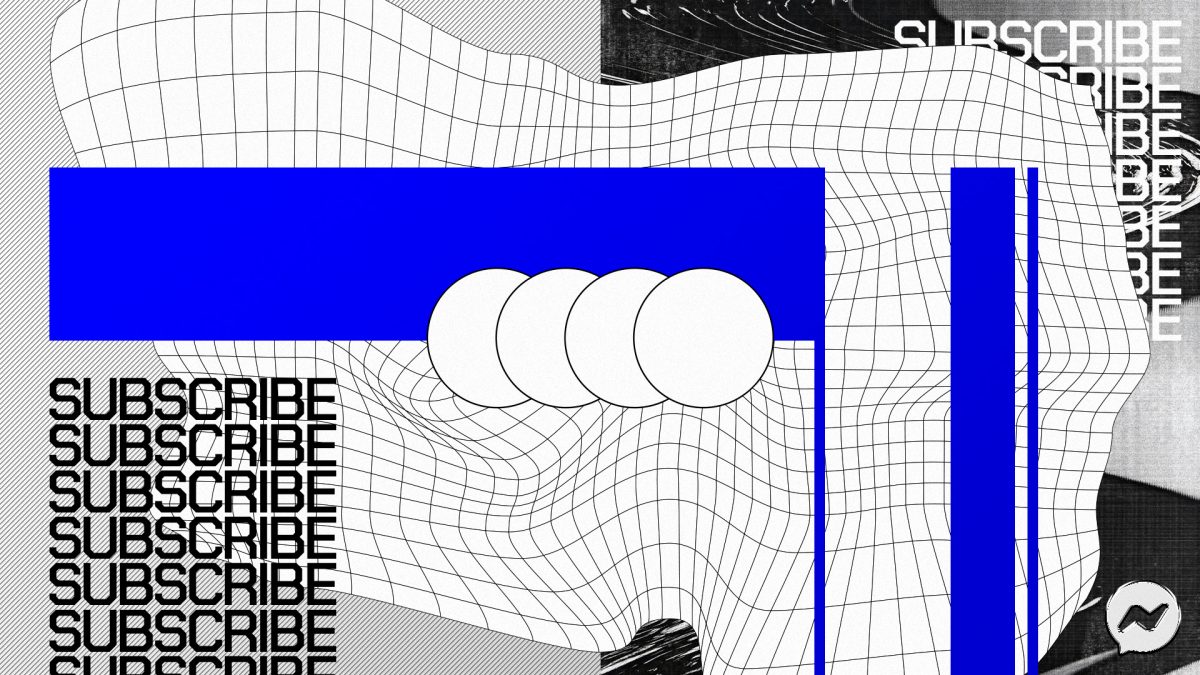 Another article about Messenger marketing?
I will continue to write until there's nothing more to be written about it.  Since I don't like to spam (I don't enjoy being spammed), you can be sure that the reason I insist so much with this subject is that I genuinely believe in it.
Our whole team believes in it.
Otherwise, we would give so much of our precious time to develop Viral Loops for Messenger. More on that, later.
I use Messenger; you use Messenger; 1.3 billion people use Messenger, monthly.  I won't get into the details about the business opportunity; I'm just mentioning the obvious.
The fact that you are here reading these lines gives away your interest in leveraging Messenger marketing to grow your brand. To use Messenger to spread your message, you need an essential ingredient.
Messenger subscribers.
The title of the article took away all the suspense, so you guessed right; throughout this piece of writing, I will give you an actionable plan on how to get more Messenger subscribers.
Enjoy!

You need a chatbot.
This is the 1st step of the blueprint about getting Messenger subscribers. You need a platform that allows you to manage, and build marketing flows for these users.
There are many platforms out there, like Chatfuel, Mobile Monkey, and Manychat. Each of them has its pros and cons, so make your choice wisely.
We use Manychat because:
our Messenger Template is built in Manychat.

Manychat offers a plethora of tools like website pop-ups, scan codes, comment tools, etc.
If you want to follow along, go and sign up for your Manychat account. 
After the sign-up, link your Manychat account with your Facebook page, and you are set to go.
⚡ Note: If you want to know how to turn your Messenger subscribers to paying customers, we have a fantastic webinar about it!
Now you need a lead magnet that generates Messenger subscribers.
Online buyers are spoiled, and marketers are to blame.
If you want people to join you, you know you have to offer something in exchange.
Kevin McGrath gives an excellent explanation of what a lead magnet is:
"A lead magnet is a marketing tool that generates leads by offering a long-form resource in exchange for a prospect's contact information."
Lead magnets are tools that help you get the just done. In this case, get Messenger subscribers.
So what would be a good lead magnet to attract Messenger subscribers for your brand?
It could be anything.
e.g., A free ebook like the one we offer in the form below. Btw, the form is fully functioning, so if you want the ebook, you have to put your email in the field (see what I did there?)

But what I strongly recommend- especially if you are an eCommerce store, is to use some of your products as lead magnets.
You: "Wait, what? Products cost money."
Me: "I know, but you have to spend money to make money."
So it seems like you have two options:
Give every new subscriber a product for free.

OR.
You already want to read what "OR" means. 
Well, it means that you can find a product (preferably a best-seller), and give it as a gift to a portion of your Messenger subscribers with a Messenger giveaway.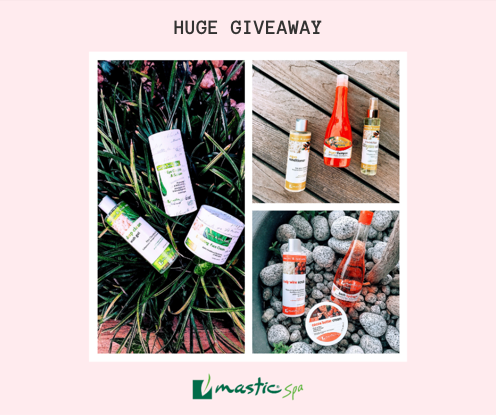 Recently, I wrote an in-depth case study about a small cosmetics brand that gathered 4+ leads and generated a few thousand in sales in 5 days with a Messenger giveaway.
I won't get into the details of how the result was achieved-  for that you have to read the case study, but here's a simple outline:
People learned about the giveaway from various sources. I'll elaborate more on that, further down the article.
The moment they entered the giveaway, participants were asked to choose their preferred reward

(there

were three choices).

Messenger subscribers were prompted to invite their friends.
 Every day, and for five days, a winner was announced.
Messenger subscribers were prompted to follow the brand on Instagram.
The people that didn't win received a special 30% discount for a future purchase.
Now, I know that all this sounds like a lot of work to be done.
However, it's not.
All the user flows used for the campaign, are available with our Messenger giveaway template.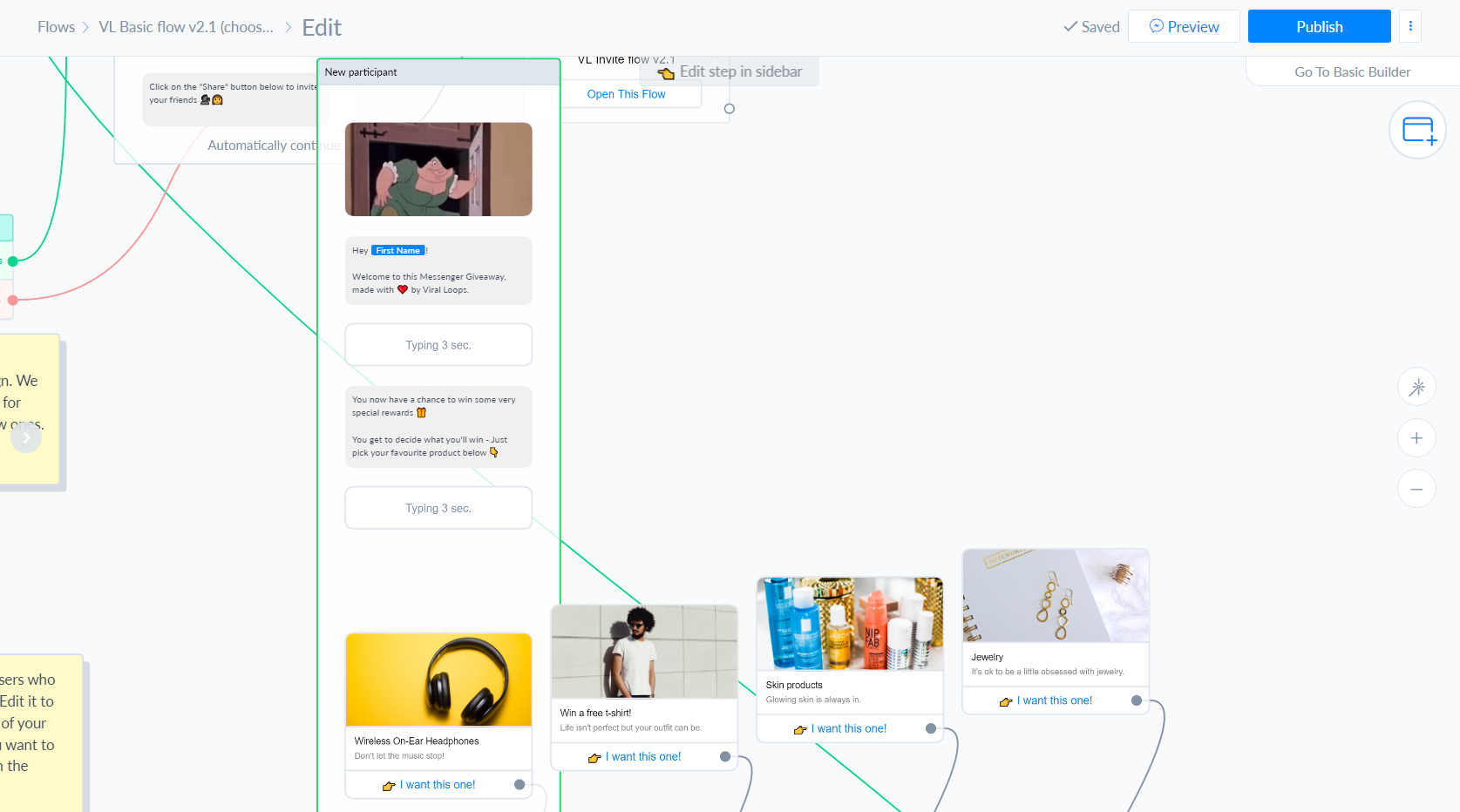 The template included a lot of features that make setting up a giveaway via Facebook Messenger, a piece of cake. I've documented everything about the Viral Messenger giveaway template, so I don't have to write it again and again.
OK, so now you have a system to gather, manage, and populate your Messenger subscribers.
How do you make people get to know about it?
Omnipresent distribution.
Distribution is a game that most of us lose.
If your distribution plan is weak, all the marketing tools and campaign ideas in the world, are going to waste.
The fun part (sarcasm) about distribution, is that there is no recipe for success; the fact that something worked for a brand, doesn't mean that it will work for another one.
So, how do you do it?
How do you distribute your campaigns to make sure that people will see it?
My years of experience in distributing content shows one thing:
YOU HAVE TO PUT YOUR CAMPAIGNS EVERYWHERE!
Put it everywhere, using any means available, test what works, and capitalize on it.
Use every available asset. Like we do.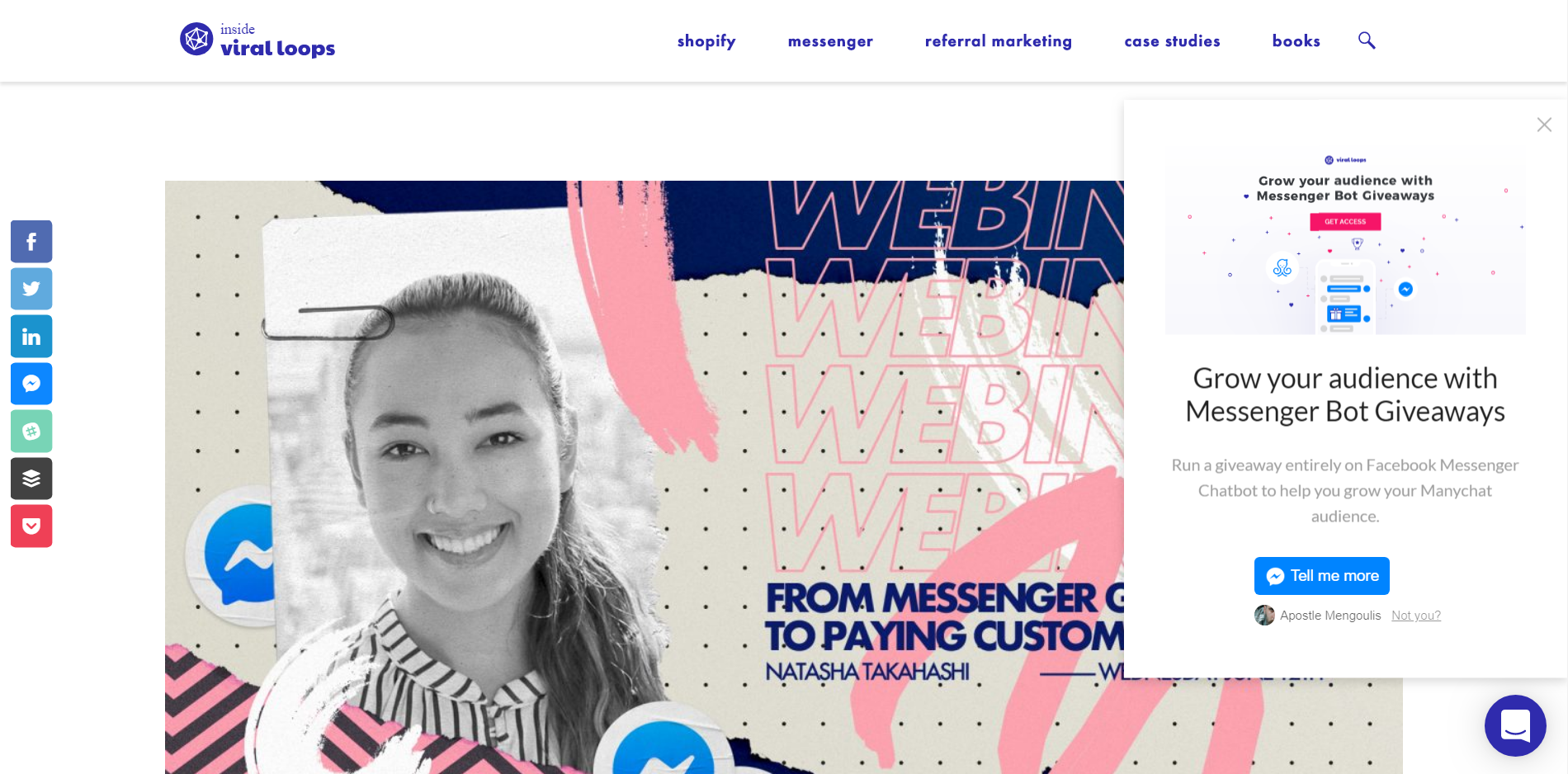 At the beginning of the article, where I wrote about choosing a chatbot, I mentioned that we use Manychat because it offers a lot of tools.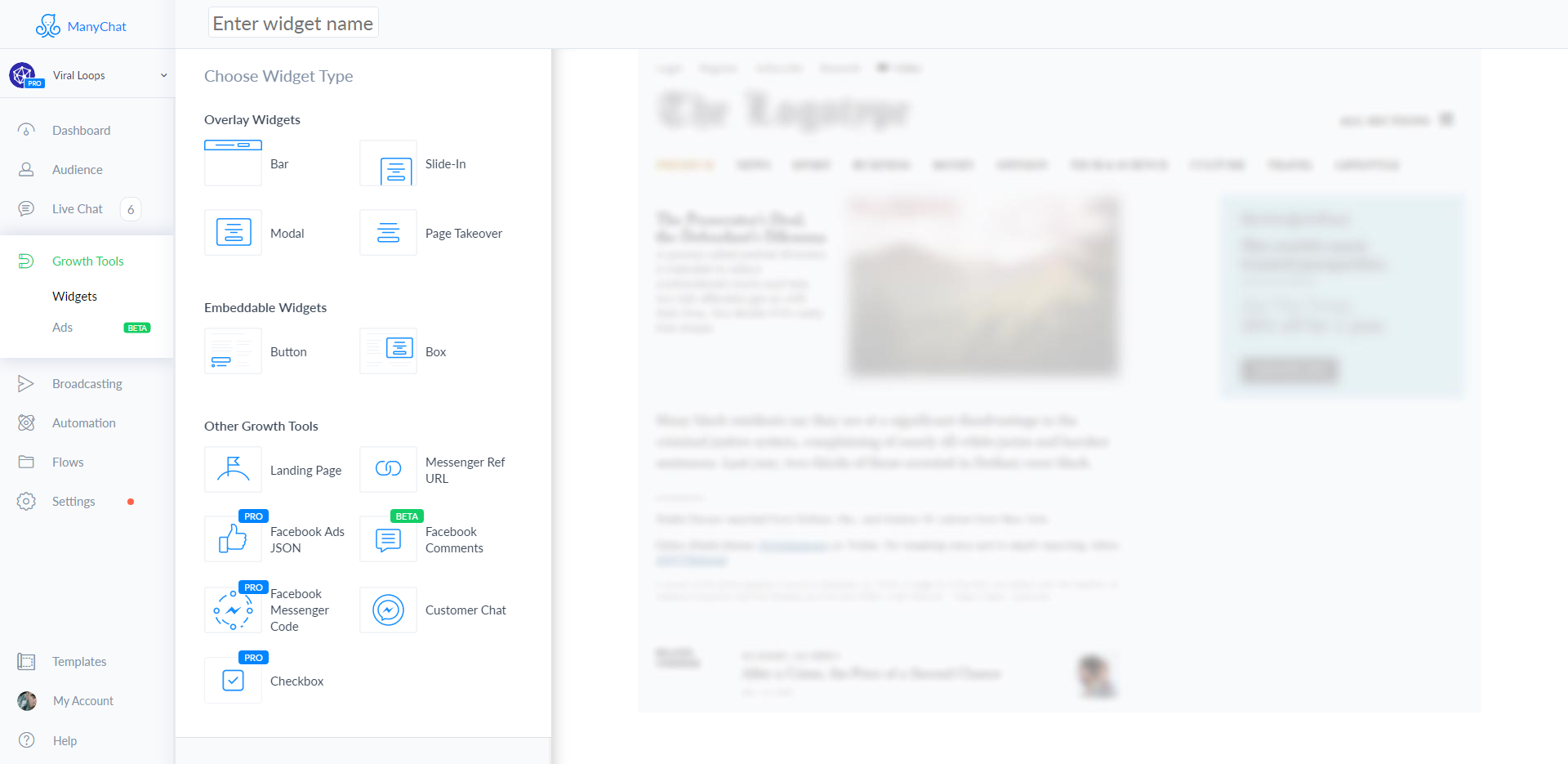 Let's see how you can leverage some of those tools to get more Messenger subscribers for your business.
Messenger Ref URL.
This is one of the most flexible growth tools that Manychat has to offer. After creating your giveaway campaign, you can use the Messenger Ref URL tool to generate a link that you can use anywhere a link can be attached, and drive people inside your Messenger.
You can use it on a landing page, as a Call to Action.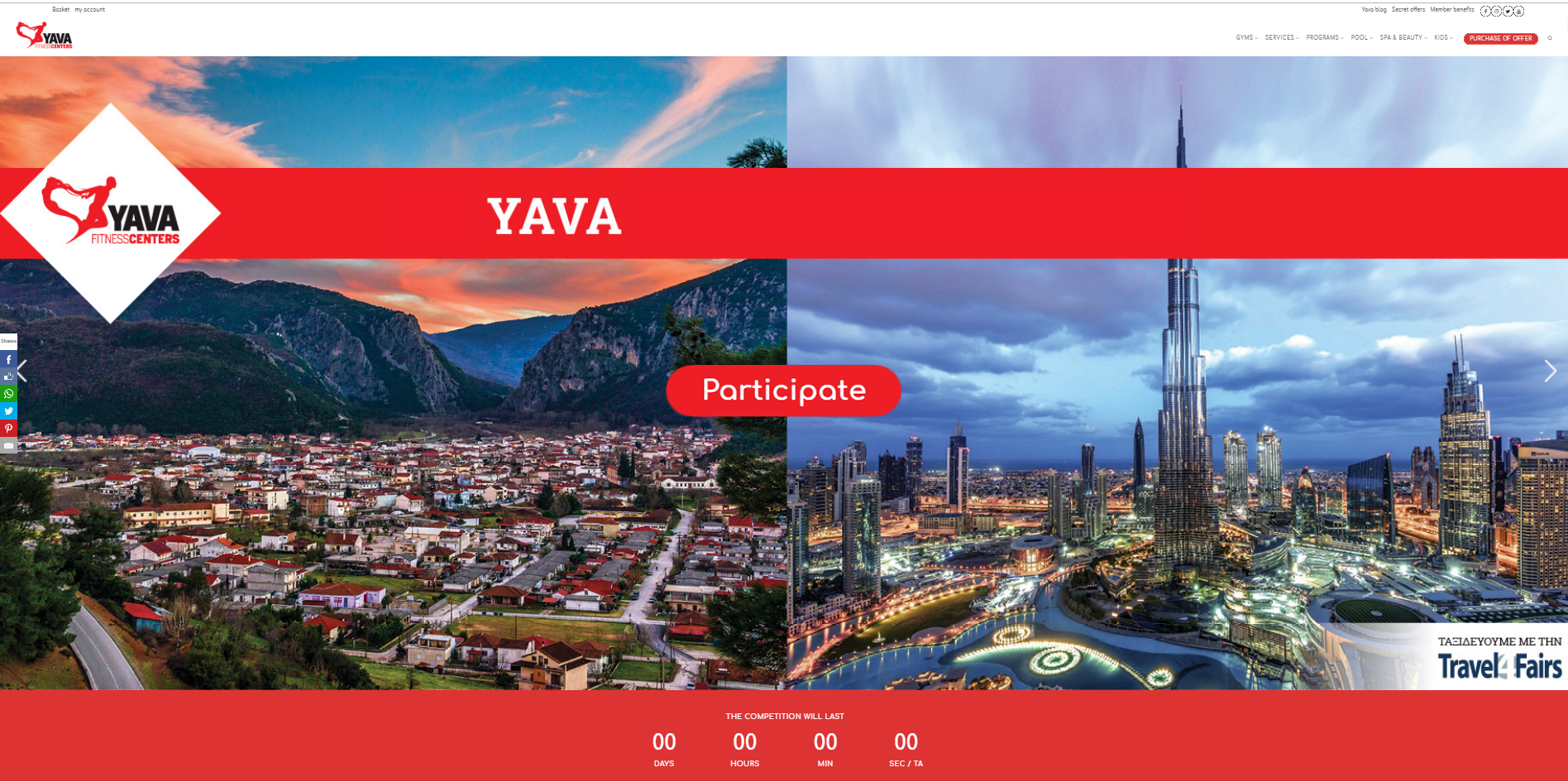 You can put it inside a newsletter, or in your Instagram bio. In case the "swipe up" feature is available for your Instagram stories, you can put it there too.
If you don't have enough followers, you can run Instagram story ads- they perform excellently, and "unlock" the feature.
The only limitation is your imagination (I'm rhyming like Busta).
Comment to Message.
If you're following this blog, you've seen me writing about this tool two or three times already.
The way it works is straightforward:
You create a Facebook post

(a

post announcing the giveaway, for example), Asking people to comment by answering a simple question.

You link the Facebook post with the

"Comment

to Message" growth tool.

Whoever comments on the post, get inside your Manychat sequence where they are asked to become Messenger subscribers.
It looks like this: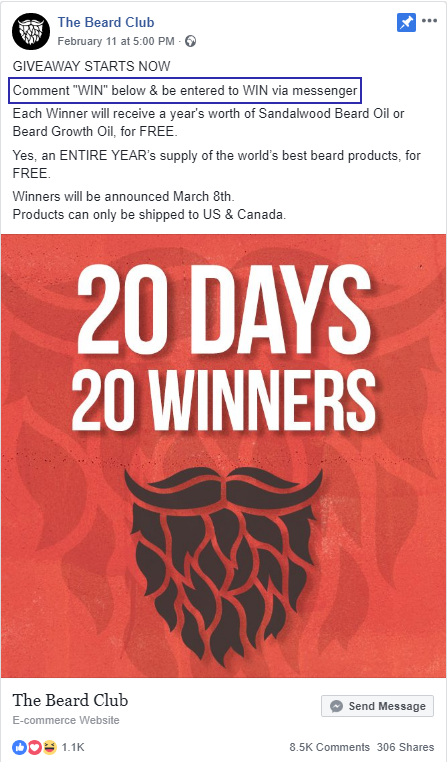 This tool is excellent for three reasons:
Your first interaction with your Messenger subscribers in through a gamified experience.
The more comments a post gets, the higher is the organic reach for that post.
It brings Messenger subscribers.
To maximize the efficiency of the tool, you should create a Custom Audience on Facebook, and boost your post to it.
Manychat offers and integration with Facebook ads, so you can take things to the next level. After you start getting Messenger subscribers, you can create a Lookalike audience and boost your "comment gathering" post to them as well.
Tools you should try.
Apart from the "Messenger Ref URL" and the "Comment to Message", there are also other tools available in Manychat.
The Overlay and Embeddable widgets are a great way to announce your giveaway on your website, or inside your blog posts.
They are plug & play.

Before you go.
If you made it this far in the article, it means one thing: You really want to get more Messenger subscribers.
Instead of giving you a listicle of, e.g., 7 ways to get more Messenger subscribers, I preferred to offer an actionable plan that you can put into play today. I would love to hear your ideas on the subject. I like to learn new things.
As always, you can ask any questions in the comment section below this article. I will make sure to answer each and every one of them, so don't be shy!