This is going to be huge!
This is what my gut's saying.
It's an idea that has been revolving around our heads for a long time, maybe even from our first steps as a company.
Referral Campaigns through Facebook Messenger.
What's so special about it?
I will answer the question, with a question: "What do you check more often, your email or your messenger inbox?"
I bet the latter.
If you don't use Messenger at all, you're a sick person and I'm afraid of you; I'm joking of course.
What is Viral Loops for Facebook Messenger?
Things are pretty straight-forward; Viral Loops for Facebook Messenger is the best way to grow your audience with Messenger Bot Giveaways.
We took all the knowledge we had on Messenger bots and created a seamless referral marketing experience.
Your audience will be able to participate in your campaigns from inside Facebook Messenger and directly invite their contacts.
Our pre-launch campaign for this product is made by using the product itself. In other words, by subscribing to the pre-launch, you'll also have a chance to see the product in action.
It's like a live demo!
Get early access to Viral Loops for Messenger.
BTW, this template is meant to be for giveaways. That means that we also had to do a giveaway.
What's the prize?
Every week (until the official launch), we are giving 1 lucky person FREE lifetime access to Viral Loops for Messenger!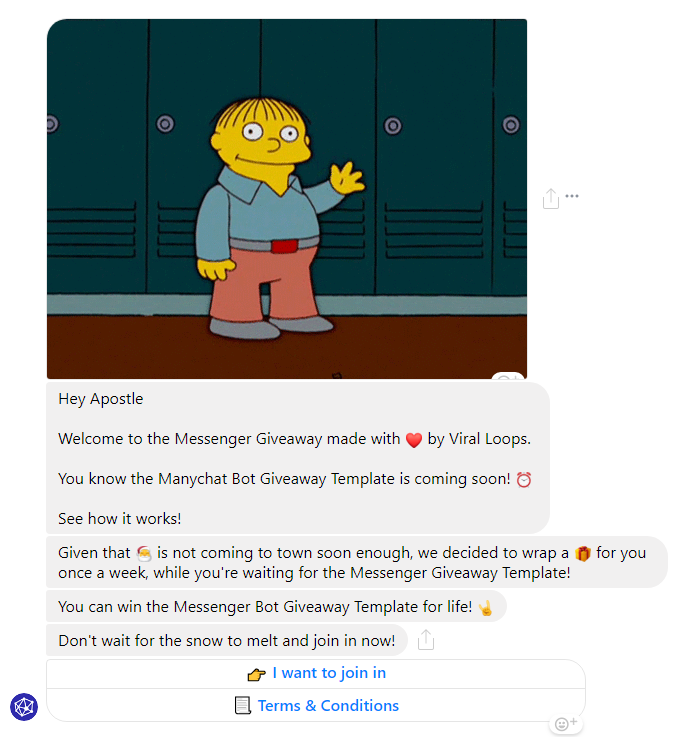 From the moment you subscribe for the pre-launch, you get rewarded with 1 participation for the drawn lottery.
If you want to increase your chances to win you'll have to invite as many of your friends as possible, as for every successful referral you make you'll be rewarded with 10 more participations.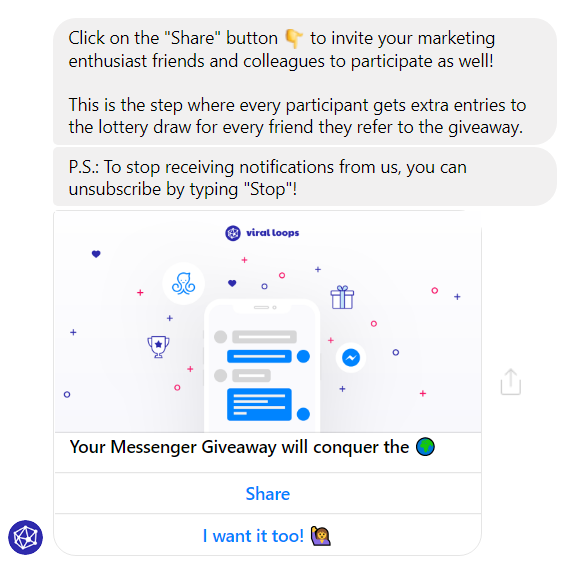 Why you need this.
You should as yourself; "what is the only thing that you spend every day, and it's never going to come back?"
TIME!
This is what Viral Loops for Messenger buys you.
Seriously, all you'll have to do is to have the concept of your referral giveaway in mind.
You'll be able to copy/paste all the custom bot fields needed. All you have to do is:
Use your token.
Change the number of participations for each new entry & successful referrals.
Insert some keywords that trigger possible automated flows (e.g. show the number of participations the user has).
Craft a compelling copy that will communicate the value of your giveaway!
That's it. Not joking!
So, don't waste any more of your precious time;
Get early access to Viral Loops for Messenger, and I'll see you soon!