You clicked; that means only one thing: you want to boost your mid-summer sales (who doesn't).
You probably don't care how these sales come, as long as they come, right?
Wrong!
You should care. That's the first step to make the sale. Even if your website is a well-oiled conversion machine, if the channels from where your leads come are not structured to fit with the audience of the respected channel, then your marketing funnel leaks.

But this is not an article about any channel. This is about building a converting sales funnel in Messenger.
If you're reading this, you're in luck, because the method I'm going to provide is only known to a limited amount of people.
Here it comes.
Outline your strategy.
Doing things randomly doesn't end up well.
You have to plan your campaigns thoroughly, and most importantly, you have to know why you are doing it in the first place.
The 'why', defines the 'how'.
Take a piece of paper (or create a new document), and try to outline the following things:
What's the problem you're facing? (apart from low sales)
What's the learning objective?
What's your hypothesis?
What's your prediction?
The answers to these questions will lead you to your experiment idea. After the concept is finalized, you'll have to design it and put it to work
To make things more actionable for you, I've decided to give you a real-life example for this article; Mastic spa.
Mastic spa is the same cosmetics brand that generated 4+ leads and a few thousand in sale in 5 days with a Messenger giveaway.
Let's take a look at their strategy.
The problem.
The problem was that Mastic Spa had a limited paid budget to spend across their website to generate sales, and also they wanted to focus on a specific series of products that have the biggest possibility to get sold.
Additionally, due to summer vacations, they had limited capacity per week, so they needed to build something that could generate sales repeatably for the next three months.
The learning objective.
The learning objective was to understand if their potential customers are interested in purchasing products that are related to their summer needs:
Sun Argan Hair Oil.
Hair Moisturizer.
Cream against cellulite.
Face Moisturizer.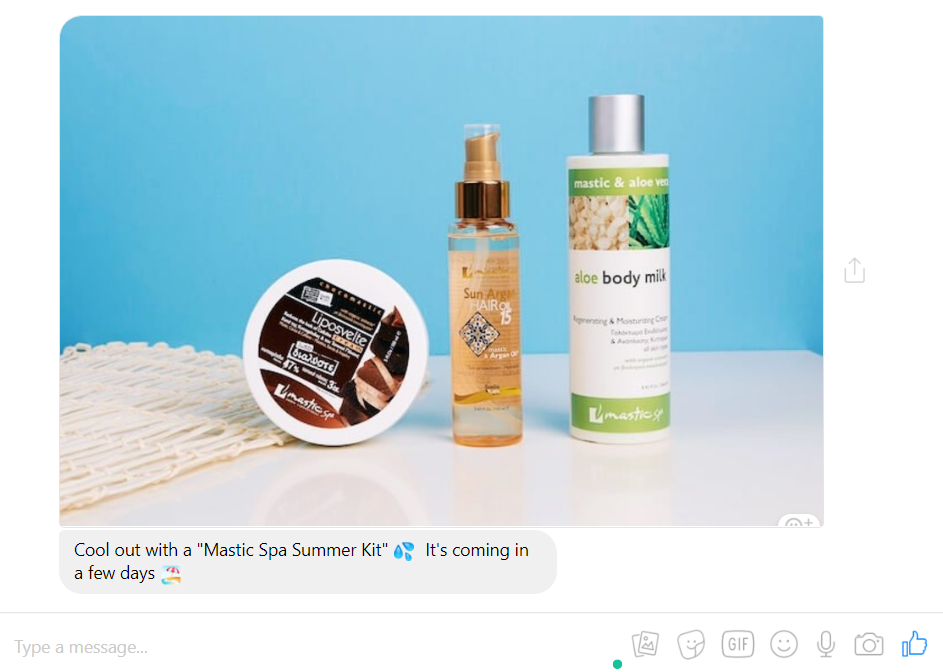 The Hypothesis.
Mastic Spa believed their existing and potential customers would be eager to purchase one or more products related to their summer needs because especially in summer, they're more interested in looking fresh.
The prediction.
Mastic Spa believed that if they created a summer bundle including the products mentioned above and their benefits, then people would be intrigued to purchase them.
Building the experiment.
Do you remember how Harry's used a milestone referral campaign to gather 100K leads in one week?
In a Milestone referral marketing campaign, when people reach a specific number of referrals (milestone), they instantly win the corresponding prize. Harry's had 4 milestones:
Referred 5 friends = free shave cream
Referred 10 friends = free razor
Referred 25 friends = free premium razor
Referred 50 friends = free shaving for a year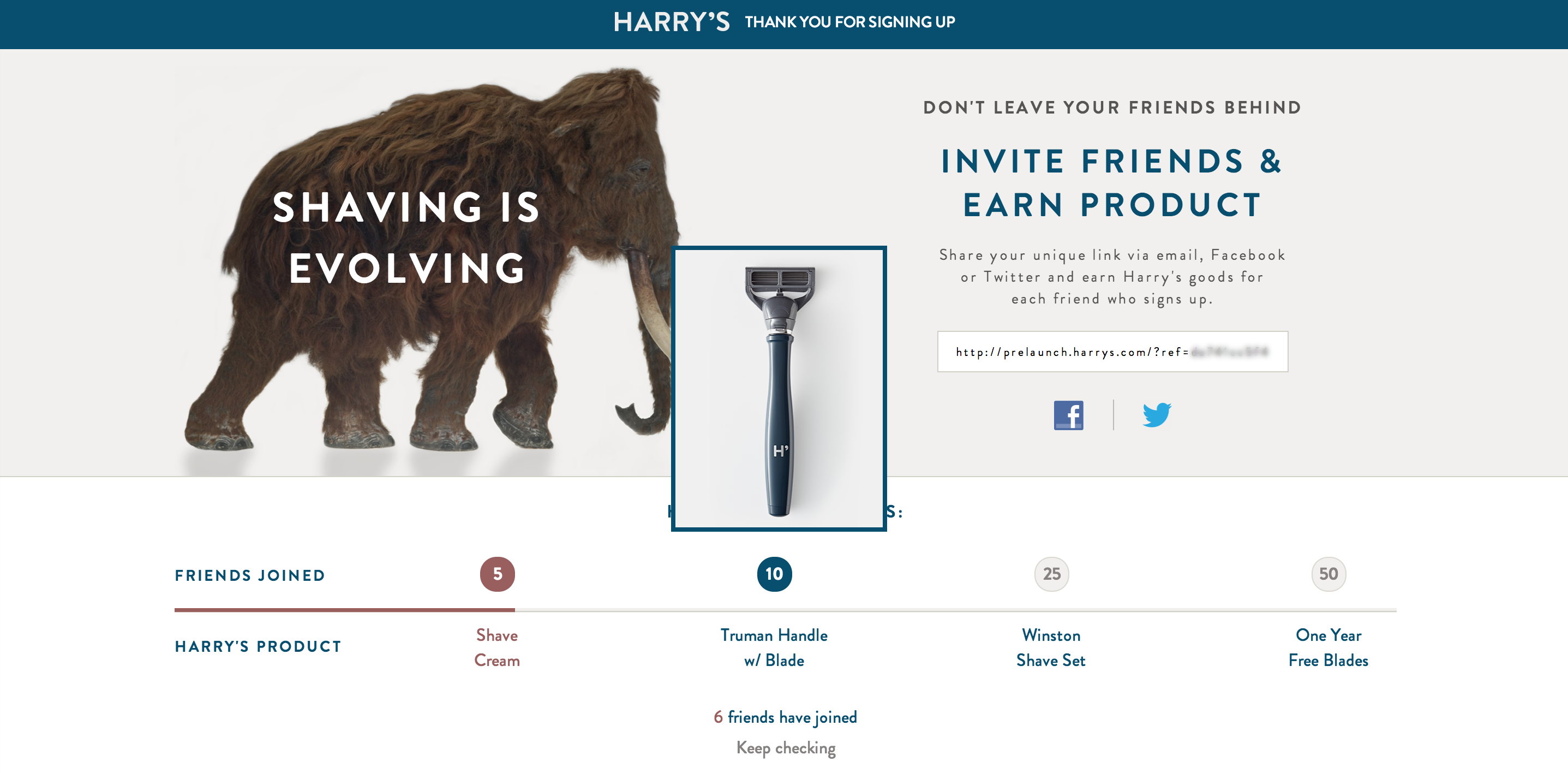 "But this is an article about making sales via Facebook Messenger, and Harry's gave free products in exchange for emails", I hear you say.
I know.
But the truth is that you can assign any reward on each milestone. How about a discount?
Plus, email is not the only option anymore. I think that since you read up to this point in the article, you deserve to know.
This is a perfect opportunity to announce something BIG.
**Drum roll**
Soon, we are launching our Milestone referral template for Facebook Messenger. That means that you'll be able to build campaigns similar to Harry's inside Messenger.
Some of our customers are already using the template, and Mastic Spa is one of them. Let's see how they use it to generate sales.
The Milestone referral via Messenger (a.k.a. Milechat).
Based on the insight from their learning objective (mentioned above), Mastic Spa picked 3 products:
The Liposvelte Cream.
The Sun Argan Hair Oil.
The Aloe Body Milk.
These 3 items combined cost $55, but they decided to sell the bundle at the price of $39 for 100 people.
Here's where the milestone campaign comes into play. More specifically:
1. By entering the campaign, people get early access to limited products for 2 days before the official launch and are asked to choose their favorite product.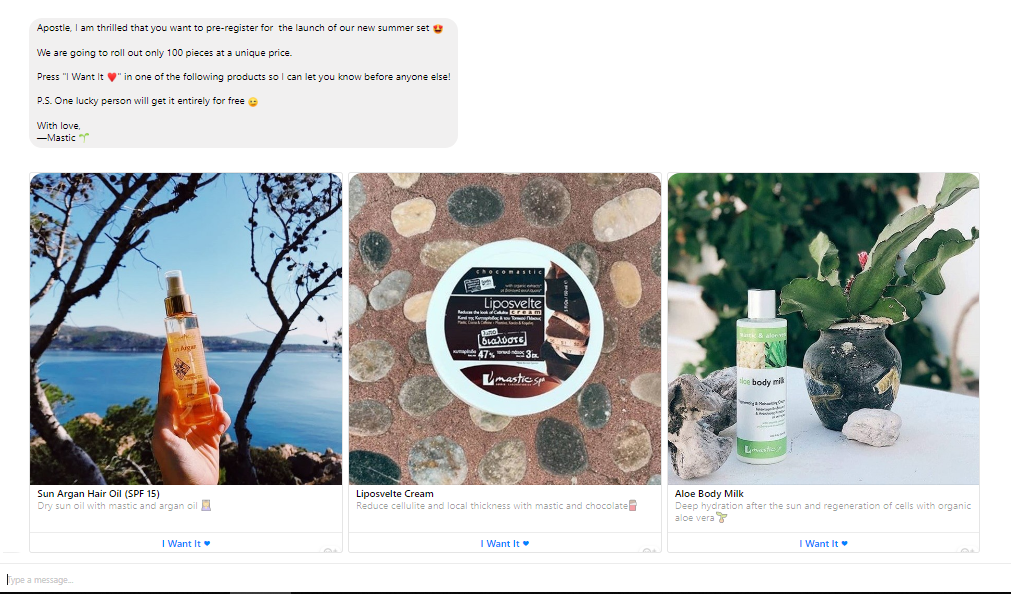 2. By inviting 3 friends, they get free shipping for their orders.
3. By inviting 5 friends, they get a 15% discount for any order site-wide.
4. By inviting 10 friends, they get 1 product as a gift.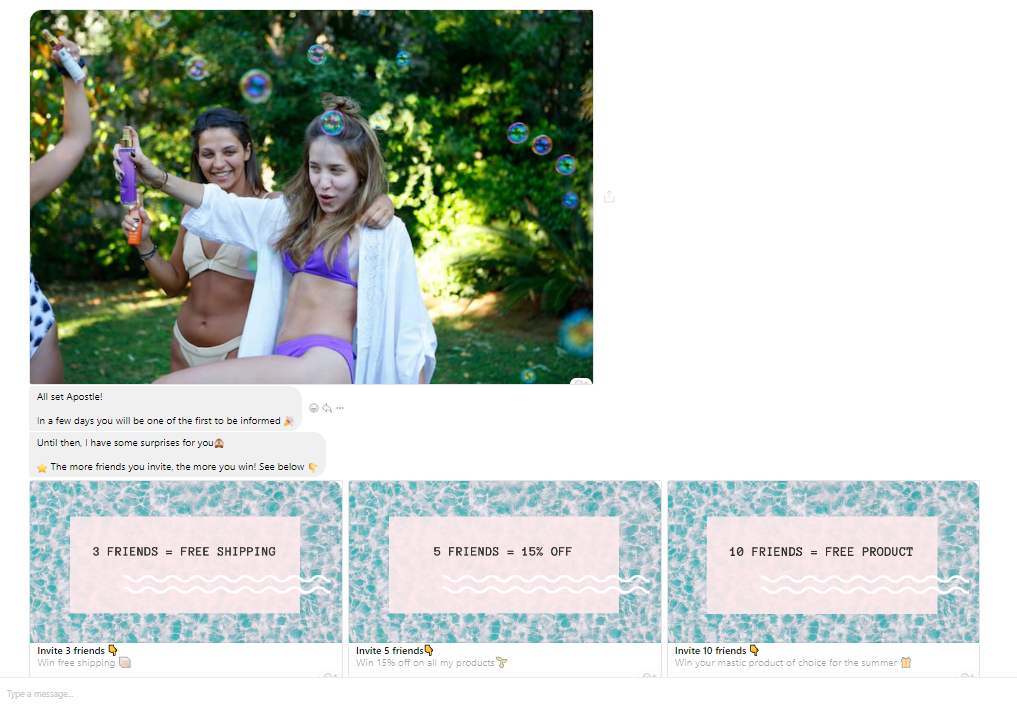 If you take a closer look at the structure of the milestones, you can easily understand that they are designed for conversions.
The first incentive is the early access, which creates an atmosphere of exclusivity, as only 100 products are available for the offer.
Then people are informed that they can have their purchases shipped for free, and after attaining the milestone they can also have a chance to get 15 discount for any of their purchases.
The cherry on top is that for an easily attainable amount of referrals (10 in the particular example), they can get the bundle for free.
Limited early access is starting to get popular among eCommerce businesses, and Messenger is the perfect place to communicate the urgency to customers and leads.
The 5th used a similar pattern for a limited re-release of a watch line.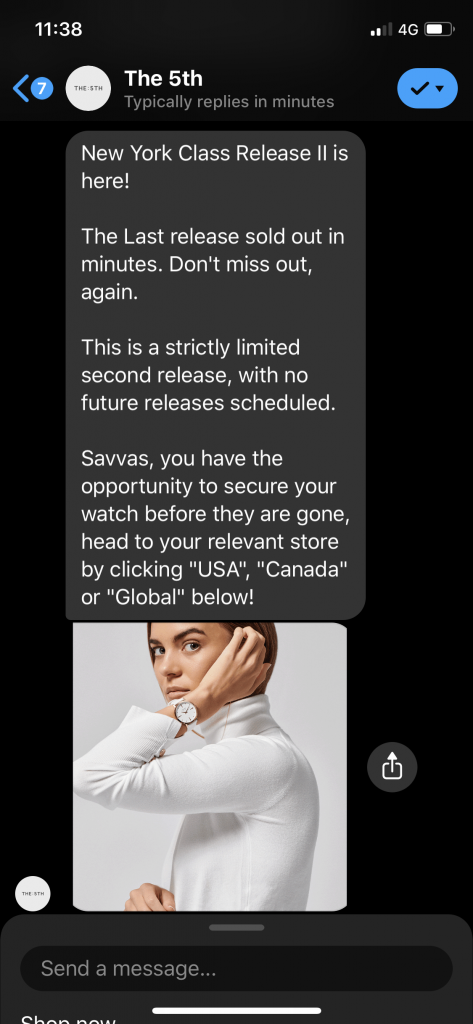 I know that the given example campaign is about an eCommerce business, but if you think about it, the milestone referral campaign is applicable in any type of business.
The Hustle (online publication), also used the milestone referral to build a 300K strong user base.
Back to Mastic Spa's case, they deployed a final tactic for boosting their sales. As I wrote, when users entered the campaign, they were asked to choose the product that they prefer.
After the campaign ends, the non-buyers will be retargeted with a special offer based on their product of choice.
Before you go.
You don't have to complicate things over.
Start by noting down your problems, your learning objectives, your hypothesis, and your prediction. These elements will provide you the answer as to how you should structure your Milestone referral campaign via Facebook Messenger
Some things you should keep in mind if you want to bring sales:
Offer products that your potential customers need right now.
Structure your milestones in a way that incentivizes people to buy from you.
During the whole process, learn more about your leads' preferences to run retargeting ads later on.
What would you do to bring sales via Facebook Messenger?