We are almost halfway through Q2 for 2019. What a ride!
If you are familiar with our work, you probably know that in the past few months we got obsessed over referral marketing via Messenger.
Our obsession led us to create the first comprehensive solution for running referral giveaways via Messenger.
We used the 1st version of this product to run quite a few campaigns and the results were amazing- on one occasion we managed to generate 35K leads in 20 days.
The feedback, and insight, we managed to gather from these campaigns offered a chance to see what we did right and what could become better.
And we made things better… a lot.
This product update aims to present the 2nd version of Viral Loops for Messenger(v2.1), and all the changes that come with it from May and on. 
BTW, we used v2.1 of Viral Loops for Messenger, and we collected 4K+ leads in 5 days for a Shopify store.
In general, Facebook Pages are allowed to run referral campaigns and giveaways by incentivizing people to invite their friends to take actions and get several rewards.
But, it depends on the case and rewards if a campaign is compliant with Messenger's Terms of Services. 
However, Messenger is still in a transition state and we want to be on the safe side anticipating as much as possible future changes and concerns.
For that reason—and given that our Messenger Giveaway template has numerous positive effects for a company—we decided to remove the option of incentivizing people to invite their friends for extra entries. We already beta tested this with several clients and we are very happy with the results. 
More specifically, Here is what we did to ensure high performance for your campaigns:
As you already know, we are committed to amplifying your message through word of mouth—online and offline—and messenger marketing is a great tool to achieve this. We will keep a close eye on messenger space and make sure you learn the latest developments first.
Overall, the way the basic flow of the template works in a very simple way.
After entering the flow, the end user is asked to confirm his/her participation in the giveaway. After doing so, users are prompted to invite their friends in order for their friends to get to know about the giveaway as well.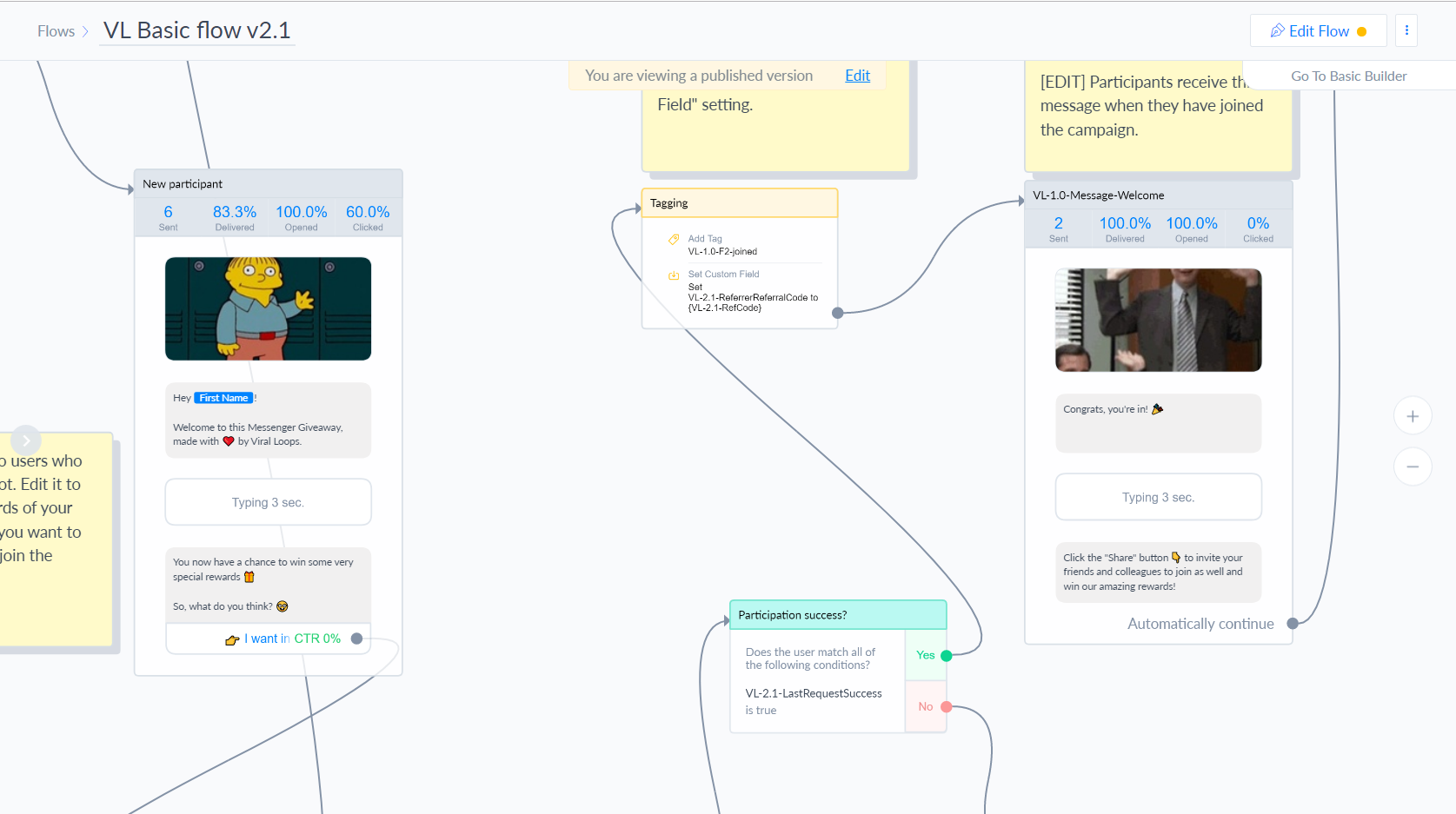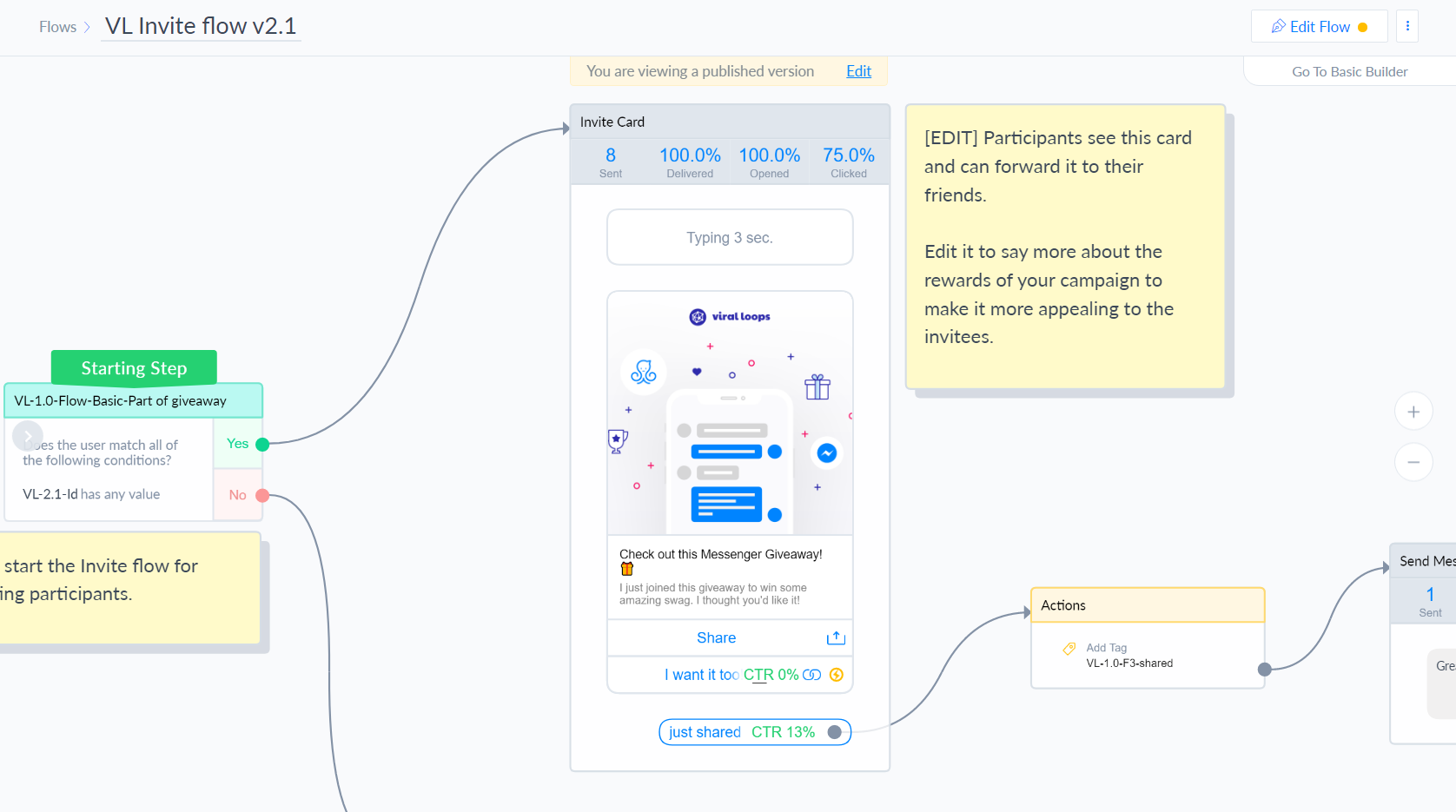 That's the main difference between this template and the previous version we released in the past; in the previous version, we incentivized referrals by offering more entries to the giveaway.
Obviously, that's not the case anymore, for the reasons mentioned in the section above.
In order to maximize the results of each campaign, the basic flow was enriched with 2 additional flow for re-engaging with the campaign's participants.
For the 1st re-engagement flow, we've added a "Follow us on Instagram" step. 
When clicked, the participant receives 10 extra entries for following your Instagram account (win-win!).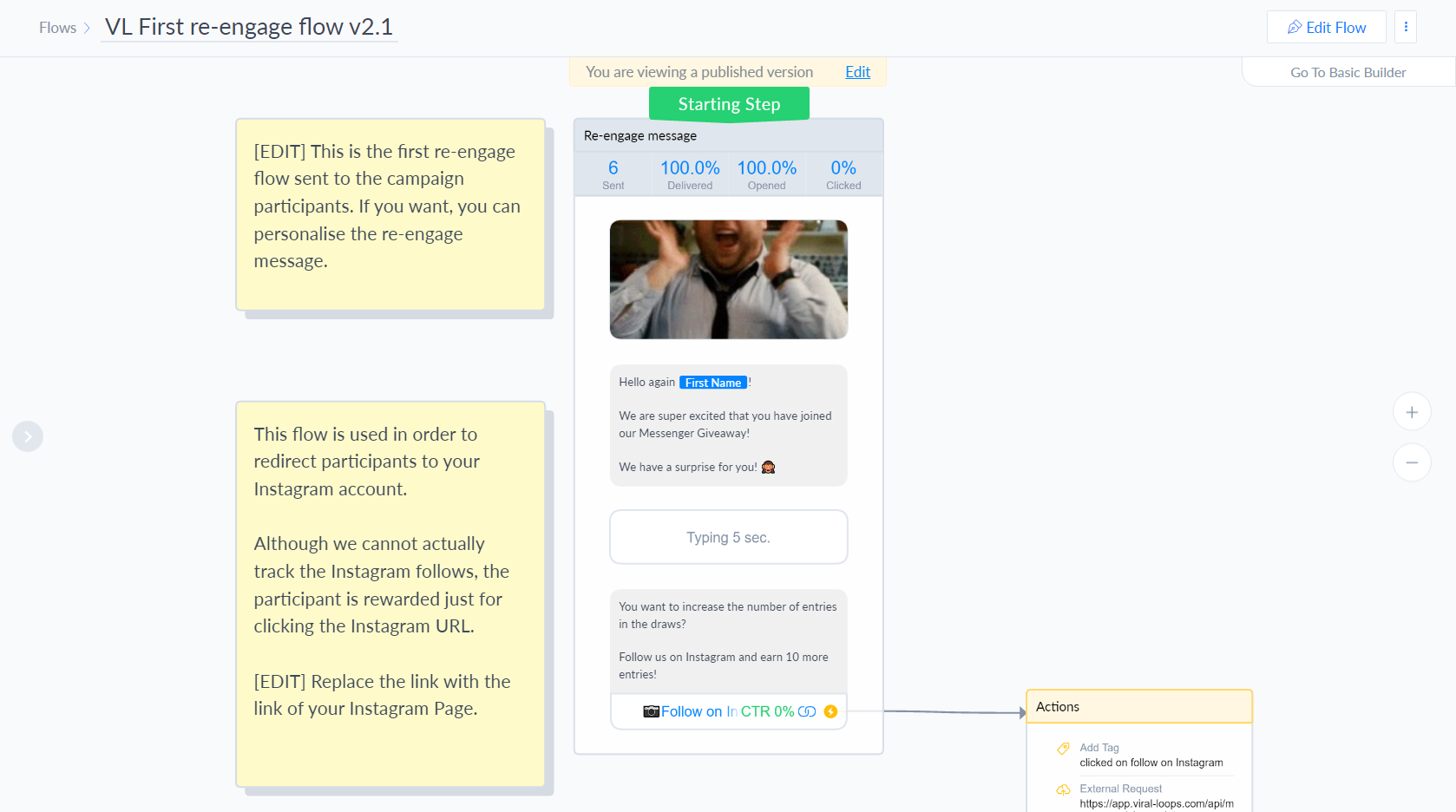 Due to Instagram not offering an open API, it's not possible to actually track which users really followed your account. 
Our tests showed that the vast majority of people visiting your account will also follow it, but even if people don't actually follow you, the organic reach of the Instagram account will peak quickly resulting in better discovery inside Instagram itself.
Users that had indeed clicked the "Follow on Instagram" button, will also receive the 2nd re-engagement flow.
This condition is added to ensure that the 24+1 hour conversation window stays open and you can message your Manychat subscribers free of charge with any type of content (promotional or other). 
In this step, participants will be informed about their current total points and be reminded to invite more of their friends.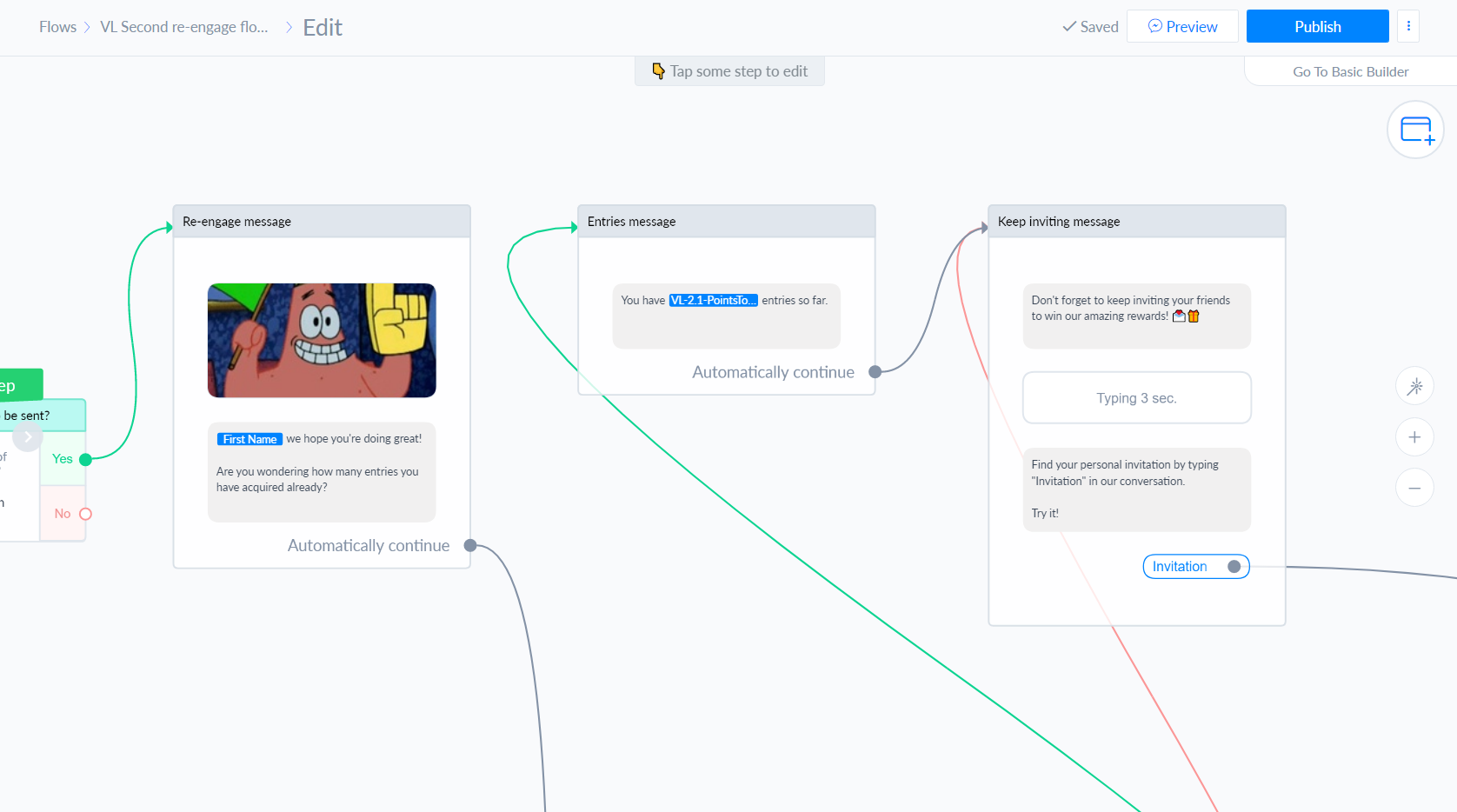 In Viral Loops, we've fallen in love with the eCommerce industry and that's the reason we wanted to do something special for our eCommerce customers in this new version.
The flow for eCommerce works in the exact same way as the basic flow I described above, with only one difference; Before confirming their participation, users are asked to choose the prize they want to win the most from the giveaway.
Now you can offer your users the option to choose from up to 4 different prizes.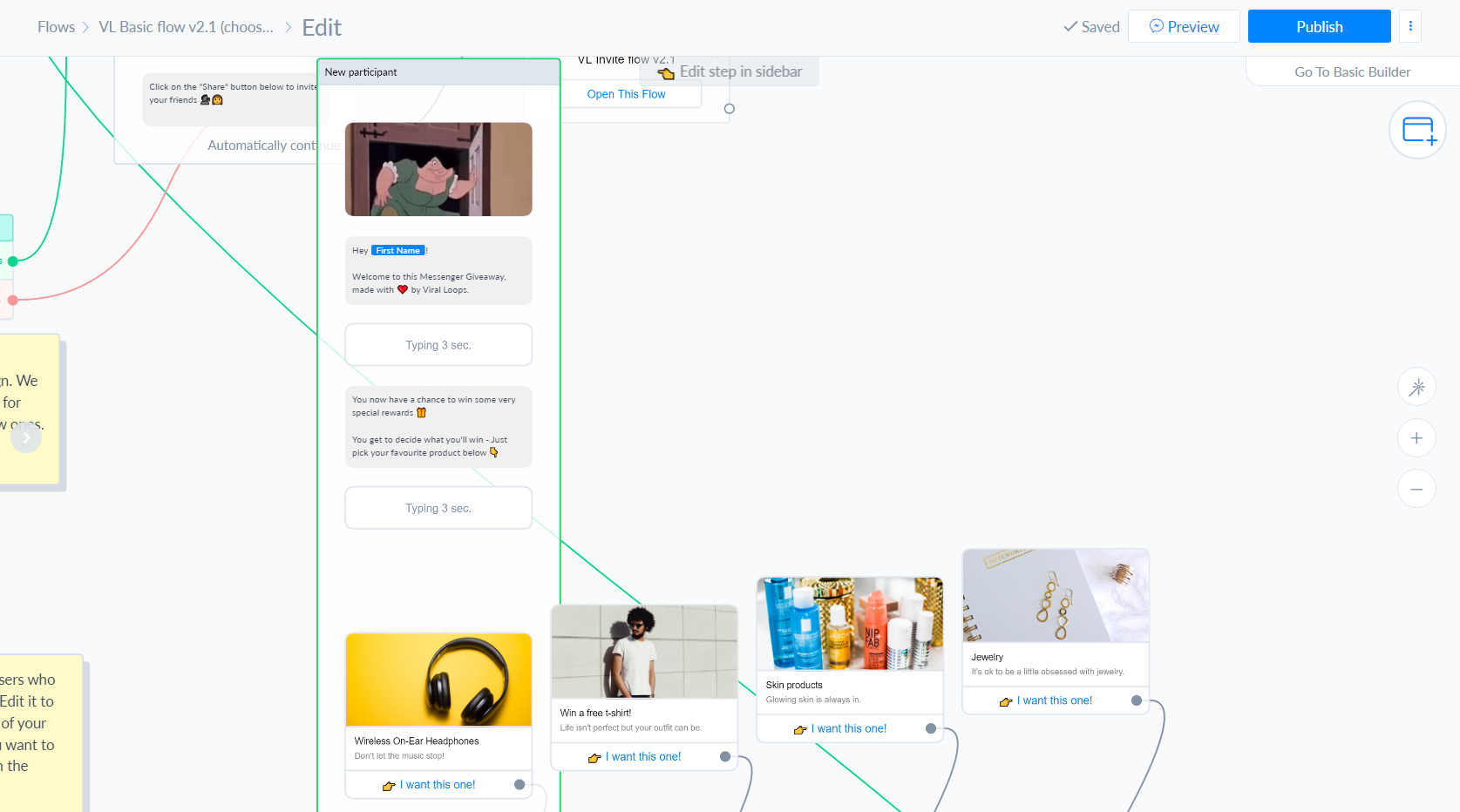 This is ideal for eCommerce/Shopify stores that wish to promote their products.
That procedure allows you to apply tags to the participants according to their reward choice, and then run to those tagged users Ads according to their interests with retargeting ads.
We know that for an eCommerce business, even though that awareness is really important, there's only one thing that really moves the needle; SALES.
That's why we created a bonus flow, specifically for our eCommerce customers, that aims to bring sales when participants are all warmed up.
After the giveaway ends, you have to inform participants about the big winner; right?
That's an excellent chance for you to incentivize people who didn't win to make a purchase from you by offering a friendly discount. That's what this bonus flow is all about.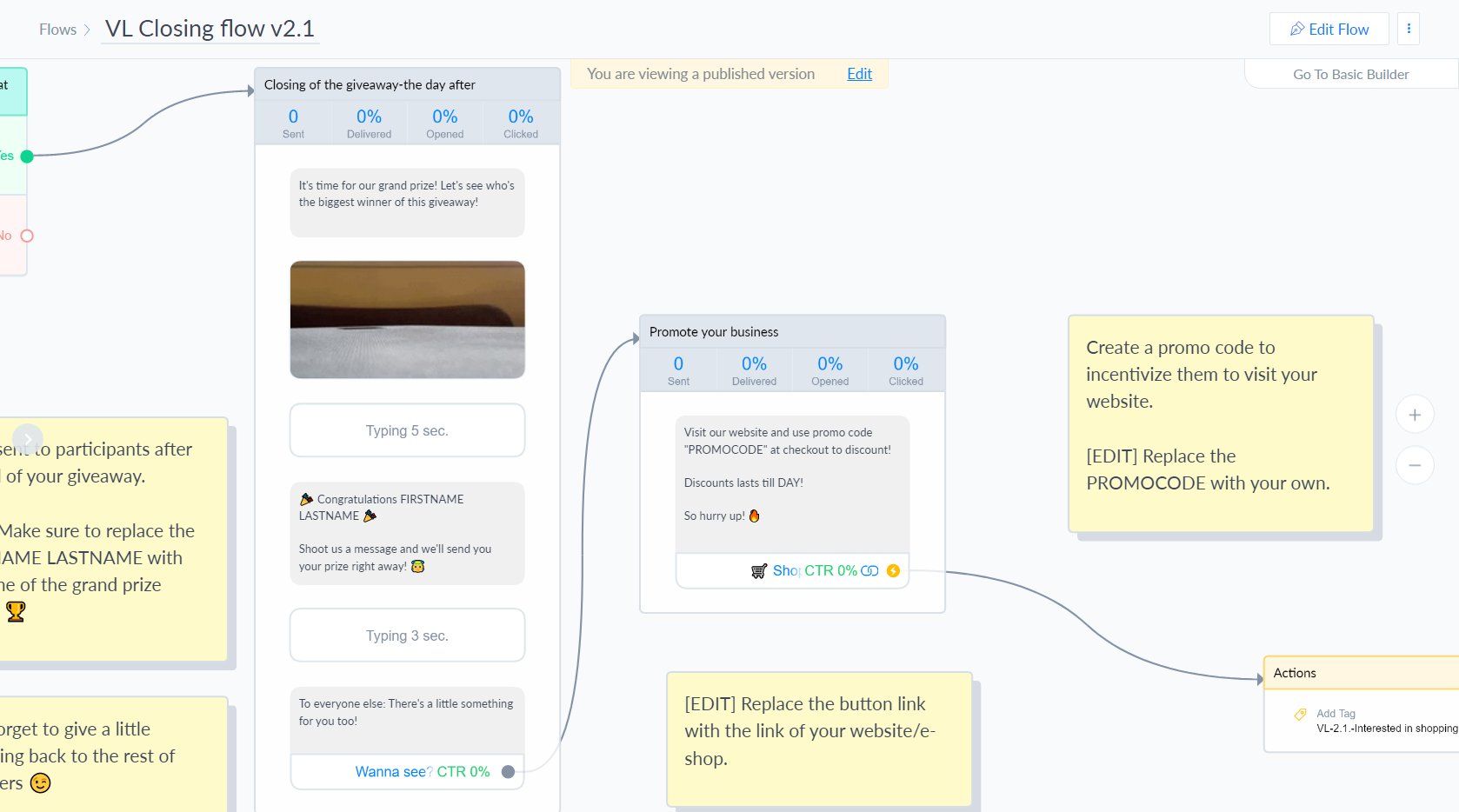 We used this flow for a small cosmetics brand, offering a 30% discount and managed to generate a few thousand in instant sales! 
Although Messenger is on the rise, email marketing still works. 
For Viral Loops, it's still the #1 channel for distributing our content. Email addresses are valuable for a variety of reasons- distributing content, creating custom audiences for ads, newsletters with offers, sending receipts, etc.
Grabbing people's attention on Messenger might act as a drive for users to provide their email addresses, as the particular medium (Messenger) has a "quick" user experience that people are familiar with.
In this version of Viral Loops for Messenger, we've added a bonus flow that allows you to ask people for their email address, enriching your database with new leads.
The way it works is fairly simple; after entering the flow, users are asked to comply with the Terms & Conditions (GDPR compliance).
Right after agreeing with the conditions presented, they are asked to enter their email address.
Simple as that.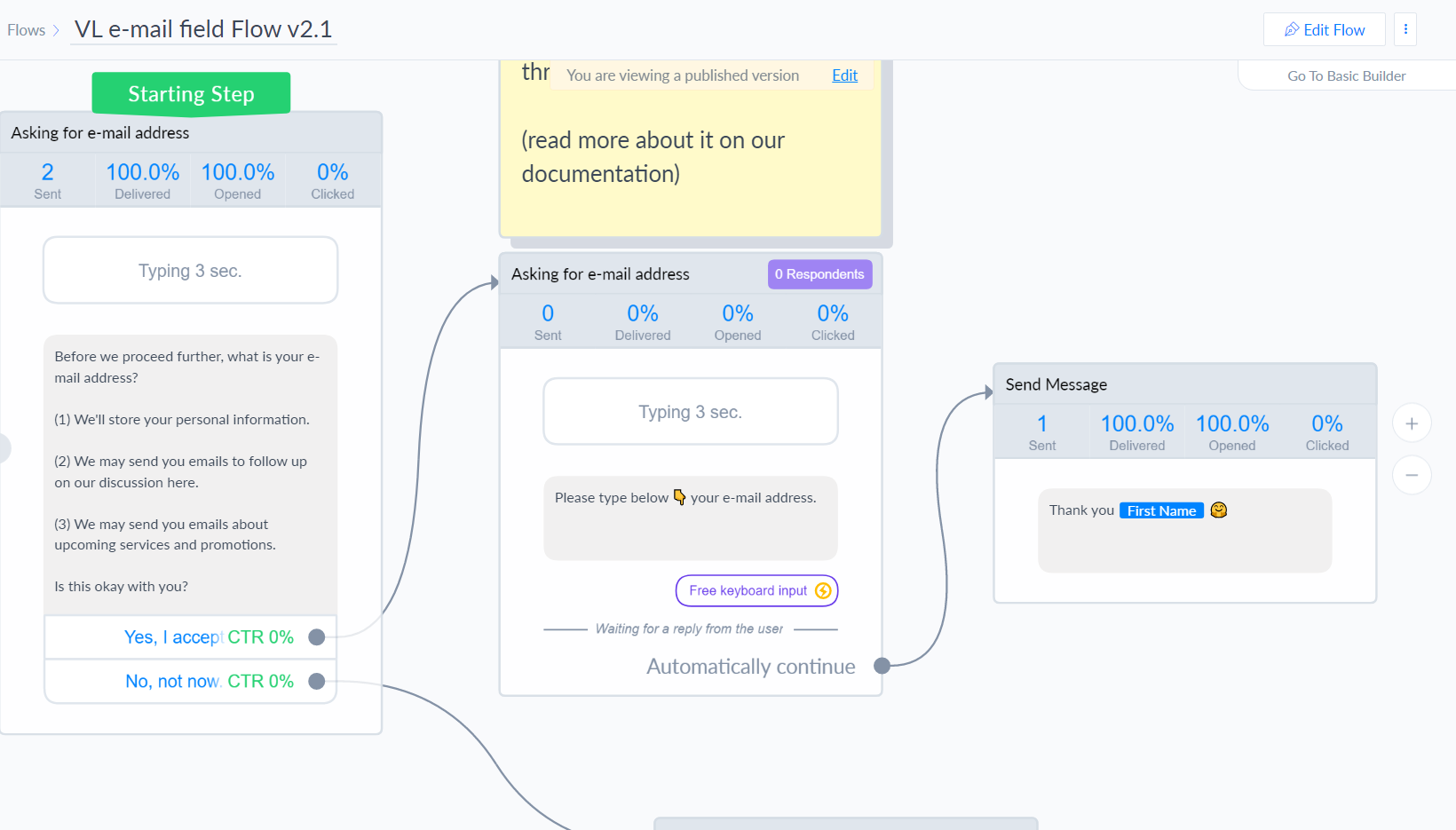 In order for these email addresses to be sent to your database, you have to integrate Manychat with the email marketing platform you're using.
Manychat has an official integration with Mailchimp but in case you're using another service, you can connect your Manychat account with some of the most popular email marketing services with Zapier.
On the time of the actual launch, you needed as many eyeballs on the giveaway as possible.
That's the reason you need a pre-launch campaign. 
The easiest way to do so is by creating a Facebook post announcing there will be a huge giveaway and ask people to leave a comment answering a simple question.
Every time a person answers the question, they will be added in our pre-launch segment inside Manychat.
This is possible with Manychat's "Comment to message" growth tool.
Τhe "Comment to message" growth tool can be used, not only during the pre-launch period but on the launch date as well.
If you want to make only one Facebook Post about the giveaway, it would be better to do so at the launch date.
In case you wanted to use this particular growth tool in the past, you had to do all the work manually. From now, it's included in Viral Loops' Manychat template.
In order to make this work, you should make some changes to the copy of the automated message and opt-in message according to your business/brand tone and to change the Launch Date.
After that, you should create a post on their Facebook Page.
It is advisable to use a remarkable picture that would catch the eye, something related to the giveaway concept or rewards or something related to the keyword/questions asked.
The copy of the Facebook post should include:
It is better to include a creative question that would create many Facebook comments, it's more conversational/advisable.
e.g.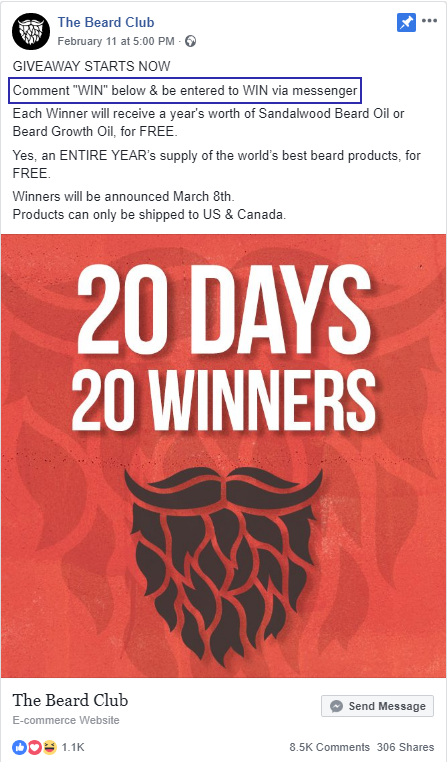 Important Note: 
Facebook Posts linked to this Growth tool should not prompt people to leave a comment with a specific keyword (as viewed on Beardclub's post above). It should open up a conversation. In a different case, Facebook will probably give a low-quality score to your post, which would bring a significant drop in its reach.
After setting up the "Comment to message" growth tool along with the Facebook Post, it's time to publish the Facebook post and as soon as possible to connect it to the growth tool.
Go to the growth tool, click the "Select a post", select the corresponding post and then activate the growth tool.
We also have a short tutorial on how to do so: