We have recently launched Viral Loops for Woo Commerce, which is a referral marketing solution companies looking to run campaigns similar to Uber's, Gilt's and others.
This campaign will help you acquire new customers and increase sales for your store. Here is how the flow works:
Person A invites person B.
Person B gets a discount coupon, say $20, for her first purchase.
Person A get the same discount after person B completes her first purchase.
People can invite their friends if they are already customers of yours, or just subscribed to your emailing list (e.g. through one of our widgets). This allows more people to send out invites and increase your viral factor.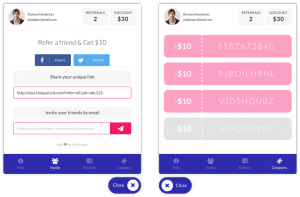 But this is something you can find in every referral marketing platform out there 🙂 One of my favorite features is our on-page referral widget:
It's an chat-style widget through which people can invite their friends very easily. And you don't have to build a dedicated invite page in your site. You just customize our widget through our platform and install our Woo Commerce plugin.
Depending on your business goals, you cal later run—from the same platform—an eCommerce Loyalty program for Woo Commerce stores and combine it with your referral program. A loyalty scheme could be:
For each purchase, you get 100 points,
If you purchase once a month, you get 200 points,
If you invite a friend, you get 500 points
And for every 500 points you get a 20% coupon code for your next purchase.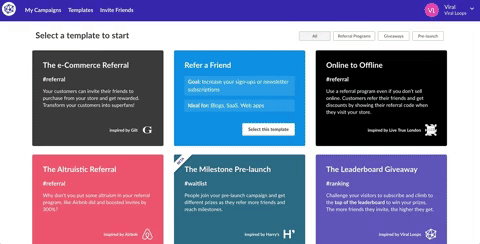 You can also check more of our referral marketing templates for viral sweepstakes and other email list building campaigns like Hustle's Ambassador Program.