You can listen to the interview here:
(Please excuse my terrible sound, the microphone was not cooperating on that day)
What does Unmuted do?
Unmuted is a B2B marketing agency specialising in long-term collaborations with B2B SaaS companies in the Netherlands and Central Europe. They offer a unique service called the Growth Program, a process-driven approach to help companies validate assumptions, and hypotheses, experiment with cool new initiatives and campaigns, and scale up the strategies that work.
Their customers trust them because they are not project-driven. Instead, they focus on a growth process that helps companies improve their go-to-market engine. This process is designed to help companies experiment and validate ideas through experimentation rather than just executing a project. 
Unmuted's approach is to work with a growth marketing manager, who is the point of contact for the company. This manager is backed by a go-to-market team of growth strategists, designers, developers, content marketers, SEO specialists, marketing automation specialists, and more. This team ensures that every aspect of the marketing strategy is taken care of so the company can focus on what they do best.
What kind of companies works with Unmuted?
The customers Max and the Unmuted team serve are primarily established companies with solid product-market fit., but also a few startups/scaleups who are pre or near-product-market fit and are already gaining traction. 
Max told us that they also have a few customers who are a bit more mature and are looking to change things up by automating some parts of their business or trying to reinvent themselves. They've relied heavily on sales outbound motions in the past but with new products or services that they're trying to market, they want to add a more marketing-based activity to their strategy—and that's where Unmuted comes in.
Are referral programs effective for B2B brands?
When it comes to B2B, potential customers usually need a few touchpoints or influences to finally make the sale. But Max has found that word of mouth or referrals from something or something like a community can be the most vital push buyers need to take the plunge.
If B2Bs want to boost their referrals, they can do a few things. You can create a referral program and share it with your customers, but it's not guaranteed that they'll use it—but even if they don't, just displaying the program can be enough to remind them to spread the word to others in their network.
So, referral programs can work, but they're only sometimes a direct path to success. They work more as a nudge to encourage word of mouth beyond just the program itself. So if you want to make the most of referrals in B2B, keep in mind that it's just one part of a larger strategy.
The addiction to attribution data and dashboards
Max, and the rest of his team, have a very "unorthodox" perspective on how B2B growth works. In our chat, he talked about how in B2B marketing, people tend to become addicted to transactional data, relying on dashboards to tell them what is working and what isn't. 
But even though a dashboard doesn't show that a particular initiative is working, something is still happening. Many things happen simultaneously, and it isn't easy to attribute a specific outcome to just one thing.
As said previously, B2B results are usually the outcome of multiple things working together, such as introducing referral marketing programs that can yield excellent results beyond what can be directly tracked or attributed. It's a mindset shift that B2B companies need to adopt – understanding that they will only sometimes be able to track their initiatives as a consumer brand might.
If companies can obtain this mindset, they can see great results on their bottom line because it releases the pressure to prove that it works and allows room for creativity and going with the flow. 
By not becoming too addicted to attribution data and dashboards, B2B companies can find success by being open to trying new initiatives and working through them in the best way possible.
Leading vs Lagging indicators
Ok, dashboards only tell part of the story, but how should B2B marketers approach their growth then?
When working with customers and launching new campaigns, such as advertising, content, or referral campaigns, Max looks at potential leading indicators rather than lagging ones. Examples of lagging indicators include demo requests, quote requests, and trial creations. 
On the other hand, leading indicators suggest that things are in motion and going in the right direction, like trends in how many people see the demo request form or the trial account creation form.  
Unmuted does not necessarily consider how many people convert into requesting or trialling the service. Still, instead, they pay attention to the fact that more people are exploring that option. This is not to say that they aim to lower conversion rates, but they don't determine an initiative's success entirely on that—path to conversion is too long and complicated to attribute it completely to the conversion rate of the homepage. 
In the example of a B2B referral program, Max would look at how many people were exposed to the program and whether there were any trends in direct traffic or branded search increase. Customers and users are aware of specific tactics but may not engage with them directly. Instead, one might get an invite for a B2B software, ignore it at the moment, search for the brand name, and start a trial or book a demo a week later.  
In that scenario, a lagging indicator mindset would see a conversion from the Branded Google Ad campaign, attribute it to their PPC effort, and increase spending more money on Google—only to get disappointed a week later.
Max believes that doing good marketing, exposing people to good content and offers, or creating cool programs or campaigns will increase demand for the service. It is not just about how many clicks or deals were generated but how these efforts contributed to telling the brand's story as effectively as possible to the target audience.
How do you choose rewards for referral programs?
When it comes to B2B referral programs, there are some differences between referral programs and affiliate programs. Affiliate programs work well for agencies, where they can sell software to their client roster and earn a cut of the recurring revenue.  
However, for referral programs where a customer shares a referral link with peers, a small cash incentive is often not enough to motivate them to refer others. B2B budgets are different in size, and more than a small incentive like 50 euros or a t-shirt might be required. 
Max told me about his personal experience with Growth Tribe, an online learning platform for anyone who wants to learn marketing and tech skills, which showed the potential of referral programs. After he attended a course, he received requests from peers asking for his feedback. If he had a referral link, he could have directed their peers to purchase the system via the link and earned a small incentive, such as a discount on their subscription—further motivating Max to spread the word about the course. 
B2B referrals are challenging because people are not always interested in small incentives. The key is to make it easy for people to refer others by providing them with a clear message and an attractive incentive. One approach could be to offer a discount on the customer's current subscription for each successful referral. This could be a relevant incentive for B2B companies looking to leverage the power of referrals.
What is another way to generate Word of Mouth for B2B?
Creating case studies is a simple and effective way for B2B SaaS companies and tech companies to generate word-of-mouth referrals. Despite its ease, many companies still need to take advantage of this strategy. 
Case studies allow companies to showcase their best customers and their achievements with their service. By conducting an honest interview with one of their best customers and putting them on a podium, they can highlight their success and provide insight into how their service helped them. 
Customers who are featured in case studies are often willing to co-promote the case study since it's an interview about them. They can share it with their network and even feature it in their newsletter. As a result, the case study can stimulate network effects, word-of-mouth referrals, and more.
The ideal customer profile (ICP) of the company's best customers often consists of people who are also an ICP for the company. As a result, the case study can help the company reach new customers who are likely to be interested in their service. 
How to kill your Word of Mouth?
There are many things that can be done to impact word of mouth negatively. For example, poor customer success or support, lack of communication, lack of online resources for self-education, and poor product delivery all negatively impact the business and, therefore, negatively impact word of mouth.
Word-of-Mouth is both created and captured, and to make it, businesses should focus on creating excellent content, building relationships with customers, educating them, and providing exceptional customer support. By doing these things, a positive image can be built around the company, which can lead to positive word of mouth. 
To capture word of mouth, businesses should make sure they are easily findable on search engines and review sites like G2 and Capterra. They should make it easy for people to find them by using terms that people might use to explain their service to others. By doing this, businesses can increase their positive word of mouth and ultimately grow their business.
How do you capture Word of Mouth?
Of course, tracking Word-of-Mouth is very hard, if not impossible, but Max suggested some ways to estimate if it's growing or not. He suggests looking at Google Search Console to see if there are any interesting trends or keywords that may be useful for improving performance and acquisition. 
One mistake the Unmuted team has seen many businesses make is not having a team page or about page with individual team member landing pages. He said that the team page is often one of the most visited pages before customers take action, such as booking a demo or starting a trial.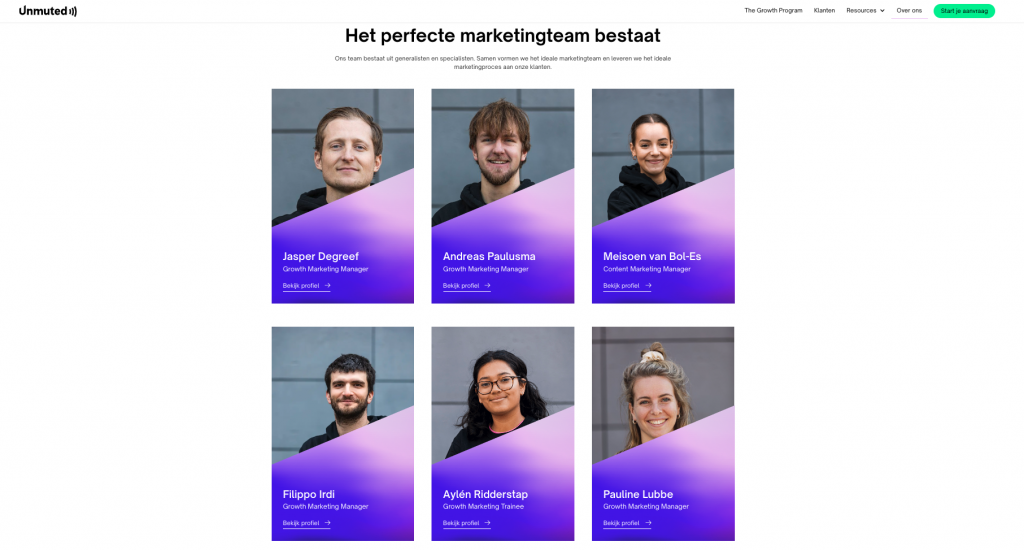 "People buy from people."
It's essential to show faces and create a personal brand. When working on website upgrades for clients, one of the first things Unmuted does is create a team page with a separate page for the founder. This way, if someone searches for the founder's name, they will find the company's website in the first spot on Google with a bio, call to action, and link to the founder's LinkedIn profile. 
It's a great way to capture interest from people who are already fans of the founder's work and turn it into opportunities for the business. Creating a personal brand and making it easy for customers to learn more about the people behind the company, it can lead to increased interest and, ultimately, more growth.
B2B is not as sexy as B2C—how do you work around that?

Unmuted's customers typically have created a software solution that solves a critical business problem or helps companies seize a valuable opportunity. These companies are often started by people who have experienced the problem themselves and decided to create a solution.
Max believes that leveraging the founder's personal story and enthusiasm for solving a problem can be a powerful growth lever for a business. Having a personal connection to the product or service can make it more relatable and human. A founder's personal brand can also create a network effect and help raise awareness of the company's solution. 
During our chat, we mentioned an excellent book that covers this—Founder Brand by Dave Gerhardt.
If a business is establishing a new category solution and wants to make more people aware of it, using a founder brand can be an effective way to solve a demand creation problem with low resources. This approach can make the business more relatable and help customers see it as a more human endeavour, even if the industry is perceived as boring. 
However, spending time on building a founder brand may not necessarily yield better results than focusing on demand capture. When technology becomes so disruptive or essential, there may already be a massive demand for the product or service, and in those cases, building a personal brand may not be as important.
How does word of mouth fit your B2B strategies?
Max told us that when his team works with a customer, they always start by assessing the customer's current maturity and goals to determine what type of bridge to build. They look at what the customer has already been doing and whether they have had any traction with their efforts. This helps them establish where the customer is currently at and what initiatives will help them achieve their goals as quickly and sustainably as possible
Of course, budget is also a factor, and some startups have limited funds to spend on advertising. In those cases, the focus should be on organic growth, which can have a slower start than advertising but can be more cost-effective in the long run. When deciding what to focus on, Unmuted balances short-term and long-term goals. Organic growth should be the primary focus for startups, as it allows them to use algorithms to test whether their messaging is effective. 
Startups often face the challenge of communicating the wrong message, which can be costly if done through paid advertising. Understanding product-market fit is crucial, and it is essential to assess the maturity of the company before deciding on a strategy.