Abstract
ultimate
.money
is developing a crypto wallet super app to allow non-web3 experts to participate in Decentralised Finance
(DeFi).
ultimate will first deploy the app through a private beta program. To get participants for the beta, they use a referral waitlist strategy built with Viral Loops—where people can join and climb the queue by referring their friends. As of right now, they are approaching 1/2 million participants.
ultimate.money is on the way to making Decentralised Finance
(DeFi)
accessible to people who are not blockchain tech-savvy geeks but want to liberate themselves from banks. They do that with a
super app wallet
everyone can use to participate in Web3, trade assets, save crypto with high yields, and collect NFTs.
"The pace of innovation that we're witnessing in DeFi is astonishing, but using crypto wallets to discover and invest in the right products still poses a significant challenge especially for less tech-savvy users"
~
Maximilian von Wallenberg
The plan is to develop an app that works on many chains and allows user to do their finances through multiple secure frameworks. But of course, great things take time, and the complete app will be available in consecutive versions, starting with a private beta.
ultimate uses Viral Loops to get early adopters for their beta with a referral waitlist
. Once the beta is ready, the top waitlist participants will get early access and even more benefits if they reach the top 250 or 100.
ultimate's branding appears top-notch throughout its website, including its waitlist section and overall flow. They use tech colour palettes and visuals that feel futuristic without making it look too geeky and unapproachable, just like their product.
Below you can find a detailed breakdown of their campaign, including how it worked, the participant journey, and how it has performed so far. At the moment of writing this, their waitlist campaign is still active and growing.
Their referral waitlist program has 6 steps. Let's review them through a story:
Freddie lands on their main website and understands the product's value

Freddie joins the waitlist through their minimal, custom-made form asking only for their email.
Once in, Freddie sees their position on the waitlist along with their referral link. The prompt also explains that to climb the waitlist, they have to refer friends.
Freddie copied the link and sent it to a friend, Adria.
Αdria clicks the link that takes her to the landing page, where she joins the waitlist too!

Once in, Adria starts from step 3

(above),

and one referral is added to Freddie, pushing them higher in the queue.
How it worked—the little things
To facilitate this whole process, ultimate uses a few different tactics here and there to keep people engage and maintain a high-quality participant base—here are the most notable:
#1 Custom opt-in form (API based)
Using the Viral Loops API, the ultimate team tailored their opt-in form to fit their branding perfectly. 
Once submitted, the form sends the user email to Viral Loops through a simple API call where they are assigned a unique referral link and get into the participant journey.
#2 Ensuring email legitimacy with verification emails
After someone joins with their email, they do not have access to their position and referral link until they verify their email address. Something they can do through a verification email sent directly from ultimate.
At the moment of writing this, ultimate is approaching 500,000 participants for their waitlist—an impressive milestone.
Besides the total amount of participants, the most impressive fact about their campaign is the speed with which they get participants. In the first four weeks, they surpassed 200,000 with more than 100K referrals.
With some rough calculations, we can see that nearly 1 in 2 people who join invite their friends to join too! Such a rate shows that much word of mouth is ultimate.money is created for their upcoming product, amplified with the exclusiveness of entering closed beta.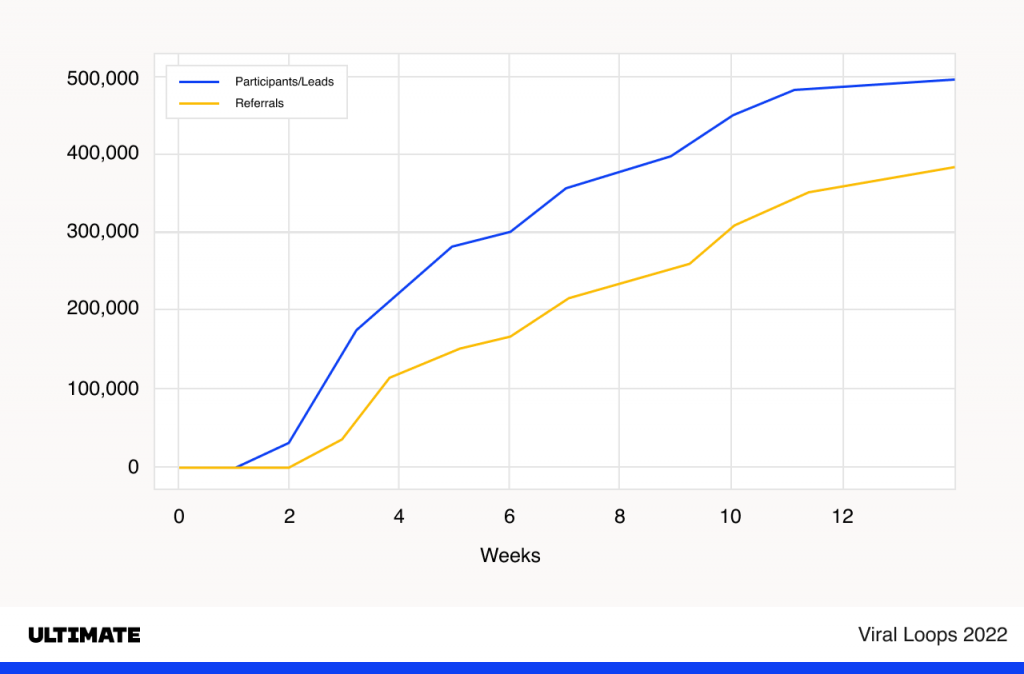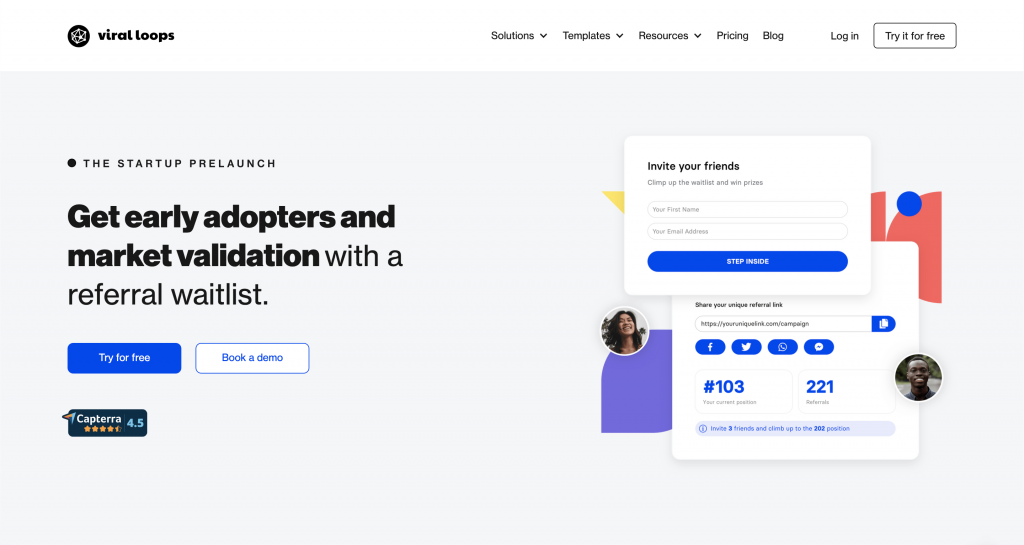 With the template, the whole referral process is automated without much effort. All you have to do is personalise the campaign branding to your aesthetics—Viral Loops will take of all the trouble:
It will generate referral codes for your participants 

You'll have a list of all your participants with their waitlist ranking and count successful referrals

It will detect fraudulent participants who might be cheating

(ex.,

referring bots) before they join the campaign and get rewards they do not deserve.
Taking it to the next level with the API
If you want to create a unique experience, Viral Loops offers a powerful API to let you do it. This way, you can still have complete referral waitlist management provided through our platform and absolute freedom over the design and campaign actions. You can do things such as making custom forms or giving early access from your back end.
In ultimate's case, they designed their form paired with the following API's Participant Registration POST request. Here's how one could use it with Node.js.
The beta version is underway, and we'll soon see the live product if all goes to plan. I signed up a few days ago and only have to invite two more friends to make it to the top 1000.
Regarding its waitlist performance, it seems like it is on a fast growth track, and it keeps bringing in referrals and participants. It is an exciting project with fantastic execution from their team.
We wish they succeed and make DeFi accessible to the rest of us.
Nikitas has launched products in many industries for himself and his clients. He's responsible for growth at Viral Loops and has worked in marketing since he was 17. Passionate about applying psychology to marketing. My favourite number: 42. Let's connect on LinkedIn!