Note from the author:
I'm always fascinated by projects/companies that don't try to sell something; the fact they're in the game for the value they strive to provide to their audience.
That's the reason I love The Hustle!
As you can assume by this intro, BeautySavers is one of these cases. Although I'm not into beauty products myself, my gf really appreciated the fact that she could be up to date from one place.
Also, BeautySavers use our Milestone Referral Template for their ongoing referral program. Another reason to get in touch with the people of Firon Makreting (the masterminds behind the project), and learn a bit more about the way they approach this venture.
I was intrigued, so I gathered some extra info about their campaign and I present them right below this short interview.
Enjoy!
Can you tell us about what you are working on? What is Beautysavers? What type of business are you?
BeautySavers is a destination for the latest beauty tips, shopping discounts, and giveaways. The giveaways are weekly and feature great value beauty products which are reviewed by the Beauty Savers influencers.
There is an influencer for each beauty category (Makeup, Hair, Skincare).
We've built this community on the great relationships we have with beauty brands because we bring awareness to their products through giveaways, reviews by our trusted influencers, and our referral programs.
We're here for the audience. It's our mission to find great products at great prices, and give away as much of them as we can!
BeautySavers utilizes Viral-Loops to provide a referral program which we use to reward our loyal audience members. In return for sharing with 5 friends, a Beauty Savers enthusiast will receive a Tula Daily Cleanser which has a value of $10.
Beauty Savers was built by Firon Marketing to grow a beauty audience which it can distribute the product for its beauty brand partners.
We're here for the audience.
At what stage is your company? (Are you trying to raise some early traction during a pre-launch? Are you trying to get more sign-ups/orders/subscribers? Are you thinking of running crowdfunding?)
We are trying to get more sign-ups/subscribers, so we can reach bigger beauty brands and give away more products to our loyal audience. We are quite in an early stage (less than 6 months old), but growing fast.
How are your customers using Beautysavers? Could you share a few different use cases?
Our customers (audience members) are using Beauty Savers to hear about new products, get products for free, and interact with each other. Users share photos of their rewards and heavily engage (over 150 likes and comments per contest post) every week with our social posts.
What made you want to run a referral program? What was your goal?
We ran a referral program to multiply the incentivized traffic we generate with organic shared (referred) growth. The referral traffic has been incredible in its retention as well as its volume.
How did you promote your campaign? How did you get your first participants/referrals?
We utilize social media ads and influencer features.
Did Viral Loops help you with your campaign success? If yes, how?
Yes, the technology was easy to set up, embed in our website with our own branding, and it's affordable.
Do you generate sales from word of mouth and referrals? If so, can you describe how? Can you share with us some results/metrics of your Viral Loops campaign? How did it perform so far?
We don't sell anything, so the traffic generated by Viral-Loops is clear in the dashboard data.
BeautySavers' Milestone Referral Campaign
First things, first.
If you want to build your own Milestone referral campaign, all you have to do is to sign up for Viral Loops and use our pre-made template inspired by Harry's.
If you find any trouble with the setup, my beautiful voice will guide you through the steps. Just push the play button of the video below:
As in every successful Milestone referral campaign, it all starts with a nicely designed landing page.
Copywriting is also important, and BeautySavers really nailed it!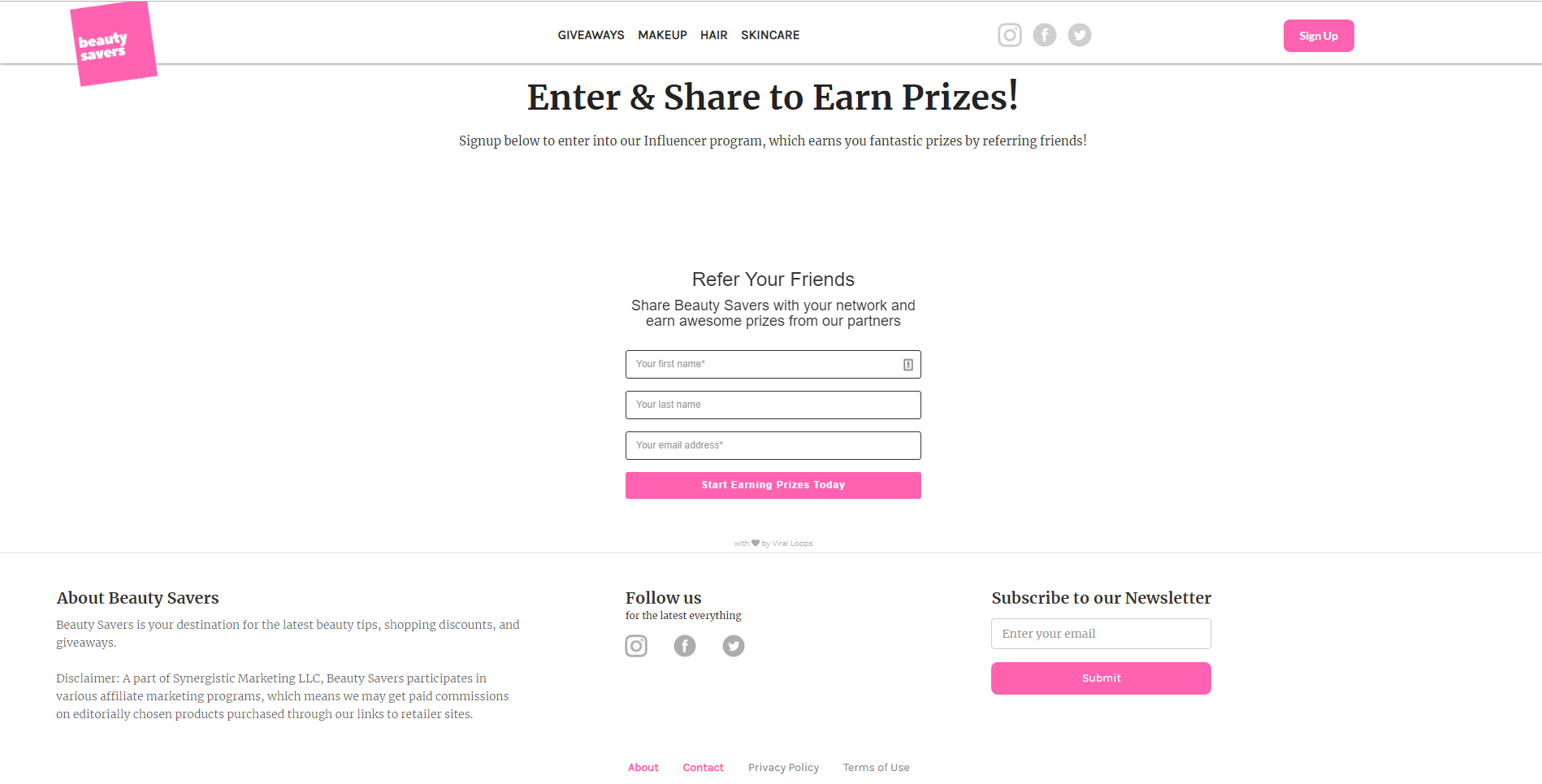 After signing up, I got redirected to a 'Thank you' page, which prompts users to share their unique referral link in order to win the prizes.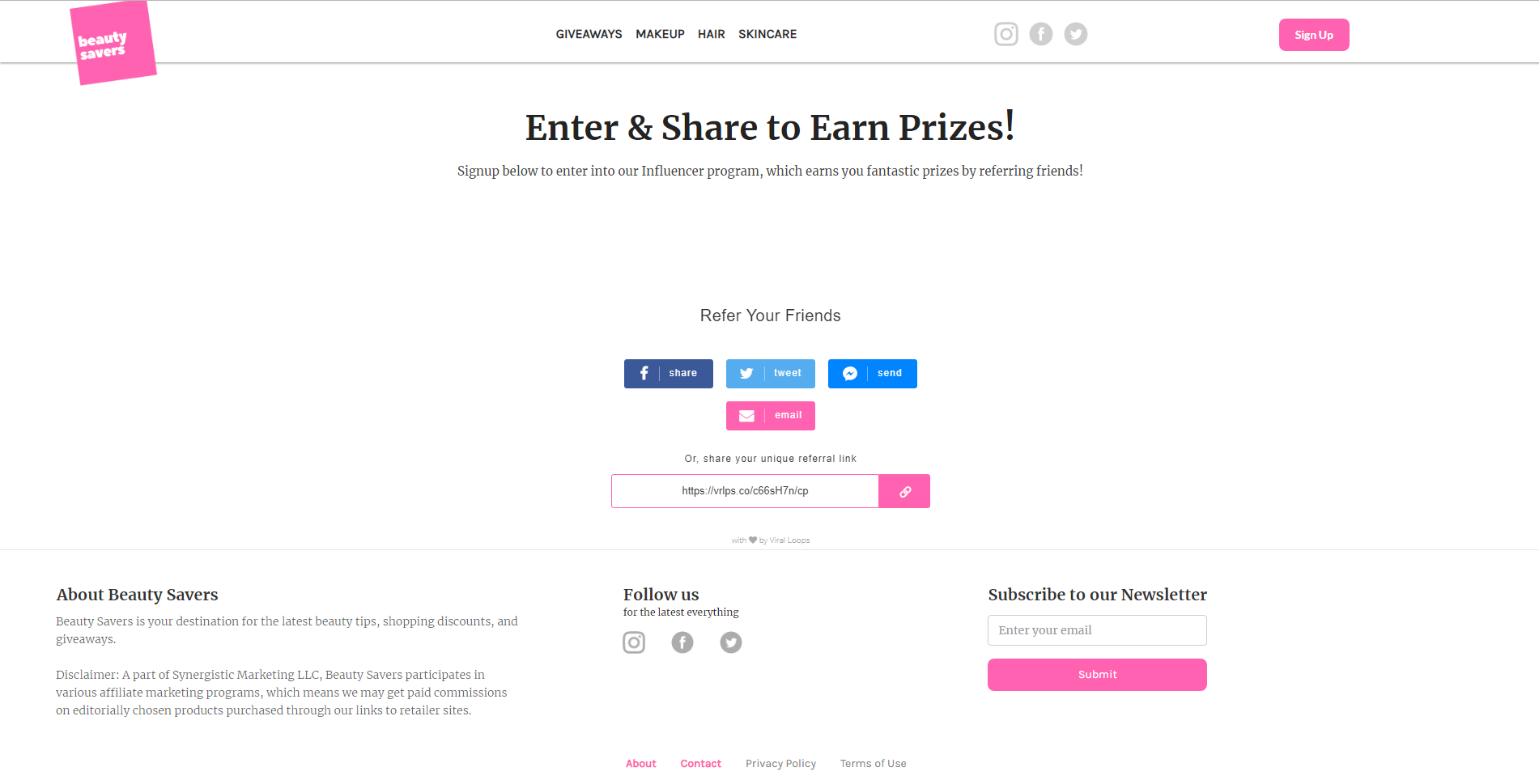 At the same time, I received my welcome email that also prompts to share my unique link with my network.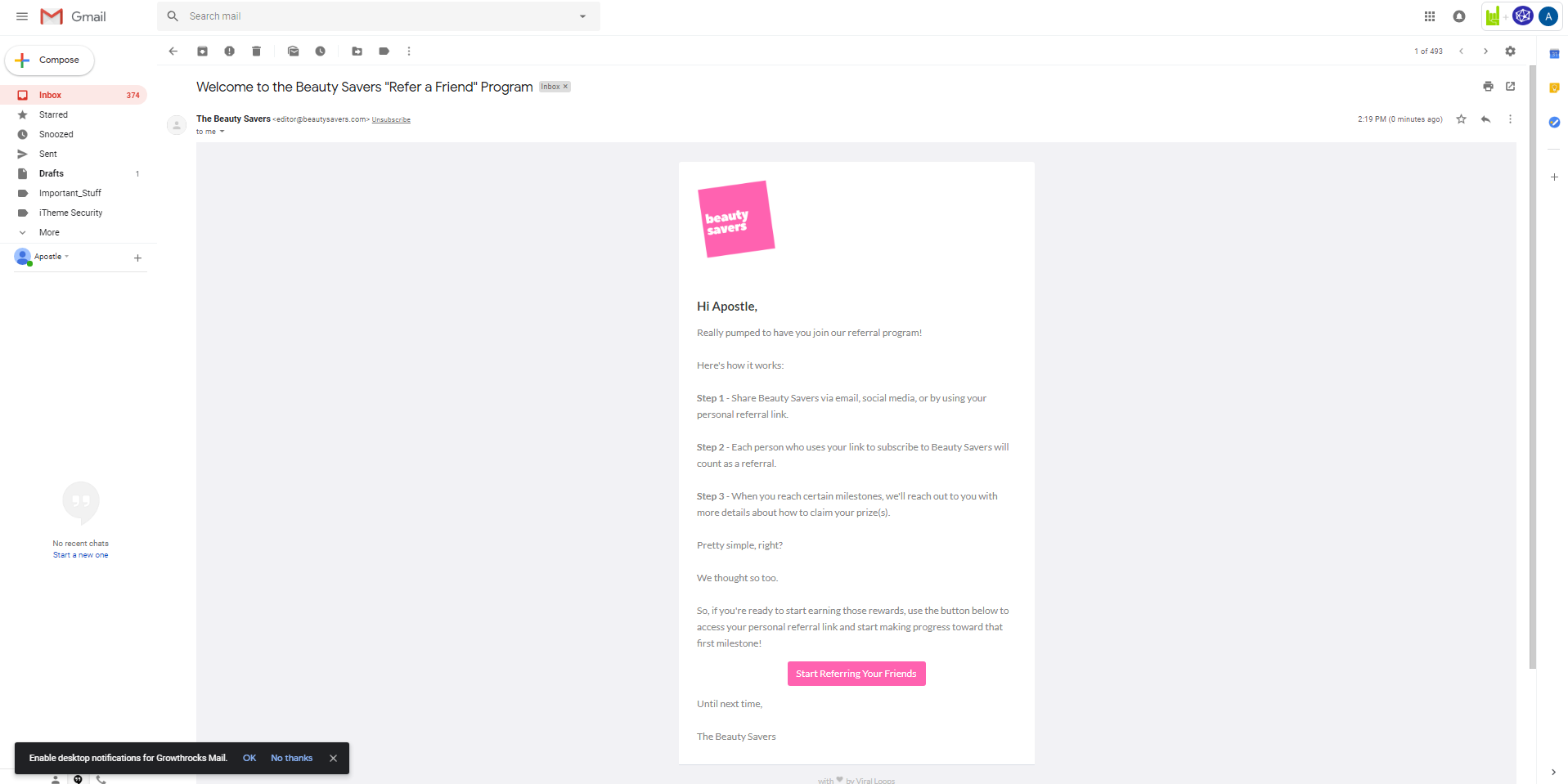 In order to test things out, I invited George (I don't think that he is a fan of beauty products, but he was immediately available) to join the referral.
Once he signed up for the campaign, my successful referral count went from 0 to 1 in my Personal Referral Center (as BeautySavers name it).
Also, I received an email informing me about my about my small win.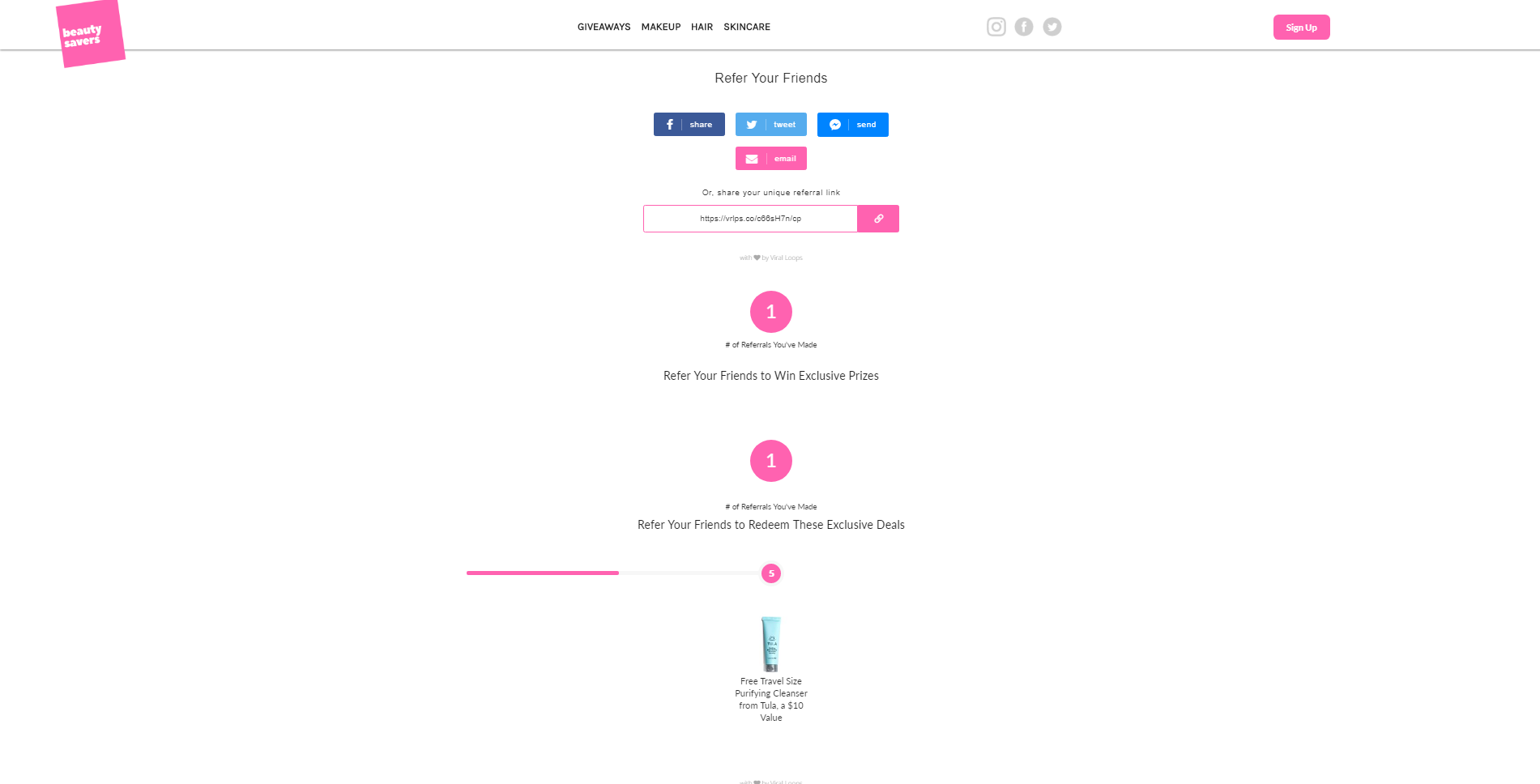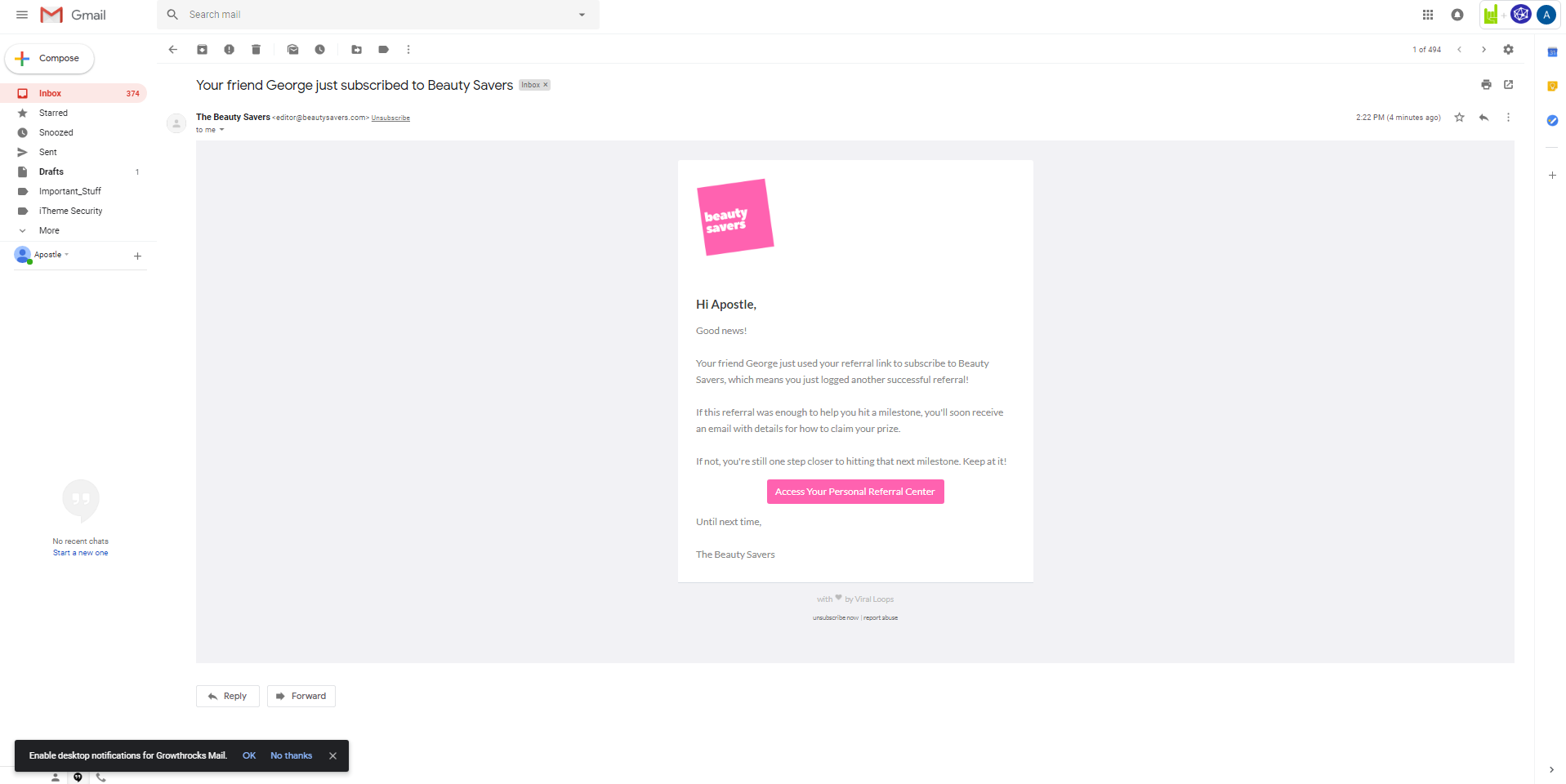 And really, that's it!
Simple, yet effective.
I will see you very soon with another interesting case, so make sure to subscribe to our newsletter in order for you to get it first!
Keep being awesome