When it comes to advertising your products or services, referral marketing can help you get a potential customer's two feet in the door.
And we're not just saying that.
You see
, customers have said they find it easier to trust brands that were recommended by people they trust.
That's what makes this marketing model one of the most effective in the digital marketing space. 
So, what do you need to get started? 
For starters, find a great referral marketing tool.
In this article, we're discussing alternatives to GrowSurf. 
You'll get to know about their:
Benefits

Unique features

Pricing 
Before we get into that, let's take a look at the comparison table below. 
Table of Contents
GrowSurf Alternative Comparison Table
GrowSurf Alternative Comparison Table
We've created a table that gives you an overview of the different features of top GrowSurf alternatives out there. 
It will help you decide which tool would be the right fit for your business so you don't have to try all of them out.  Take a look at the table below: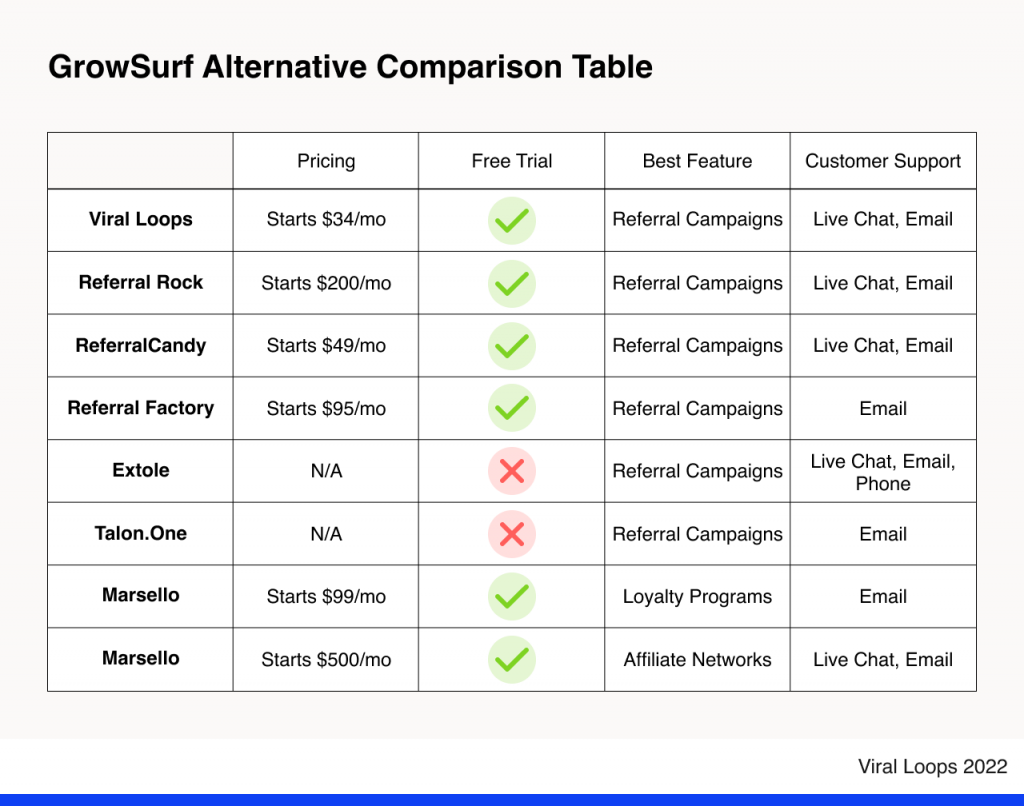 Now that's settled, let's get down to business.
What is GrowSurf?
GrowSurf is a referral marketing program specifically designed for tech companies.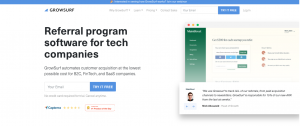 Image Source: GrowSurf
It can help you automate your website's growth whether you're a B2B or B2C company. 
Plus, the software offers several functions that suit your brand's specifications including integration with Mailchimp.
How does it work?
Growsurf provides a unique link for each of your customers that they can share with others.
You get to give the product's JavaScript API link to users to share details about your product or service with their contacts.
What are some of its benefits? 
To answer that, let's see some key features:
ESP integration, JavaScript API, and  spam protection

Campaign and lead management

Unique referral link and customizable design
As regards their pricing, GrowSurf provides more information on their website.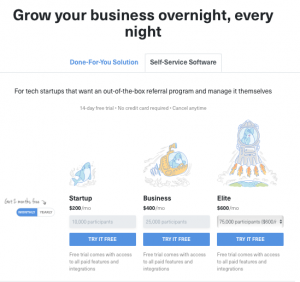 Image Source: GrowSurf
More specifically, they offer three pricing plans:
Startup plan for up to 10,000 participants that costs $200 per month

Business plan for up to 25,000 participants at $400 per month

Elite plan for up to 75,000 participants at $600 per month 
Now, it's time to talk about the most powerful GrowSurf alternatives!
Tool #1: Viral Loops
Oh look! The first tool we talk about is us 😉. 
Viral Loops is a template-based referral marketing tool that helps brands create viral advertising campaigns. 
Whether you want to promote a new product, grow your email list, find new customers, or even retain existing ones, Viral Loops has everything you need. 
Our templates, which are majorly based on the gamification concept, make starting a referral campaign a walk in the park.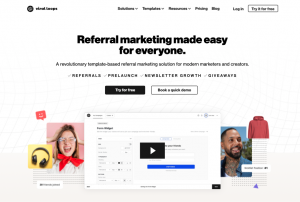 What's all this talk about templates?
We understand that customer acquisition nowadays can be kind of a drag, and referral marketing can get you what you need. 
As such, we prepare templates inspired by top brands that have experienced success using similar concepts. 
All you have to do is: plug and play! That's how it works.
Choose one of the templates that match the kind of campaign you want to create, input details about your campaign, and you're good to go…
… in a nutshell.
Who can use Viral Loops?
Basically, Viral Loops is built for modern marketers, entrepreneurs, creators, or solopreneurs.  
Wanna see some of our best features?
Viral Loops Features
Our platform can help you run viral referral campaigns using features such as : 
Customizable campaign templates

: They are one of our key features and we've got about ten of them for you. 

Landing page builder

: Still building your website? Use our landing page builder to host your campaign.

Campaign performance dashboard

: Track how your campaign is doing, check important metrics, and make necessary adjustments after its launch.

Various integration apps

: Connect with other apps to ensure your campaign runs smoothly.
Viral Loops Pricing
Our pricing is moderate for the budding start-up and established brands.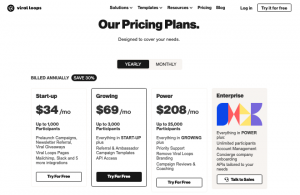 We begin with a 14-day free trial for our new customers. 
And if you like what you see, you can proceed to choose from any of our plans:
Start-up (up to 1,000 participants) at $34/month

Growing (up to 3,000 participants) at $69/month

Power (up to 25,000 participants) at $208/month

Enterprise for unlimited participants–contact us to know more about this one!
Participants refer to anyone who joins your campaign directly or through referrals.  
'Tool #2: Referral Rock
Referral Rock is another referral marketing tool that helps automate your brand's referral campaign.
According to Referral Rock, the tool helps you give your best fans an on-brand sharing experience with their software and affiliate program.
Image Source: Referral Rock
How does it work for marketers?
You get to build a customized referral program within days that suits your brand's style. Then, integrate software by outlining your sales process. 
After which you can launch your program and optimize it for better results.  
Referral Rock is good for growth marketers and companies that want to automate tasks from their referral program. More specifically, it works best for tech companies such as:
B2B

B2C

SaaS

eCommerce

Start-ups

Small and medium-sized enterprises (SMBs)
With Referral Rock, you can create email campaigns for customers at different stages of the program to encourage retention. Multiple types of referral rewards such as cash, gift cards, and coupons can be created including a reward structure.
Plus, their automation helps handle routine time-consuming tasks so your campaign is set up quickly.  
What's more, there's expert support available at every stage irrespective of your industry.
Referral Rock Features
There is so much you can do with Referral Rock from controlling the design to be used to creating the referral program directly in your preferred marketing channel.
These and more are made possible through features such as:
Social media sharing

Gamification

Referral and rewards management

Multi-channel marketing

Lead engagement

Quick integrations

Fraud detection

Campaign management
Referral Rock Pricing
Referral Rock's pricing structure is divided into three plans and is based on the per feature price model.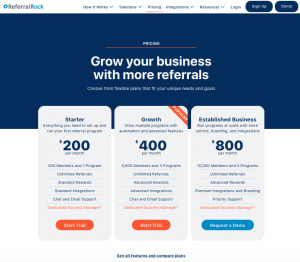 Two of their plans have a 14-day trial period with the third one offering a demo of how their tool works. 
After the free trials, here's what you're required to pay for the plans:
Starter plan

: $200 per month

Growth plan

: $400 per month

Established Business

: $800 per month
Tool #3: ReferralCandy
ReferralCandy is another GrowSurf alternative that can help you increase sales of your small business by using word-of-mouth marketing. 
They reward your customers whenever they successfully invite another customer which subsequently leads to an increase in sales.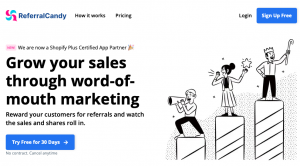 Image Source: ReferralCandy
When using ReferralCandy, you can automate your referral program while keeping track of the results and reducing fraudulent activities. 
How does it work?
For starters, you will need to connect ReferralCandy with your online store, choose the type of reward for referring customers, connect it with your marketing app, include referral nudges, and see your sales grow.
In other words, ReferralCandy is majorly for eCommerce stores.
So, do they allow integrations?
Considering their focus is mainly on online stores, integrations are very important and they allow several tools to be integrated in one-click including:
Google analytics

Mailchimp

JS

Custom API

WooCommerce 

Shopify

Magneto

Klaviyo
ReferralCandy Features
ReferralCandy takes the word-of-mouth marketing for eCommerce stores to another level using features such as: 
Protection from fraud

Automated referral program

One-click integration with different systems and tools

Customizable reward options 

Referral management 

Customer support (live chat)

Data-driven insights 

Template editor
ReferralCandy Pricing
Their pricing plans are quite affordable. In ReferralCandy's words, they are prices that won't break the bank. 
They've got a monthly premium plan and an annual enterprise plan.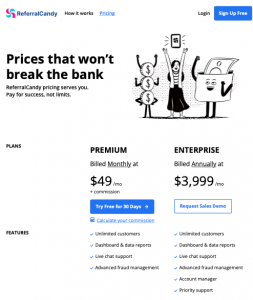 Image Source: ReferralCandy
The premium plan stands at $49/month with a free trial period of 30 days while the enterprise plan is $3,999/month (billed annually) with a sales demo available on request. 
Tool #4: Referral Factory
Referral Factory is a referral marketing tool that makes managing your referral programs simple. 
It takes away the stress of tracking your referral program alone and removes the chances of making mistakes too.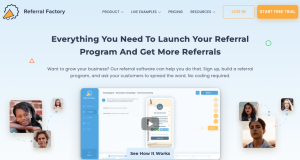 Image Source: Referral Factory
Referral factory gives you two choices: 
Build your custom referral program in less than five minutes by using available templates

Create your own program from scratch 
You can keep track of your referrals to see who's leading and connect that data with API to automate the giving out of rewards. 
What kind of business or professional can use Referral Factory?
Well, marketers who work with companies such as:
SaaS companies

Retail businesses

SMBs

Service companies
How about integrations?
It comes with a Zapier Zaps collection and three main integrations: HubSpot, Intercom, and Salesforce.
Referral Factory Features
This referral marketing solution is able to simplify your sales process and multiply your business revenues with several features, including: 
Referral program templates

Landing page builder

User notifications

Real-time tracking

Remarketing scripts

User verification 

Campaign management

External integrations

For customer referrals
These help to manage a relationship with your referrers and promote your program. 
Referral Factory Pricing
Referral Factory has four-flat rate pricing plans. 
Three of them come with a 15-day free trial and the fourth one comes with a demo session.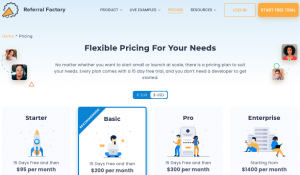 Image Source: Referral Factory
To help you understand a little better, we've included  what each plan covers:
The

Starter

plan: $95 per month and up to 2,500 users

The

Basic

plan: $200 per month, everything on the Starter plan, and up to 25,000 users

The

Pro

plan: $300 per month, everything on the Basic plan, 25,000 users, and brand-free widgets

The

Enterprise

plan: $1,400 per month, everything on the Pro plan, and 100,000 users.
Tool #5: Extole
Extole is next on our best alternative list.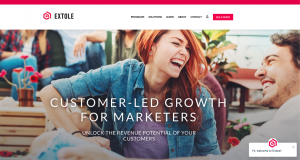 Image Source: Extole
It's a referral marketing software that uses loyalty programs and referral campaigns to turn customers into advocates. 
The referral marketing tool comes with templates, customized share codes, and incentives. 
Who can use the Extole platform?
Once again, marketers who are in retail services or financial companies can use it for lead generation and brand growth. 
Extole Features
Extole not only uses advocacy to drive customer acquisition and retention, but it also helps you engage with them online and offline using: 
Rewards engine

On-brand sharing

Omnichannel experience for advocates

Instore transactions

A/B testing

Fraud protection

API and webhooks 
Extole Pricing
Extole doesn't have a pricing page available.  What they provide is custom pricing. 
In other words, you have to reach out to them for pricing if you're interested in their software. 
Tool #6: Talon.One
Talon.One is a customer loyalty management software designed to help businesses create referral campaigns. 
With this marketing tool, customers receive personalized incentives based on their level of engagement with your brand.
      Image Source: Talon.One
You can build any type of referral program with them. 
They help you convert customers and subscribers into your buddies, and their friends into loyal customers. 
It's ideal for marketers who work with SMEs, start-ups, agencies, and enterprises. 
Furthermore, Talon.One can help users create targeted or personalized coupon codes, link single-use coupons to customer IDs, and assign expiry dates to those coupons. 
Talon.One Features
How are they able to help you convert customers into friends? Their B2B product incorporates features such as:
Customer activity tracking

Loyalty card system

Rewards management

Membership management

Referral partner list

Reward distribution

Coupon tracking

Affiliate tracking

Geofencing
Talon.One Pricing
Talon.One has a personalized pricing structure depending on your business size.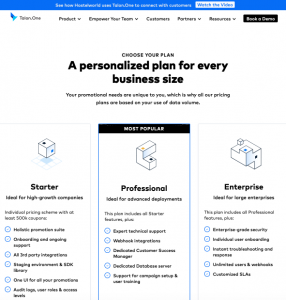 Image Source: Talon.One
The three plans: Starter, Professional, and Enterprise are designed to range from growth companies to large enterprises. 
None of the three plans have a free trial period.  However, you can request a demo to see how it works.
Tool #7: Marsello
The next tool we take a look at is Marsello.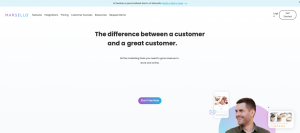 Image Source: Marsello
Marsello is a loyalty and email marketing automation tool for business owners.
To be specific, they focus more on customer retention and sales. Marsello merges automation with human expertise to boost sales via word-of-mouth marketing. 
It is designed for retail and eCommerce businesses.
Are there integrations?
Yes, several tools and software can be integrated with Marsello including:
Shopify

Shopify Plus

Vend

Cin7

Lightspeed

Bupple

Heartland

Ecwid 
How does it work?
The referral marketing tool accesses customers' data from eCommerce stores or point of sale platforms so it can categorize them using their buying patterns. 
Thereafter, customers are engaged with loyalty programs by leveraging email flows. The end result is a lasting connection with customers which consequently improves your brand's value. 
Marsello Features
The major features offered by Marsello include: 
Marketing automation

Loyalty and reward program

Email and SMS campaigns

Campaign segmentation

Channel management

Analytics

Website visitor tracking
Marsello Pricing
Regarding pricing, Marsello's monthly subscription starts from $99.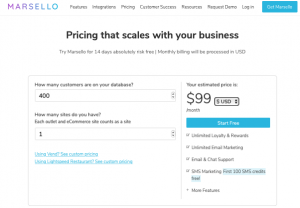 Image Source: Marsello
You have access to a 14-day free trial period before you start paying. 
The price of using their tool varies and is directly proportional to the number of customers in your database and the number of websites you own. 
In other words, having multiple sites and a customer database of over 1,000 would lead to an increase in your monthly fees. 
Tool #8: Affise
The last but not the least referral marketing tool we talk about in this piece is Affise.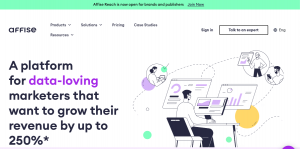 Image Source: Affise
It's a platform that can help marketers increase their revenue. 
Affise is marketing software built for marketers, advertisers, and agencies to keep track of and analyze their web-based marketing campaigns, in real-time. 
What integrations are available that you would find helpful?
CAKE

Shopify

Taptica

Adcombo

Google cloud

Amazon Web Services

Affilitest 
Affise Features
Relevant features offered by Affise include:
API support 

Referral rewards

Custom domain tracking

Pixel and postback control

ISP and device tracking

Event tracking and custom goals
Affise Pricing
Affise split its pricing into three: Entry, Scale, and Custom.
Entry

plan at $500 per month

Scale

plan at $800 per month

Custom

plan at $1,500 per month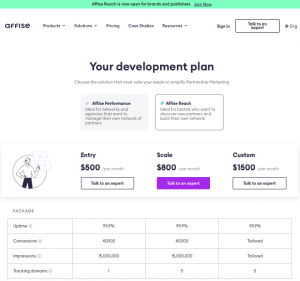 Image Source: Affise
In place of a free trial period or demo session, you have the option of talking to an expert. 
Before you Go
That's the end of our comprehensive list of GrowSurf alternatives. 
We hope this article helps you decide which referral marketing platform is right for your business. 
There's a high possibility that it has what you need here.
If you want to get things started, feel free to book a live demo with Viral Loops. 
It will give you a feel of how our tool can help your business go viral. 
Thanks for stopping by and we wish you success on your next campaign!