Any marketer out there knows just how important it is to have people talking about your products or services. 
Word-of-mouth marketing (WOMM) is exactly that: having happy customers spreading the word about your brand. 
Who doesn't want that, right?
In this guide, we've put together all the important information you need about WOMM including:
A definition of word-of-mouth marketing

Reasons why word-of-mouth marketing is important

Plus, some important word-of-mouth marketing statistics you should know
What's more, we've collated a list of five interesting word-of-mouth strategies, along with interesting examples that'll hopefully inspire you to start using the power of referral marketing yourself. 
Plus, we've got a treat for you: a detailed referral marketing book you can download for free!
Whether you're a junior marketer looking to get traction and promote a company or a business owner just starting off on your entrepreneurial journey, be sure to make the most of this post! 
Let's get right into it. 
Table of Contents
What is Word-of-Mouth Marketing?
Word-of-mouth marketing (WOMM) is a form of marketing that relies on happy customers talking about their positive experiences to their family, friends, and colleagues. 
The way WOM marketing works can be summarized with the following line: through providing customers with an experience that's worth talking about, you indirectly convince them to talk about your brand and become your brand advocates. 
Additionally, word-of-mouth marketing is a marketing channel that includes viral marketing, as well as buzz marketing, which uses the dynamic of your network in order to spread the word about a product or a service.   
The following image – that illustrates how a media brand, My Little Paris, grew dramatically from one email sent to 50 friends in 2008 to have 4 million subscribers in 2017 – is a very successful visual representation of just how efficient word of mouth can be.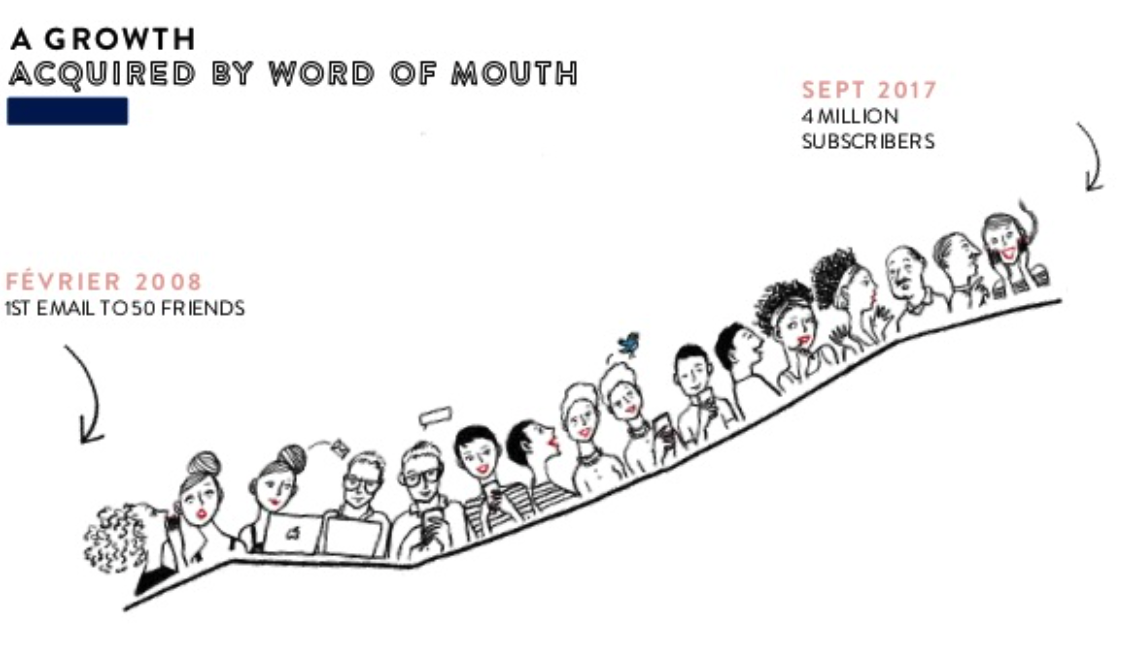 Let's dive a bit deeper into things though and see what makes WOM marketing so important.
Why is word-of-mouth marketing so important?
Word-of-mouth marketing is important because consumers trust their family members, friends, and colleagues, so hearing them talk positively about a brand or a product makes them want to try it out, too. 
On that note, 88% of consumers say that recommendations from family and friends can definitely influence their buying decisions far more than advertising, thus making word-of-mouth advertising extremely useful for businesses. 
To put it simply, WOM marketing is an effective type of marketing because it's based on sharing positive experiences from people who've tried a service or product – who become satisfied customers – and feel that sharing their experience with others is important. 
Even though some of the ways people share their experiences with friends have remained the same, rapid technological progress has created a new, digital version of WOMM. 
Let's see what this is all about.
What's the digital version of word-of-mouth marketing?
Digital word-of-mouth marketing is a type of WOM marketing that involves the use of online media to prompt your users or customers – depending on the type of business you run – to advocate for your business online, through social media like LinkedIn, emails, online review sites such as  Yelp, and communities including Slack groups, to mention a few. 
In other words, the digital version of word-of-mouth marketing is like offline word-of-mouth marketing, but taking it into the digital realm.  
It basically works by having people happily pass information and personal recommendations in regards to a brand along to their friends, family, and colleagues.  
Needless to say, this is one of the best digital marketing channels with conversion rates that are hard to match through other channels, like organic or paid acquisition. 
How effective can WOM marketing be?
Keep reading to find out. 
How Effective is Word-of-Mouth Marketing?
Word-of-mouth marketing can be really effective in terms of raising awareness of a product and convincing people to trust a brand and, ultimately, make a purchase. 
In fact, according to a 2015 Nielsen survey, friends and family are considered to be the top global source for new product awareness with 56% trusting it the most, above TV ads that get 52%. 
Wanna know some more stats?
The following seven will help you understand the importance of word-of-mouth marketing as part of a company's overall marketing strategy.
7 Word-of-Mouth Marketing Statistics
Here we go:
Social media posts are among the five most influential sources of new product information according to 31% of Generation Z consumers and 32% of Millennial consumers.  (Source: Nielsen)
The stats help us establish how effective word-of-mouth marketing can be for businesses in terms of helping them to build brand awareness and brand loyalty. 
Keep reading to find more about six very prominent word-of-mouth marketing strategies that well-known companies have used to encourage organic word of mouth. 
5 Word-of-Mouth Marketing Strategies and Examples to Inspire You
We've talked about what word-of-mouth marketing is and how effective it can be. 
If you can't wait until you launch your next word-of-mouth marketing campaign, then you'll be thrilled to read through the following word-of-mouth marketing strategies and examples we've prepared for you. 
Without further ado, we're diving right into the first one. 
Strategy #1: Let your product do the "talking"
The first word-of-mouth marketing strategy is to let your product do the talking for you. 
Pretty straightforward, right?
Before we dive deeper into this, we simply need to mention that this strategy is all about using your product in order to bring new customers into your small business and help it grow. 
Here's how Slack is doing it. 
Example: Slack
The business communication tool, Slack, is a great example of how you can make your product do all the talking for you in terms of getting more people into using the product and raising awareness for it. 
With over 12 million active users in 2019 – even though Slack hasn't updated its user figures, we can safely assume that the number has increased since the COVID-19 pandemic – there's no doubt that the tool is one of the fastest-growing business software of all time.
How does Slack manage to offer a unique customer experience and use word-of-mouth marketing through their most important asset; their product?
It simply does so by having, what we could call built-in virality. 
Virality in this context means that the tool prompts users to spread the word about it while using it. 
To put it simply, you can't use Slack without inviting others!
The steps a user can take to bring more team members into the tool and create an efficient workplace with streamlined workflows and communication channels are summarized below: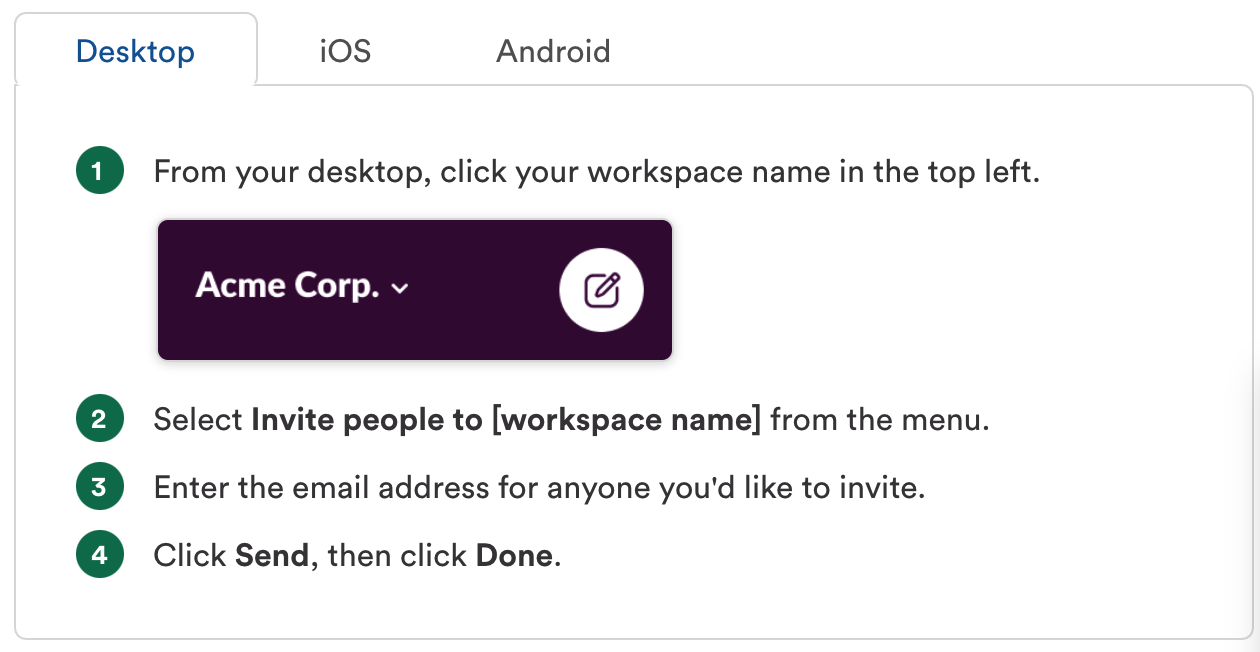 Of course, this strategy can't be applied to all types of business. 
Simply put, different businesses have different business models and thus, built-in virality on a product level can't always work the same way as in the example we've shared with you. 
Let's get to the next strategy and word-of-mouth marketing example we have for you.
Strategy #2: Launch a referral marketing campaign
This second strategy we want to share with you is basically a very efficient and direct way of making the most out of online word-of-mouth marketing. 
It's as simple as launching a referral marketing campaign as well as establishing and using referral rewards across the different steps of the process of people using your products or services. 
If you're not familiar with referral programs, let's just say that they can help you reinforce your user experience and grow brand awareness by making already registered users invite their friends, family, and colleagues to sign up for your product too. 
It's by far one of the most effective forms of marketing, with many well-known companies such as Airbnb, Dropbox, and Robinhood using it to acquire new customers easily and more cheaply than traditional channels.
The following example will make this a bit more clear.  
Example: Airtable
Airtable, a cloud collaboration tool launched in 2012, is using the power of referrals to acquire new users and basically expand its customer base. 
To be more precise, the tool makes wide use of referral awards across its user interface (UI) which they've built with much patience and steady steps. 
First of all, when a new user signs up for Airtable, they immediately get a unique invite link. 
What's more, the tool gives users an extra incentive of a $10 credit per invite. 
The screenshot you see below is the window users get when they sign up for the tool: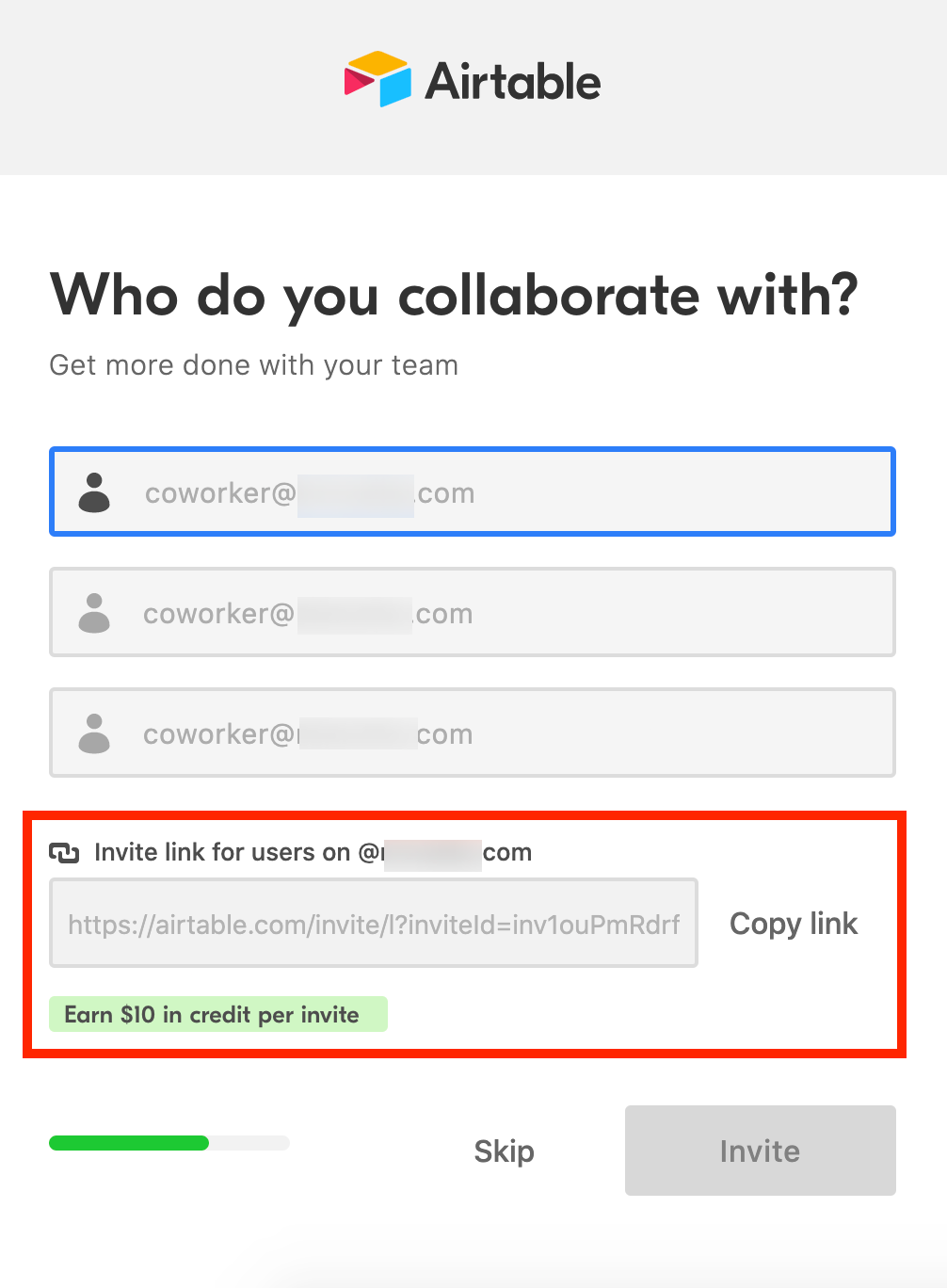 That basically means that every time you invite someone – possibly from your team or company – you get a $10 credit.
Once you're on the tool, you can also either click on the CTA highlighted below…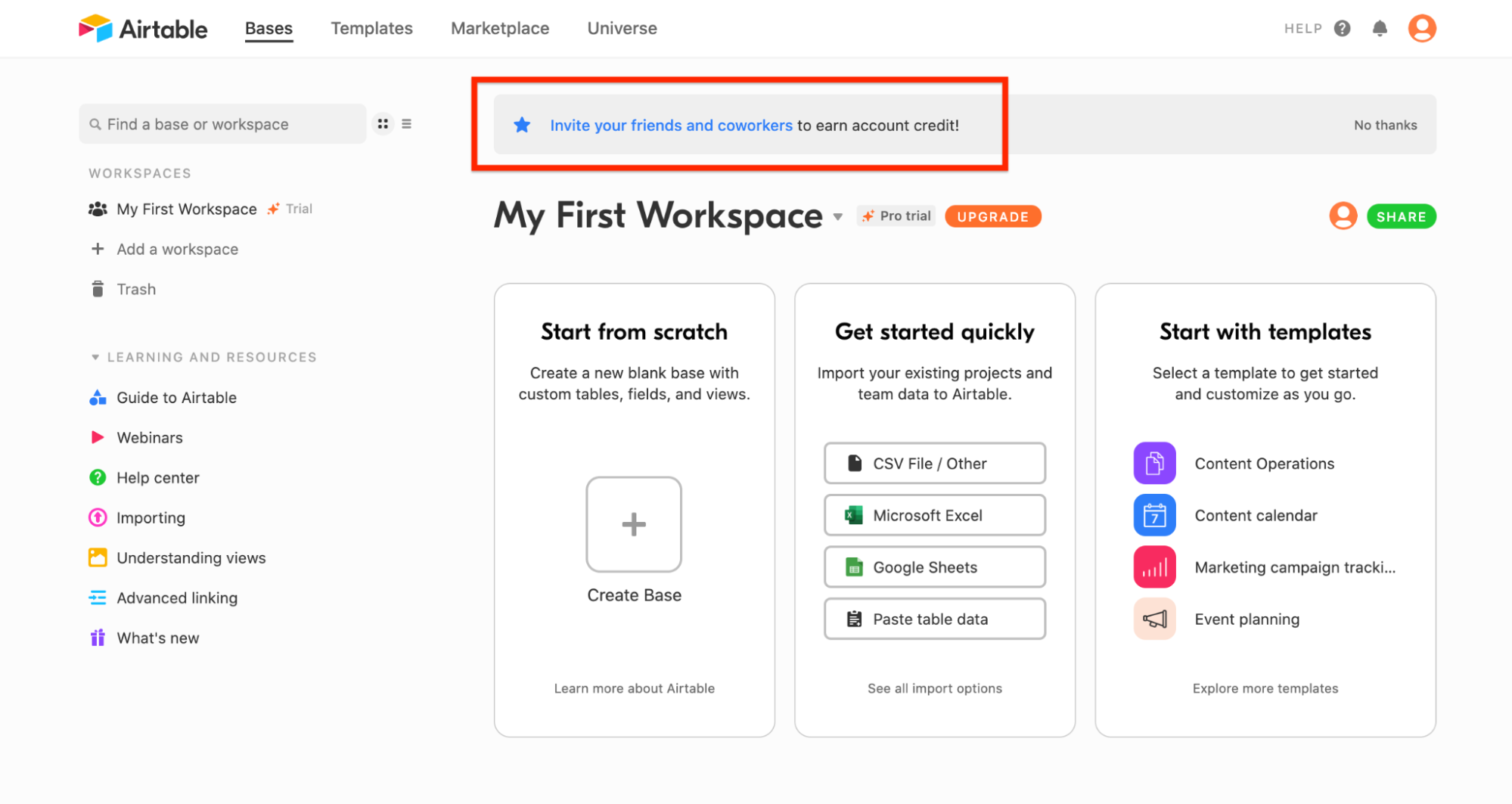 …or click on the Tell a Friend button from the dropdown menu on the right-hand side…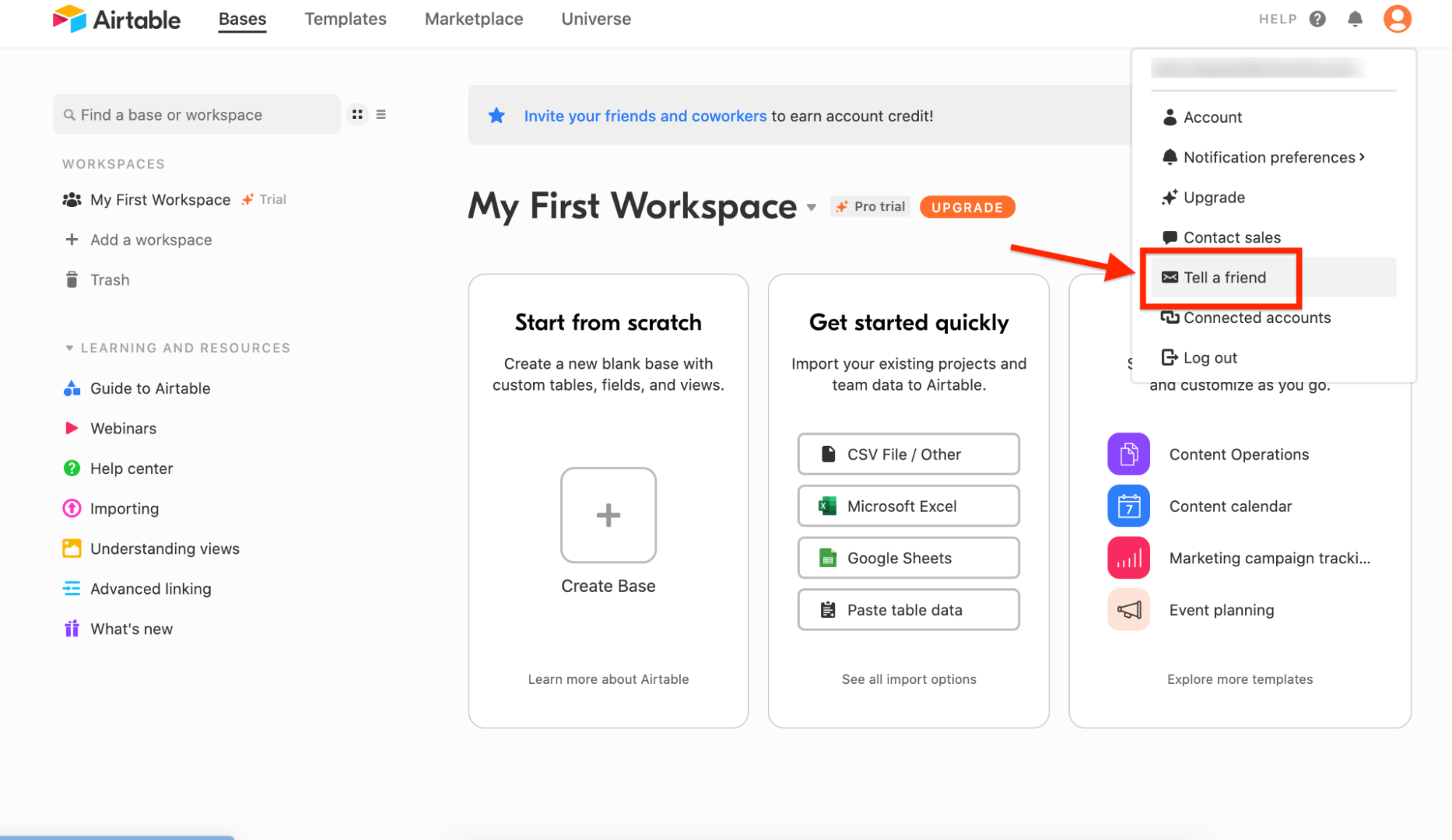 …which takes you to a referrals and credits landing page where you can keep track of your credit and also find your unique referral code in case you want to share it with others.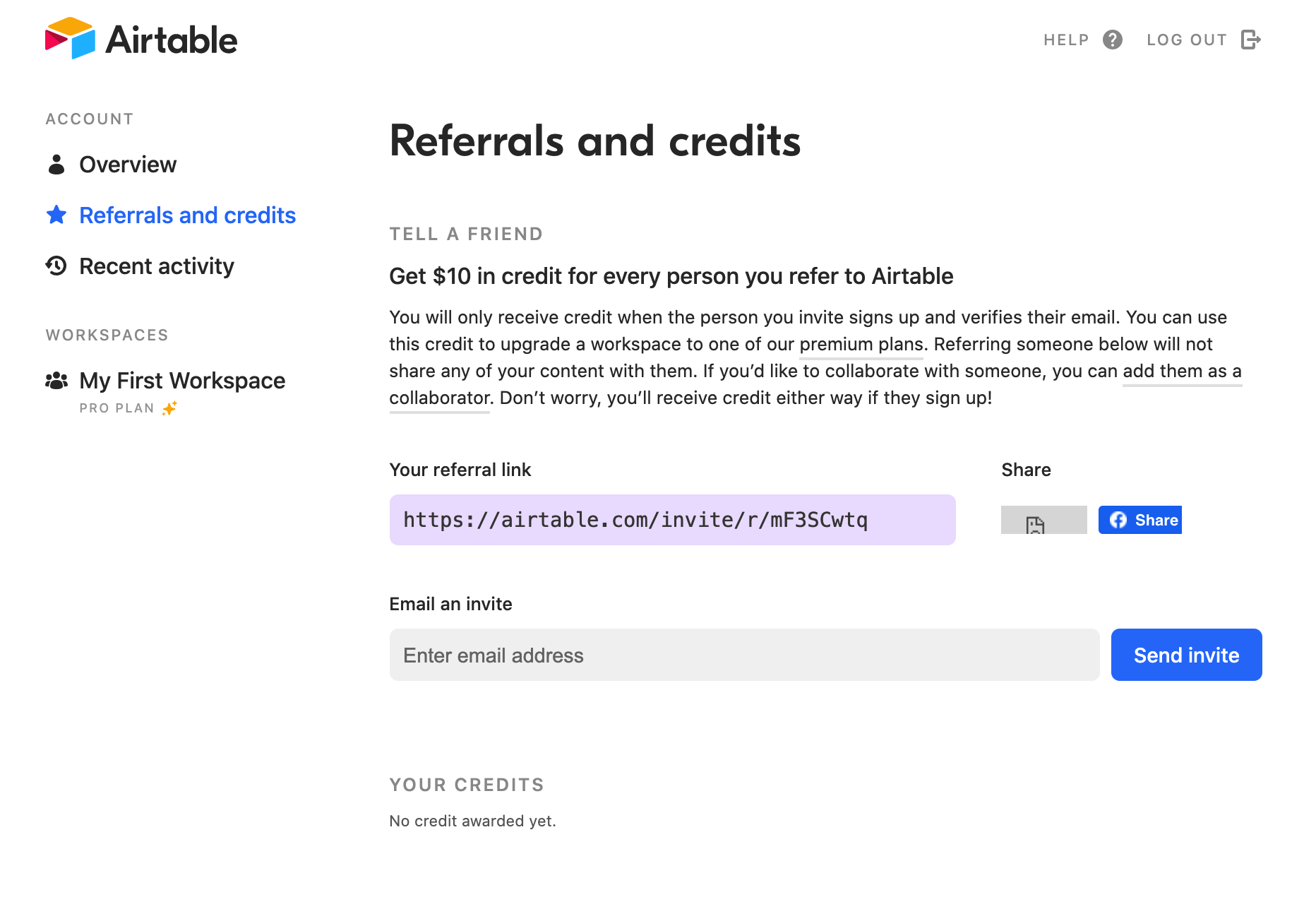 To cut a long story short, having a referral program with engaging referral rewards in place is an efficient way of growing your business and the reach of your products.
Moving on.  
Strategy #3: Create a loyal fan base
Constantly trying to get people to talk about your brand might sound like a hard thing to do that also takes valuable time and money. 
However, if you focus your efforts on creating a loyal fan base, chances are you're going to hit the ground running in terms of making your brand more popular, sooner than you might expect. 
The example we discuss below might inspire you to create your fanbase and enhance your efforts when it comes to customer retention. 
Here we go. 
Example: Crocs
Crocs, the well-known plastic, brightly colored clogs, are truly interesting in terms of how word-of-mouth marketing might work for a company. 
Here's a picture of early 2000 Crocs: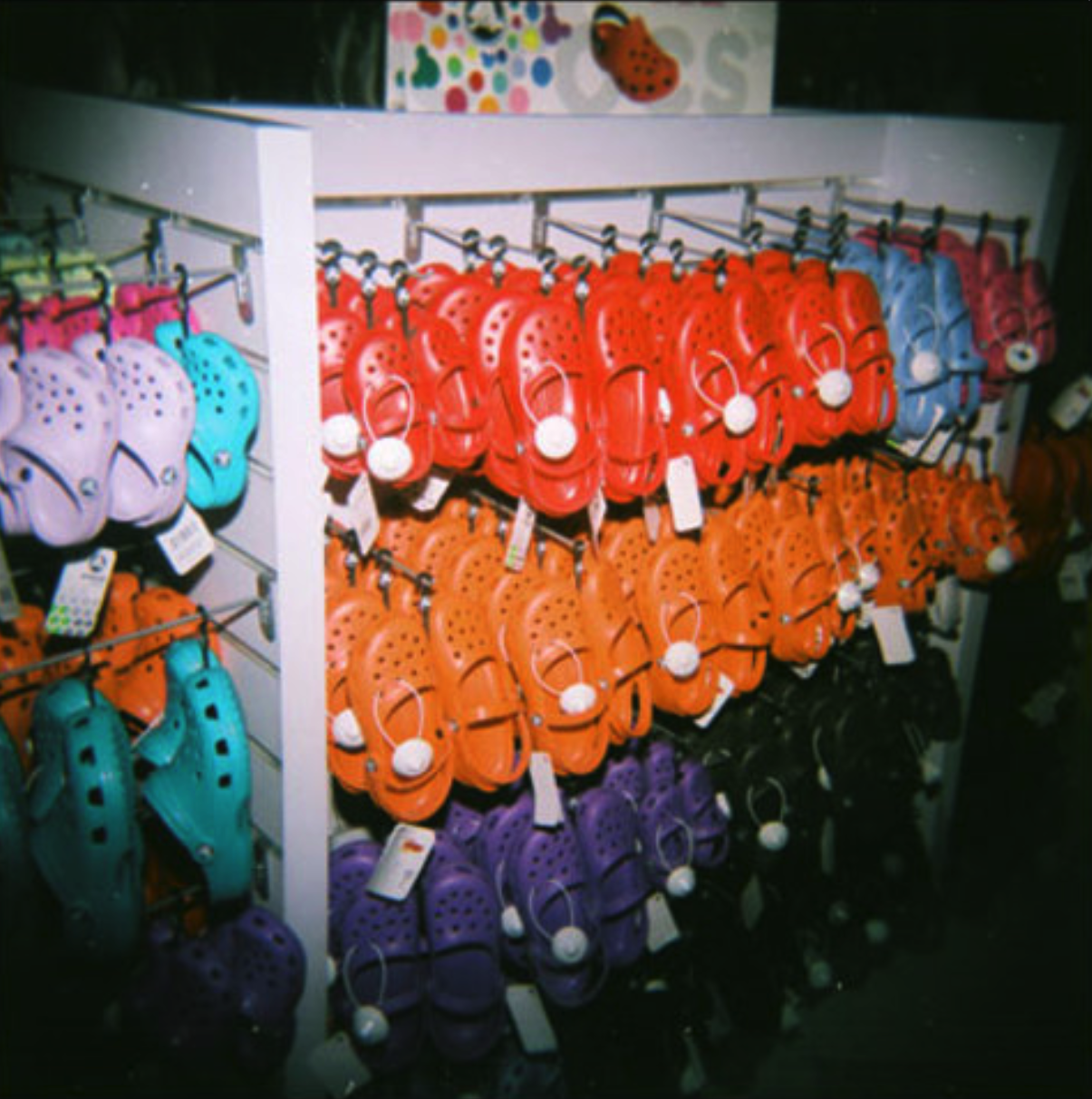 We don't know how this image above has you reacting, but you probably know that there are many people on this planet that truly despise this footwear – you might even be one of them. 
Vincenzo Ravina, blogger and creator of the ihatecrocs blog, is just one individual out of many that probably wants to scream in anger every time they see someone wearing Crocs!
However, over the years, Crocs has gone from being totally unwanted by fashion-conscious people to taking part in fashion shows and even collaborating with popular fashion brands: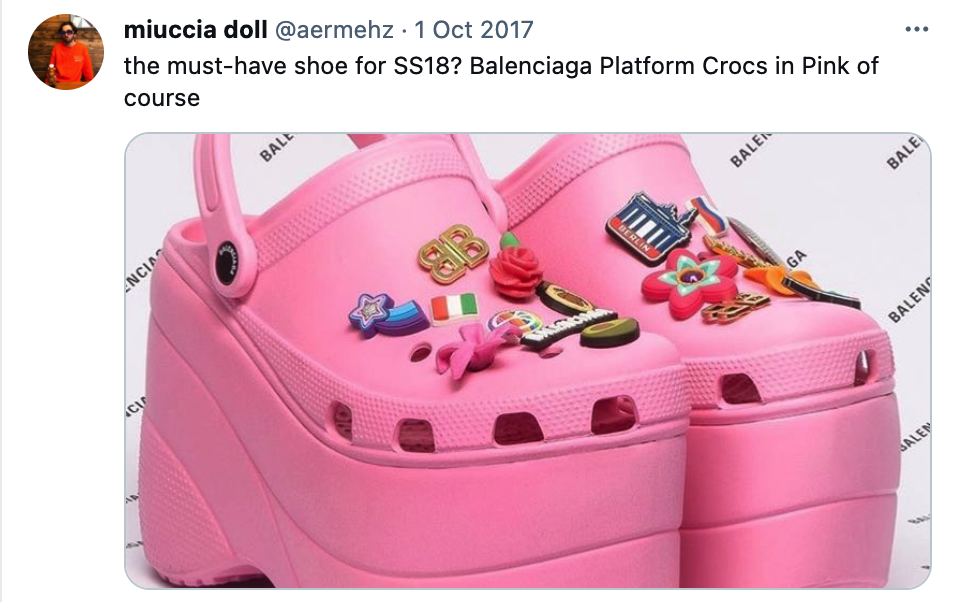 Whether you like them or not, those strong positive and negative reactions have helped the brand to generate buzz and raise awareness of the footwear. 
In other words, both negative and positive reactions have made the brand more and more popular, almost like a kitsch-but-classic fashion item that leaves no one indifferent. 
Because of all the publicity, the company has managed to create a base of loyal customers who love Crocs and aren't afraid of showing it. 
Have a look: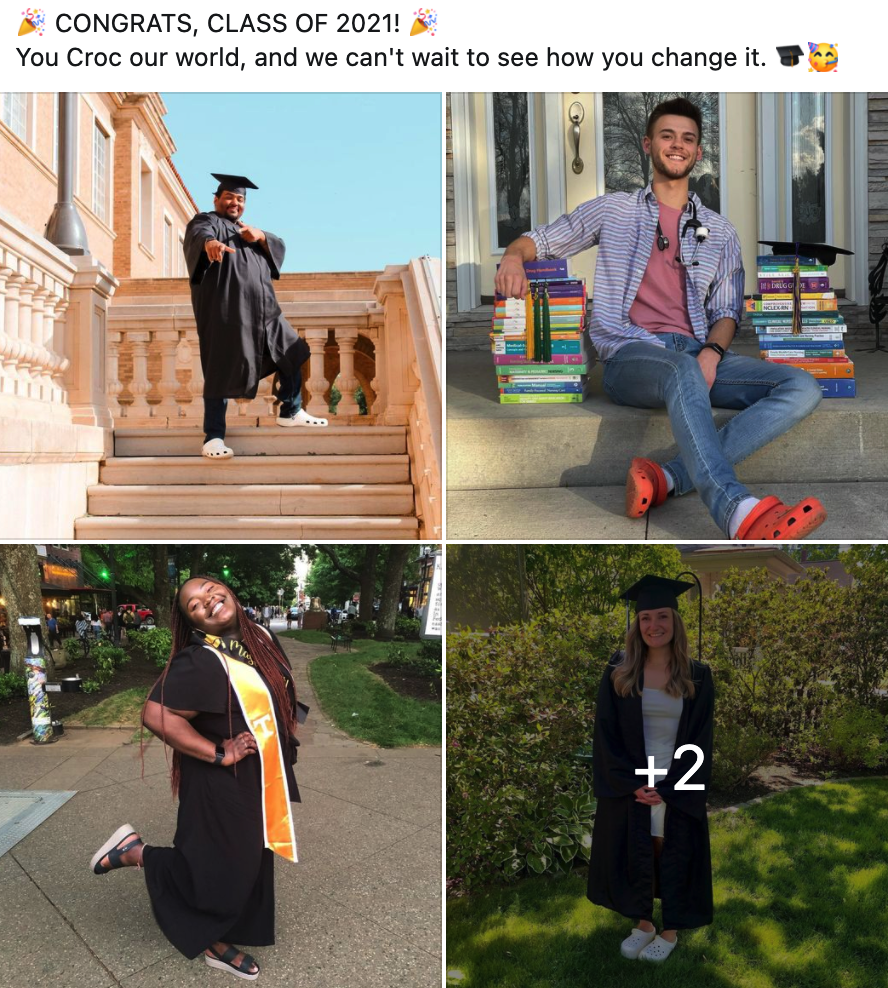 What's the key takeaway this example teaches us?
When it comes to word of mouth, all you need is to get people talking about you, no matter what they say!
The fact that they care enough to start talking about your brand works as a sort of social proof that influences other people and makes them want to know more, and possibly even get closer to your brand. 
Keep reading to find the fourth word-of-mouth marketing strategy we have for you. 
Strategy #4: Partner up with influencers
As we discussed a little further up – in the section where we gave you some interesting word-of-mouth marketing statistics – social media posts are among the most influential sources of new product info for Gen Zers and Millennials.  
Who's the best at using social media posts as a form of advertising?
Enter… influencers!
Influencer marketing has proven to be extremely effective for eCommerce businesses and that's why, when it comes to engaging potential customers and reaching a brand's target audience with word-of-mouth recommendations, companies should definitely be focusing on working with influencers in their niche.
Let's take a look at an example. 
Example: Sephora
Sephora is one of the most successful companies in the skincare industry at the moment and definitely knows how to deal with its social media presence, which welcomes user-generated content (UGC) and word-of-mouth chat. 
The company has even launched #SephoraSquad; a hashtag that can be used by influencers and content creators when they create content they want to get featured in the brand's Instagram account or on its Stories.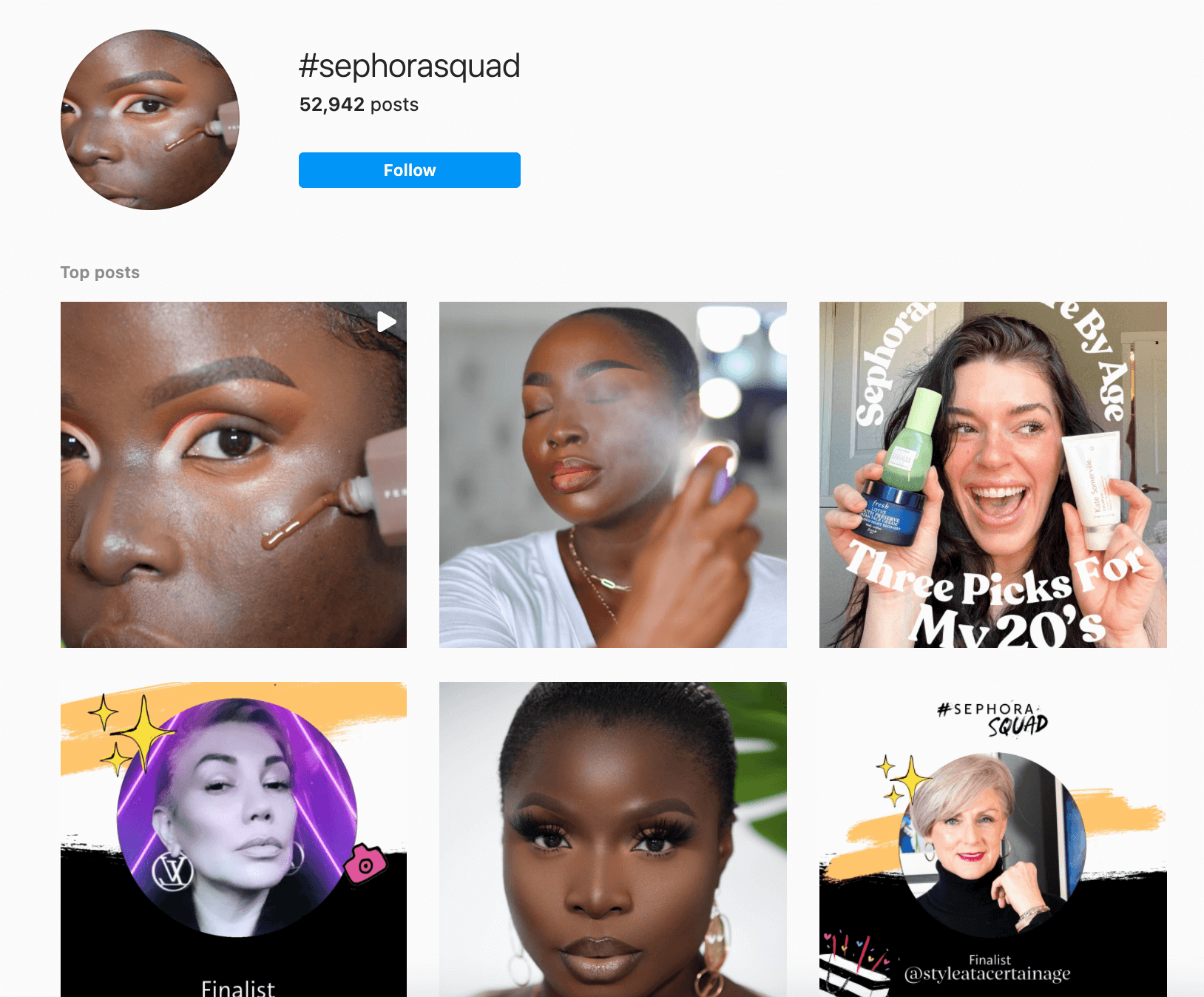 For their social media marketing campaigns, they often employ influencers that can help them increase their reach, give them a shout-out, or influence other users' purchase decisions. 
The way this works is that the company is leveraging the influencer's social influence and audience. 
To be more precise, the influencer shares their opinion or testimonials with their audience that already knows and trusts them, thus making it more likely that they'll also trust brands like Sephora that their favorite influencer is talking about.  
Here's just one example of a paid partnership between a content creator, Abby Marie Hardie, and Sephora: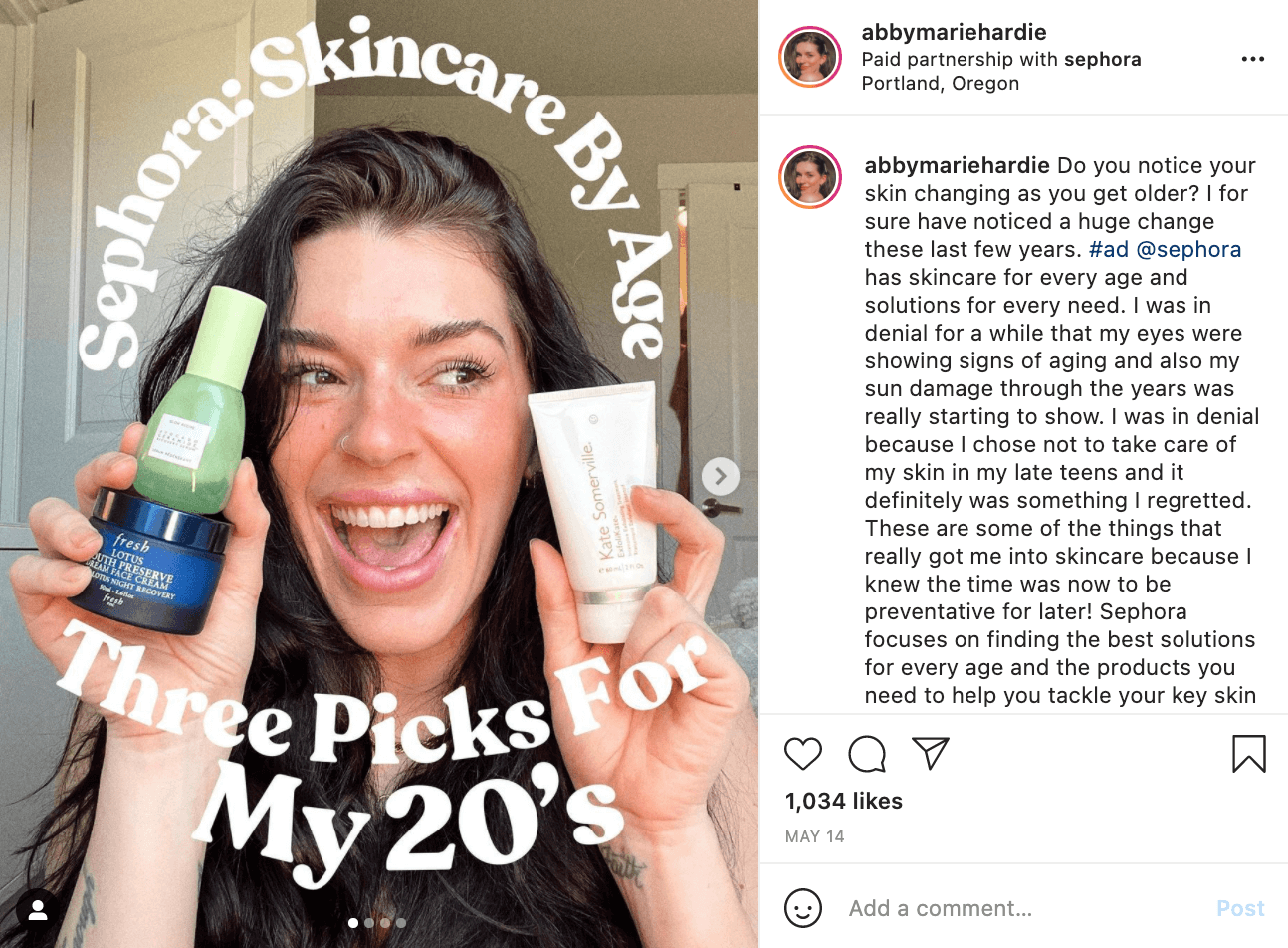 For the record, Sephora has over 20 million followers and regularly partners with influencers to make new potential customers trust them. 
Why?
Because influencers can give their followers the authenticity they crave in the digital realm. 
Author's Note: Getting influencers to talk about your products or services organically, so without you having to actually pay them, can be far more efficient than paid partnerships with them. A way to achieve that might be to send them free samples of your products and ask them to share their honest opinion with their audience. 
Moving forward to strategy number five. 
Strategy #5: Give people a reason to talk about you
The whole point of word of mouth is to give people reasons to talk about you and discuss your brand whilst social networking, or when chatting with family or friends. 
That's why our last point is about giving people a reason to talk about your brand, possibly by creating engaging and interactive content. 
The example that follows will show you how. 
Example: Etsy
The case study we're discussing in this section of our blog comes from eCommerce marketplace Etsy, which focuses heavily on giving users the opportunity to buy and sell handmade and vintage items, among other things. 
The reason we're talking about Etsy is that, over the years, it's managed to achieve explosive growth. 
The graph below shows how Etsy has grown from having $74.6 million in revenue in 2012 to $1.725 billion in 2020.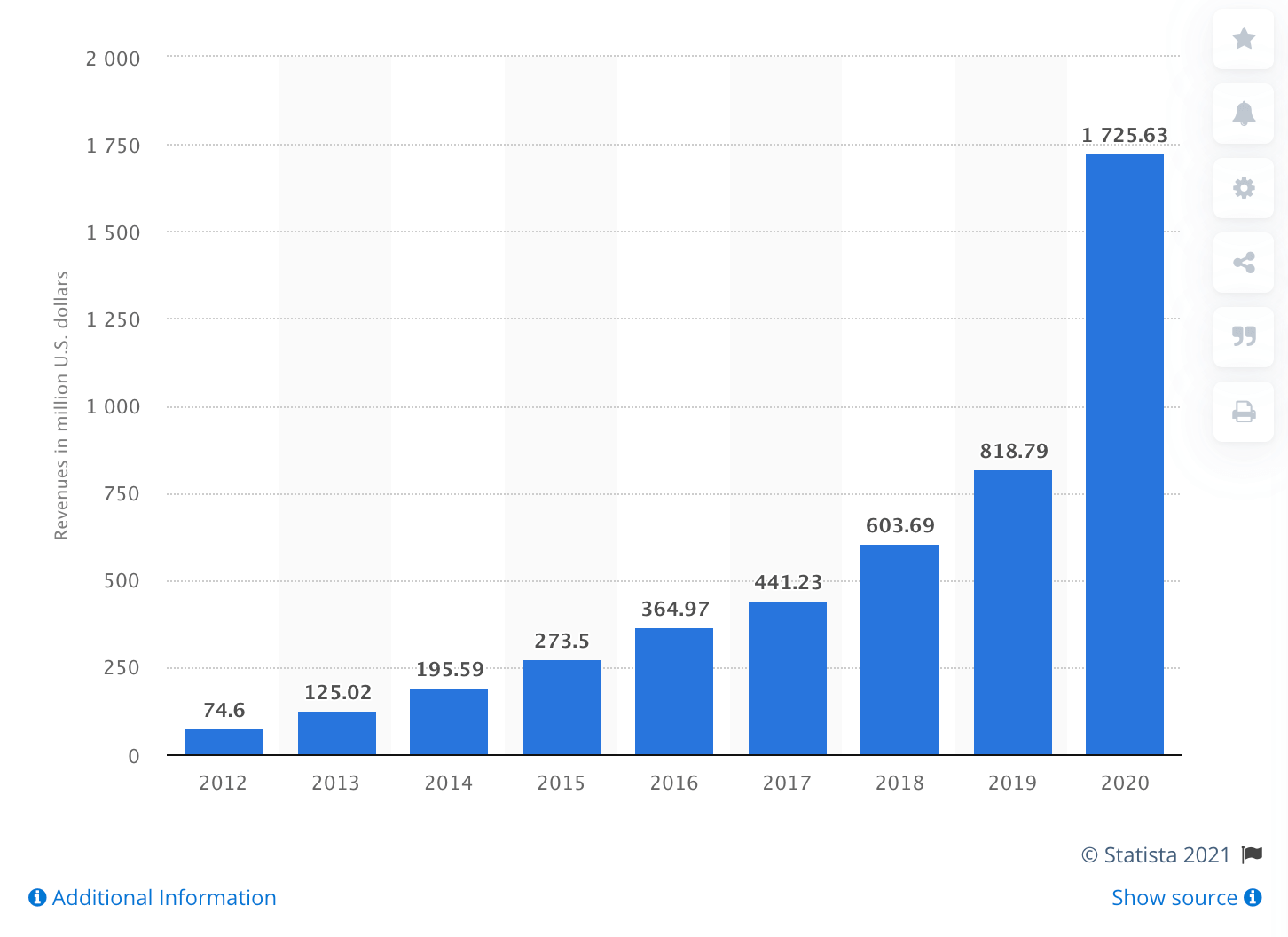 What company wouldn't want growth figures like that? 
Even though its growth is related to a number of other factors, including advertising campaigns and efficient content marketing, we're going to focus on the way they bring word of mouth into their social media. 
Put another way, we're looking into how they get people to talk about them and we can't miss looking into the way the platform is built; it definitely promotes referrals and virality. 
More specifically, given that many of the items sold on the platform are handmade items, we can only assume that creators will naturally want to promote their stores on social media and to their friends and family, thus making the platform even more popular. 
Have a look at the following Instagram post from Etsy – which has 2.8 million followers on Instagram – that features a wall hanging created by an Etsy seller: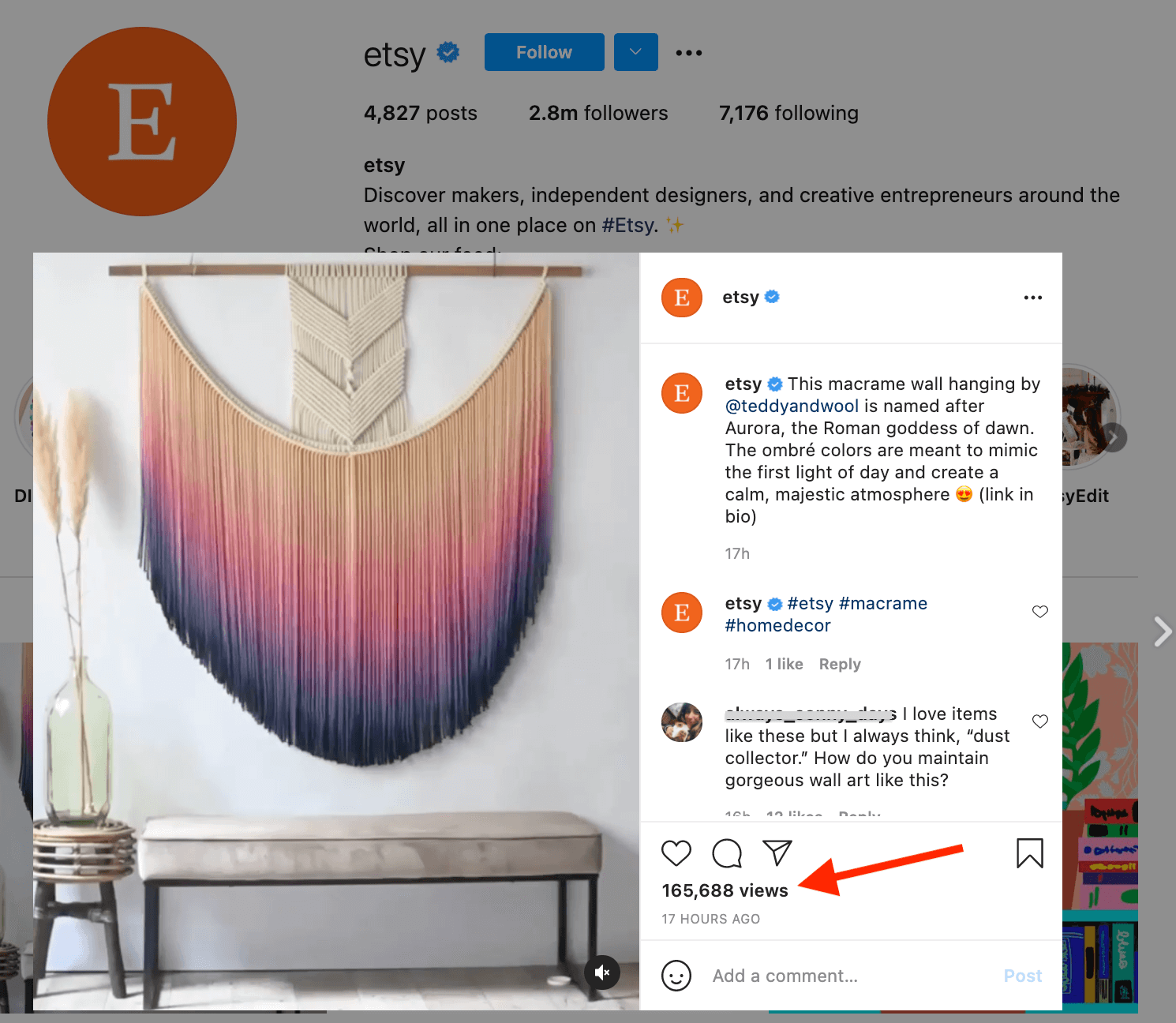 The post was – as expected – reposted by the seller on her Instagram account too, with a mention for Etsy.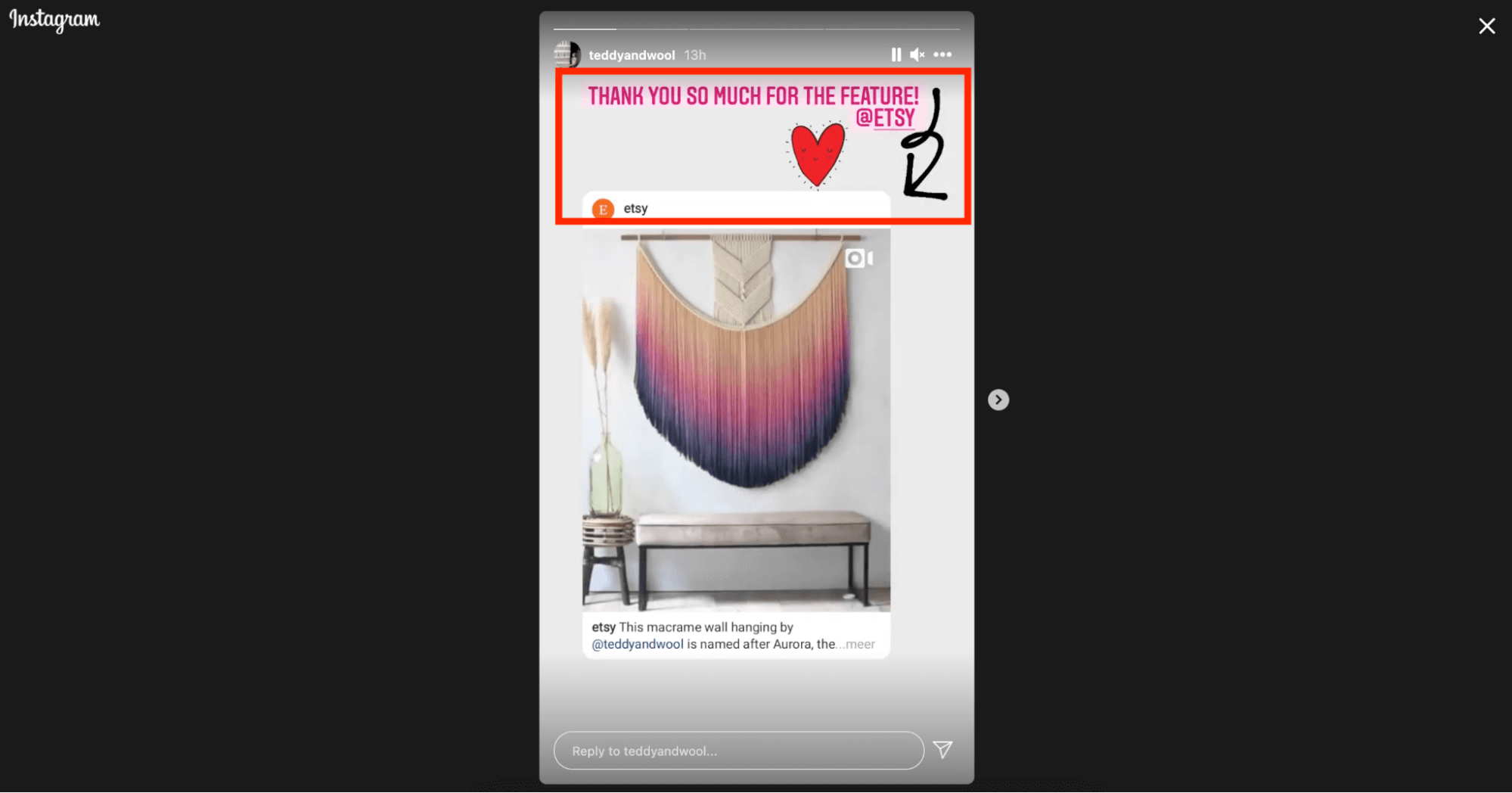 Even though the creator has a significantly lower number of followers…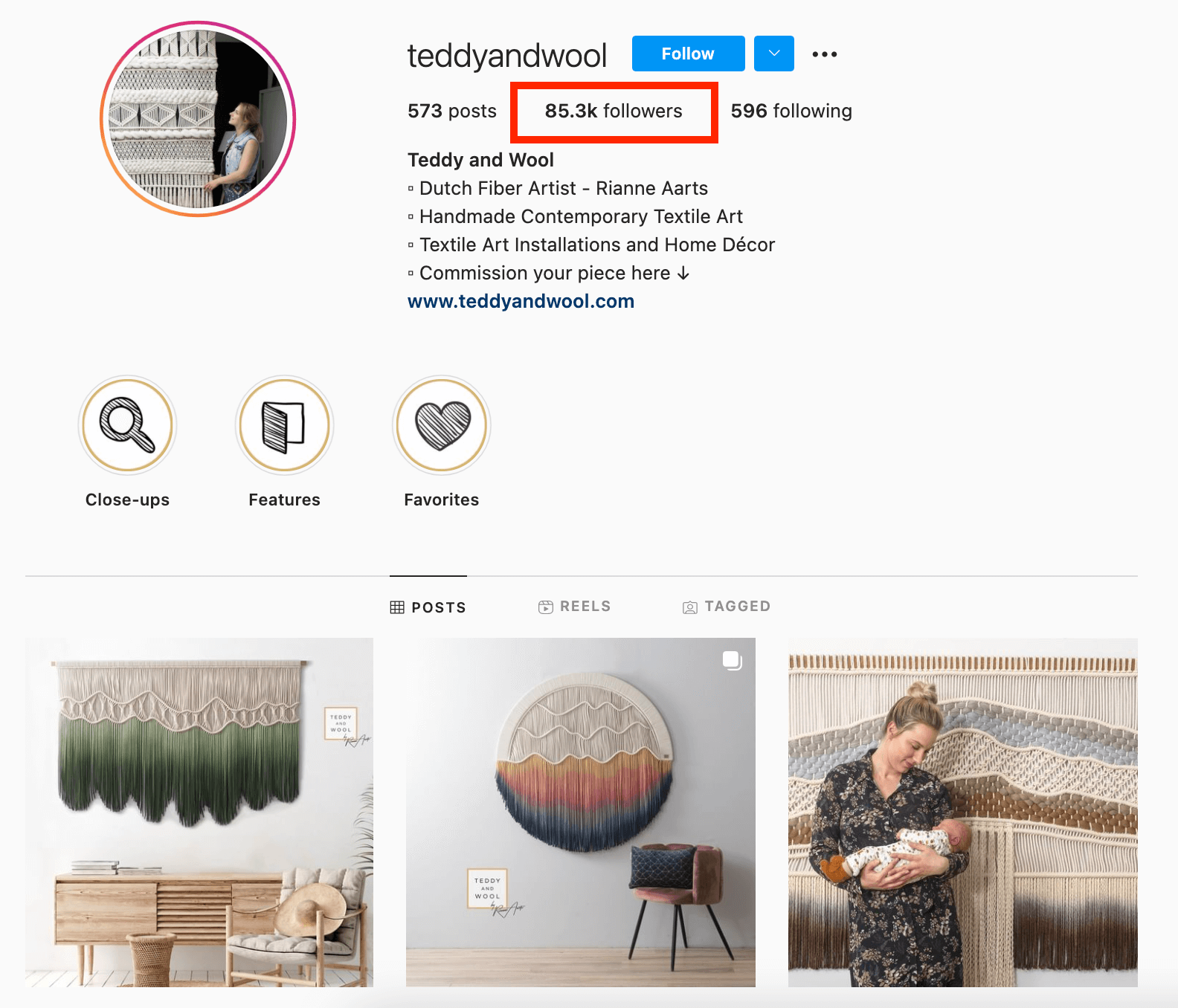 … trust me when I say that there's no such thing as too much advertising.  
The creator's audience is in this case a great opportunity for Etsy to promote one of their sellers while also getting more people to know the marketplace and come closer to beating the competition.
Even if they don't manage to beat Amazon, they certainly hit the mark with being one of the best marketplaces out there. 
Wanna know how to get started with word-of-mouth marketing?
Find out right below!
How to Get Started With Word-of-Mouth Marketing
We've pretty much touched upon all of the best starting points for you to get going with word-of-mouth marketing when we look at some of the most efficient word-of-mouth strategies. 
However, we understand that word of mouth might still seem like a challenging thing to acquire, for both experienced marketers as well as beginners in the world of marketing. 
If you want to get started with word-of-mouth marketing – and how could you not want to? – we suggest that you start with referral marketing, which is definitely one of the best ways of nailing word-of-mouth marketing. 
What's more, we recommend you dive into our Referral Marketing Wizards – Nailing Word of Mouth ebook that's free to download and full of useful and insightful information. 
The book discusses a wide range of topics including super successful examples of companies using word-of-mouth, such as Airbnb and Mailchimp. 
Get your free copy below.
Let's wrap this up and close with some final thoughts. 
Before you go
There you have it. 
In this post, we've said it all about word-of-mouth marketing. 
More specifically, we shared a word-of-mouth marketing definition and also talked about why WOM is important for companies of all sizes, while also presenting you with some interesting statistics. 
Additionally, we shared five useful word-of-mouth marketing strategies and examples, including launching a referral marketing program that can help all businesses raise awareness and grow bigger and stronger. 
If you want to see how referral marketing and word-of-mouth marketing could work for your business, get your hands into our ebook and get started. 
Good luck spreading the word about your business!