If there's one thing I've learned as a marketer, it's that you have to move fast.
Trying to build a landing page without having some serious coding skills can become a nightmare (if you're like me), and you can end up spending a week on something that you really shouldn't, instead of focusing on what matters the most:
Running the experiment.
Since we started Viral Loops, our goal was to remove all the obstacles and allow our users to focus on the core value of our product; Which is to make referral marketing easy for everyone.
That's why we integrated inside Viral Loops a robust solution to build landing pages for your campaigns in a quick and easy manner; Viral Loops Pages
How Viral Loops Pages Work
In order to build your campaign's landing page with Viral Loops Pages, you have to login to your account and choose to create a new campaign.
Note:
In case you don't see the same screen as the one in the image above, it's because you're not using Viral Loops for the first time -BTW, thank you for that!
In order to see it, all you have to do is to press the "Let Us Guide You" button on the Template Selection screen.
After you select the type of campaign you want to create, you'll be requested to choose your rewarding system and asked whether you have a website for your campaign, or not.
In the latter, make sure to choose that you DON'T have a website.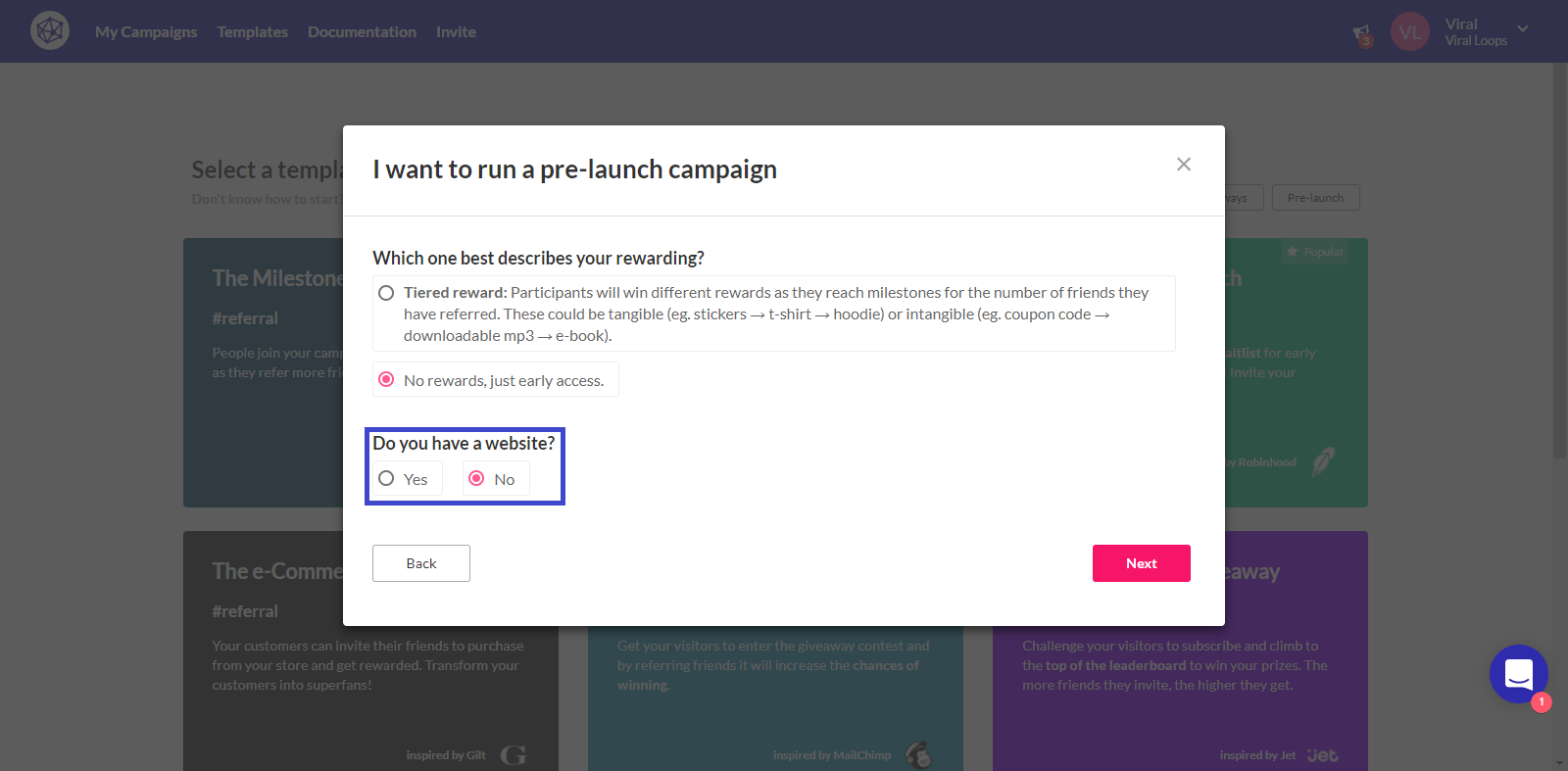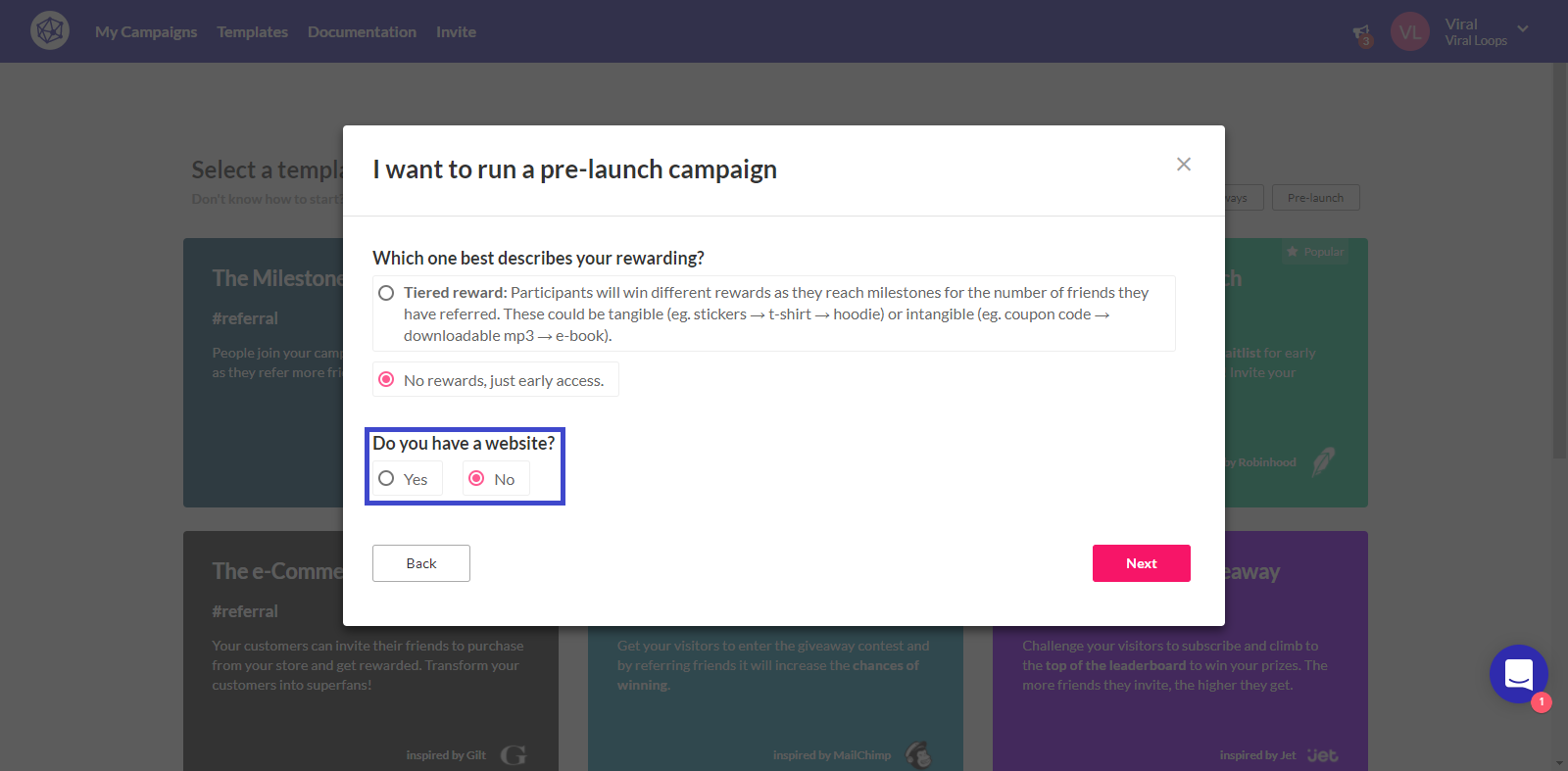 Right after that, you'll be redirected to our Campaign Wizard where you have to fill all the important info for your campaign.
At the "Info step", you have to check the checkbox that states that you don't have your own website.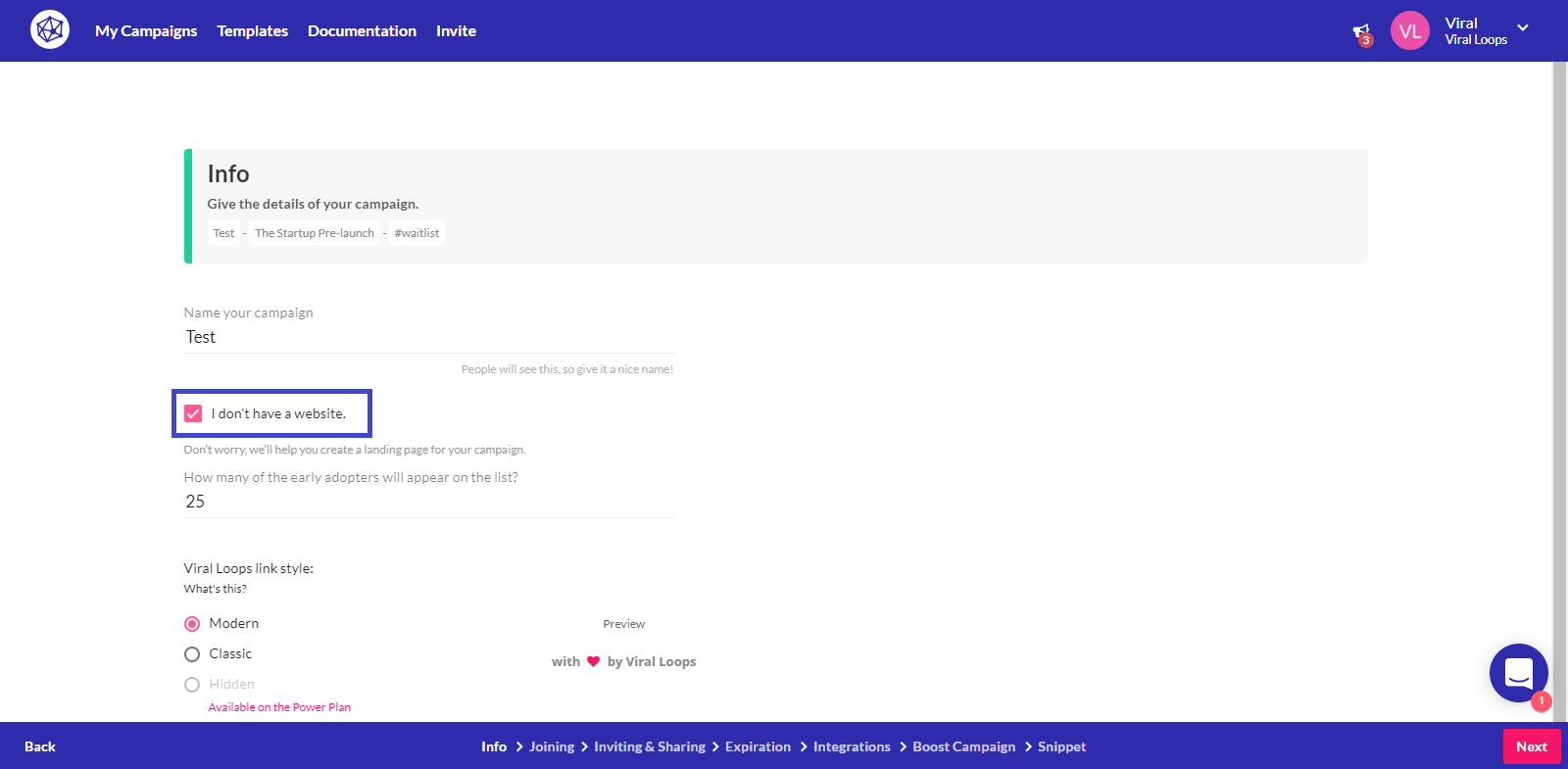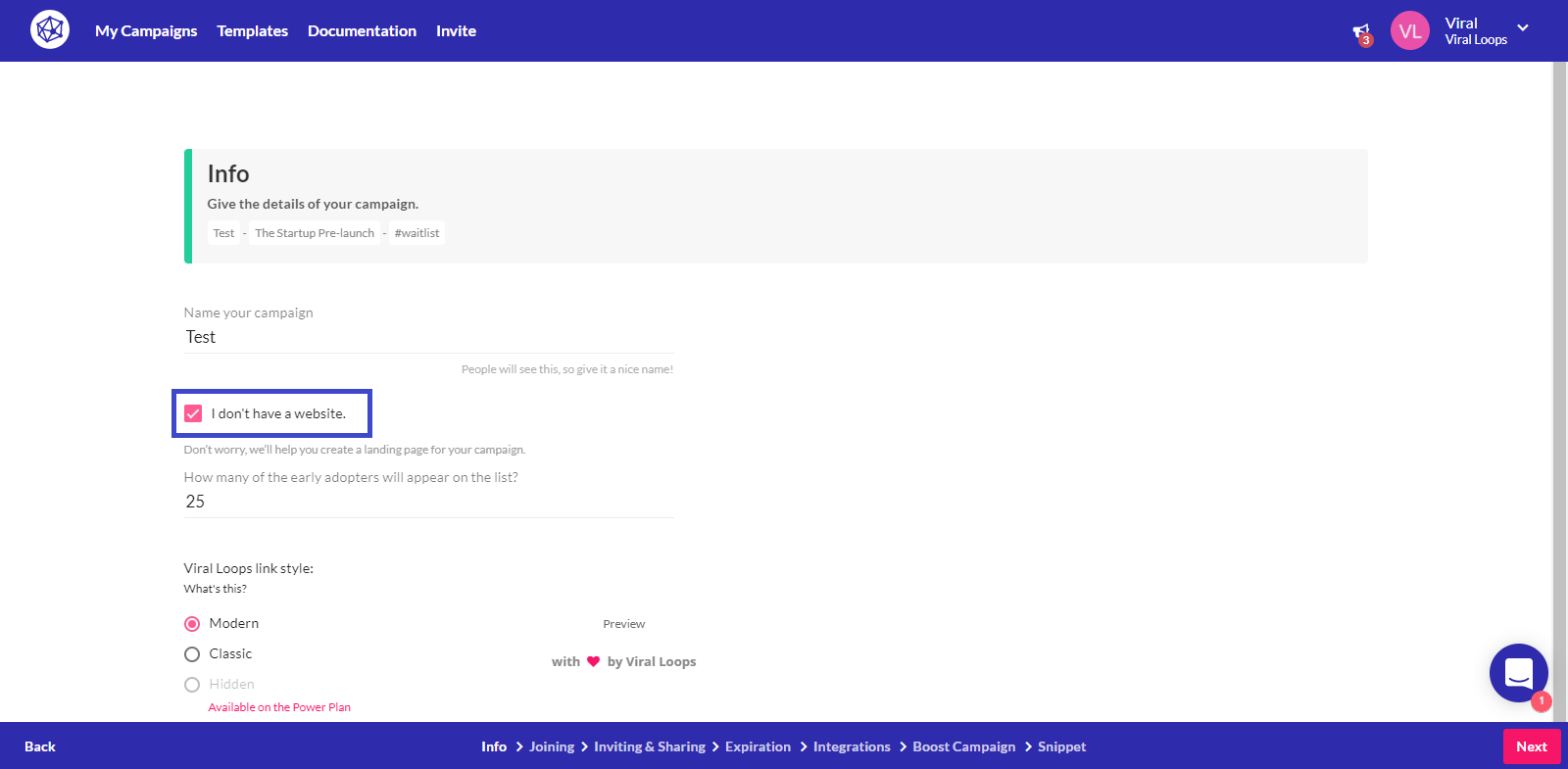 From there, you can proceed with the designing the elements of your campaign like:
Designing your widgets.

Setting an expiration date for your campaign.

Managing your integrations

Setting your booster campaigns

Etc.
You can start creating your referral campaign landing page, in the "Installation" step of the wizard, and you can do so by selecting "I'll use Viral Loops Pages".
You'll be redirected to the page where you can view your campaign's URL. In order to open the page editor, you have to click on the "Edit the Campaign Page" button.
This will get you to the Page builder, where you can edit your page:
Sections.

Meta Tags.

Social Media.

Typography.

Page Integrations.
Sections
From here you can change parameters like your page's header, footer, and the main body.
You can customize the colors and images appearing in all the different sections of your page, respectively.
For example, you can change (or completely remove) your main body background image, add an image with your referral rewards, edit your CTA button, or change the Headline and the subtitle.
Meta Tags
Ranking your campaign in search engines is really important. That's why we added the ability to add your meta description for your page.
In addition, we offer the option to upload your custom Open Graph image and title. Note that the image uploaded here is the one that will appear when someone shares your campaign to a social media platform like Facebook.
Social Media
I don't really have to mention the importance of having your social media account connected with all your digital properties.
From this menu on Viral Loops pages, you can add all your social media accounts. For now, we offer the option to add your Facebook, Twitter, Instagram and Youtube channel, just above your footer.
Typography
As a team, we are result driven and design oriented. Typography is a huge aspect of good design and that's the reason we made sure that when you build your landing page with Viral Loops pages, you'll be able to choose among 4 simple (yet beautiful) fonts for your Headlines and subtitles.
You are also free to edit the font size and color for every typography element on your page.
Page Integrations
Here you have to be cautious: This section of the page builder is not the same as your campaign's integrations.
From here you can add your Universal Google Analytics ID in order to track your campaign's page, and also add your Facebook Pixel ID so you can retarget your visitors (or target their friends) on Facebook
TL;DR
If you don't have time reading the article -or you're just the visual type, we prepared a video that shows how to use Viral Loops Pages step-by-step.
In a few words, Viral Loops Pages is a solution built by our team in order to provide a quick solution to those of you that want to run a referral marketing campaign and don't want to get their hands dirty with development.
You can customize all the core elements of your landing page, and get your campaign up and running in just a few clicks.
In case you have questions about how Viral Loops Pages works, let's discuss it in the comment section below.
Until the next time,
Keep being awesomε