How did Mustard Media start?
It all started when the founders of Mustard Media,
Ed Norris
and
Oliver Hackett
were responsible for marketing the
Warehouse project
in
Park Life
. The event was a great success quickly, and many people knocked on their door to see if they could get help for other events. From there, events and festivals became the bread and butter of Mustard Media, and as of this day, they represent most of their clientele.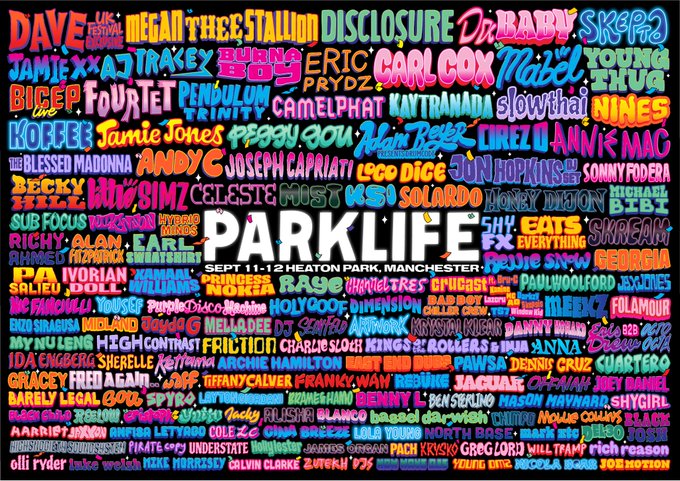 Mustard Media works with event/festival organizers, venues, and clubs in three ways. First, an upcoming festival can get Mustard Media's expertise using their
strategy team
and craft a winning plan to fill the event. An event can also work with their
campaign team
, who will execute the plan by deploying and managing the necessary marketing campaigns. Lastly, Mustard Media can also help with running outstanding paid campaigns to boost an event's strategy and other marketing efforts.
The strategy team
Once a brand partners with Mustard's strategy team, they do a lot of planning workshops with the festivals to help them plan their marketing from launch and beyond. The focus from the signup campaign up until the launch moment is to create urgency and ticket sales. 
Once they've launched the tickets and the event has entered its mid-campaign phase, Mustard will work with them and craft a plan to sell more tickets during the rest of the campaign. While their tactics differ per event, most campaign strategies will use their dedicated paid media team to run ads across Meta and Google to bring the festival in front of the right people.
The campaign team
While Mustard's strategy team focuses on crafting a master plan to fill the event with people, the campaign team is responsible for executing that
(or
a pre-existing) plan. Events trust them as, through the years, they've become experts in running successful campaigns for their clients' events but also for their own—giving them space to experiment and develop winning tactics.
For example, this team will set up and manage technologies like Viral Loops, and figure out how they'll make the marketing plan deliver ticket sales.
The paid media team 
Mustard Media's paid media team are experts in paid media designed to sell more tickets for festivals and events. Their paid media team will amplify key announcements and milestones in an event campaign, as well as a ticket conversion funnel to maximise sales across Meta and Google platforms.
Getting signups early, before the actual sale begins, is a massive part of their strategies. They use signups as a tool to engineer agency and are a gauge of interest. In addition, mustard's signup campaigns create a sense of limited inventory and give reasons to people to book now instead of later.
Through 100s of campaigns, they've mastered the craft of creating urgency and have learned how to use Viral Loops in their strategy as a hack to
"unlock"
extra signups.
At what moment do you introduce a sign up/waiting list to your marketing efforts for an event?
For the examples of festivals, the launch period is anywhere from September through the end of January/February—which is also when most festivals wrap up their signup/waiting list phase. Then, from mid to the end of summer, they will often launch signup campaigns straight away for the next year. Venues, on the other hand, tend to be less seasonal ( and also less lengthy) and launch all year round. So, Mustard runs signup campaigns all year round but more so in the winter.
When do you start seeing results?
Depending on the type of event, Mustard Media runs approximately 4-week long signup campaigns, and then they announce the lineup.
A day or two after that, the tickets go up for sale, and they will do a pre-sale for anyone who signed up, and that is where they see the best results. If they had a really good signup campaign and got the marketing messaging right, they have built enough interest and can expect a solid conversion rate on that signup list.
The worst-case scenario usually yields a 10% conversion rate, while their best campaigns return 40-50%.
What do you do to keep growing after the pre-sale campaign is done?
Once an event is done with the signup and the pre-sale and is entering the post-launch phase, they have collected a solid amount of data which Mustard further uses to drive even more sales.
When a festival has, in the pre-sale phase, converted about 20% of the signup list
(often
built with Viral Loops) to ticket sales, the teams at Mustard will look at email conversion funnels, paid media, and retargeting campaigns to serve the rest 80% of the list with smart messaging to drive them down the funnel. The goal is, as always, to increase urgency and drive even more ticket sales from people who have submitted their interest.
What marketing do you do for the prelaunch waiting list?
To get more people on the signup campaign, their team develops various strategies, which include using the referral competition template of Viral Loops to grow through word of mouth
(combining
a prize with access to the pre-sale). They further fuel the growth of a signup campaign using their year-long expertise with paid media to get the event in front of more people on Meta and Google.
How does a successful event marketing campaign look like?
Some days before this interview took place, Mustard Media won an award for the best Marketing/Ticketing Campaign for their work with
Camp Bestival
—for which they wrote a detailed case study outlining the fundamentals of how they did it:
Long story short, the very loved Camp Bestival in Dorset decided to expand to a new location, Shropshire, without confusing existing Dorset lovers that the festival is moving. This meant that they had to start from scratch and build a geographically new audience. 
The Mustard Media team delivered and exceeded expectations, as can be seen by the outstanding performance metrics the Strategy & Paid Media teams achieved:
18k signups prelaunch

Drove an additional 30% of signups via a referral mechanism

(with

Viral Loops)

Sold 33% of the tickets during the launch week

The initial launch campaign helped the Camp Bestival team grow new social channels to 11,000+ in the first 6 months.

320k launch video views
What referral strategies do you prefer?
The reasoning is clear. Based on what they've seen over the 100s of campaigns they've run:
Investing in one grand prize is easier than following a Milestone logic with many rewards, which could get quite expensive and create unnecessary logistical work that festivals don't have the time and money to bother with.

(In

Milestone, people would get something small like a ring for 1-2 referrals, something more valuable like a t-shirt for 3-5 referrals, and so on)

A single grand prize can be more appealing to festival-goers than merchandise.

Using social context can be demotivating in their industry, and thus they do not recommend the Leaderboard Giveaway, which would display one's performance compared to the rest. In their words:

"We

loved the tempting giveaway template because you can just see your entries, and then you can check back, and see them going up. But because you can't see that in context to anyone else, I think it's more motivating."
Summary—What do you want to achieve with Viral Loops?
Get as many

signups

as possible before the festival launch.

The basic process of how Mustard Media makes winning event and festival marketing campaigns—before the public ticket sale begins:

A signup campaign for about four to six weeks, get as much data as they can. This is usually incentivised with a competition prize that can be claimed in a referral giveaway.

Launch the event lineup

Follow up with a

presale

to give everyone who signed up early access to tickets.

Viral Loops' use and impact:
Mustard Media prefers to use the

Tempting Giveaway template

—a referral strategy where participants increase their chances of winning a prize by referring their friends to take part in the giveaway. In their campaigns about 20-40% of signups come from referrals and in some cases 80% of participants have shared their referral link at least once. 
What are Mustard Media's future plans?
In 2023, the agency plans to continue growing both in the U.K. and internationally, driving more ticket sales across an increasing spectrum of events, including Music, Festivals, Outdoors, Exhibitions and Sports. A brand new insight and data product will launch later this year. 
Nikitas has launched products in many industries for himself and his clients. He's responsible for growth at Viral Loops and has worked in marketing since he was 17. Passionate about applying psychology to marketing. My favourite number: 42. Let's connect on LinkedIn!