In a similar Quora question I outlined some of my favorite examples, including Airbnb, Monzo, Vision Mobile, Mixmax, Pipedrive and Live True London.
You can read it here "Savvas Zortikis' answer to What are some examples of great UX for "Invite Friends"?
Another great example is the prelaunch referral campaign of Harry's, a New York-based grooming brand that manufactures and sells shaving equipment via mail order.
The idea for the campaign was built by Jeff Raider & Andy Katz-Mayfield, Harry's founders. Their belief that the most powerful and effective way to launch their grooming brand was through a credible referral. Thus, they focused on building a campaign that helped people to spread the word to their friends—and not just spending a ton of money on Google and Facebook.
They managed to gather 100,000 emails in a single week.
You can easily understand the concept and build the backbone of your campaign with this free tool:
How To Build A Harry's Prelaunch Referral Program In 4 Simple Steps
The website of the campaign was something really simple, yet catchy and effective, 2-page microsite.
1. When people landed to harrys.com, they were asked to give their email in order to participate to the campaign. Some notes on their landing page:
A big bold image making it clear to people what Harry's is all about in the first 5 seconds.
Nice tagline to tell people that Harry's is launching soon and will disrupt the industry (respecting the face and wallet since like…right now)
They could also allow people to join the campaign with Facebook login—this would give them more data and also increase conversions. Younger people may not have an email at all or not checking it constantly.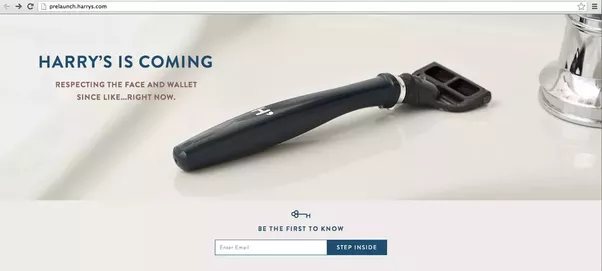 2. After giving your email, people had to invite their friends to get the prizes. Harry's followed the concept of a "Milestone Referral Campaign," meaning that when people reached a specific number of referrals (milestone) they instantly win the corresponding prize.
Notes on their invite page:
Clear messaging: Invite friends to earn product
On hover of each milestone, you could see the product's image—if they had a design with the image to be displayed by default, they could have higher conversions.
Getting a prize was super doable—who hasn't 5 or 10 guys that shave?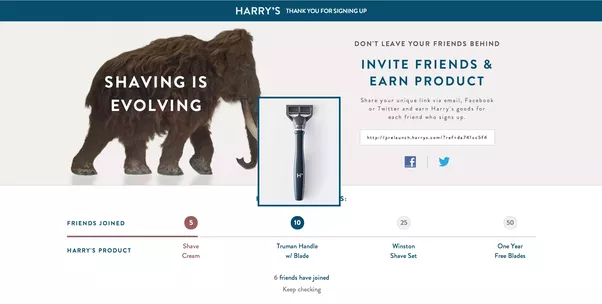 They also used a great series of emails to re-engage the people participated in the campaign and keep inviting friends to get to the next milestone.
According to Jeff Raider, the referral mechanics were amazing. 77% of the emails were collected via referral, meaning about 20K people referred about 65K friends. This means referrers, on average, referred more than 3 friends.
Yet there were a lot of people who referred well above that average: More than 200 participants referred more than 50 of their friends, achieving the highest tier reward.