As you probably understand from the title of this article, this is about Facebook ads (duh!).
Another installment in our interview series, and after Arri Bagah, Hunter McKinley, Natasha Takahashi, and  Fetch & Funnel (all of them shared their Messenger Marketing secrets), this time our guest spoke to us about a different subject.
You see, Alexandr Fedotov, is a laser-focused Facebook advertiser that spends and makes millions on Facebook via ads, and he was kind enough to share some of his strategies with us.
Enjoy!

Originally I'm from Ukraine, and I graduated with an economics degree without having any idea what I'm going to do.
I was working different jobs and I started my career as a freelancer working with different companies, and doing different tasks for them, specifically for the American market.
I would work with a client and I would promise them some results, and then I would have to learn how to deliver those results as soon as possible. 
Over time I accumulated certain skills in areas like Google AdWords,  SEO. I just noticed that a lot of people started to ask me about  Facebook advertising. 
I've realized that there's a  there's a big need in the market for this specific skill set and some eCommerce company started to ask me for this. So, I started boosting for them and over time it all came together.
So we started to work with bigger and bigger companies with bigger and bigger budgets.
Now some of our clients are companies like Under Armour and Lululemon, we serve seven-eight figure brands that they're growing fast. 
It was just a progression of you identifying what's needed in the marketplace and just gravitating towards that direction.
It was about 4-5 years ago.
It wasn't like I wasn't already doing it. It was part of the services I offered; doing it over and over again led me to the decision to go all the way.
That's when we started to pick up and hired media buyers and a team.
I think it comes down to your capacity and your expertise.
With Facebook ads, you have to be constantly on top of changes in the platform and also understand the context of Facebook advertising because it's different from Google AdWords.
We have to figure out how to drag people in and move them through our funnel, figure out the creative part, the ad copy part and all the other like technical aspects.
To do all that takes some time and it's doesn't happen overnight. 
So when you try to do many things and your capacity and financial resources, as an entrepreneur are limited, that's pretty tough. You cannot do all of those things at the same time and deliver a good quality of work.  
We've decided to go that way- at least for now until we have the capacity and the bandwidth to expand what we offer.

We spent a bit over like 40 million dollars last year, but not for our services. It was for e-commerce products that we sell ourselves, so we kind of like use the skill set that we have to sell those products, for our own company. 
With every project that you have, it is a combination of good product that, good timing of the year, and creatives. 
In the past, they tried to scale their advertising spend and their sales, but they couldn't do it, go to the level they wanted because they worked with agencies that had their focus on too many different things. 
They wanted to be very creative in terms of their ads and also wanted to test too many different things. 
It's good to test, but you want to do more of what's working instead of just blindly testing stuff. That's why their ROI was not as good. 
When we started to work with them, we evaluated what was working for them till that point- we had some of the data that we could leverage, and we found the right products, the creative that was working very well, and we also structured the funnel from the first interaction, all the way down to the sale. 
That's because the products this company sells are more like high ticket.  People would need a bit more like time to evaluate their decision and, make a purchase. 
We also tested a lot of variations of ads like videos and images that we knew- in our experience, that would work well.  This is what allowed us to scale quite rapidly with that specific store. 

Typically, the framework depends on the complexity of the product. 
If you sell t-shirts, you don't need to explain a lot about the product; everything you need to sell the product is a photo. But if you sell more complicated products, like gadgets, apparel made with a special fabric that could be like the first touch point with the market. 
That's what you can use to reach the market here as a first stage, then use Facebook to build your audiences. Audiences of people who engage with your content, or of people who've visited your website. 
So you have all of these audiences. For them, we typically have other 2-3 types of content; like video, for instance, that might educate people more about the product or would have testimonials.
If you want to convince a person that a product is good and that it can be trusted, you should offer more images of the product– maybe lifestyle images. You can use carousel ads for that, as you can introduce the same product in all of its angles.
We identify what's the best piece of content that we utilize, and we scale basically to reach as many people as possible. 
For retargeting– which is dynamic product ads, you can basically show people the same products as they have seen. It's very relevant. And usually, those ads have very low CPA and very good return on ad spend. 

So, it's a sequence where you take someone from not knowing your brand at all, to basically engaging them, entertaining them, showing them the benefits of the product in life, and then you lead them through a sequence of other pieces of content to the point where they simply have no objections left to make that purchase decision. 
That means you've done your initial work as an advertiser, and then after a certain time the creative that you used will exhaust itself, so you'll need to replace it. You need to constantly be testing some new pieces of content that you can also scale as a replacement for this one.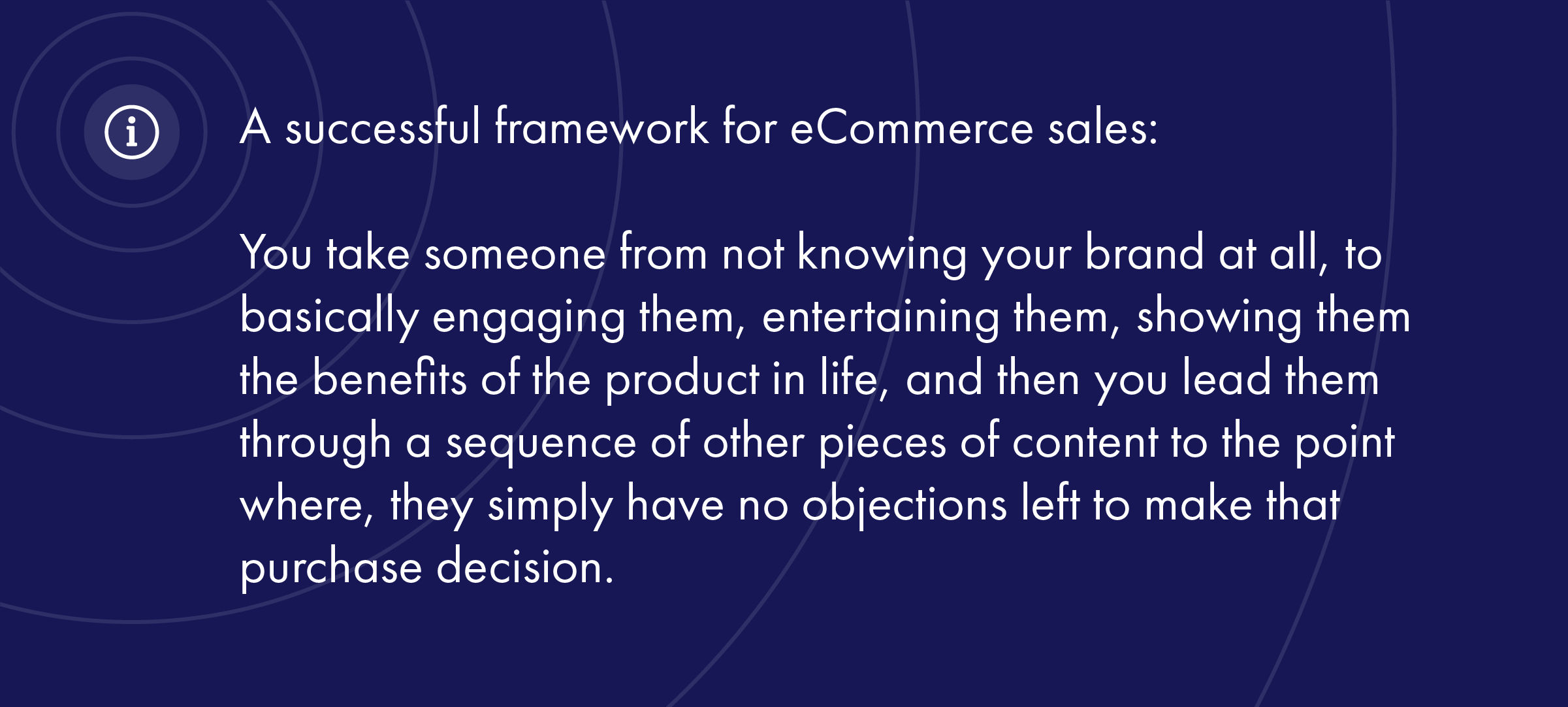 If you look at Amazon 20 years ago and now, they made changes to the interface for sure, but the main layout is pretty much the same. It's very similar to what it was like 10 years ago because they make those changes gradually, they understand how testing works so they don't do any rapid. 
I see a lot of this in e-commerce entrepreneurs, where they will simply like rip off their team, or they'll rip off, completely what's been working for them and then start asking conversion rate optimization guys to do something that doesn't work at all. 
In order to do proper testing, you need to have a massive amount of traffic. 
I think the best approach to testing for conversion rate optimization is to, first of all, just follow the best practices that have been laid out for usability and follow the proven model of websites that are already, are successful.
That's the best starting point, and from there it's just listening to your customers; like eliminating products from your list that are not selling, or if you see drop off on certain stages of your funnel then eliminate those stages and make it easier for your customers. 

We have the 443 framework, which basically means that if we test videos we have four different videos, and we have four thumbnails for each video, and then we have three types of creatives, which are video, image, and Carousel. 
So then what we do is to facilitate the testing of all of that on ten different audiences so we have. 
So for example, you have 4 videos, then you identify the winner for that specific audience.
And then there's that video you can test different thumbnails. Once you found the thumbnail, you can scale. And then on other stages of your funnel as I mentioned we have different types of content. 
So it's kind of like if someone has seen your video then they might respond better to image because that's something new that they haven't seen before, so we kind of lead people through that sequence. 
In terms of variables, I would start with at least four different creatives. 
If you're testing images that would be 4 images if you're testing videos that would be 4 videos. of different land so you can just cut videos and see, which one basically converts better. 
The mistake most people make is that they make their ads like they have only one audience.
They have one ad, so they really have no variables to find the winner. 
Let's say if you test 4 videos and you see that your click-through rates are good- let's say 5-10%. That means that people actually clicking on your ads. 
Then you have to make sure that they actually added the product to their cart. That's how you see whether there is an interest in your product and then you actually see whether people have completed their purchase. 
You need to see the performance of your overall funnel because Facebook will give you data but not the performance of sales.
If your click-through rate is is low then, obviously you need to find a creative that gets you higher click-through rate. 
The way we do it typically is by using automatic bidding. Let's say it's like, from 5 to $50. 
We want to identify whether what we have in terms of creative and in terms of targeting, works or not. So we want to find some kind of like proof of concept with what we have on the lowest budget possible. 
That's how we find our winners (the creative that actually gets sales).
For scaling we utilize lookalike audiences; the most valuable of them are obviously purchases and lifetime value, but we also test and we found some good results with people who stayed on the website for a long time, people who've added to cart, or people who watch videos.
With those lookalikes, we utilize higher budgets because if they work out we want our clients to, spend as much as possible profitably so, we would have like $100, $200 $300 automatic bidding.
Once we find those audiences that worked out well, then that's when we utilize the manual bidding. 

Let's say we have an audience of like 5 million people and we might have a budget for that audience of $1000 to $10000 dollars per day on that specific asset.
So now our goal is just to exploit those audiences as much as possible. So that's where we use the manual bidding. I think the mistake that most people make is they grow their bidding without figuring out their winning audiences and their winning creatives first. 
If you're bidding on purchases you want to win as many purchases as possible and the few variables do that, is the winning audience, a high relevance score, high click-through rates, and high conversion rates. 
So if you don't have those variables in place, then you will simply waste money. 
So if you are good with all of those elements and you will actually pay less than you will bid. That's the goal of manual bidding, and Facebook rewards advertisers who are actually putting their work in figuring out that part and produce a good user experience because the better ads advertisers produce, the more money Facebook makes.
If your ads are creating a bad experience for people, Facebook doesn't want your money because they know that those ads will eliminate people and Facebook is all about getting more people on the platform. 
We use something that we have developed in-house for our own projects. It's a platform that basically analyzes -like artificial intelligence, the performance of ads and gives us suggestions.
For example, let's say you advertise with certain ads and then after some point, they start to deteriorate in performance. 
Let's save your CPA was like $20 then it starts to get look $25, $30, $50 dollars; we want to eliminate those situations because that costs us. 
The software also gives us suggestions on the creative that's working the best, and all other things so that's we have in-house and, it's not available to other people at the moment.
 It's still not perfect, but it's it does the job and we usually get better results for our clients.
I haven't got into Messenger Marketing and I know I should. 
We work with certain people that, specifically specialize in that, like contractors that we recommend to our clients that help them to set up those sequences for people that have added to cart for example on Shopify, and they haven't completed their purchase.
So we use Messenger to a certain extent, but we just put all our time in paid aspect of advertising and the creative; regular Instagram stories.
On Instagram, if your audience is up to 30 years old, I think you should definitely try Instagram stories.
It doesn't work for all of the brands, but I believe that at least you should test and see if works well for you.
If they're new to Facebook, I think the first thing is to go to Facebook Blueprint which is a free course provided by Facebook and learn the fundamentals of the platform. 
Understand how all of these things come together. Facebook ads are like breaking down different components of Facebook. 
You need to break down the creatives, and break down your targeting, to see what's working. You'll need to combine all of those elements together.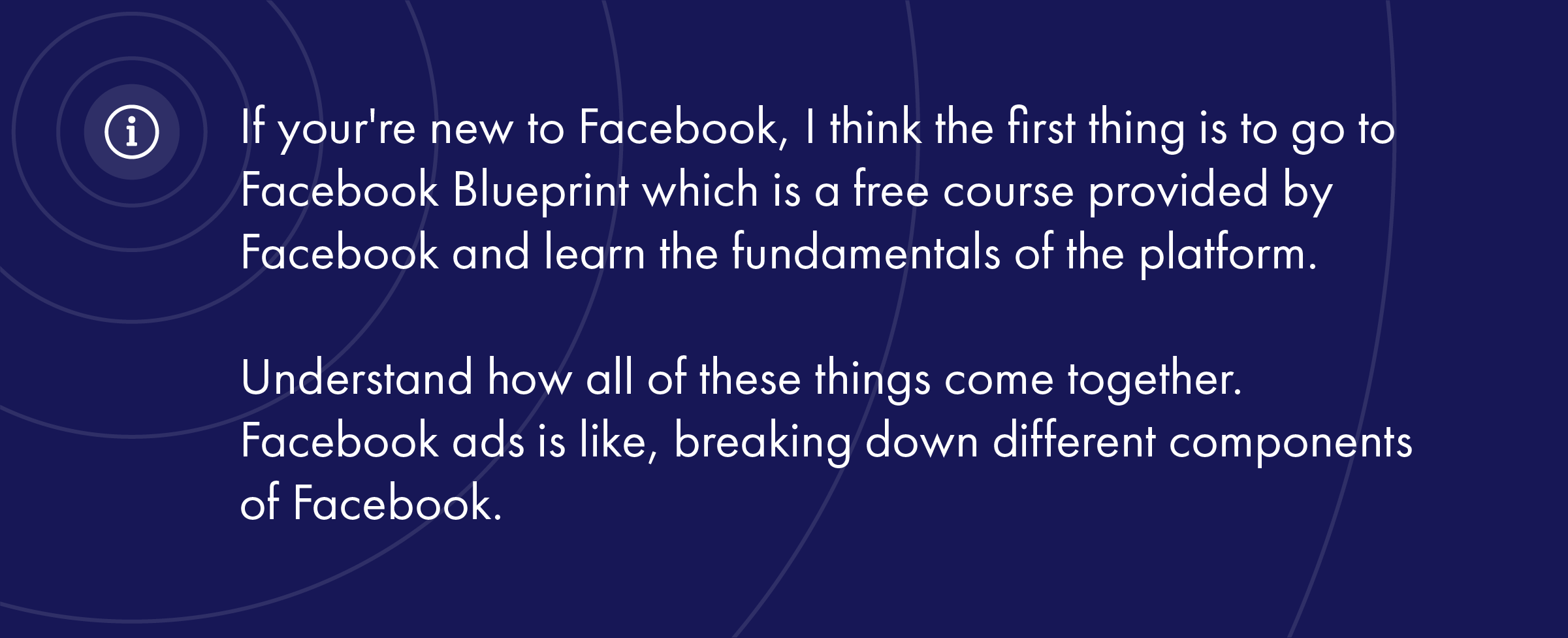 Give Facebook some variety of different items to optimize, and Facebook will also help you with optimization to find what's working.
You need to understand what's the product you're trying to sell, and how different it is from, everything else that that is in the marketplace. 
Also, you need to find how you can position that product better than other products in the marketplace, and understand how much you can spend to acquire a customer. 
Go to pages of your competitors, and go through their ads. Click them, see their website, see how they position their products and find is they offer certain upsells. 
Maybe they have some email sequence or some like referral marketing programs that they utilize to incentivize users to spread the word about their brand. You want to gather as much information as possible about the field that you're getting into.