With over 4 billion email users worldwide, it's no wonder that all kinds of businesses want to take advantage of email marketing to increase sales and engagement rates.
It's true that it's a great marketing channel, and an integral element is having an email list that'll convert into potential customers, users, or subscribers.
Since creating an email list isn't a piece of cake, we've put this simple guide together to talk you through:
What email capturing is

What the benefits of email capturing are

How to effectively capture emails
Plus, we're going to show you some of the best tools out there that'll help you nail your email marketing campaigns.
If you're as excited as we are, let's get started as we've got lots to cover.
Table of Contents
What Are the Benefits of Email Capturing?
5 Ways of Capturing Emails Efficiently, with Examples
4 Essential Tools You Can Use to Capture Emails
What is Email Capturing?
Email capturing is the process of collecting email addresses with the intent of creating an email list that will be used in marketing campaigns.
This can be done in a variety of ways which we'll go through in detail later on, but it's vital to note that the quality of a mailing list is more important than the number of emails on it.
That's why a successful email capture strategy should focus on three steps:
Identifying your target audience

Determining how you'll collect their email addresses

Adding them to your mailing list via automated systems
All with the intent of creating a high-quality email list that'll convert.
According to a study, email remains the key strategic channel to marketers, followed by social media.
It's no surprise, considering how long email has been around and the number of people who use it on a daily basis.
So far, it's pretty clear that email capturing is an integral part of any email marketing strategy.
Now let's see some of the benefits of capturing emails.
What are the Benefits of Email Capturing? 
As we just saw, email campaigns are still relevant even in the age of social media.
In fact, one recent study reckons that the number of worldwide email users is expected to grow to over 4.4 billion by the end of 2024.
That's more than half of the world's population.
Pretty impressive, right?
This is why email collection shouldn't be overlooked; it's a process that – if done properly – can bring in great results for your business.
Let's have a closer look at how it can help you.
Benefit #1: Build long-term relationships with customers
Relationship building is an integral part of any organization's lasting success.
Consumers nowadays have a plethora of options to choose from when buying a product or using a service; what sets your business apart in their mind is the relationship they have with you.
Good relationships lead to loyal customers and, according to KPMG, 86% of loyal customers will recommend a company to friends and family; it's a powerful example of the effect word-of-mouth marketing has.
Such relationships can be formed in many ways, based on how good a product is, how good the customer service is – something email can definitely help with – and more, which are represented in the following graphic: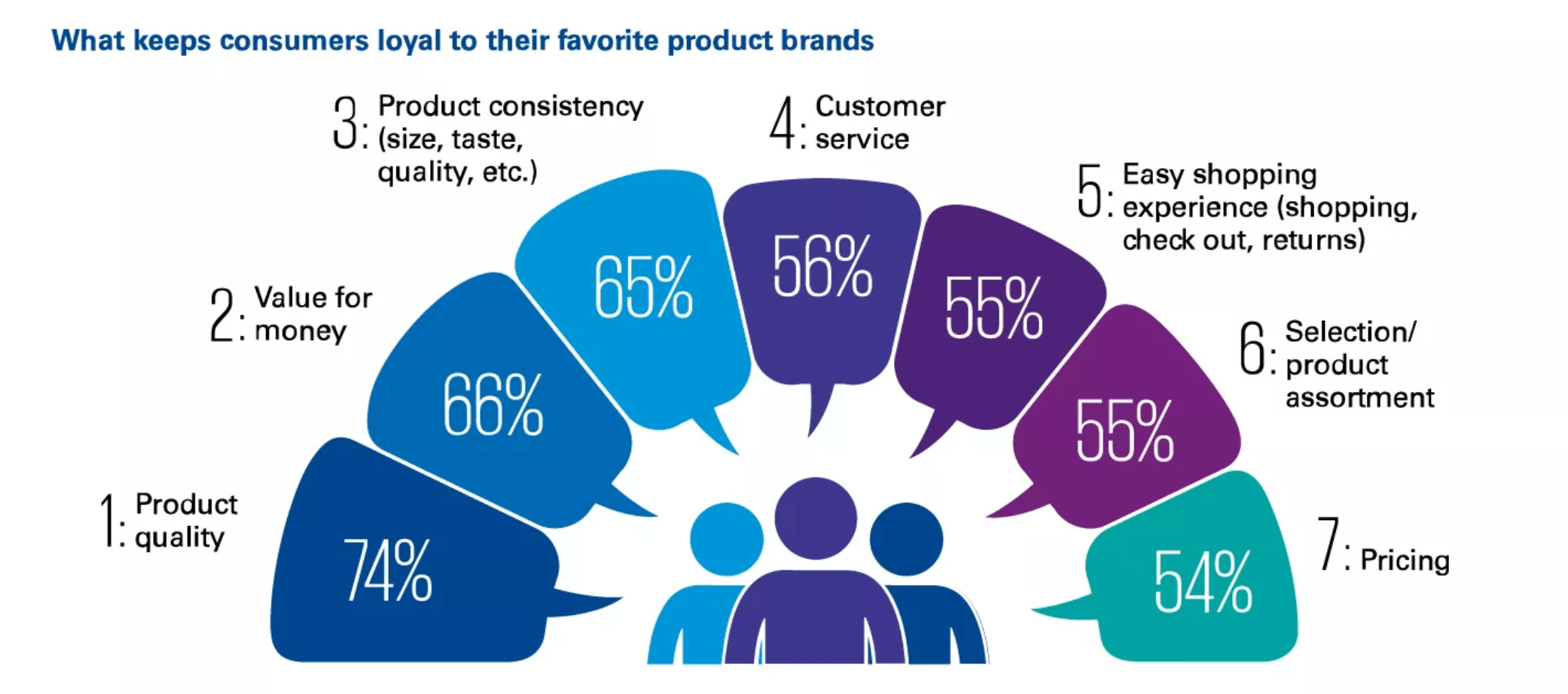 Image Source: KPMG
Where do emails come in?
Emails play a key role in this process because it's a channel with everyday use.
It's also a private space for each individual; when they allow you to communicate with them this way,  it means they trust you and will provide value.
While some people think that email newsletters are the only reason to capture emails, using them to have direct contact with your subscribers is of great importance.
For instance, you can personally ask them what they think about your product after using it and whether they'd make any changes to improve it.
This is a simple yet effective way to make your customers feel like their opinion matters and, therefore, start feeling connected with your business.
What we can say for sure is that investing in relationship marketing can be crucial for any big or small business.
Let's move on to the next benefit.
Benefit #2: Email communication is targeted
Unlike other non-paid digital marketing channels, emails can provide communication with a targeted audience.
Anyone who allows you to "barge into" their inbox means they're already interested in what you have to offer.
This is great, because you don't have to invest money in paid advertising to reach your target audience – you already have it at your fingertips.
Pretty cool, right?
Not only that – you also have direct access to them through a channel they use daily.
This means you can reach out to your subscribers and promote your products, offer them discounts, ask their opinion, and anything else you like.
Author's Note: While having constant contact with your email subscribers is great, be careful not to overdo it with the number of emails you send. Too many emails ups the chances of them unsubscribing from your list. 
All in all, direct communication with your audience via opt-in emails can work as a great lead generation mechanism.
Why? Because this results in higher conversion rates.
Let's dive deeper into this.
Benefit #3: Higher conversion rate
According to a GetResponse study, 47% of marketers said email was either "good" or "excellent" for generating a return on investment (ROI. 
This put email the highest among other digital marketing techniques, like social media and affiliate marketing.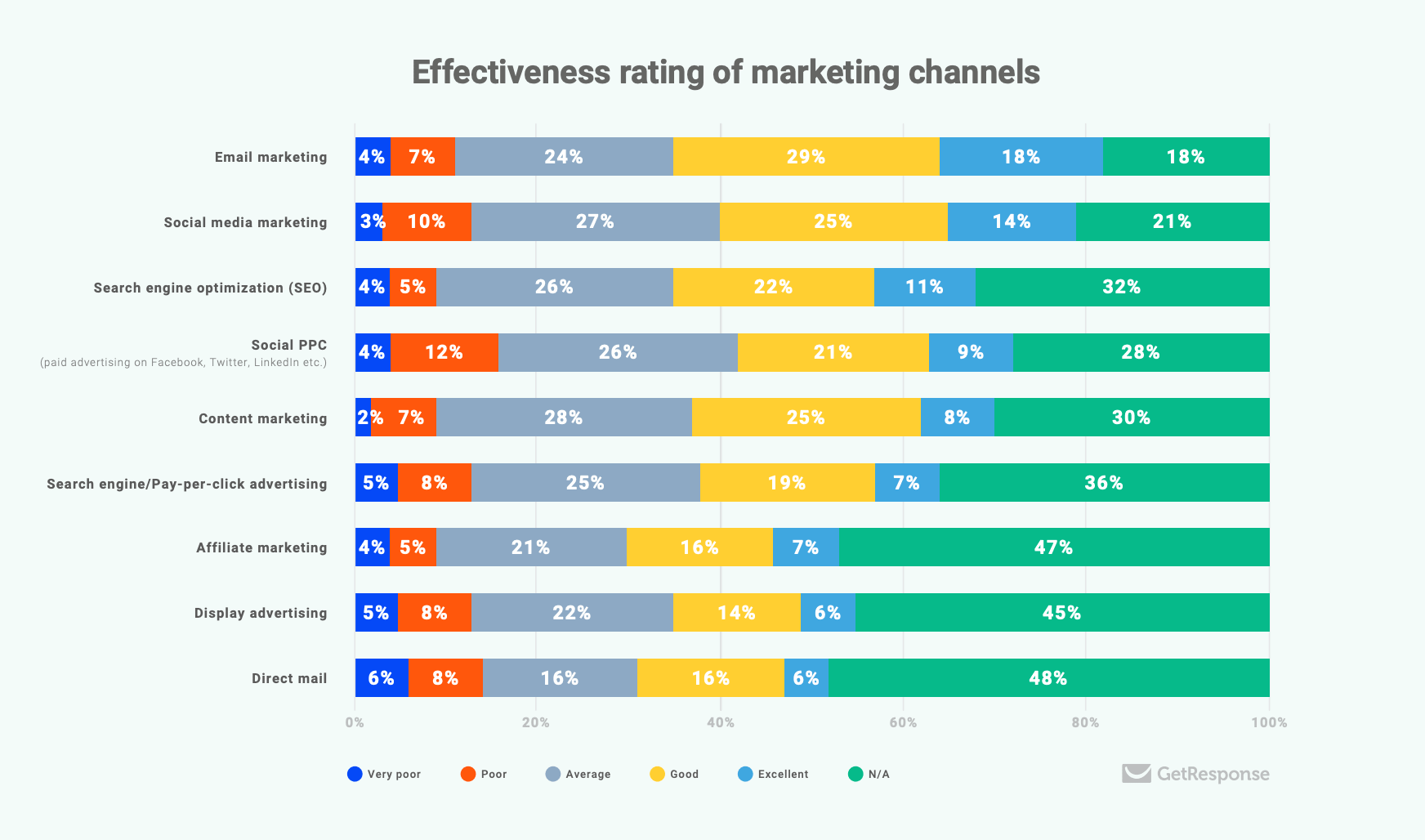 A higher conversion rate is tightly correlated to the fact that the audience is already targeted and aware of your business. 
The key here is to find the email types that convert the most; it could be a newsletter, a post-purchase email, an abandoned cart email, or any number of other contacts.
How will you find the right one?
You won't know until you try. 
We recommend setting up different types of email campaigns, conducting A/B testing, and constantly measuring the results of each one.
That way, you'll manage to turn email leads into actual customers.
In order to calculate your email conversion rate, you must divide the number of people who took an action by the total number of email recipients. 
Next, you multiply the result by 100 to get the percentage.
That action could be to open an email, click on a link inside it, make a purchase through it, and more.
Let's say, for example, you want to calculate the open rate of your last email campaign. 
If it was sent to 1,000 recipients and 50 of them opened it, the conversion rate looks like this:
(50 / 1,000) x 100% = 5%
You can follow the same formula for any other type of email conversion rate you wish to measure.
Overall, it's clear that capturing emails can be of great benefit to a business.
Now, it makes sense to explain how you can do that by presenting some of the most common and successful tactics.
Let's get into it.
5 Ways of Capturing Emails Efficiently, with Examples
We've already discussed what email capturing is and the benefits it can bring to your business.
Yet, we still have a lot to learn in terms of how email capturing works as well as how companies are trying to make it happen. 
"What is the best way to capture emails?" I hear you ask.
Let's have a look at some useful tactics and relevant examples. 
Tactic #1: Add a "subscribe" box to your content
Possibly one of the most common and simple ways to collect emails is by adding a subscribe box to your website.
The box can be integrated somewhere in the middle or at the end of a page, whether it's a content or landing page.
All your users have to do is enter their contact information – in this case, their email address – into the box, click on "subscribe" or any other relevant CTA, and they'll automatically be added to your mailing list.
Your job is to customize the subscribe box and make it as tempting as possible for someone to join.
If you're looking for some inspiration, look at this example by creative merchandise company PRG.
Example: PRG
As you can see from the screenshot below, a subscribe box has been added in the middle of a blog post so it catches the reader's attention when going through it.
Apart from the CTA, they can also see what they'll gain if they subscribe; this is a good tactic to follow when creating your own box. 
After all, why would someone join if they don't know the benefits?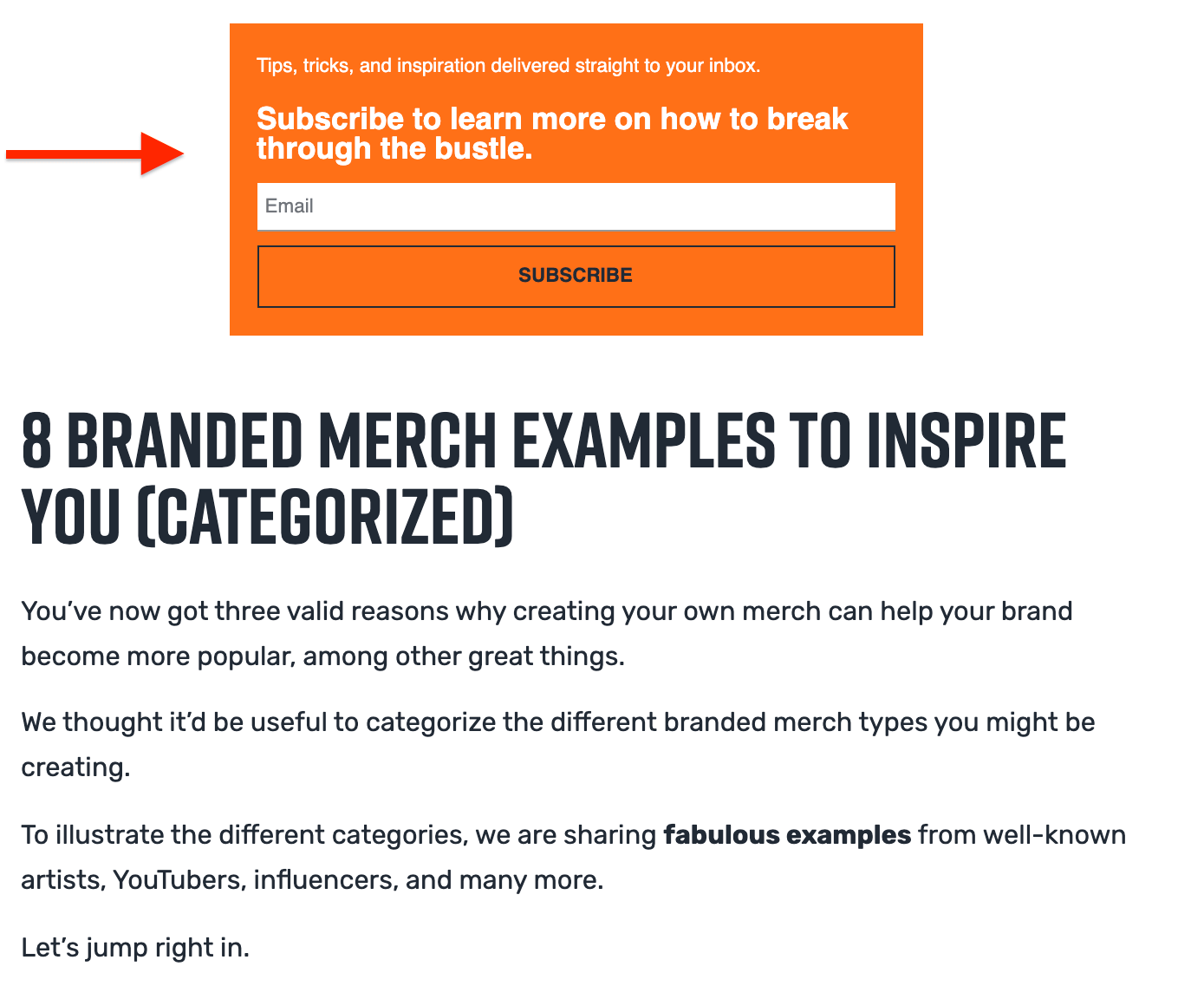 Image Source: PRG
A similar box has also been added at the end of every piece of content, in order to make sure that no one missed the first one when scrolling through.
This is also a good tip to follow, but make sure to not overdo it with the number you add; you want to get your point across, but definitely not make it feel spammy and offer a bad user experience.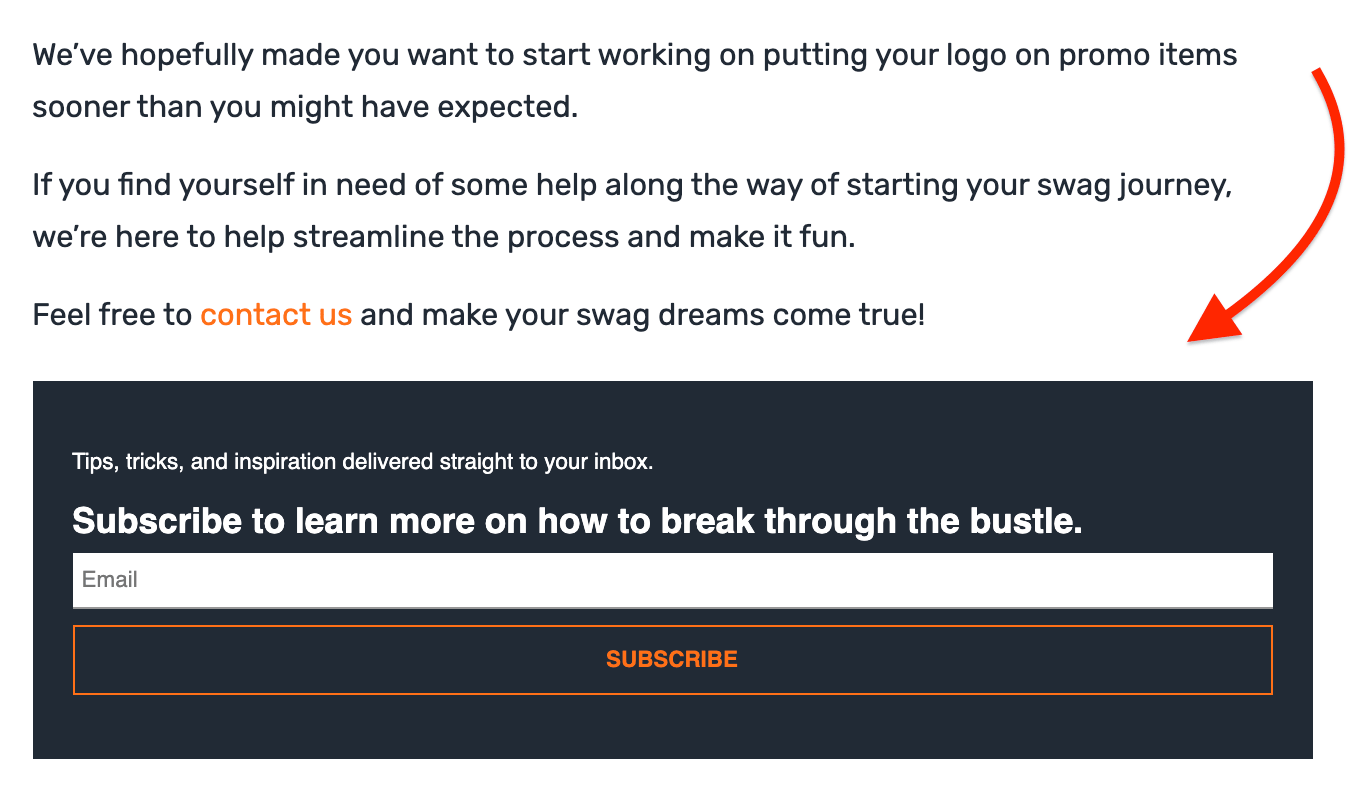 Image Source: PRG
Subscribe boxes are one of the best email capturing techniques to gain new subscribers, especially when targeting people visiting your website for the first time.
Let's move on to the next tactic.
Tactic #2: Make it easy for the user to subscribe
One of the most important things to keep in mind when building a mailing list is to actually make it easy for users to subscribe.
More often than not, websites add subscribe boxes in places that aren't easily seen, unknowingly "self-sabotaging" their own email list-building efforts.
One way of avoiding this is by adding pop-ups and slide-ins that easily catch someone's eye. 
They're effective and can be done through various tools, like a WordPress plugin if that's the CMS you use.
As the name suggests, these boxes pop up or slide in at a certain point while someone's visiting a page, asking them to subscribe, and can be closed at any time.
They can either show up in a corner of a page, cover the whole page, or act as an exit-intent pop-up; these are a type of pop-upσ that appear when a user has the intent of exiting a page, by pressing the back button, for example.
It's particularly useful for eCommerce websites in case of cart abandonment, as well as for content marketing websites when it comes to creating lead magnets.
Let's now see an example of a page that's made email subscription really easy.
Example #1: Mark Manson
Mark Manson is a two-time best-selling author and a popular public figure.
He runs his own personal blog where people can learn more about him, buy his courses, his books, and of course subscribe to his free newsletter.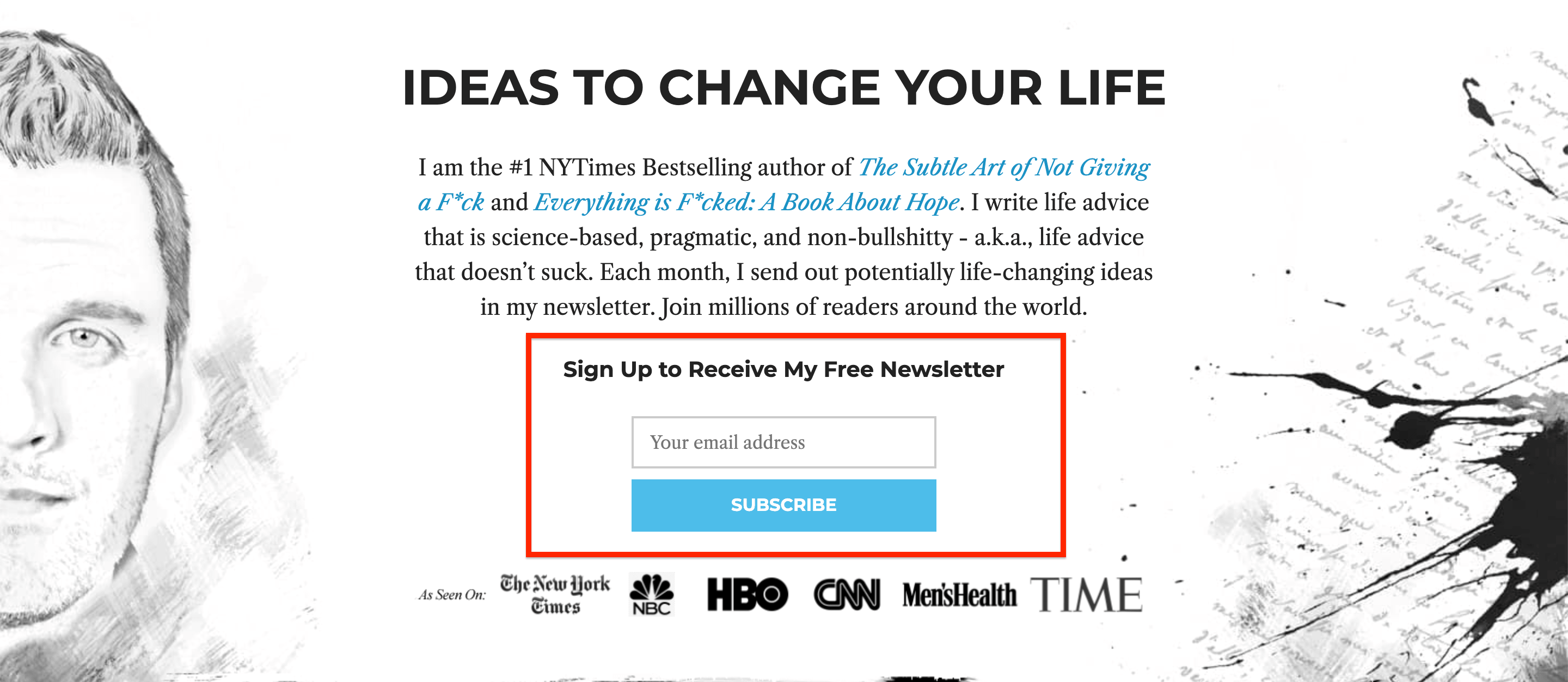 Image Source: Mark Manson
The subscribe box is the first thing someone sees when entering the website, making email sign up is as easy as it can get.
Now, let's have a look at an example of a pop-up message, to see how OpenView Partners gather their newsletter signups.
Example #2: OpenViewPartners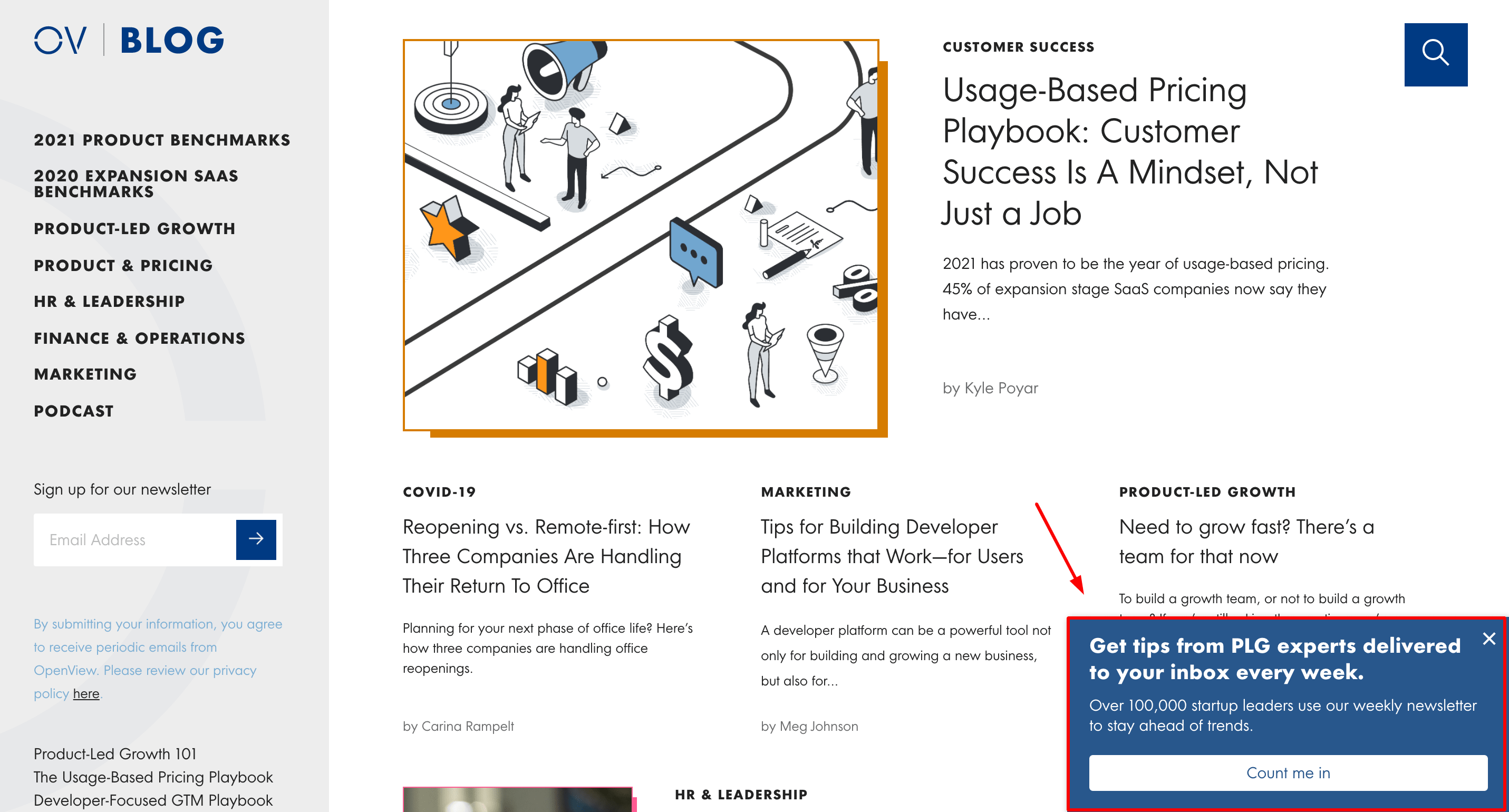 Image Source: OpenView Partners
By visiting their website's blog, a pop-up window appears on the bottom right corner regarding the weekly newsletter.
As you can see, the use of social proof has been included – "Over 100,000 startups leaders use our newsletter…" – in order to attract more email signups.
This is a good tactic to apply, instead of simply adding a CTA.
To conclude, whether you go for a simple subscribe box, a slide-in, or a pop-up, remember to make it as easy and fast as possible for your users to subscribe to your mailing list.
Let's continue.
Tactic #3: Offer free versions and demos of your tool
Another smart way of capturing emails is by offering free versions and demos of your product.
The reason why this works is that you're asking for potential users' emails in a non-sales way, which people tend to prefer.
After all, you're offering free versions and demos of your tool in order for them to get the maximum value out of it; it's basically a win-win situation.
Let's have a look at an example of this method by digital PR and link-building software, Respona.
Example: Respona
Respona adds a link at the end of every blog post where readers can book a free demo on how to use the tool effectively.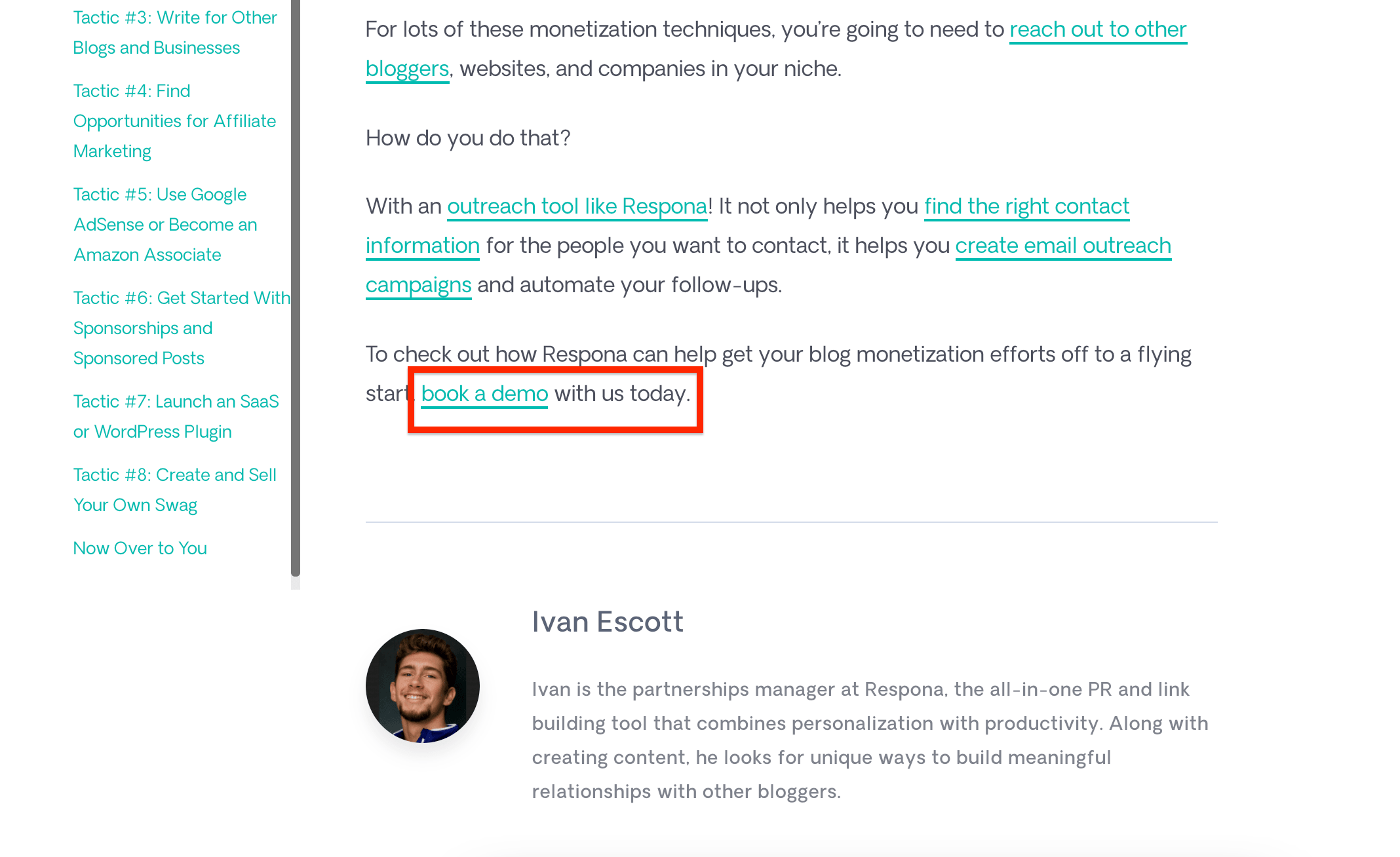 Image Source: Respona
In order to do so, they must fill in some basic contact information including their work email address, as seen in the email capture form below.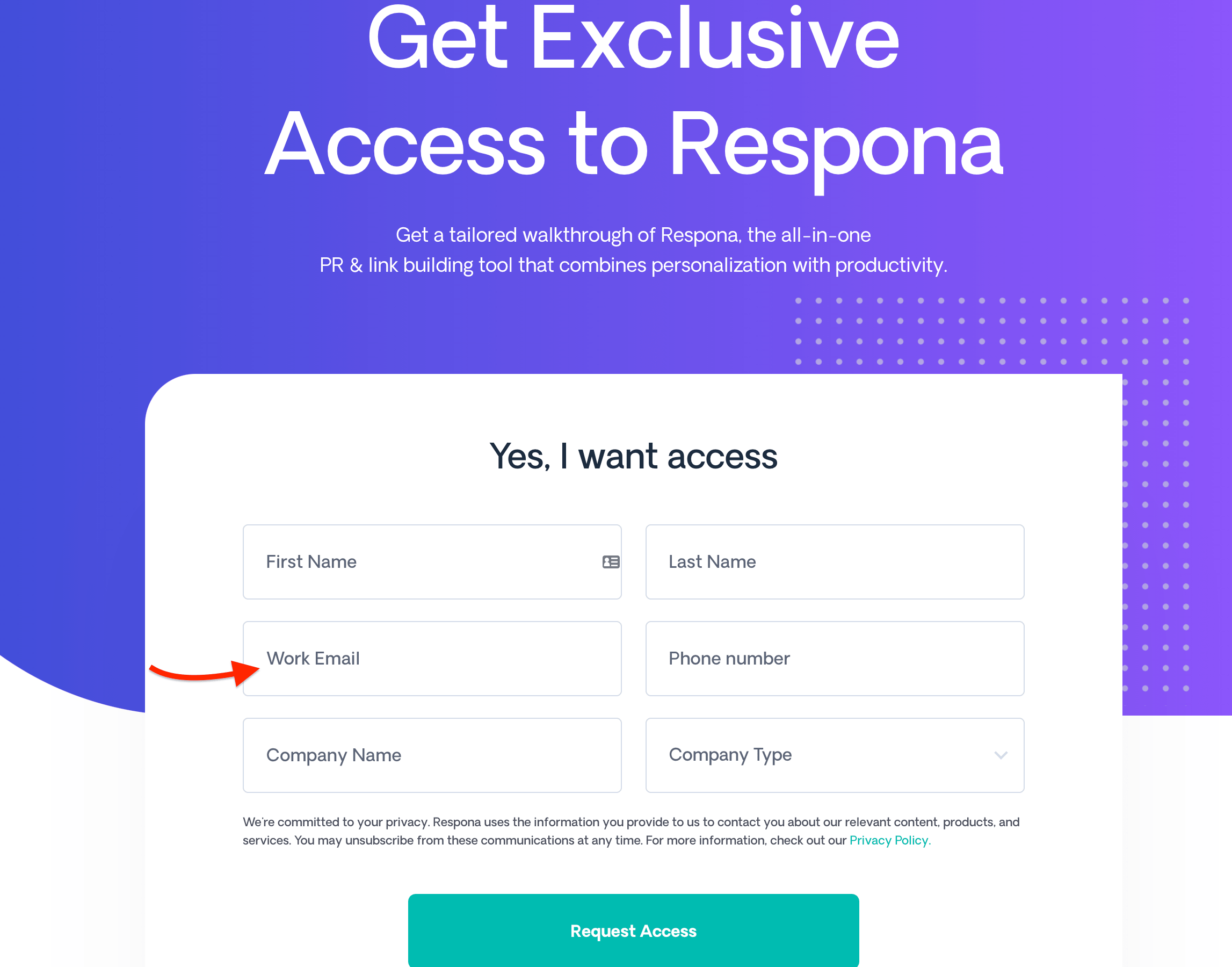 Image Source: Respona
This is a good thing to do; not only do you have the chance to expand your customer base by walking people through your tool, but you can also use their email to send them awesome email marketing campaigns.
Let's move on.
Tactic #4: Establish a referral program
Applying referral marketing techniques to capturing emails is by far one of the most effective ways to achieve a strong email list.
What you essentially do is offer incentives to any of your subscribers who refer someone to sign up to your mailing list.
By taking advantage of those incentives, they help you grow your list which will – hopefully – turn into leads. 
These incentives are usually rewards such as discounts, giveaway entries, free product updates, and much more.
SaaS referral programs in particular have proven to be very effective in acquiring new customers, so it makes sense to apply similar tactics when capturing emails.
Let's have a look at an example.
Example: Boohoo
Boohoo is a UK-based fast-fashion company that's taken advantage of referral marketing to collect email addresses.
In the screenshot below, you can see how easy it is for someone to enter their email and collect a reward, which is actually £5 to spend on the website.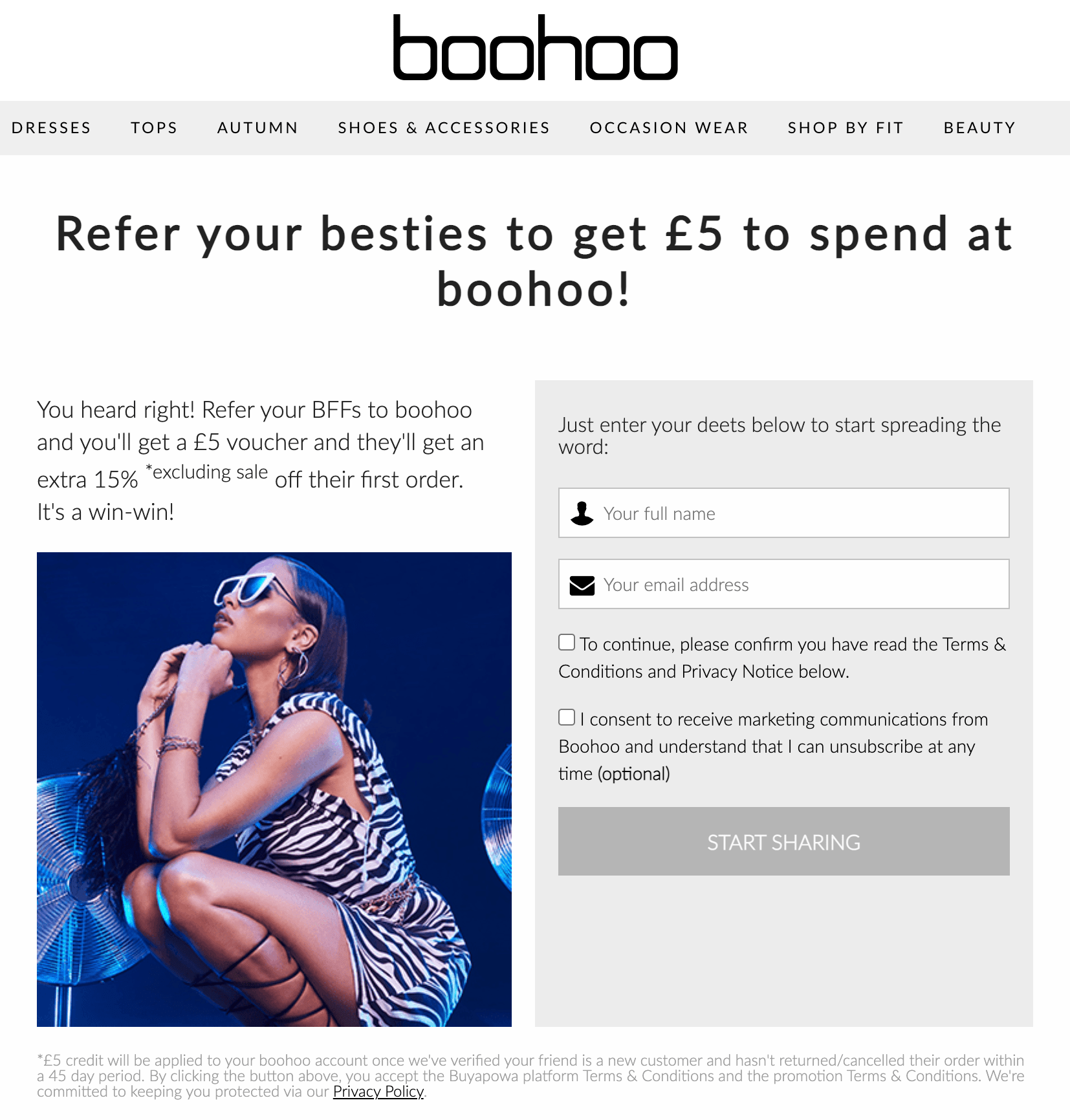 Image Source: Boohoo
The reason why this works is that it's a win-win situation for both sides; referrers receive a gift voucher and Boohoo collects an email address, plus almost certainly secures a sale from the voucher.
Actually, there's a third-party involved that also gets rewarded, since the referred person gets a 15% discount off their first order; this is known as the two-sided referral system.
This is a common practice in eCommerce referral programs which has proven to be great for lead captures.
Let's continue to the last tactic on our list.
Tactic #5: Gate your content
Gated content is essentially any type of content that your visitors can access only after providing their contact information.
Needless to say, it's a great way for marketers to generate leads by providing users with valuable content in exchange for their email addresses.
It's also estimated that 80% of B2B content marketing assets are gated.
Sounds promising, right?
Obviously, gated content doesn't only refer to blog posts but also to ebooks, videos, case studies, infographics, and even webinars.
Let's have a look at an example of effectively gating your content from Hubspot.
Example: HubSpot
What Hubspot does is basically trigger a pop-up window allowing users to download one of their well-known marketing reports.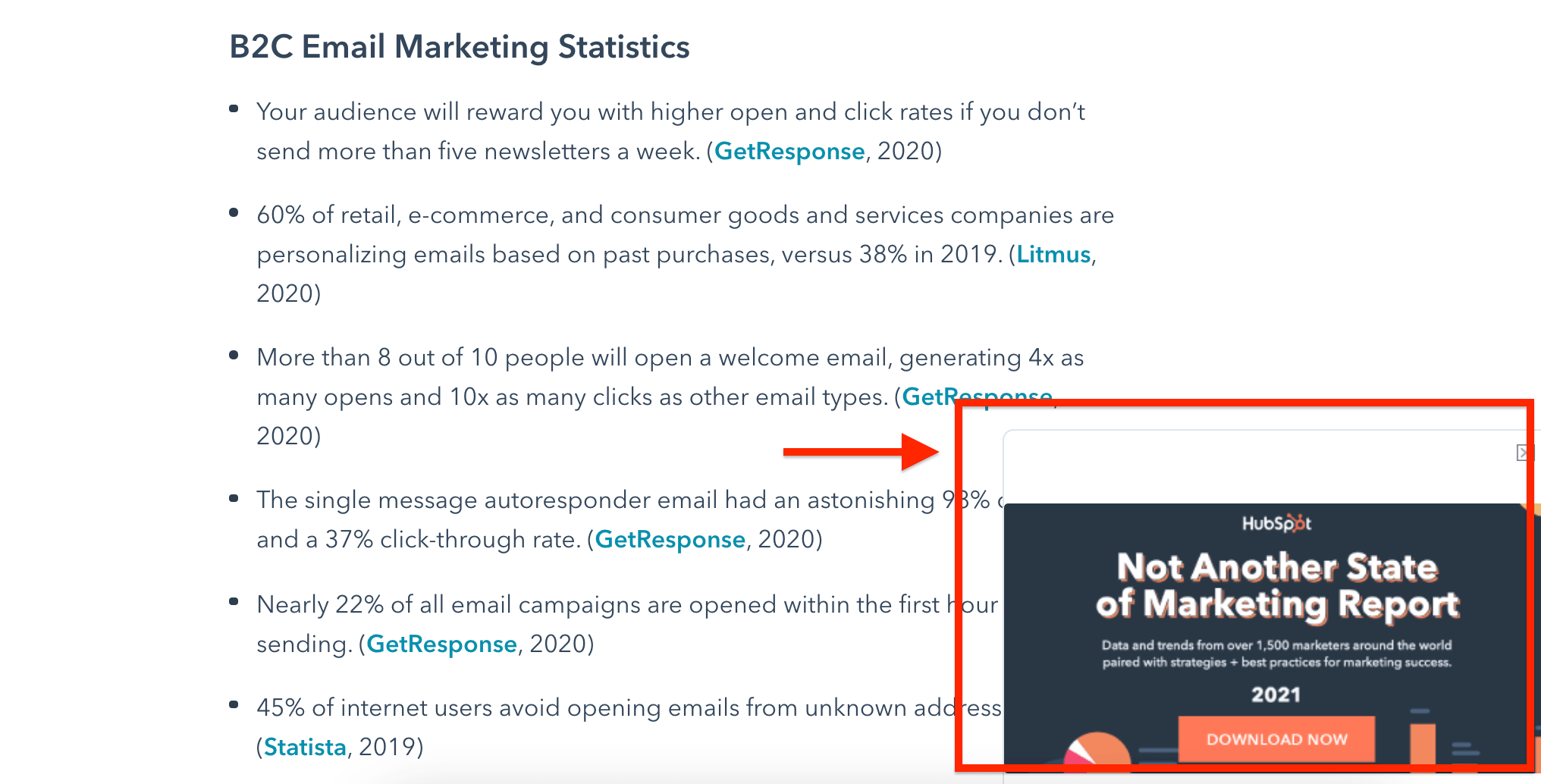 Image Source: HubSpot
Since it provides good insights into the marketing world with key stats and predictions, many people decide to download it.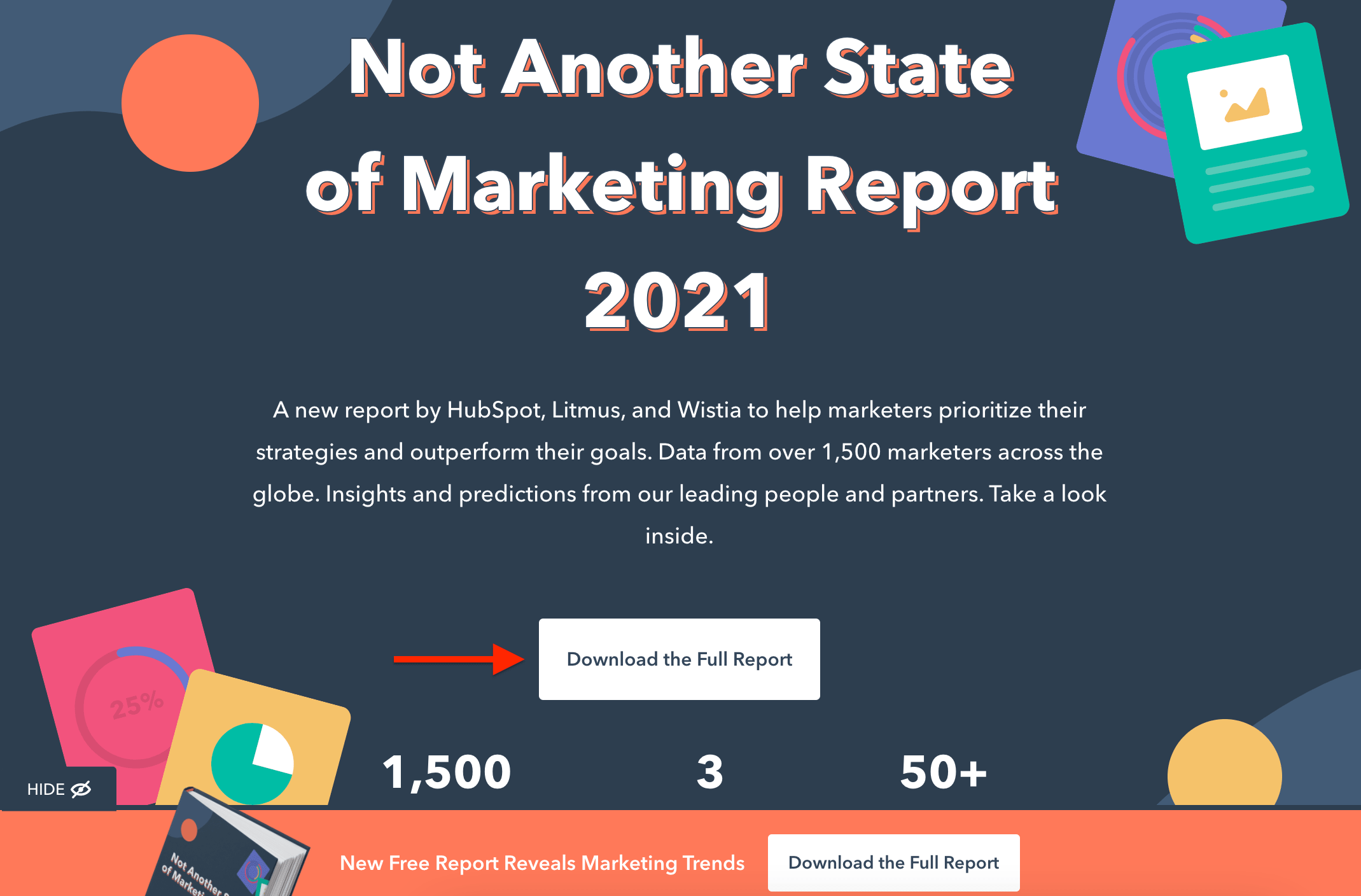 Image Source: HubSpot
Of course, since it's gated content, what they must do next is provide some contact information such as their name, phone number, email address, and company they work for.
That way, Hubspot will have all the information it needs to personalize its email campaigns sent to people who downloaded the report.

All in all, gating your content can prove to be a great move when expanding your mailing list.
Now that we saw a few of the key tactics to capture emails effectively, let's look at some of the best email capture tools you can use.
Without further ado, let's get into it.
4 Essential Tools You Can Use to Capture Emails
We believe that, so far, you've gained a great amount of knowledge about why email capturing is important and how you can do it.
We also reckon that this process can't be done without the use of the right marketing tools. 
That's exactly why we've put together this list – to guide you step-by-step through the procedure, whatever tactic you decide to implement.
Let's get started.
Tool #1: Optinmonster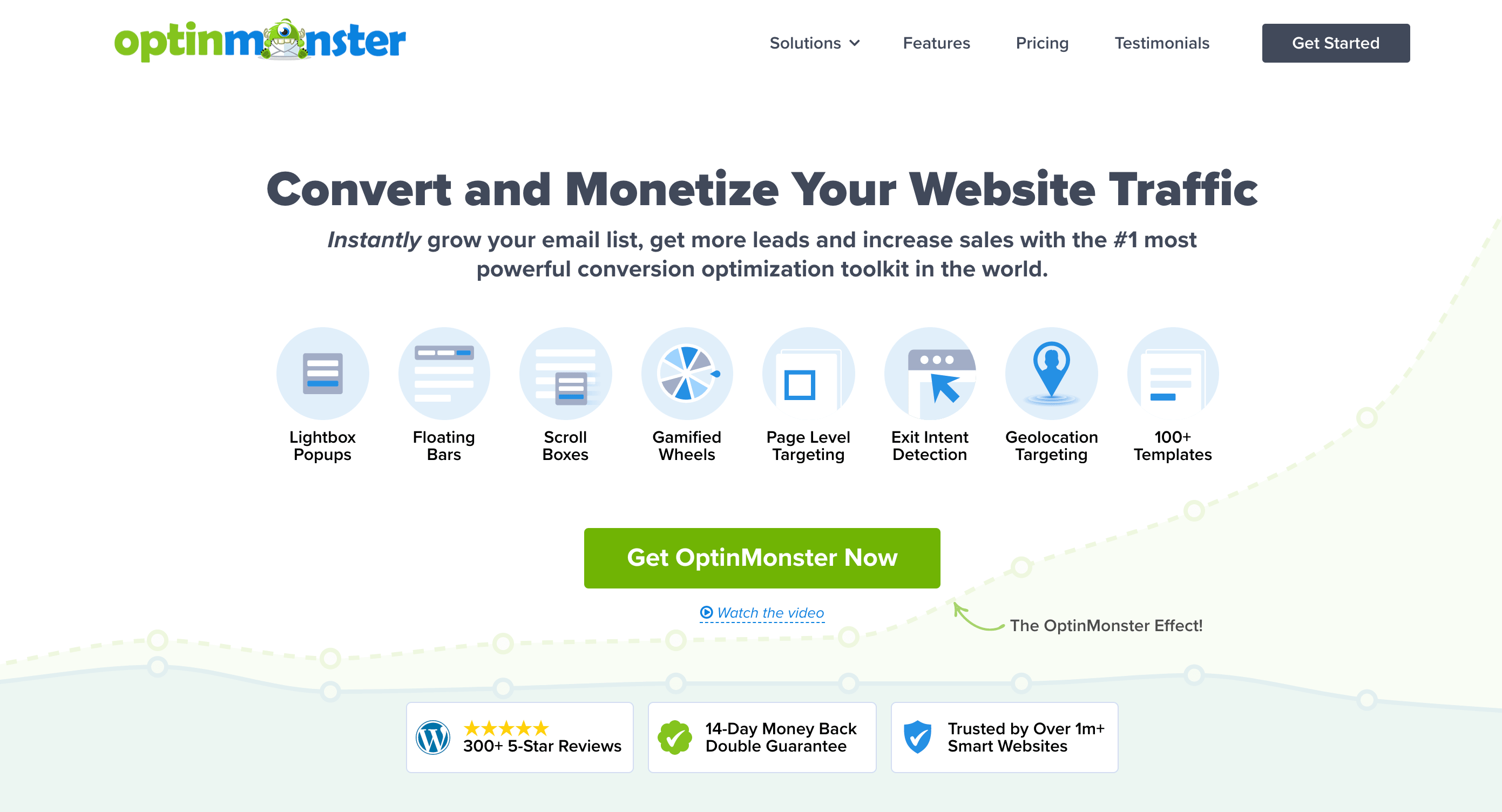 Image Source: Optinmonster
Optinmonster is one of the best tools on the market when it comes to converting your website traffic into leads.
Obviously, email capturing couldn't be missing from its features and it offers the ability to design stunning subscribe boxes as well as floating bars and pop-up windows with exit-intent detection, to collect emails for all purposes.
All of the above, plus many more features, help you make it easy for users to subscribe to your list so you can ideally turn them into customers through the power of email marketing.
Not bad, right?
Let's move on to the next tool.
Tool #2: Viral Loops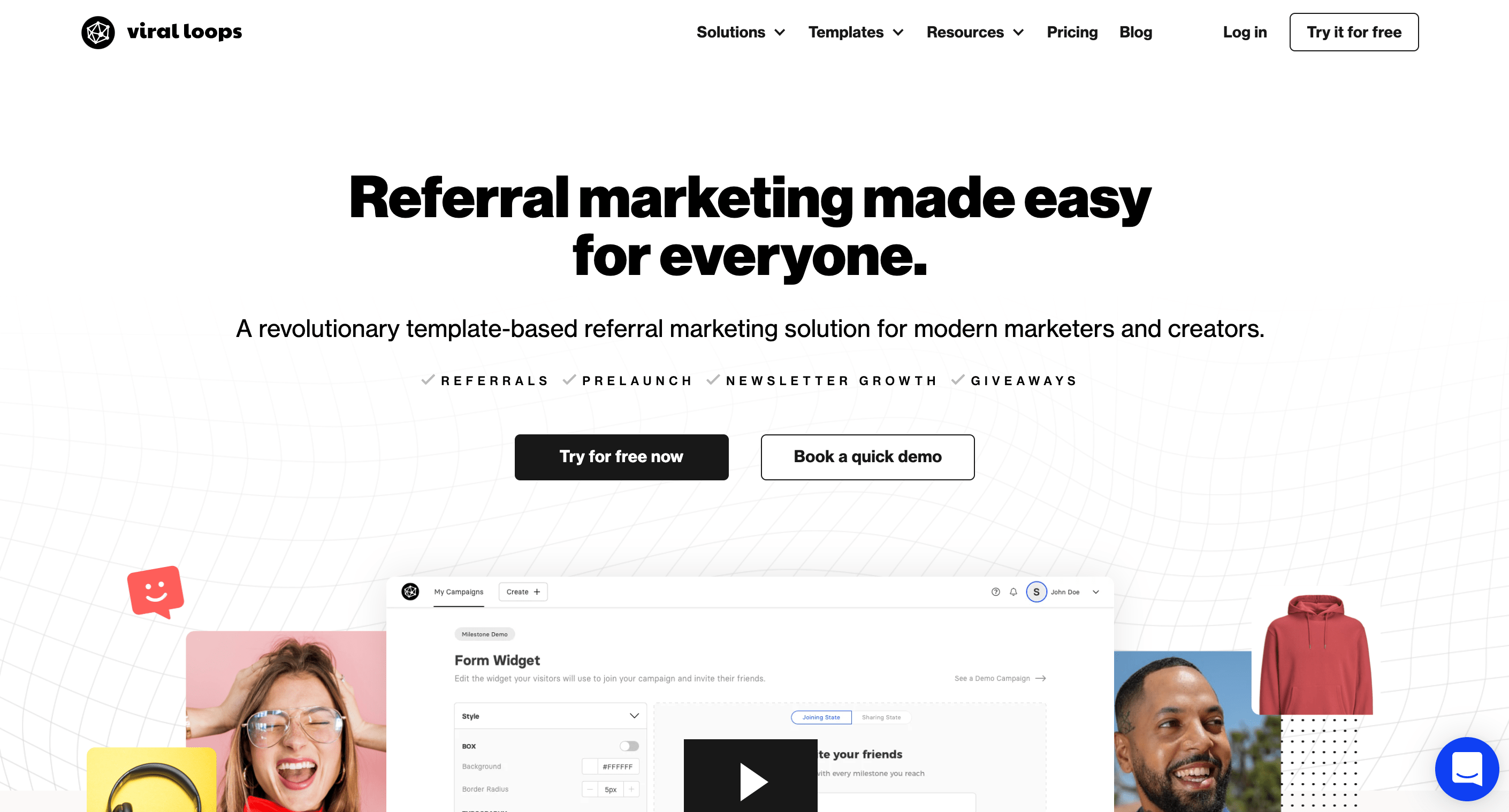 Image Source: Viral Loops
We don't want to brag about ourselves too much, but we take great pride in what we've created with Viral Loops; a simple tool that makes referral marketing easy for everyone.
One of its many uses is that it allows newsletter creators to expand their user database through referral marketing.
This means that you grow your email list through your existing audience which does the marketing for you; they invite like-minded people to join you in exchange for a reward.
Viral Loops for Newsletters: Enable your readers to grow your audience.
All this while getting the chance to integrate with your favorite email services, such as Mailchimp, as well as designing your newsletter referral program easily through a variety of templates.
Like what you're hearing? Why not give us a try?
In the meantime, let's move on to the next tool.
Tool #3: ActiveCampaign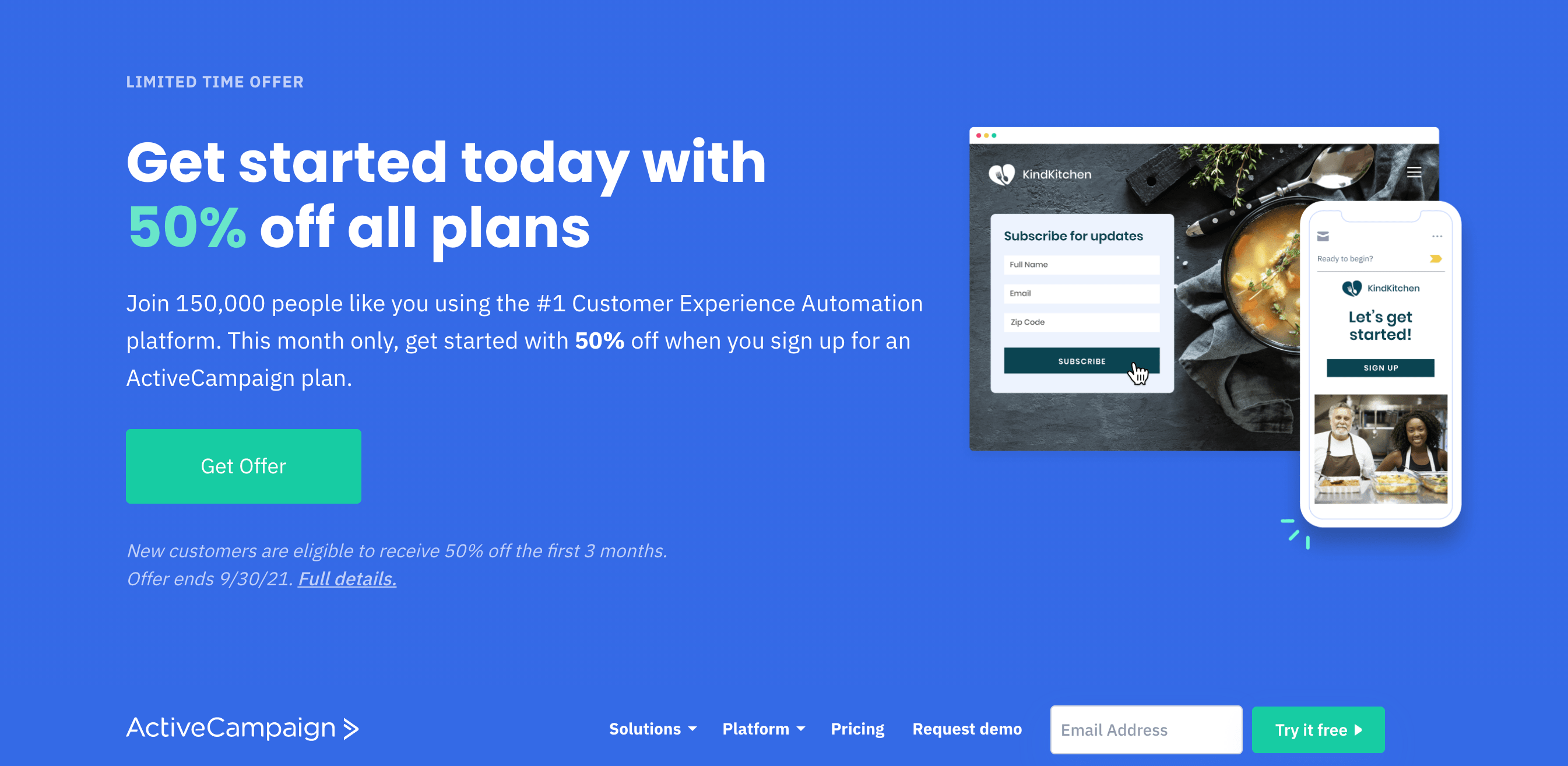 Image Source: ActiveCampaign
ActiveCampaign is one of the most popular tools when it comes to creating engaging emails that convert.
It offers flexibility in the sense that you can automate email follow-ups, see which email types are the most engaging, and connect with your audience through site messaging.
Most importantly, you can collect contact information from the right people with four types of custom forms:
Inline forms

Floating boxes

Pop-ups

Floating boards
All in all, ActiveCampaign is a great tool when it comes to combining all aspects of email marketing.
Moving on to the last tool we've got for you.
Tool #4: HubSpot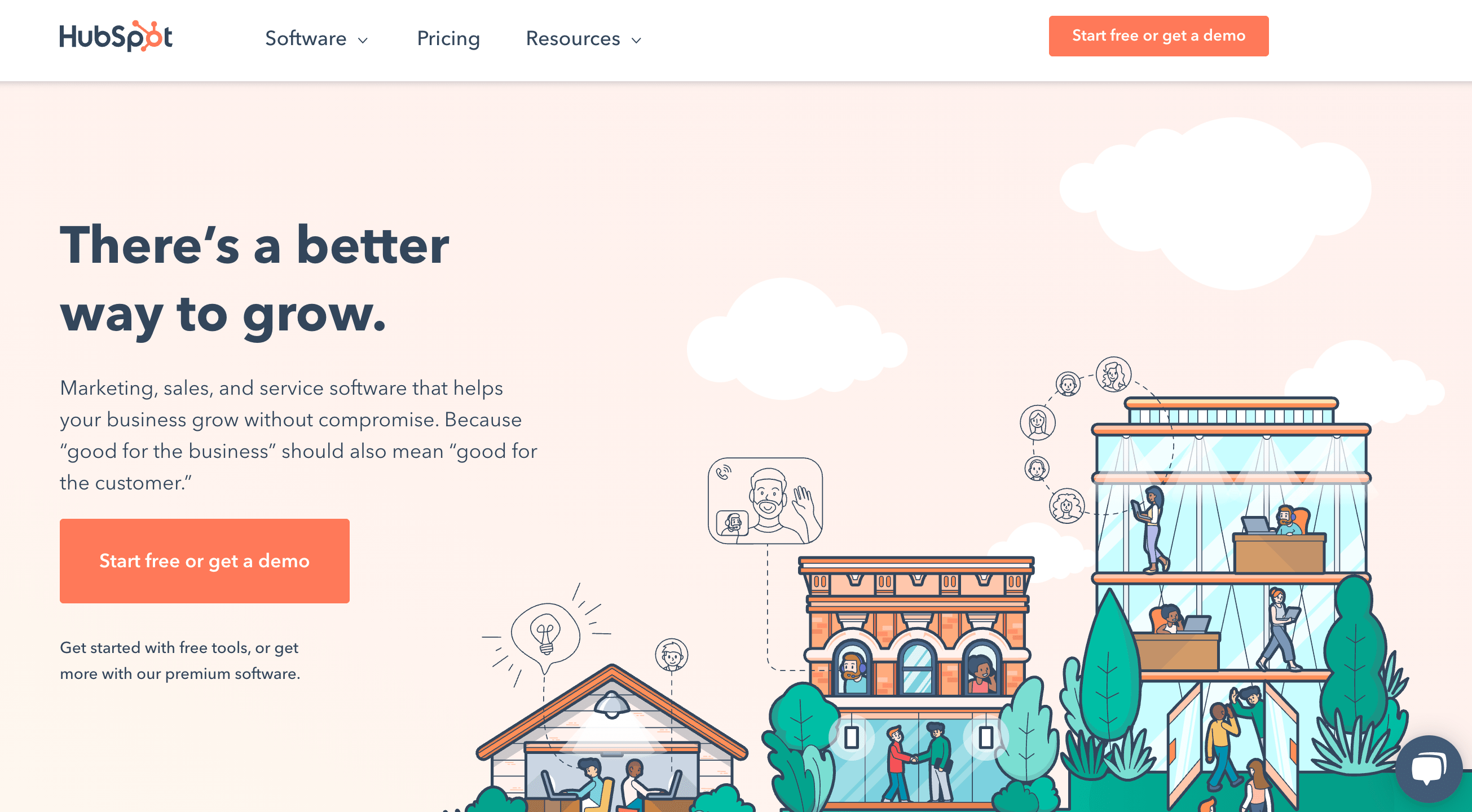 Image Source: Hubspot
You've most likely already heard of Hubspot since it's one of the most prominent tools the market has to offer.
One of its many functions is that it can perform various actions around email marketing, including capturing emails.
This can be done through Hubspot's online form builder; by creating sign-up forms, subscribe boxes, pop-up windows, and more which you add to your website and attract people to join your mailing list.
It's pretty simple and straightforward, but it doesn't need to be more complicated than that, right?
Hubspot is recommended for those looking for all-in-one software to help them with their email marketing campaigns from start to finish.
Before you go
There you have it!
Our full guide on how to capture emails effectively has come to an end.
We hope you learned how you can get started with building your email list from scratch and gained some great insights from our tips and examples.
After all, capturing emails isn't the most simple process. 
If you like what you saw and think that applying a referral program to your newsletter is the right thing for you, don't hesitate to give Viral Loops a try!