Turning your current customers into brand advocates will help you generate a constant flow of referrals when existing users refer friends, rather than attempting to locate new potential customers from scratch.
Time efficiency and cash saving are always key!
So, having a solid strategy for earning these recommendations (and marketing campaigns) from your current clients is beyond beneficial and creates customer lifetime value.
What's best is that we're here to help you create the most successful referral program!
More specifically, we'll go over the below elements in our piece to get you all set:
What is a referral program?

How to create a referral program

3 referral program examples to inspire you
Let's jump right in!
Table of Contents
How to Create a Referral Program (Step-by-Step Guide)
3 Referral Program Examples to Inspire You
What is a Referral Program?
A referral program is a purposeful, systematic approach to encourage existing customers to recommend your company. 
Often known as word-of-mouth marketing, referral programs reward current consumers for sharing and encouraging new customers to your business.
In exchange for their recommendations, you reward customers with referral incentives such as free cash, gift cards, significant discounts, coupons, or a free month of service. 
While there's an initial cost to the business, referral processes can enhance long-term income by converting current customers into a loyal customer base.
Wanna hear an interesting stat?
The amount that firms have to pay to boost customer acquisition has increased by around 60% in the last five years.
In addition, many companies have mainly depended on sponsored advertisements to attract new customers. 
Still, this channel is becoming less successful and far from cost-effective due to privacy restrictions and a falling return on ad expenditure.
On the other hand, according to a Hubspot study, an effective referral program can help reduce customer acquisition costs (CAC) and offer you a more valuable customer base.
The first step in developing an efficient referral program is to thoroughly study your current customers. 
Consider these questions:
What do your customers enjoy about your company? 

What entices them to return? 
You can build a referral program that pulls them in and motivates them to recommend their friends once you understand their desires, needs, and habits.
You need to determine what you want to gain from your referral program, and then you can look at the statistics in terms of your target audience and who your current customers are.
This will allow you to create a referral program tailored to them, thus increasing your chances of successful referrals. 
Let's check a great referral program right here.
GetResponse is a digital marketing tool that assists in automating email marketing campaigns and optimizing conversion funnels.
The existing customers introduce friends to the brand's referral program by emailing them a referral link or posting it on their social media. 
The business gives a $30 credit for future payments to both the recommended user and the referrer!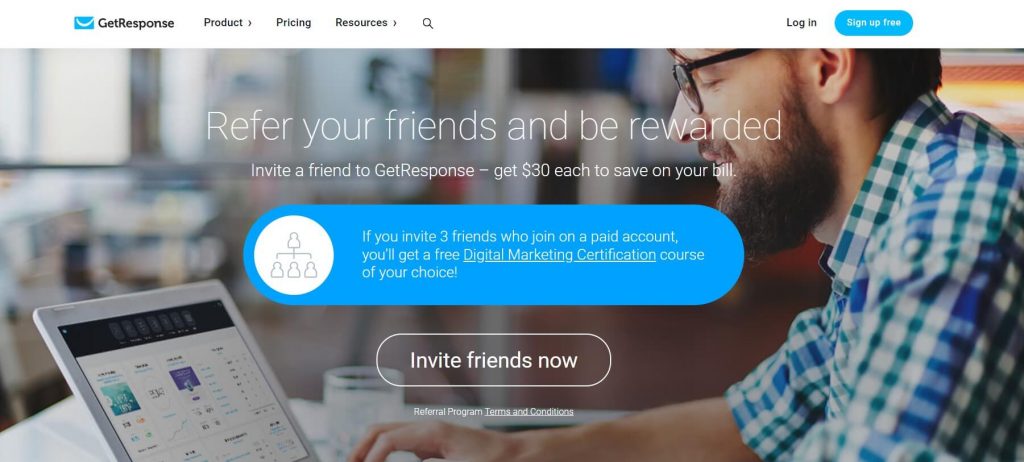 Image Source: GetRespone 
What's more, there's no limit to the number of referrals you can invite, which is very cool.
However, you can only earn up to $480 in credits per year.
How to Create a Referral Program (Step-by-Step Guide)
To create a successful referral program, you should stay organized and consider specific objectives.
The five steps below will help you stay goal-oriented throughout the preparation process and the experience as a whole.
Step #1: Set the right goals
Do you wish to raise brand recognition or get many effective recommendations and new leads in a single month? 
Knowing your ultimate objectives will determine your overall marketing plan functionality and ensure your referral program performs as desired.
So, set clear objectives from the start, decide on referral messages and be prepared to adjust them in the future. 
Based on the outcomes, you will see where your company's KPIs (Key Performance Indicators) and metrics are useful; what you thought you needed initially may not be what you actually needed.
Plus, you must define your target audience. 
If you require additional customers who have just started a new company, the recommending client needs to have access to such individuals. 
Expressing your objectives and buyer persona to your current customers is also critical so that your customer referral program reaches the right individual.
So, concentrate on those who will benefit from your business so they can swiftly convert from onetime consumers to loyal clients.
Step #2: Choose the referral type
There are endless possibilities for choosing your types of referrals and marketing channels.
Let's discover a few together below.
Use the word-of-mouth approach:
A good connection with each client is at the core of every word-of-mouth referral scheme, and it's not something that can be earned quickly.
Getting word-of-mouth recommendations is simpler when you concentrate on developing lasting connections with your consumers since you will give them an experience that makes them want to spread the word about your company.
In addition, there are several methods to interact with your consumers and establish long-term connections. 
For example, you can create a blog to connect with or give your consumers a voice, interact with them on social media, respond to what they have to say, provide a tailored experience, or manage an effective loyalty program.
Aside from conventional word-of-mouth marketing, influencer marketing is another linked, legitimate marketing strategy that works wonders.
If you want to give any type of reward to your consumers with a referral program, you'll need to make some noise about it, and collaborating with the proper influencers in your industry is a terrific way to do it.
You can also ask influencers to feature your referral offers on their social media and blogs. 
Additionally, you can include them in your referral campaigns and allow them to share a unique promotional code with their followers. 
Sharing promotions will allow you to connect to their network and monitor the success of your partnership.
Utilize online reviews for referral marketing:
Well-informed customers are joining the market, and no one purchases things straight from the market blindly anymore.
People nowadays want to read reviews before making a purchase. Companies must recognize and act on this.
Many businesses use email marketing to communicate with customers and provide news, offers, discounts, and other kinds of information.
An email campaign isn't only a common way to reach out to customers, but it also works very well for communication and boosting engagement.
Adestra, a UK-based email marketing business, issued its Consumer Usage and Digital Adoption research, which discovered that younger individuals prefer email when it comes to connecting with companies. 
Also, according to the report, over 68% of buyers and 73% of millennials prefer to receive business interactions through email.
Step #3: Decide on the rewards
To start with, make sure to give your customers a consistent referral rewards program with your brand that benefits them. 
You can always choose to give one-sided referrals or double-sided rewards. 
Yet dual-sided referral programs benefit all parties and show your customer base that you're thanking them for their encouraging assistance and will motivate them to do so again in the future. 
Consider this a win-win situation to boost your customer experience and upgrade your user base into even more satisfied customers.
Cash rewards are perhaps the most effective stimulation when asking for help for your referral campaign.
However, financial compensation is just part of the picture. 
Here's what your clients might also appreciate:
Money-saving coupons for future purchases

A variety of free products related to your brand

Free delivery

Gift vouchers

Access to special and premium content

The option to enjoy your service for free for a limited period

Customer loyalty points
Step #4: Take advantage of referral templates
To start with, using a modern referral marketing tool allows you to generate unique referral links, follow up on customer referrals, and use pre-made referral templates.
And why do you need referral templates? 
Let us tell you!
Referral templates can make the process of referring your products or services to friends and family easier for your current users. 
Also, they can be anything from referral emails, social media platform posts, or preformatted direct messages your current customers can send to pals with the press of a button. 
What's more, it's very important to keep it simple and straightforward so that any user can fully understand the information shown on the home page.
Author's Tip: Feel free to try a bunch of our free templates, from newsletter templates to prelaunch referrals, to experience how they look and choose what suits you best to move on with your marketing plan. 
Step #5: Track the progress
You've launched your referral campaign. 
Excellent work!
How can you know if it's effective?
This is where tracking comes in.
Referral tracking is the practice of monitoring and reporting the outcomes of your referral program and referral pages.
This includes gathering information on how many recommended clients you got when they joined your program, who suggested them to you, and any other details about your referral marketing.
You'll also be tracking your conversion rates and determining whether or not your referral marketing approach is effective.
If your referral program isn't effective, you should definitely make some changes to it, such as giving higher referral benefits, adopting a double-sided system, or employing referral marketing software to help you improve the process.
Now it's time for some real inspo!
Let's check three of the best referral programs that have boosted brand awareness and achieved lots of success with their existing happy customers.
3 Referral Program Examples to Inspire You
Businesses that have successfully engaged loyal consumers are increasingly approaching the referral model in traditional and novel ways.
If your e-commerce or retailer business doesn't have a referral marketing program in place, you're passing up the tremendous potential to establish brand loyalty.
We've compiled three referral marketing examples to motivate you:
Example #1: PayPal
Paypal is a payment platform that allows you to send and receive cash online. 
They have begun a referral program to increase their consumer base. 
As a reward, this platform provides what clients need. 
Since it's a payment network, the benefits are monetary in nature. 
They also offer two-sided incentives in which both the referral and the referee gain.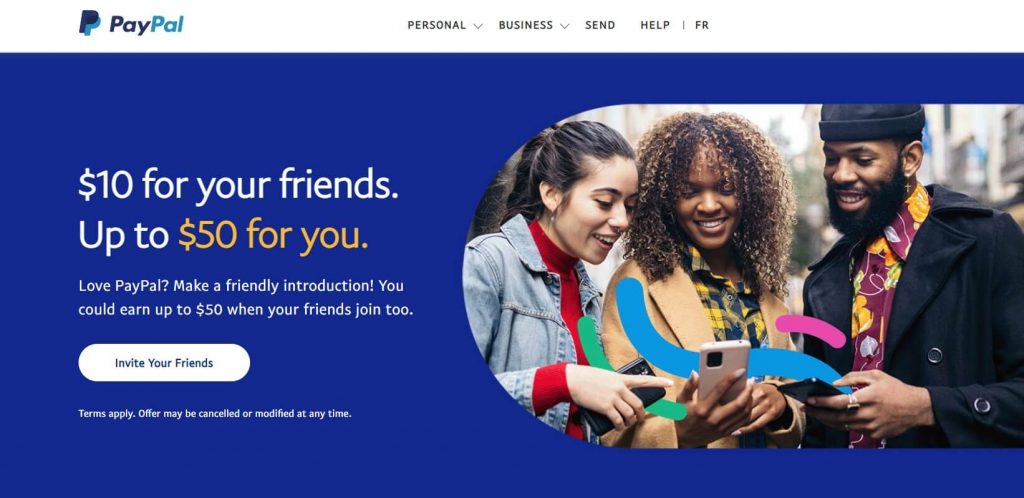 Image Source: Paypal
They began by offering $20 to each party. 
However, the current prizes are as follows:

When the referee spends $5, the referrer will get $10 in their account as a reward

A single individual may make a maximum of five recommendations, with a payout of $50
Paypal had a massive daily increase of 7 to 10%, and its client base surpassed 100 million.
Example #2: Revolut
Revolut provides a range of financial services, such as debit cards, fee-free currency exchange, peer-to-peer transactions, stock trading, and bank accounts in the UK and Europe.
The business uses referral programs to encourage that sharing urge and spark word of mouth for several of its strategic aims:
To increase their client base with more of their quality users, they motivate their best customers to suggest friends in return for significant prizes

They boost the adoption of their new features by making them available for free in return for recommendations

They gain early adopters of their product in new areas before they even launch by providing enticing waitlists with the potential to move up the line by referring friends
We've seen Revolut referral campaigns offer varying financial benefits for each referred-in buddy who purchases a real card and makes three card payments—for example, €45, £50, and US$10 have been given.
In addition, if the offer is more generous, the number of referrals a client may recommend is often limited (e.g., 5 friends). 
In each instance, the suggested friend must be eligible for a Revolut account and not already a customer.
Yet, the terms for each campaign vary, but a cash prize is often offered to each referred customer who purchases a real card and makes three card payments.
The below images are part of the business's friend-inviting referral program idea.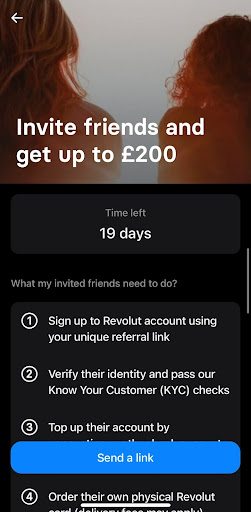 The existing users get to refer their friends and get a cash bonus of £10, £25, £50, £100, or, if they're extremely fortunate, £200 for each person they recommend!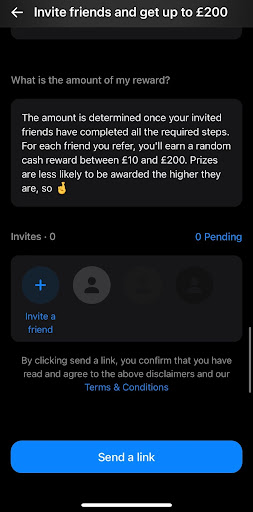 However, users have a time constraint for inviting friends and earning incentives. 
This FOMO-inducing hack enhances the successful referral rate by placing users under pressure and is a call to action to get their friends to join up and complete the required tasks as soon as possible, which is a strong part of how Revolut's referral programs work.
Example #3: Dropbox
Dropbox, a file-sharing service, intended to encourage more users to utilize its program.
Customers earn additional space in their Dropbox account by recommending friends to join this customer referral program example. 
It's a tempting proposal for subscribers since they have to pay for more storage when it runs out, and this referral program helps them keep some cash! 
To illustrate, those who use Dropbox Basic can earn 500 megabytes for each referral; this quantity may go up to 16 gigabytes for the referrer.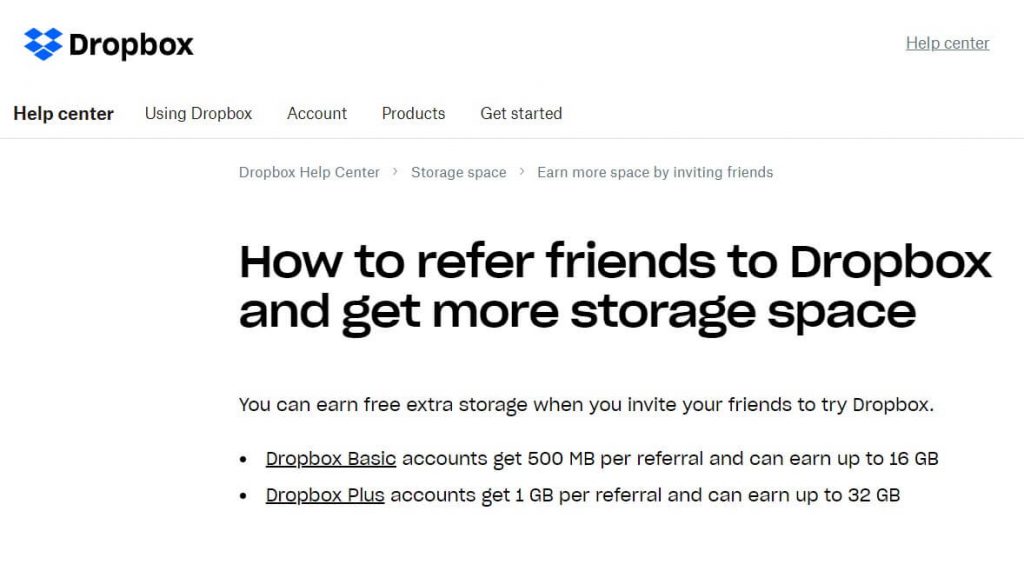 Image Source: Dropbox
Also, the incentive for Dropbox Plus and Professional subscribers is 1GB per referral, with a limit of 32GB.
Dropbox successfully encourages its members to invite additional individuals by providing extra space. 
It's a wonderful offer that will entice more consumers to invite their friends. 
And it's simple to ask friends to join this service using a personal referral code.
So, consider employing them in your referral program if you have features that need an update or items that have upgraded versions. 
Now Over to You
A high-impact referral program creates a positive feedback loop that attracts new customers and increases current customers' loyalty to the business. 
This can be particularly effective for brands or newer businesses that need to depend on existing consumers to help spread the word.
If you have any further questions or need any advice, don't overthink it!
Book a demo with us, and let's discuss any of your concerns and guide you through.
Thanks for reading!