My first interaction with PayPal was through eBay, back in 2005 (or 2006). My first reaction was, "why should I pay via another service? I already have a debit card."
I wasn't willing to find out why; all I wanted was to make the purchase. So I did. Later I found out it was more secure than giving my card numbers– silly 17yo me.
Fast forward nine years in the future, and while I'm on my first marketing job, somebody mentions the "PayPal Mafia." I was intrigued.
When I found about the people belonging to that group, I was dumbfounded.
Paypal is a monument among internet companies, as it didn't only change the way we shop online, it also brought to the spotlight a marketing channel that many of today's internet giants ripped off.
The people from Dropbox were never timid to talk about the direct influence that Paypal's referral program had on their decision to build one for Dropbox.
Read how Dropbox grew 3900% with their referral program.
Since this referral program left such a footprint in the way that we do marketing in 2020, we couldn't miss the opportunity to write a complete case study about it.
Let's see how Paypal attained up to 10% daily growth with their referral program.

As every company, PayPal faced the usual question: "How do we get more clients?"
We have to understand that the company started in a very different era than the one we're living in now. People didn't use the internet the way we use it now, and more importantly, people didn't use their phones to make a purchase on a bus ride back home.
According to Peter Thiel, they though that PayPal had to raise money so it could raise more money so it could then figure out what to do with all that money. And they managed to get angel investment, which led to a 5.4M funding from Nokia Ventures.
As I wrote earlier, mobile wasn't quite there yet, and the company decided to pivot to their final model, which was to send money to anyone just by using an email address.
Soon they realized that advertising was far too expensive, and potential BD deals with banks failed mostly due to bureaucracy and the inability of bankers to understand online payments.
For the people in PayPal, it was clear that the only way to grow was organically and at a viral pace; "model it just like bacteria growth in a Petri dish," as Elon Musk later said in an interview.
The decision was to give $20 to anyone opening a PayPal account, and another $20 for referring another user to open an account. Later they dropped the reward to $10 and eventually to $5 per signup or referral.
Below you can see how PayPal showcased their proto-referral program on their homepage in 2000:
PayPal's referral incentives landed them a crazy viral growth rate; we're talking for a 7 to 10% daily growth rate. To be more precise, PayPal reached 100M users.
Then they decided to stop. Οpinions are divergent as to why that happened. Peter Thiel said that although user growth was exponential, so was cost structure, and there was no incoming revenue.
Elon Musk, in his interview with Sal Khan, said: "As the network got bigger and bigger, the value of the network itself exceeded any sort of carrot that we could offer."
Elon Musk - CEO of Tesla Motors and SpaceX | Entrepreneurship | Khan Academy
I believe that both opinions are right; different sides of the same coin.
The key here is the network effect that PayPal managed to build over time. The truth is that they need more money to continue what they were doing, and their exponential growth offered them a very flattering piece in The Wallstreet Journal, evaluating the company at $500M.
The following month, PayPal secured another funding round.
The rest is history; eBay acquired PayPal for $1.5B, and the founders (and some employees) later created huge companies like Tesla, SpaceX, YouTube, Reddit, LinkedIn, and Yelp.
Although this story is an excellent material for a fairy tale, bear in mind the amount of risk involved. The whole "raise money, to raise more money, to raise more money" was risky on its own, and PayPal spent a total of $60 or $70 million for signups and referrals.
Everything could easily go south, but it seems that "fortune favors the brave" fitted like a glove in this case.
The chances are that you don't have these Silicon Valley connections, or that your product/business is not a pioneer in an industry that doesn't fully exist yet, or that you have $60M to spend on user acquisition.
But all that doesn't mean that you can't build a referral program that will help you grow at a fast rate.
Let's see what made PayPal's referral so successful:
If you want to build a referral marketing program similar to Paypal, you can use our Altruistic referral template.
I'm not going to elaborate on why your product must be appealing to your audience since it's 2020, and that statement is rather obvious. Your product, or service, should either address a problem or ride the wave of a trend.
Now, if you looked at our article with the 100 best referral marketing examples, you've already noticed that double-sided rewards are prevalent when it comes to rewarding mechanics.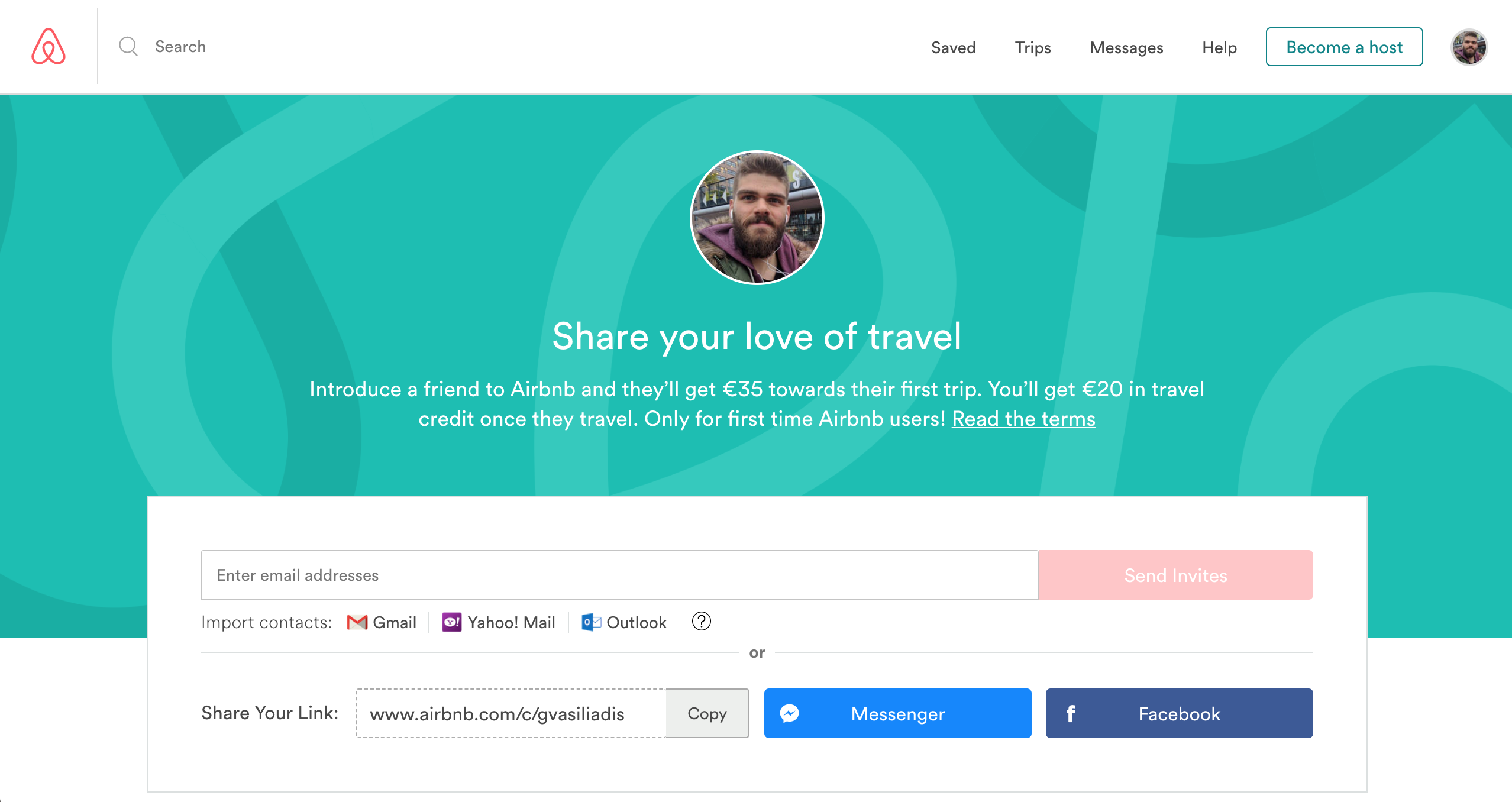 It works great for any type of business- from tech companies to eCommerce stores, as it appeals to the altruistic side of our human nature.
As I wrote in the opening paragraph, PayPal's case acted as a direct inspiration for companies like Dropbox. Many believe that the was the "reward people to refer their friends" part that sparked the idea for the people at Dropbox to use referral marketing, and that's partially true.
PayPal showed the way (unwittingly, in my opinion), to how to choose a referral reward. I mentioned that cash, in PayPal's case, was the best reward as money was an integral part of the company's product.
Dropbox translated that into more storage space in exchange for referrals, Airbnb offered travel credit, and Uber gave free rides. There's an excellent example that showcases my point.
Blizzard entertainment took the gaming world by storm when they released their massively multiplayer online role-playing game released in 2004. Online gaming changed forever.
In-game socializing plays a massive role in how well you'll do in the game, and since the actual game never ends, players competed for social ranking and rare items. It's a micro-universe.
In addition to that, to play on the official servers requires buying game time, which, if you play for years, adds up to a lot of money.
World of Warcraft's refer-a-friend program addresses these issues by offering free game time, rare items, and bonus experience points (if you've ever played an RPG game, you know what I'm talking about.)
My point is that your referral rewards should prompt the user to use your product, not just bribe them to get on board.
Paypal not only changed the way that we make online payments but also how companies do referral marketing.
Their approach was somewhat risky and unstable, but they managed to grow their user base exponentially, which landed them more funding rounds and an acquisition that spawned some of the most prominent digital companies of today.
Whether you have $70M to spend on acquiring customers, or not, you can use referral marketing to increase your growth rates at a quick pace.
Start building your referral program- similar to PayPal today!