One of the most appealing ways to tell your brand's story is by sending out email newsletters. 
It lets your audience know when you've got a new product, discount, or service. 
In other words, a good email newsletter can help you increase brand awareness. 
That being said, every newsletter has one primary goal: to get more subscribers. 
How can you make that happen?
Through referral marketing! 
It is a cost-efficient way of growing your email list and customer base.
So, what do you need to get started?
Well, you need to find a referral marketing tool that suits your business.   
In this guide, we'll look at SparkLoop alternatives that can help grow your email list. 
You will get a thorough understanding of:
Their features

Their pricing plans

What they can offer your business
Before we go any further, we do have an interesting comparison table you should look at. 
Table of Contents
SparkLoop Alternative Comparison Table
SparkLoop Alternative Comparison Table
We designed this table to give you a run-through of the different SparkLoop alternatives on this list.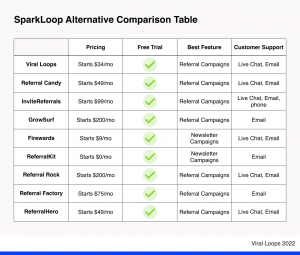 It's a sneak peek into their pricing, best features, and availability of a free trial period. 
In a way, this table can help you decide on the right marketing platform for your business. 
We know you can't wait to see how many days the free trial period will last…so, let's jump right in! 
What is SparkLoop?
SparkLoop is a newsletter referral marketing program that can help you increase your email subscribers and grow your business.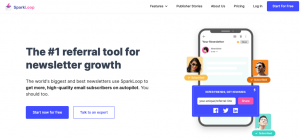 Image Source: SparkLoop
It's software that allows brands to compensate their subscribers for sharing their newsletters. 
SparkLoop.app can be set up without any coding skills.
Plus, your users' data is backed up to their database. 
To get started with SparkLoops, you'll need to send out personalized referral marketing newsletters. 
Thereafter, rewards are handed over to your subscribers and you can watch your audience marketing. 
Who is SparkLoop for?
Anyone who wants to grow their email list, including: 
Individuals 

Small businesses 

Medium-sized companies

Large enterprises
This newsletter referral tool can also be integrated with your favorite marketing apps such as Klaviyo, AWeber, Mailchimp, and ConvertKit.
Their list of features includes:
Referral tracking

Referral management

Email integrations

Fraud prevention
You can find details about their pricing plans on their website.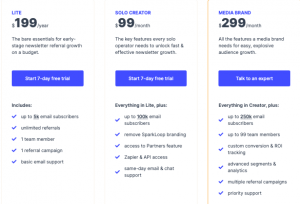 Image Source: SparkLoop
They have three packages you can choose from:
Lite plan

: $199 per year for up to 5k subscribers

Solo creator

: $99 per month for up to 100k email subscribers

Media brand

: $299 per month for up to 250k email subscribers
Now, let's talk about alternatives to this referral tool!
Tool #1: Viral Loops
The first SparkLoop alternative we talk about is…
 …drum roll, please 👏
And enter Viral Loops!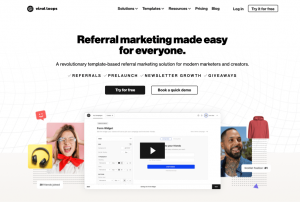 Viral Loops is a revolutionary template-based referral marketing software that can help your newsletter grow. 
By using word-of-mouth marketing, you can turn your readers into your representatives which means more subscribers to your newsletter.
And with just one click, you can also connect your email service provider to your current subscribers and they'll get their unique link to invite their friends. 
How would you get the link across to them?
Well, you can create an email widget on the brand in any style or color of your choice and include it in your newsletter. 
Viral Loops also has premade landing pages inspired by some of the top brands that will take only a few minutes to launch.
There your audience can see their rewards and share the newsletter. 
What else?
On our platform, you can make direct integrations with your preferred email platform such as: 
Zapier

AWeber

Revenue

Mailchimp
Viral Loops can be used by creators, startups, and smart marketers in the ecommerce and Fintech industry who want rapid newsletter growth.
Viral Loops Features
You can launch campaigns on our platform with the help of features such as:
Responsive widgets

: This feature ensures your campaign looks appealing irrespective of the device used to access it.

Unlimited campaigns

: You can launch different campaigns on Viral Loops simultaneously.

Multiple integration apps

: By connecting with other apps, your campaign can run smoothly. 

Fraud detection and prevention

: Identify and neutralize threats from cheaters or spammers.
Viral Loops Pricing
Our pricing package is split into four categories, three of which begin with a 14-day trial.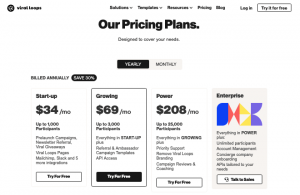 Once that's up, you can decide to start paying on a monthly or yearly basis. 
Here's a rundown of our pricing plan: 
Startup plan

: costs $34/month for up to 1k participants 

Growing plan

: costs $69/month for up to 3k participants

Power plan:

costs $208/month for up to 25k participants

Enterprise plan:

feel free to contact our team for more information on this plan.
Tool #2: Referral Candy
Referral Candy is a referral marketing tool that rewards your subscribers any time they bring in a referral.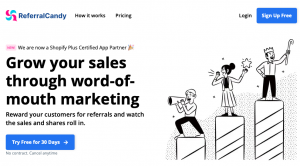 Image Source: Referral Candy
As your existing readers spread the word, more subscribers roll in.  
In other words, they leverage word-of-mouth marketing to promote your business. 
Your referral program can run on autopilot which means keeping track of the outcome and more time to focus on running your business. 
With Referral Candy, you can integrate with different tools you use for your business analytics, remarketing, and emails. 
Some of them include:
Klaviyo

Analytics

Shopify

Recharge

Mailchimp
Referral Candy is majorly used for ecommerce businesses in any of these industries:
Electronics

Beauty and fashion

Software

Health and wellness

Apparels
How does it work? 
You get to give your customers a unique link through email widgets and incentivize them to share their links.
Referral Candy Features
This referral marketing tool provides features that support the growth of the email newsletter including: 
Automated referral program

Integration with multiple apps and tools

Referral management software

Data-driven insights

Customizable reward options
Plus, you don't require any coding skills with Referral Candy.
Referral Candy Pricing
Their pricing plans are divided into two with one of them offering a thirty-day free trial period.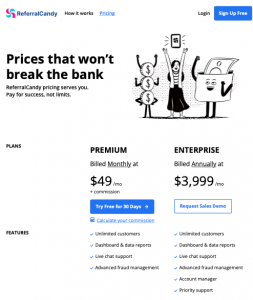 Image Source: Referral Candy
Both plans are billed on a monthly and yearly basis.
The premium plan costs $49 per month while the enterprise plan costs $3,999 per month and is billed annually. The enterprise package comes with a sales demo on request.  
Tool #3: InviteReferrals
InviteReferrals is another referral software that helps you get new subscribers through referral marketing.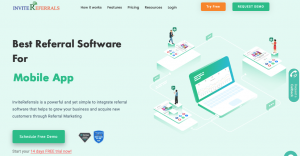 Image Source: InviteReferrals
It has a What You See Is What You Get (WYSIWYG) editor that helps you design campaigns without striking any line of code. 
On InviteReferrals, your customers have a variety of referral options aside from emails including social media platforms and messaging services. 
You can automate the referral process such that your subscribers are rewarded whenever they get someone on board. 
Brands can keep track of their subscribers' referral progress via their unique links and coupon codes.
You can integrate with several apps and business systems, including:
Drupal 

WooCommerce

Zapier

Shopify

Hubspot

Salesforce
That said, startups, ecommerce stores, agencies, large enterprises, and any similar marketing venture can use InviteReferrals.
InviteReferrals Features
You can grow your newsletter by entrusting your online community to spread the word using this tool's features such as: 
In-depth analytics

Customizable campaigns

Multiple sharing options

Referral tracking and statistics

Fraud prevention 
InviteReferrals Pricing
InviteReferrals has three pricing packages that suit your budget whether you run a startup, agency, or large enterprise.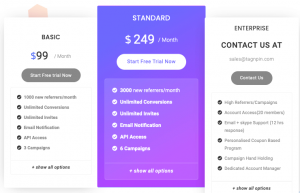 Image Source: InviteReferrals
Two of them come with a 14-day free trial period and you can send unlimited invites with any of their packages. 
Here's what each plan covers:
The Basic plan

: starts at $99 per month for 1k referrers and three campaigns

The Standard plan

: starts at $249 per month for 3k referrers and six campaigns

The Enterprise plan:

for more details about this package, you can reach out to their sales team
Tool #4: GrowSurf
The next tool we talk about is GrowSurf.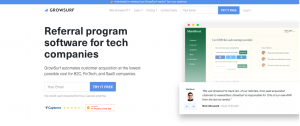 Image Source: GrowSurf
GrowSurf is a referral marketing tool that can increase brand engagement, app installs, and audience by helping you launch referral campaigns. 
It's more of an automation growth tool but majorly for tech companies.
With GrowSurf, you can keep track of active referrals by attaching them directly to the sign-up process in the background.
It's designed for marketers in industries such as B2B SaaS, FinTech, Startup, Online insurance, and others. 
Speaking of integrations, GrowSurf can connect with your CRM or other email marketing tools such as:
Mailjet

Salesforce

Aweber

Hubspot

Intercom
GrowSurf helps to create unique links for your customers and they in turn share them with their network.
In this case, your customers are your subscribers and they don't need to sign up before they can start to refer to other people. 
Thereafter, you can give your JavaScript API link to the audience to share details about your newsletter. 
GrowSurf Features
Your audience can start sharing your products and getting rewards when you use features such as:
ESP integration 

JavaScript API 

Spam protection

Campaign and lead management

Unique referral link and customizable design

Fraud prevention
GrowSurf Pricing
This referral tool's pricing plan is based on the per month model.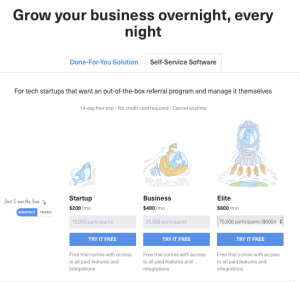 Image Source: GrowSurf
There are three packages and each has a 14-day trial. 
Here's a breakdown of each plan:
The Startup plan

: 10,000 participants at $200 per month and $167 if billed yearly

The Business plan:

25,000 participants at $400 per month, $333 if billed yearly

The Elite plan

: 75,000 participants at $600 per month and $500 if billed yearly
Tool #5: Firewards
Firewards is another marketing tool that can be used to set up a reward-based referral program for your newsletter.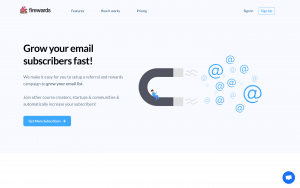 Image Source: Firewards
In other words, it can help you grow your email list.  
Firewards can be used by:
Course creators

Startups

Online communities
You can create customizable pages for your subscribers using your brand's colors and design including share buttons. 
Plus, you don't need to learn how to code.  
So, how does Firewards work?
Well, you need to connect with your email provider. 
Copy and paste your customer's referral link when you send out emails so they can refer their friends.
Then, decide what type of rewards you want to give to them whenever someone joins your newsletter. 
Do they have integrations?
You can work with different marketing apps using Firewards such as:
Mailchimp

Convertkit

Revue

Active campaign
Firewards Features
With regards to their features, this referral marketing tool has several of them that can optimize your campaign, including: 
Customizable share page

Newsletter management

Rewards management

Analytics/Dashboard

Social sharing

Alert notification
Firewards Pricing
Firewards has a flexible pricing system that is based on the number of subscribers on your list. 
Image Source: Firewards
Simply put, the more your subscribers, the higher the amount of money you pay. 
You can get started for free with their 14-day trial period and have access to a hosted referral page, hosted signup form, unlimited emails, support, and more. 
Their pricing begins at $9 per month with 100 subscribers on your list and if you need more than 1 million subscribers, you can reach out to them. 
Tool #6: ReferralKit
ReferralKit is next on our SparkLoop alternative list.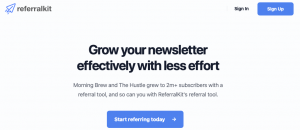 Image Source: ReferralKit
It helps brands create newsletter referral programs without any coding knowledge.
You get to leverage your fans to grow your email newsletter using word of mouth.
Just about any marketer in any industry can use ReferralKit.
And integrations?
ReferralKit can be integrated with MailChimp, ConvertKit, and Aweber, and they plan to add more. 
After integration with your newsletter and including customer unique links, create a rewards system for each referral milestone, and then emails can be sent out automatically as new subscribers join.
ReferralKit Features
The features provided by ReferralKit include:
ESP integration

Support

Rewards management

Email automation
ReferralKit Pricing
They offer a simple pricing option that's dependent on how many subscribers you have.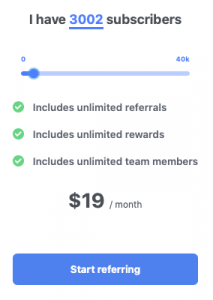 Image Source:ReferralKit
Each plan offers a 30-day free trial period and begins at $19 per month for 3k subscribers.  
Plus, you'll have access to unlimited:
Referrals 

Rewards

Team members 
Tool #7: Referral Rock
Referral Rock is another referral marketing software that can automate your newsletter growth campaign.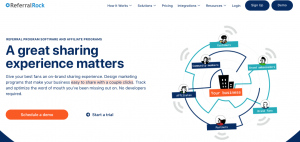 Image Source: Referral Rock
It helps you create personalized campaigns so your dear fans have an on-brand sharing experience with their software.
Referral Rock is suitable for growth marketers and companies from any industry, including:
B2B and B2C

SaaS

Ecommerce

Startups
With Referral Rock, you can launch email campaigns to encourage retention and give out different types of rewards such as cash, gift cards, and coupons. 
You get to build customized referral programs within days that are in sync with your brand's style and optimize them for better results. 
And since the referral process can be automated, it'll help handle time-consuming tasks so your campaign is quickly launched.  
What's more, there's expert support available at every stage and integrations with systems such as: 
Mailchimp

Hubspot

Salesforce

Shopify

Google Analytics
Referral Rock Features
Referral Rock makes sharing easier for your audience using features such as: 
ESP integrations

Analytics

Social media sharing

Dedicated dashboard

Referral and rewards management

Refer-a-friend widget

Fraud detection

Campaign management
These features and more can also create the referral program directly in your preferred marketing channel.
Referral Rock Pricing
Their pricing plan is based on the per feature price model and is split into three packages.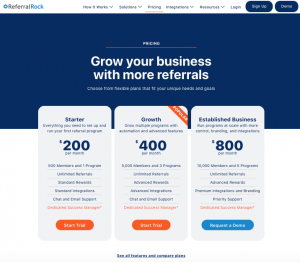 Image Source: Referral Rock
Two packages come with a 14-day trial period with the third one offering a demo of how their tool works. 
After the free trials, here's what you're required to pay for the plans:
Starter plan

: begins at $200 per month for 500 members and a single program

Growth plan

: begins at $400 per month for 5k members and three programs

Established Business

: begins at $800 per month for 10k members and five programs
Tool #8: Referral Factory
Referral Factory is another referral tool that helps businesses grow their customer base through referrals.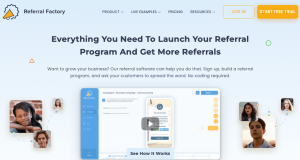 Image Source: Referral Factory
It helps simplify the stress of tracking your referral program so you can avoid making mistakes.
You can keep track of your referrals to see who's leading and connect that data with API to automate the giving out of rewards. 
What kind of business can use Referral Factory?
Well, marketers in any industry want to grow their audience and see improvements in profitability. 
How about integrations?
You can work with tools you make use of such as: 
Zapier Zaps 

HubSpot 

Intercom 

Salesforce
Referral Factory Features
This referral marketing solution simplifies the growth process of your newsletter and business with several features, including: 
User notifications

Real-time tracking

User verification 

Rewards management

Campaign management

External integrations
These features also help to manage the relationship you have with your audience so they can promote your newsletter. 
Referral Factory Pricing
Referral Factory's pricing plan is divided into four with three of them having a 15-day free trial.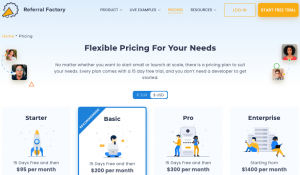 Image Source: Referral Factory
Here's what each category covers:
The

Starter

plan: begins at $95 per month for up to 2.5k users

The

Basic

plan: begins at $200 per month and includes everything on the Starter plan for up to 25k users

The

Pro

plan: begins at $300 per month and includes everything on the Basic plan for up to 25k users and brand-free widgets

The

Enterprise

plan: begins at $1,400 per month and includes everything on the Pro plan for 100k users
Tool #9: ReferralHero
The final SparkLoop alternative we talk about is ReferralHero.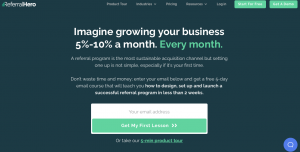 Image Source: ReferralHero
It's a referral tool that incentivizes your audience such that as they share recommendations about your newsletter, your email list grows.
The idea is to have more giveaways if you want awareness and subsequently, growth.
ReferralHero is integrated with over 500 apps and marketing services such as MailChimp, Intercom, Shopify, and zapier to mention a few. 
It can also be used by newsletter creators and marketers in these industries:
Cryptocurrency

Fintech

Ecommerce

SaaS

Mobile app

Offline businesses
ReferralHero Features
The benefits provided by this referral tool are largely due to features like:
Referral tracking

Fraud prevention 

Campaign management

Performance analytics 
ReferraHero Pricing
ReferralHero has three payment plans that can be billed on a monthly, annual, or biannual basis.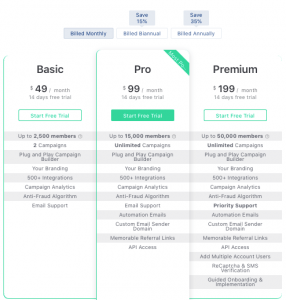 Image Source: ReferralHero
With a 14-day trial period for each package, here's what they have to offer: 
The Basic plan:

costs $49 per month for up to 2.5k members

The Pro plan

: costs $99 per month for up to 15k members

The Premium pla

n: costs $199 per month for up to 50k members
It's time to wrap this up. 
Now Over to You
We're glad you made it through to the end. 🙂
We hope you're able to find a tool that can help you grow your newsletter subscribers quickly. 
Still wondering what to do next?
Don't hesitate to book a live demo with our team at Viral Loops. 
We'll help you get started with effective newsletter growth through a seamless referral program.