Uber became a cultural phenomenon.
Is it because of the $24.7B in funding, the never
–
ending feud with cabs, the uproar for creepy drivers and the problem that the service solves?
Before Uber, finding a cab in a big city could become a nightmare.
It's a familiar experience that kick
–
started the idea in the minds of Garrett Camp and Travis Kalanick
(Uber's
founders).
The
ride-sharing app
changed the way that we move around, becoming middle-men and establishing direct communication with their customers.
It's almost the same approach that The Grateful Dead had back in the
'60s;
they sold their tickets directly to their fans, providing them with the power to change the community.
Before Uber
,
you
couldn't know anything about your driver
(I
don't know if Uber was the 1st to include driver ratings, but they popularized it), and you couldn't warn others as well.

This article is by no means an ode to the company, but rather an attempt to
dissect one of the components of their success
.
Uber Referral Program
: UNLOCKED
.
Was the Uber referral program successful?
It's commonly
known
that in order for your company to be viable, your customer's
LTV needs to be three times bigger
than
the cost to acquire them
(CAC)
.
With an increased LTV, and lower CAC
(due
to the referrals), the Uber referral program was already on the right foot.
But let's analyze exactly
how successful it was
.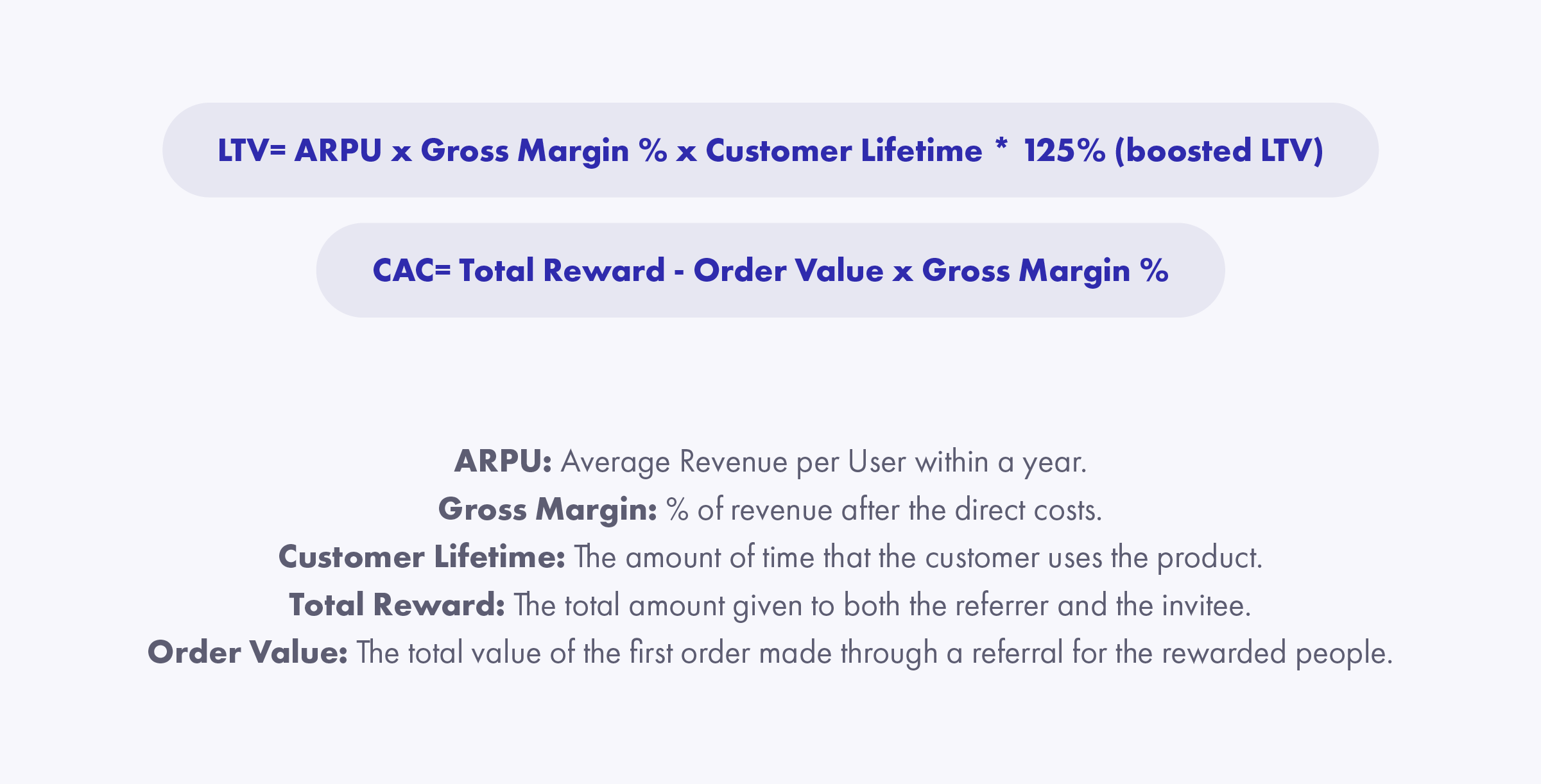 The average Uber ride costs $17, and users take an average of 2 rides a month. That's $34 per month, so
the ARPU is $408
.
Uber's
gross margin is around 20%
, and there are
some leaked data
showing that the average Uber user
stays for around four years
.
In many cities, Uber offered a
2-side reward of $20
. So, the total reward is $40.
By inserting these numbers in the formulas presented above, we have:
LTV=

$408 x 0.20 × 4 × 1.25=

$408
CAC=

$40 –

($34

x 0.20)=

$33.2
LTV:CAC= 12.28:1
In other words, the Uber referral program has
a 12x ROI
.
How the Uber referral program works.
Since Uber serves both riders and drivers, they decided to create
two separate referral programs
.
Their decision covers both the need for new users
and new drivers.
Referral program for drivers.
Since drivers keep Uber's business alive, it's really important to reward them with money. That's why they came up with an ever
–
evolving and complex referral program that offer
different rewards depending on who is becoming a driver
from a referral.
Here's how the driver referral program in Singapore works:
Apart from that, Uber tried to hit the competition, offering
rewards to drivers leaving Lyft
to join Uber.
However, there was a way for drivers to scam Uber by getting the rewards and then returning to Lyft. That's probably one of the reasons that this reward is no longer available.
Referral program for riders.
In order to maximize the effect of the referral program, Uber made sure that it's
visible to the app users
.
The option for referring your friends is one of the 4 items of the main menu.
The way that
the referral program works
is really easy:
Login

to

your Uber app.

Copy your unique URL, or share it with your friends.

When they sign up using your URL, you both get rewarded with money you can spend on Uber rides.
The reward amount differs from city to city, or from country to country
.
As you may remember, home-sharing company incentivized would-be travelers offering travel credits—$25 when a referred friend rented from Airbnb and $75 when a referred friend listed his or her property for rent on the site.
How to build a referral program like Uber.
Let's make a recap of the referral program.
Uber offers
double-sided rewards
for successful referrals. For riders, it means that both the referrer and the referred will gain credits for using the service in the future.
Now, if you want to build a similar referral program, we made it really easy for you.
All you have to do is to
:
Create your campaign.

Select the template.

Choose the rewards you want to offer.

Choose your sharing options.

Install our script on your website.

Go live!
We also have a
video tutorial
where you can see the process step-by-step.
Uber created
a double-sided referral program with a 12x ROI
.
They still have
two separate referral programs for drivers and riders
, offering cash or credits for rides respectively.
These programs serve the company's need
s
both for new users and drivers.
Apostle is a core member of the founding team at Viral Loops. He has worked closely with hundreds of referral marketing campaigns made with Viral Loops. Apostle has years of experience in growing and marketing companies and co-founded Growth Hacking University.