If there's one thing brands love, it's seeing their product or service being spoken about. 
Not in a bad light, but in a way that would compel people to want to visit their website or social channels. 
We're not talking about just a couple of people here.
We mean your brand trending on Twitter or something similar.
You like the sound of that, don't you? 
If you do, referral marketing is certainly the way to go.
It can help you create buzz around your brand and get people interested in what you've got to offer.
What's the catch then?
You need an effective referral marketing program.
Below, we'll examine UpViral alternatives that can help your business go viral. 
It'll be an in-depth look at each of them in terms of:
What they can do for your business

How they work

How much they cost
But first, we've got an interesting comparison table you should look at. 
All data below is valid as of today, 18 May 2022.
Table of Contents
UpViral Alternative Comparison Table
UpViral Alternative Comparison Table
We put together a comparison table to give you a general insight into each of the UpViral alternatives. 
Specifically, the table informs you of each tool's best feature and what their pricing looks like. 
That said, let's dive right into the top UpViral alternatives.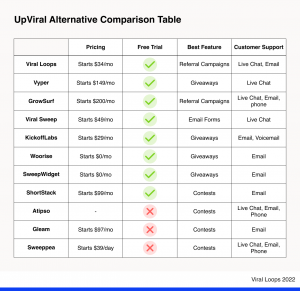 What is UpViral?
UpViral is a referral marketing tool that helps marketers run viral marketing campaigns by adding a referral widget to their website.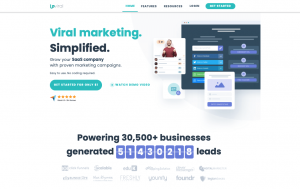 Image Source: UpViral
This referral marketing platform can be used to increase lead generation and conversion rates among other things. 
It helps manage the different aspects of your campaign from getting users to sign up to advertising it to more people on social media.
Who can use UpViral? 
Any marketer from:
SaaS companies

eCommerce brands

Local businesses

Startups 

Online businesses

Marketing agencies 
You can also integrate this cloud-based software with your autoresponders, templates, or landing pages.
There are three major features associated with UpViral, including:
Creation of sweepstakes

Creation of rewards

Building a waiting list
UpViral Pricing
UpViral's pricing system is pretty straightforward for any kind of business.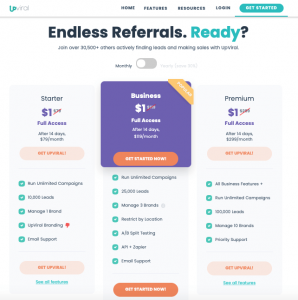 Image Source: UpViral
There's a 14-day trial window when you can have first-hand experience with the software for $1. 
After the trial period, you have three plans to get started with:
Starter plan

: manage a single brand and 10,000 leads for $79/month

Business plan

: manage three brands and 25,000 leads for $119/month

Premium plan

: manage ten brands and 100,000 leads for $299/month
Tool #1: Viral Loops
The first alternative we talk about is our very own tool, Viral Loops. 
We almost didn't see that coming…
…just kidding, we sure did.
Viral Loops is a leading template-based referral and viral marketing software that helps brands create buzz through word-of-mouth marketing.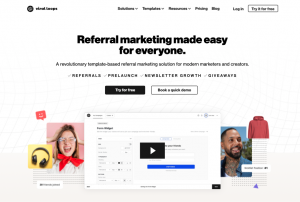 Viral Loops is one of the simplest platforms your business can use to go viral and increase sales.
For starters, we create templates inspired by top brands such as Airbnb, Dropbox, Mailchimp, and Monzo for you to use.
All you need to do is find a template that's similar to what you have in mind and just insert specific details about your campaign. 
Here's another cool thing about our tool: it's based on the refer-a-friend and the gamification concept.
In other words, we get people hyped talking about your brand because at the end of the day, they get incentives and you see an increase in sales. 
Sounds cool, doesn't it?
When you log in to our dashboard, you can manage your campaign, get an insight into its performance, and reward your superfans. 
So, who gets to use our viral marketing software?
Viral Loops is perfect for: 
Modern marketers 

Startups 

Solopreneurs 

Entrepreneurs

Creators
Viral Loops Features
Your business can launch viral referral campaigns on our platform using features such as : 
Customizable campaign widgets

: Make use of visually appealing widgets that resonate with your brand. 

Landing page builder

: Is your website still in the works? Design a classic landing page for your campaign in just a few minutes. 

Campaign performance dashboard

: Keep track and analyze your campaign performance over time. 
Plus, you can integrate Viral Loops with some of your favorite tools, including Hubspot, Aweber, Facebook, Zapier, Google Analytics, and Mailchimp. These integrations help ensure your campaign runs without a glitch. 
Viral Loops Pricing
Viral Loops pricing is relatively affordable for solopreneurs as well as established entrepreneurs.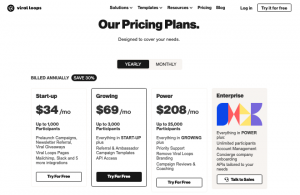 There are four plans available for our new customers and each offers a 14-day free trial period. 
We want you to experience what it would be like if you used our service. 
If you have a memorable experience, you can proceed to choose from any of our plans:
Start-up

(up to 1,000 participants) at $34/month

Growing

(up to 3,000 participants) at $69/month

Power

(up to 25,000 participants) at $208/month

Enterprise for unlimited participants

–contact us to know more about this one 😉!
Tool #2: Vyper
Vyper is a marketing tool that uses giveaways to engage your audience and fosters brand loyalty. 
This is a process that, in turn, sees that your business grows.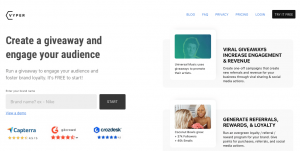 Image Source: Vyper
Essentially, it creates buzz by giving out incentives to your audience. 
What kind of giveaways can you create with Vyper?
One-time campaigns

Points for actions

Evergreen contests
How does it work?
First, you need to create a design after which you can select a template to use.  Then, choose how you want to display the campaign. 
Lastly, give out rewards to the participants and your campaign is good to go. 
What kind of business would find Vyper useful? Basically, any digital marketing agency. 
How about integrations; are there any?
Vyper is integrated with several CRM and email marketing tools such as:
Aweber

Klyavio

MailChimp

ConvertKit

Drip
Plus, you can also connect with other apps through Zapier and Integromat. 
Vyper Features
With Vyper's viral giveaway contests, you can increase engagement with your brand and revenue. Both of which are possible through  features such as: 
Flexible campaign builder

Lead tracking and referral purchase

Bonus action for incentivization

Point systems for milestones
Vyper Pricing
Vyper offers more details about pricing on their site.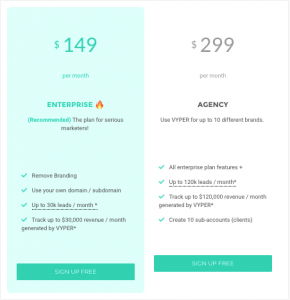 Image Source: Vyper
Here's what we know:
You can get started for free before choosing a plan.
Speaking of plans, there are currently two available options:
The Enterprise plan: up to 30k leads at $149 per month or $75 if paid annually

The Agency plan: up to 120k leads at $299 per month or $150 if paid annually
There is also an option to buy more leads if you need more. 
Tool #3: GrowSurf
The next tool we'll talk about is GrowSurf.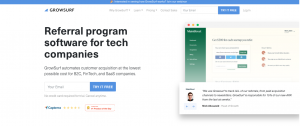 Image Source: GrowSurf
It's a referral marketing software that helps increase brand engagement, app installs, and audience through referral campaigns. 
You could say it's a marketing automation growth tool for tech companies.
GrowSurf works in the background and keeps track of active referrals by tethering itself to the sign-up process. 
How does it help me create a referral program?
It creates a unique link for each of your customers which they get to share with their network.
Customers don't need to sign up before they start sharing. 
Then, give the product's JavaScript API link to users to share details about your product or service.
GrowSurf is designed for tech companies such as:
B2B SaaS

B2C SaaS

FinTech

Online education

Startup

Online insurance
Do they have any integrations?
You can connect with your CRM or email marketing systems using the several integrations available, including:
Aweber

Hubspot

Mailjet

Salesforce

Intercom
GrowSurf Features
This referral marketing software helps tightens the bonds users have with your brand using features like: 
ESP integration 

JavaScript API 

Spam protection

Campaign and lead management

Unique referral link and customizable design

Fraud prevention
GrowSurf Pricing
GrowSurf's pricing plan is split into three using the per month model.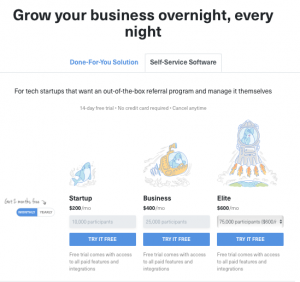 Image Source: GrowSurf
All of them have a 14-day trial which you can cancel at any time.
Let's take a closer look at each of them:
The Startup plan costs $200 per month for 10,000 participants

The Business plan costs $400 per month for 25,000 participants

The Elite plan costs $600 per month for 75,000 participants 
Tool #4: ViralSweep
The next UpViral alternative on our list is ViralSweep.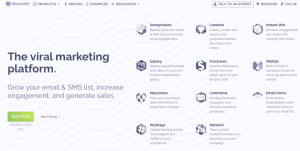 Image Source: ViralSweep
This is a viral marketing platform that can help increase customer engagement with your brand, generate sales, and grow your email list. 
How does it help you do that?
You get to collate the email addresses of participants using ViralSweep's platform, after which you can incentivize them if they perform other social activities. 
By using sweepstakes, instant wins, and running giveaway campaigns using this platform's features, you can collect data from your entrants. 
Can just about anyone use ViralSweep?
Well, it's a tool best used for eCommerce platforms, startups, or online businesses…
…and integrations?
You can import leads from your email marketing CRM software using many of your favorite tools, including:
Shopify

Intercom

Klaviyo

Vero

Salesforce

Bronto
ViralSweep Features
ViralSweep has several features to set up compliant campaigns among which are :
A/B testing 

Sales tracking

Tracking links and scripts

Custom actions

Geotargeting

ViralSweep API
ViralSweep pricing
As regards pricing, it is split into five categories.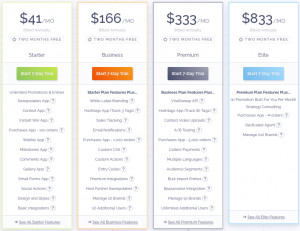 Image Source: ViralSweep
You can decide if you would like to pay on a monthly or annual basis.  In any case, four of the plans come with a 7-day free trial when you can try out the tool for yourself. 
The four plans are based on a per month basis and are as follows:
Starter plan

: begins at $49/month or $41 if billed annually

Business plan

: starts at $199 per month or $166 if billed annually 

Premium plan

: starts at $399 per month or $333 if billed annually

Elite plan

: begins at $999 per month or $833 if billed annually

Enterprise plan

: pricing available on request
Tool #5: KickoffLabs
KickoffLabs is a viral campaign tool for people who have no experience with coding and no technical skills.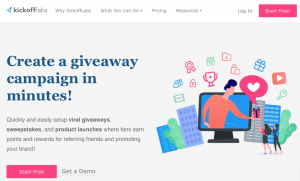 Image Source: KickoffLabs
It helps you grow your business with viral marketing contests. 
Moreover, you can gather leads using their landing page, contest box, or Any Form script. 
After that, convert those leads into influencers by assigning each of them a customized share link that they can share.  
Encourage them to speak with their friends to follow your brand.
As their friends sign up, you reward them and as the cycle continues, your brand gets a viral boost. 
Any marketer working with a digital company can make use of KickoffLabs.
Are there integrations I should be aware of?
Of course!
KickoffLabs has collaborated with different software to help drive leads to your CRM and add analytics to your campaign.  Some of those integrations include:
Facebook 

Klaviyo 

MailChimp 

Zapier

GetResponse
KickoffLabs Features
They've also got features to help you run smart viral campaigns, including
Personalized contest greeting

A/B testing

Purchase and referral reward campaigns

ROI based analytics

Fraud protection

Custom HTML forms

Custom contest domains
KickoffLabs Pricing
When it comes to KickoffLabs' pricing, it's split into four categories.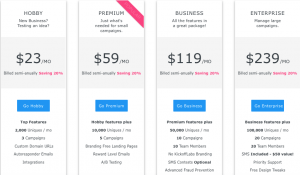 Image Source: KickoffLabs
They allow users to either pay monthly, bi-annually, or annually. 
In addition to the paid plans, you can request a custom plan if you need more leads. The paid plans include:
Hobby plan: 2,000 people at $29/month

Premium plan: 10,000 people at $75/month

Business plan: 50,000 people at $149/month  

Enterprise plan: 100,000 people at $299/month  
Tool #6: Woorise
Woorise is a marketing platform that helps businesses connect with their audience by creating viral giveaways and contests.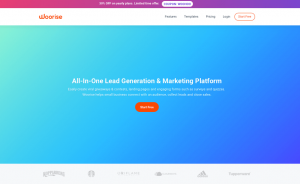 Image Source: Woorise
How does it help you engage your audience?
Well, by providing you with plug and play contests and giveaway templates including other tools that help you collect feedback from your audience.
Asides from that, Woorise can also help you increase your followership. 
So, how can you get started on Woorise?
You will need to browse through their templates collection. 
Customize it using their drag-and-drop builder and launch when you're ready.
Woorise is suitable for eCommerce brands, bloggers, small businesses, and large enterprises.  
What's more, you can collaborate with different marketing apps by choosing from a wide range of integrations, including:
Zapier

Stripe

Google Analytics

MailChimp

Campaign Monitor 
Woorise Features
Speaking of features, Woorise has several of them that make managing your giveaway contests easier. Here are the features you're provided with:
Privacy and GDPR

Online form builders

Landing page builders

Campaign management

ROI based tracking

Social media monitoring

Timeline management
Woorise Pricing
With regards to their pricing, there are four packages available.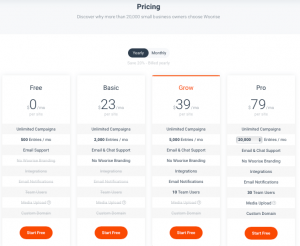 Image Source: Woorise
The first is free but has limited features whilst the remaining plans have varying prices depending on if you want a monthly or yearly subscription. 
Here's what the paid plans look like up close:
Basic plan

: up to 2,000 entries at $29/month or $23/month for a  yearly subscription

Grow plan:

up to 5,000 entries at $49/month or $39/month for a  yearly subscription

Pro plan

: entries vary depending on what you want including price
Tool #7: SweepWidget
SweepWidget is a marketing tool that can help you create buzz around your brand by running contests and giveaways.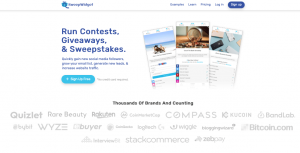 Image Source: SweepWidget
Essentially, you can gain more followers, grow your email list, and increase the amount of traffic going to your website using this tool. 
You can also create polls, surveys, tests, or questionnaires and provide corresponding rewards to your audience for any tasks completed. 
What kind of businesses would find SweepWidget useful?
Well, upcoming blogs, startups, and even large enterprises.
To launch a giveaway contest with SweepWidget, you need to determine what your final objective is and what kind of rewards you want to offer. 
Next, you can choose how you want participants to enter the contests. 
After setting it up, embed the contest in your website or use their landing page builder.
SweepWidget Features
SweepWidget is able to help your business gain more followers using different key features such as 
Entry management

Fraud detection

Social promotions

Social media management

Awards management

Sweepstakes

Blind judging

Forms management
SweepWidget Pricing
They offer a simple pricing option consisting of five plans on a per month basis.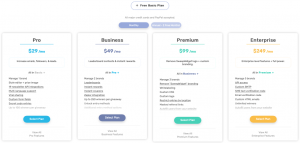 Image Source: SweepWidget
Technically, SweepWidget has four paid packages as the first plan is free. 
The plans address small-sized businesses to large enterprises and are priced as follows:
The Pro plan

: manage one brand at $29 per month

The Business plan

: manage two brands at $49 per month

The Premium plan

: manage three brands at $99 per month

The Enterprise plan

: manage five brands at $249 per month
Tool #8: ShortStack
This next UpViral alternative is an automated end-to-end marketing campaign tool that lets you create online contests and hashtag giveaways: ShortStack.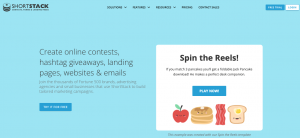 Image Source: ShortStack
In other words, it helps you with customer acquisition using a reward-based system. 
You get to add various forms of content such as videos, forms, and contests without the help of an expert developer. 
Who is ShortStack recommended for?
Any smart marketer in any of the following industries:
eCommerce 

Financial institutions

Events 

Health and Wellness

Non-profit organizations

Restaurants

Real estate

Entertainment

Sports
You can also communicate more effectively with your audience using integration tools such as Google Analytics, Shopify, SquareSpace, Tumblr, MailChimp, and many others. 
ShortStack Features
Since it's designed for marketers in different industries, ShortStack offers several features that help you launch your marketing campaign without previous experience, including: 
Templates, themes, and widgets

Client management

Anti-fraud tools

Campaign management

Source tracking

Social marketing

Campaign analytics

ROI-based tracking
ShortStack Pricing
They've got four pricing packages for you to choose from. 

              Image Source: ShortStack
You can get billed monthly or annually depending on your budget. 
If you want, you can try this tool for free for as long as you want but with very limited entries (storage limit).
The different plans are priced as follows:
The Business plan

: up to 10,000 entries at $99 per month and $79 per month if annual 

The Agency plan

: up to 50,000 entries at $249 per month and $199 per month if annual 

The Brand plan

: up to 500,000 entries at $499 per month and $399 per month if annual 

The Enterprise plan

: over 500,000 entries but you will need to contact them for pricing details
Tool #9: Atipso
Next on our list is Atipso.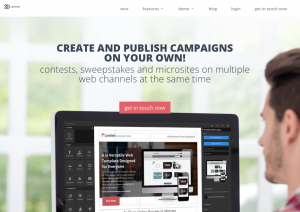 Image Source: Atipso
This is contest software that can help you create and launch viral campaigns for your brand. 
What do you need to get started?
First, a landing page for which you can use their drag and drop feature or make use of your website.
You can increase your following online by creating sweepstakes, voting, or giving free coupons that will keep followers engaged.
You also get to reward them for participating. 
This UpViral alternative can be used by:
Entrepreneurs

Agencies

Small and medium-sized businesses

Corporate enterprises
If your intention is to create buzz for a long period of time, get your followers involved with Atipso's Register Games feature. 
Followers get to win incentives and tell other people about your brand.
Atipso Features
Atipso can launch contests for your small or large-scale business using features such as: 
Form management

Social promotion

Social media management

Sweepstakes

Voting management

Drag and drop page builder

Analytics

Mobile optimization
Atipso Pricing
Atipso's pricing plans aren't available online 
However, we know that you can book a demo to see how it works. 
And if you're interested in the software and require more information, you can get that upon request. 
Tool #10: Gleam
Gleam is a business growth software designed to help you grow your brand.  
                  Image Source: Gleam
You can launch competitions on this platform, build social galleries, offer instant rewards to your followers, and get them to sign up to your email list.  
There are several templates available for you to use so you can edit and get ready to launch your campaign. 
Gleam can be used by marketers that work with digital brands or essentially, any type of online business that wants to grow. 
In terms of integrations, Gleam has collaborated with your favorite marketing partners, including:
Facebook

LinkedIn

Twitch

Kickstarter

Aweber

Oracle

Campaigner

ConvertKit
Gleam Features
Asides from creating giveaway campaigns, Gleam also offers a referral system using several widgets. 
This creates buzz for your business which subsequently lets you reach new audiences around the world using features such as:
Ready-to-use templates

Link tracking

Analytics

Direct integration with different apps
Gleam Pricing
More details on Glean's pricing system are made available on their website. 
The plans are based on which of their apps you need.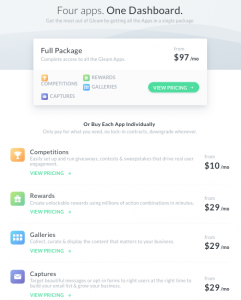 Image Source: Gleam
You can either get the full package or purchase the apps individually. 
To give you a better insight, here's what we mean:
Full package

: starts from $97 per month

Competition package

: starts from $10 per month

Rewards package

: starts from $29 per month

Galleries package

: starts from $29 per month

Captures package

: starts from $29 per month 
Tool #11: Sweeppea
The last tool on our UpViral alternative list is Sweeppea.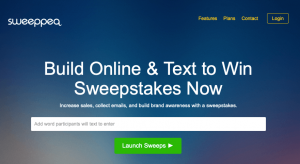 Image Source: Sweeppea
This is essentially a sweepstakes building tool that allows businesses to create online and text to win contests. 
Sweeppea can help increase brand sales, build awareness, and collate emails. 
Sweeppea Features
Some relevant features offered by Sweeppea, include:
Text marketing compliance

Campaign data reports

Data security

Mini survey

Customizable rules

Entry form wizard

Custom keyword

Online sweepstakes
Sweeppea Pricing
Their pricing plan is split into two packages: self service and full service.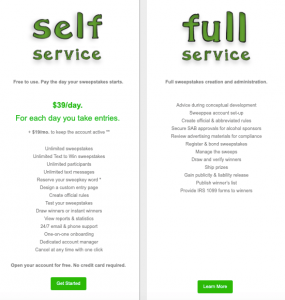 Image Source: Sweeppea
More precisely, the platform offers:
Self service plan

: costs $39/day for each day you collect entries and $19/month to keep the account active.

Full service plan

: covers the creation of full sweepstakes and administration but you do need to contact Sweeppea about pricing. 
Before you Go
There you have it – a list of the best UpViral alternatives out there!
We hope our guide helped you figure out which tool can help you create buzz and get people talking about your brand. 
If you're still unsure of where to begin, don't hesitate to book a live demo with Viral Loops. 
Get to experience firsthand how we can help your brand go viral with buzz marketing. 
Thanks for checking out our post!