Every now and then, we hear the term 'viral' being thrown around the digital space, especially on social media.
It's when a post spreads fast like wildfire and everyone is talking about it. 
Every brand, regardless of its industry, wants to have a piece of that cake and go viral.
There's just one question that seems to bug most people: 
Does going viral happen by chance or through effort?
We will provide more context to the question in this guide. 
More precisely, we'll look at:
What viral marketing is

Why it's important

Different types of viral marketing  
That said, let's jump right in!
Table of Contents
Viral Marketing vs. Word-of-mouth Marketing
Why Is Viral Marketing Important?
2 Types of Viral Marketing Campaigns
5 Examples of Viral Marketing Elements
What Is Viral Marketing?
Viral marketing is a type of marketing campaign that occurs when an individual or brand creates shareable content or crafts a marketing message that people can relate to. 
It uses word-of-mouth marketing over social networks to spread information about a product or service. 
What's interesting about viral marketing is that it's the customers themselves that spread the word.
What happens when they do this?
Well, when a company's product goes viral, there's a significant increase in its engagement on social media, brand awareness, and of course, sales. 
That's the end goal of a viral ads campaign.
Since it's other people doing the main work, what do you have to do?
There are two important parts you need to play:
Introduce something worth sharing such as a viral video, image, or meme

Get ready for the engagements the campaign should bring
A good example of a successful viral marketing effort is Apple's #shotoniphone.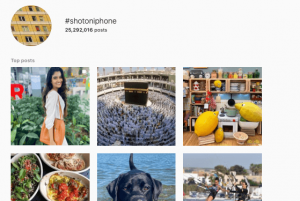 Image Source: Instagram
It began in 2014 and is still active to date! 
Guess what?
The hashtag has got over 25 million posts on Instagram alone and counting. 
The campaign has become so popular that other brands are using it to promote their phone cameras.
Apple uses the images from the Shot on iPhone series for billboards, TV commercials, and print ads.
They even selected winners from the campaign. 
This means more awareness for their audiences offline and online including an increase in sales. 
Talk about a product gone viral!
Now, does the fact that viral marketing works with word-of-mouth marketing make both terms the same?
The short answer is no.
Nonetheless, let's look at how both terms are different in the next section.
Viral Marketing vs. Word-of-mouth Marketing
The main difference between viral marketing and word-of-mouth marketing is found in the extent to which shareable content is shared. 
Let's explain a little further. 
Word-of-mouth marketing is when a consumer shares details about your product or service to their peers. 
But, that's where it ends.
Word-of-mouth marketing usually begins with a loud bang but fades out after the first generation of promotion—like an echo. 
Simply put, people participate because of the value they get from a product. 
Viral marketing, on the other hand, also involves the consumer sharing your product but this extends beyond the first generation of promotion. 
In other words, consumers derive value from your product,  become passionate about its benefit, and as a result, go on to share it with their peers…
… and it doesn't end with them either. 
Another point worth noting is that brands have control over the outcome of word-of-mouth marketing by using different marketing tactics to initiate engagement. 
For viral marketing techniques, you have little control over the outcome of the results. Marketers can only increase their chances of getting their product to go viral! 
Wanna know about the advantages of viral marketing? 
Let's find out more in the next section. 
Why Is Viral Marketing Important?
Viral marketing is a good option for brands that want to get their message across to a wider demographic. 
As a matter of fact, 82% of online businesses leverage word of mouth to raise awareness for their brand.
So, what's in it for you?
Let's take a closer look at some of the benefits of viral marketing.
Grabs people's attention

: Viral marketing makes it easy for you to grab your audience's attention. 
As stated above, what you need to do is create content that appeals to your audience and promote it on different platforms. Then they take it up from there. 
The main reason viral marketing can help your content go viral is that other people are sharing it… 
…and statistics show that 92% of consumers trust recommendations from people who are close to them. 
That means more people's attention is drawn to the viral post because it's coming from their peers. 
Affordable advertising costs

:  Viral campaigns are

cost-effective for brands

, small businesses,  or startups that don't have a huge marketing ad spend. 
You get increased brand awareness, engagement on your social media networks, and more sales at relatively low costs.
Why?
Well, because the hard work of getting the word out about your product or services is done by consumers.
Just like in the case of Apple's Shot on iPhone series.
The main cost associated with viral marketing is the cost involved in creating the content and promoting it. 
Plus, the moment it kicks off, it's quick to perform.  
Gives your brand more credibility

: As more people become passionate about the campaign and keep talking about your brand,

credibility among your target audience increases

.  
In other words, they trust that your brand is genuine and that in turn increases the recognition of your product or service.
The viral content will be like a seal of trust whenever users see it when you run social media marketing campaigns or upload a post on your website.  
As such, your brand gets better engagement on its social sites every time and more traffic to the website. 
More reach

: Do you want more people to be aware of your brand's product or services? If yes, viral marketing can get your brand in front of a large number of potential customers. 
A single message can spread the message further than you could have predicted. It might look like nothing is happening in the beginning but it spreads rapidly beyond the first wave of promotion. 
That gives your business better visibility.
And if your content is able to ignite your audience's emotions enough, the reach will eventually lead to the growth of your brand.
Viral content can reach more people better than paid advertising can. 
It's non-evasive

:  You know how frustrating it is when ads pop up on your screen while you are browsing. Everyone kinda wishes that doesn't happen to them, even the advertiser. 
Well, viral content fulfills that wish. 
In fact, people love watching it because it is worth sharing. 
It's an ad that doesn't register as an ad and that's one of the things that makes it likable. 
Let's move on to see the two types of viral marketing we've got available.
2 Types of Viral Marketing Campaigns
Viral marketing which can be considered as consumer spread growth is one of the most effective marketing campaigns out there. 
It's people within and outside your brand marketing your company. 
Every marketer or brand owner certainly loves the idea of their message spreading exponentially. 
Well, who wouldn't?
To provide more context to what viral marketing really is, we take another step into two types of this marketing campaign.
1. Organic viral marketing
It is also known as an in-the-wild campaign and it basically means marketers have little to no control over the outcome of this campaign.  
Organic viral marketing occurs when a message is being spread exponentially without the marketer setting it in motion.
In some cases, it's a positive message around the brand, and other times a negative one that turns out to be a good thing in the long run. 
There are also times that brands just happen to be goofing around with the negative message of another brand and all of a sudden, it blows up. 
Oreo's Dunk in the Dark is a good example of organic viral marketing.
Here's what happened:
Baltimore Ravens and San Francisco 49ers were in an intense third-quarter battle at the Mercedes-Benz Superdome. 
Suddenly, there was a blackout that lasted for 34 minutes. 
In response to that situation, Oreo's social media team tweeted: Power out? No problem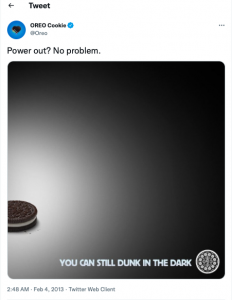 Image Source: Twitter
It was not an ad, just a quick response to a situation that lovers of the game were experiencing. 
What was the outcome?
Well, in less than an hour, their post got massive engagement which included over 10k retweets, 18k+ likes, and over 5k shares.
The point is when an organic viral campaign is successful, brands don't have to spend so much to build their brand credibility.
Why?
For starters, consumers are able to relate to the content in question because interaction takes place between consumers alone. 
You only have to be willing to let the flow of communication flow and avoid interrupting it. 
There are key takeaways to take into consideration:
Organic viral marketing isn't planned. Just like Oreo's post; who would have thought there would be a power outage for that long? 

Users make the choice to engage with the content. 
2. Amplified viral marketing
The second type of viral marketing strategy we talk about is amplified marketing also referred to as a controlled campaign. 
In other words, you have control over this campaign. 
More specifically, marketers are able to plan the campaign by setting goals they want to achieve including which method they want to transmit the viral message. 
A good example of this is Zoom's Virtual Background Challenge in 2020.
Image Source: Twitter
People were stuck at home so Zoom introduced a competition for remote workers. 
Participants were to share videos or pictures using the platform's virtual background feature if they wanted to win prizes.
So, what happened next?
Well, it blew up and over 50k people signed up on Zoom just to participate in the competition.
The campaign brought in new customers and got them to explore the platform's different features. 
They got new customers who were able to learn what Zoom had to offer and recommend it to others. 
Essentially, they had control over how they wanted the marketing campaign to go even though customers were going to be the driving force behind it. 
Aside from planning how the campaign will go, marketers are also able to track the results of amplified viral promotion. 
To make it easy for you to get started and understand better, we'll look at top examples of viral marketing campaigns in the next section.
Ready?
5 Examples of Viral Marketing
The results from viral marketing can sometimes seem like magic was involved. 
Another look at some of the scenarios from Apple and Oreos that we looked at above would make it seem so… 
…but, trust us there's no magic.
It's an effective way to spread awareness about your brand's product or service but then we know coming up with viral content can be somewhat challenging. 
That's why we decided to inspire you with some viral marketing examples. 
We're going to do a breakdown of what makes them good inspiration for your campaign. 
1. Engaging coming soon page
A coming soon page is the type of content that can make your brand go viral. 
It helps spark curiosity in the minds of your users. For them, the value proposition you are offering makes them intrigued. 
Disney Plus's coming soon page does a good job of illustrating what we mean.
They set a date, state what studio films will be shown and the price, and even set a countdown timer.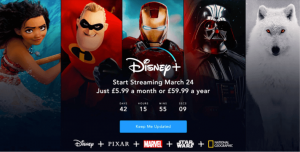 Pages like this get users anticipating the launch date and that's the kind of build-up you want. 
They begin to ask questions like:
What does it have to offer?

When is it coming out?

Are there freebies attached?
So, why do you need a coming soon page?
You get to communicate how your product works, see what your consumers are expecting, and brace yourself for lead generation. 
 2. Referrals
Another viral marketing example is a referral campaign. 
Referral marketing leverages word of mouth from customers to make your brand go viral.
You offer users rewards or incentives that would motivate them to share whatever message you want them to pass across. 
A referral marketing example that made a brand grow and go viral is from Robinhood—a stock trading app… 
                             …you thought it was the old tale, didn't you?
Robinhood is one company that was able to build a customer base before it launched officially.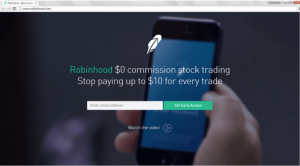 How did they do that?
They leveraged the fear of missing out to create buzz around the product compelling people to sign up. 
They invited people who were likely to like the app to only gain an invitation to access Robinhood in its beta stage.
It wasn't an invitation to join their mailing list, but to be among the first people to experience what it had to offer. 
When they proceeded to enter their email, Robinhood made it more interesting by subtly introducing a waiting list. 
People were automatically placed on a list after deciding to experience what the company had to offer. 
Here's where their referral program came into play: users were incentivized to share Robinhood's offer to move their position higher up the list. 
Who doesn't like to be ahead in a queue?
Well, that was what led to them having a million users even before launching their product. 
3. Puzzles and riddles
Another way to make your brand go viral is through puzzles and riddles.
You probably are wondering if there's even such a thing as puzzle marketing. 
Well, puzzles as you well know are interactive games that you can engage your customers with. 
It keeps them busy and encourages them to stay on your website or social media page. 
Puzzles? Who uses them anyway?
Well, popular ketchup brand, Heinz, used it to spark engagement and awareness on their social media networks.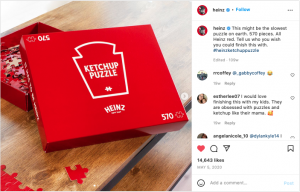 Image Source: Instagram
It was a social media giveaway that saw the popular ketchup brand give away puzzles in over 17 countries. 
The campaign got over 20k engagements in Northern America alone. 
So, if you're wondering what puzzles have got to do with a business?
Well, it keeps people engaged on their website.
In Heinz's case, people who played kept seeing red all the way through and that was a subtle way of advertising the brand. 
4. Storytelling
Everyone loves a good and relatable story and if the story's done right, it can cause your brand to go viral. 
Here's an interesting fact that supports what we're saying:
People remember stories 22 times more than they do facts and figures. 
Simply put, they can boost your engagement and conversion rate. 
Popular streaming service, Netflix, turned up the notch with this one and it sparked engagement on their social media platforms.
They got customers to tell them stories on Twitter.
Here was what they tweeted: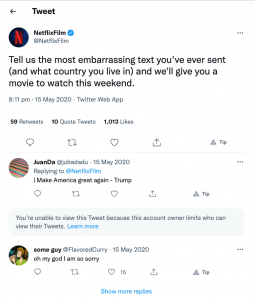 Image Source: Twitter
As you would expect, people responded to their tweets and got a movie recommendation to watch for the weekend.
5. Stand out from the crowd
Dove's Real Beauty Sketches is the perfect example of how a brand can go viral by doing something different from what others are doing.
They got a forensic artist to sketch different women—not by looking at them but by listening to them describe how they looked and other people describe them too.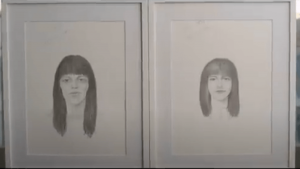 Image Source: Youtube
The whole point of their digital marketing campaign was to prove to women that they are more beautiful than they think they are. 
They created a piece of content that was unique and most importantly, appealed to people's emotions in a good way.
That's one of the key factors that make content go viral.
Within two weeks, the video had over 3 million shares, and nine years after it was published, people are still engaging with the post.
It's gone beyond the second generation as we talked about earlier.
It's time to wrap this up!
Now Over to You
We've come to the end of this guide. 
We hope you learned a thing or two, especially from the examples that were added for you to draw inspiration from them. 
Wondering what your next steps should be?
Feel free to book a demo with Viral Loops to add virality to your campaigns. 
Thanks for stopping by!