Hello there,
You've just created your company and you might find yourself overwhelmed with the number of tasks and opportunities you have on your to-do list.
Now, you should think for possible ways to promote your business with the lowest effort and maximum outcome. You're not a huge team after all and you want to experiment fast.
I know it's too hard to check and find solutions for this issue, the reason is that whatever have worked for others might not work for you.
Don't worry, I'm here to give you my input.
Since we kicked off Viral Loops, almost a year ago, we've met people who implemented and promoted some amazing referral programs.
That's the main reason I decided to write down a list of referral marketing strategies that will probably give you awesome ideas for your company's early days.
So, here we go:
1. Jet.com: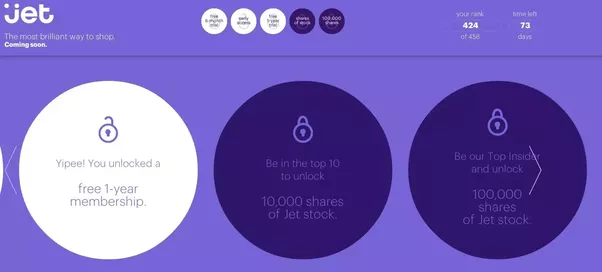 Jet.com | Shopping Made Easier – Groceries, Baby & More, as an Amazon competitor, knew that the only way to have a strong launch was to build some online buzz early on; and what's better than a giveaway?
So, they decided to incentivize participants with something no one has done in the past—shares of their business.
And they weren't just giving away a share or two… they were giving away 190,000 shares spread across 10 winners.
In the end of the giveaway, the first on the leaderboard earned 100,000 shares of Jet.com | Shopping Made Easier – Groceries, Baby & More stock.
Participants in places 2 through 10 got 10,000 shares each.
Awesome, right?
Check more on this story, here.
2. Dropbox.com: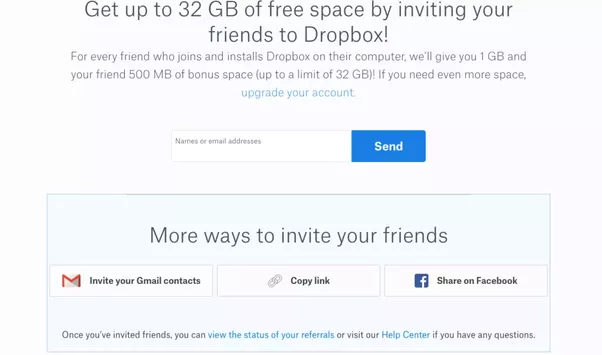 Dropbox's referral program is possibly one of the most famous cases of referral marketing done right.
Almost a decade later, it's still used in numerous case studies showcasing how referral programs can contribute to a company's growth engine- or even be the engine itself.
People, we're talking about a 3900% growth in 15 months!
Obviously, it's not all due to the referral program; they gathered a ton of feedback, they constantly improved their product and they kinda put a battle in order for VC's to trust their money to them.
The concept behind Dropbox's referral program was very simple.
Since the product offered storage space in the cloud, they decided to reward people with more free space not only for referring their friends but also for accepting an invitation.
In other words, we're talking about a 2-side referral program for a compelling product, that rewarded both sides for completing the desired task; registering for Dropbox.
Check more on this story, here.
3. Hustle.com: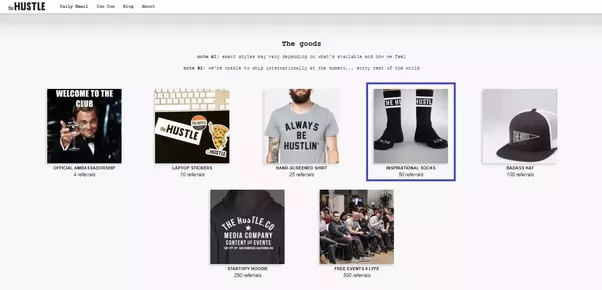 How about asking your users to talk about you to their friends, in exchange of exclusive swag?
The Hustle used the killer combination of 3:
Great copywriting
Focusing on email (it's an owned medium, and you don't have to play Facebook's algorithm to get results)
A milestone referral program that kicks a$$.
People can discover their ambassador program in two ways:
They have a dedicated landing page.
An email from Sam Parr gets into your inbox and prompts you to refer friends.
Check more on this story, here.
4. Harry's.com: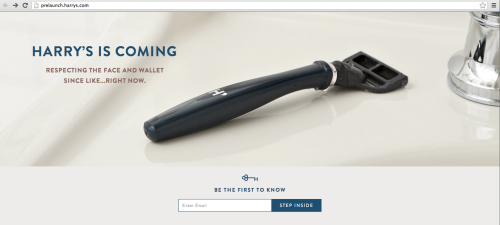 Their thought that the most powerful and effective way to launch their grooming brand was through a credible referral.
Harry's used the exact same approach as #3 The Hustle , resulting in a huge success.
Thus, they focused on building a campaign that helped people to spread the word to their friends—and not just spending a ton of money on Google and Facebook.
They managed to gather 100,000 emails in a single week.
Well, initially it helps the company to get 100+ million dollars in funding and buying a 94-year-old razor blade factory.
The website of the campaign was something really simple, yet catchy and effective; just a 2-page microsite.
When people landed to their website, they were asked to give their email in order to participate in the campaign.
After giving their email, people had to invite their friends to get the prizes.
Harry's followed the concept of a "Milestone Referral Campaign," meaning that when people were reaching a specific number of referrals, they were winning the corresponding prize.
Read more on Harry's story here.
After spending time to choose your business name, register a domain name, figure out legal structure, set up a website and order business cards, now it's time for your company to take over the world!
Just go for it.