Last week, I wrote a thorough article considering my experience with The Hustle's milestone referral program.
I like this article, but I feel that there is more into milestone referral programs than just an example.
Check how our latest Form Widget looks like.
That's why we decided that this week we should shed some light into one of the cornerstones of referral marketing:
Harry's
Harry's is a New York-based grooming brand that manufactures and sells shaving equipment via mail order.
The idea for the campaign was built by Jeff Raider & Andy Katz-Mayfield, Harry's founders.
Their belief that the most powerful and effective way to launch their grooming brand was through a credible referral marketing program.
Thus, they focused on building a campaign that helped people to spread the word to their friends—and not just spending a ton of money on Google and Facebook.
They managed to gather 100,000 emails in a single week.
I want to write that again. 100,000 emails in a single week!
Although their original referral is discontinued, they have a new one in the making: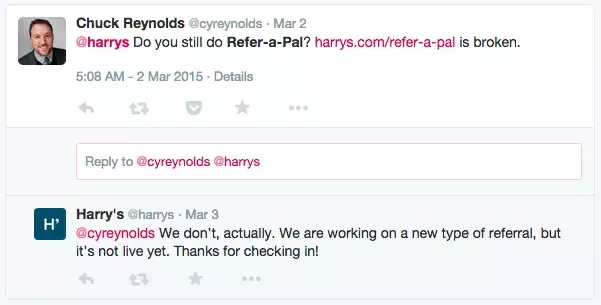 Where this pre-launch campaign led Harry's?
Well, initially it helped the company get 100+ million dollars in funding and eventually buy a 94-year-old razor blade factory. This way they could produce their own blades, taking on shaving heavyweights, Gillette And Schick.
Here's what it looks like: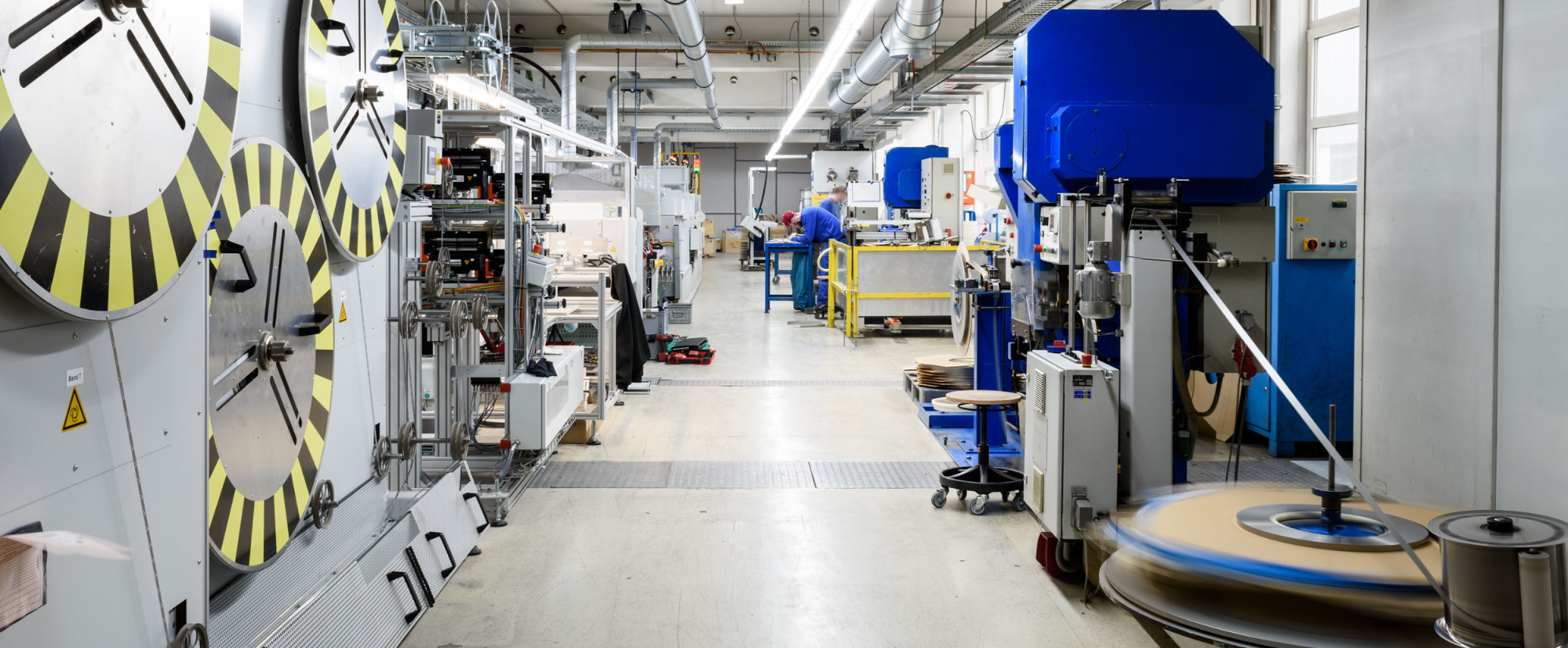 Also, their team now has more than 500 employees and their digital store is one of the fastest growing in the industry. Apart from that, Harry's owns its own barber shop in NYC (which I'm dying to visit).
The cherry on the pie is that they're publishing their own magazine– Five O' Clock. Love it!
Can I tell you a secret? This referral marketing program was one of the reasons we decided to start Viral Loops.
By the way, we created a free tool to help you build a referral campaign like Harry's in 4 simple steps.
So, how did Harry's get so famous?!
I think the answer here is simplicity. Even a child that was capable of reading could easily be part of their referral marketing campaign.
The website of the campaign was something really simple, yet catchy and effective; just a 2-page microsite.
1. When people landed at harrys.com, they were asked to give their email in order to participate in the campaign.
The big bold image made pretty clear to people what Harry's is all about in the first 5 seconds.
That, along with the nice tagline sparked the notion that Harry's is launching soon and will disrupt the industry ('respecting the face and wallet since like… right now').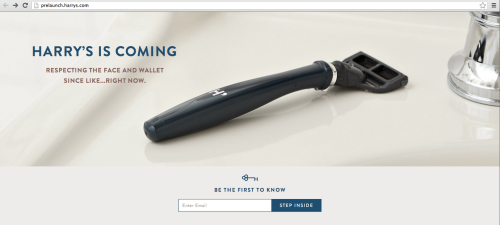 According to Jeff Raider himself, these words were intended to be playful and introduce people to the purpose of their brand and also create an air mystery as to what they were all about.
They paired the line with a photo of one of their razors, but they included no more information about their company or product.
One thing that I would surely do if I were in their shoes, is that I would also allow people to join the campaign with Facebook login—which would give them more data and also increase conversions.
Younger people are not keen on checking their emails constantly.
2. After giving their email, people had to invite their friends to get the prizes.
The page included the unique URL of each user, a brief explanation of how the program works and a tracker where people could see how many friends they had referred and what prize they had attained.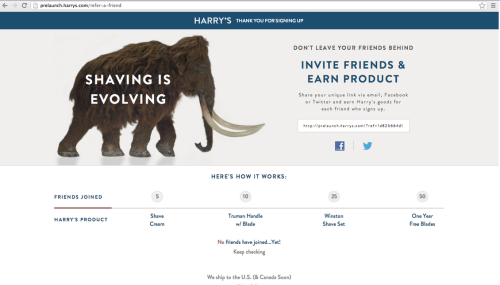 Harry's followed the concept of a "Milestone Referral Campaign," meaning that when people reached a specific number of referrals (milestone), they instantly win the corresponding prize.
There were 4 milestones in total:
Referred 5 friends = free shave cream

Referred 10 friends = free razor

Referred 25 friends = free premium razor

Referred 50 friends = free shaving for a year
Their clear messaging: "Invite friends to earn product.", along with the fact that attaining a prize was super doable (who doesn't have 5 or 10 guys that shave?), skyrocketed the sharing count.
According to Jeff Raider, Co-founder, and CEO of Harry's, the referral mechanics were amazing. 77% of the emails were collected via referrals, meaning about 20K people referred about 65K friends.
This means referrers, on average, referred more than 3 friends.
Yet there were a lot of people who referred well above that average: More than 200 participants referred more than 50 of their friends, achieving the highest tier reward.
This social sharing frenzy might be due to the campaign being designed to be share-friendly. I mean, they used pre-populated tweets with a simple, yet irresistible copy: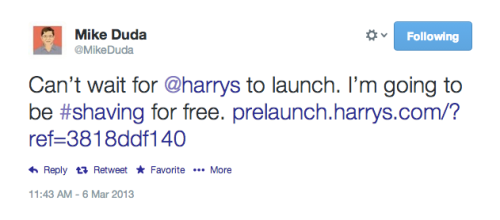 How did the fire start?
In their case, Harry's did the exact same thing that The Hustle did; they focused on email.
All employees handed their email addresses (that was crucial as the first announcement about the product, went straight to people that were known to each other; you can't ignore an email from a friend), and set their email signature properly.
The recipients received a personalized email in a very friendly tone of voice, announcing that Harry's is coming. In the same time, the copy encouraged people to spread the word.
Apart from that, there was a 'special' batch of people (like company CEO etc) that receive emails crafted accordingly in order to incentivize them to share the message with their entire team, or company.
Can you do it like Harry's?
I think it's clear enough that this type of referral campaigns is perfect for eCommerce Stores.
So if you own one, then the rewards can be your own products and coupons. Also, if you're in pre-launch, want to just build an amazing referral marketing program, this is a thing for you.
Check how our latest Form Widget looks like.
This is awesome for blogs, too. You can use it for email list building and give merchandise, like stickers, t-shirts, etc.
I think the only thing that stops you from doing it, is the will to do it.
For the rest, we' ve built this milestone referral program tool, inspired by Harry's that will help you setup your campaign in minutes.
And if you wanna how you can get the most out of the campaign you can join our FREE webinar, http://bit.ly/campaign-success
In this webinar you'll:
Be introduced to some of the most important techniques for making/going your campaign viral.
Get your questions about referral marketing answered.
Get a bonus offer we have at the end for tailor-made success calls.