Airbnb, Hotmail and Linkedin are some great classic examples—you should definitely read about them. It's not that you'll be able to replicate these growth hacks, but it will help you understand the growth hacker's mindset.
Some of my favorite companies that have used smart and unique ways to grow are Jet, Drift and Pinterest.
Jet.com—Invites for Perks & Shares
Jet is an eCommerce company launched in 2014 as a direct competitor to Amazon. After raising their first $80 million in funding, they were looking in creative ways of running an epic prelaunch campaign.
So, they came up with Jet Insiders. The unique part of this prelaunch campaign is that they were giving shares to those people who would invite lots of friends— "The more friend you invite, the higher you climb up the leaderboard."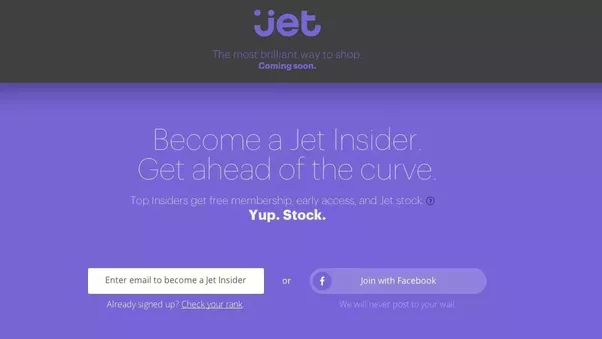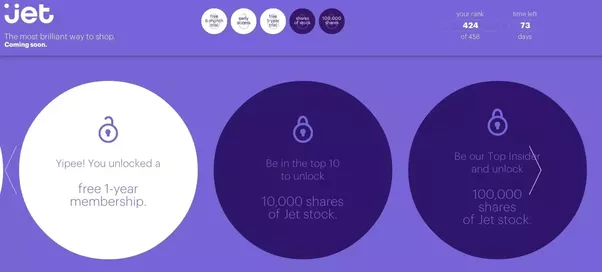 One of the highlights of the campaign was that the top Insider, Eric Martin, spent about $18,000 on Facebook ads (according to Business Insider) and rewarded advertising on swagbucks and gifthulk to ensure that he'd get the 100,000 shares. (Swagbucks and GiftHulk give people rewards for completing surveys or, in this case, signing up for websites.)
Drift—Branding & Positioning Hack
Drift is a messaging and marketing platform for websites. It offers a chat functionality and marketing automation capabilities. One of their main competitors is Intercom—their product is "bigger" with more features and better in marketing automation.
But, Drift has a totally different approach in positioning their product. They focus on building a killer intelligent chat functionality to help you close leads faster. They've released great features, like Leadbot, which is an automated way to qualify leads without asking people to fill in boring forms.
So, they don't try to build a huge product and compete on features. They have a very specific positioning with unique features around it. They also push this with blog posts, webinars and infographics, like the one below: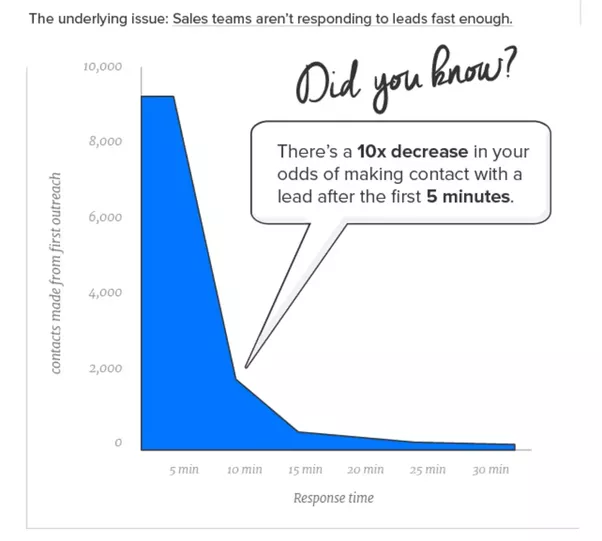 In terms of branding, they want to show people that they lead the new wave of marketing without gated content, boring lead forms and traditional lead scoring. Who wants to be the traditional guy? As marketers we always try to find new ways of acquiring more customers, more effectively.
One of my favorite branding hacks they did, which reinforces their product, is that they threw away all of their lead forms without asking people to opt-in before reading any piece of content. You can read more about this move: Why We're Throwing Out All Of Our Lead Forms And Making Content Free
Another branding and funny small detail is that you can "celebrate" after you have responded to all of leads. You may think that this is not a growth hack and you're right. But this drives word of mouth—I'm just writing about it 😛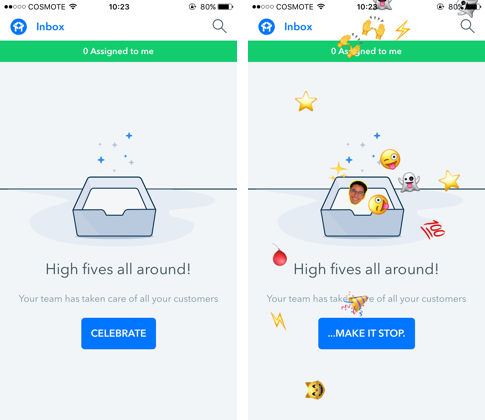 Pinterest—Solid Experimentation & Growth Engineering
I won't talk about a specific growth hack of Pinterest, but for their approach. After all, the top companies that hack their growth, they have a robust process of rapid and data-driven experimentation.
Their lead growth engineer, John Egan, has a great blog and occasionally shares his lessons learned, experiments they tried and how they did it—mostly growth engineering stuff—which I love by the way 🙂
In his latest article, he points out 3 habits of highly effective growth engineering teams:
Your team should have a broad range of coding and marketing skills—velocity in execution is the most important factor for experimenting and learning as fast as you can.
Everyone should be a driver and owner of his project/experiment. In growth teams you cannot afford having people that just execute what they are told to.
You should ship high quality and stable stuff, especially when your experiments affect crucial parts of your product, like sign up forms, upgrade flows, and onboarding—else you may impact negatively the whole experience and top line growth.