This article is part of our complete guide to referral marketing.
Interested in knowing more about what referral codes are and how they work?
In this concise guide, we're going to take you through several elements in relation to referral codes, including:
What a referral code is

How referral codes work

Some benefits of using them
Plus, we're also going to show you several inspiring examples of companies you already know that are currently using or have used such codes in the past to enhance their referral marketing strategy. 
Choose any of the topics from the navigation below or read through the whole piece to know everything you need about referral codes. 
Let's get started!
Table of Contents
How Does a Referral Code Work?
3 Benefits of Using Referral Codes
5 Examples of Companies Using Referral Codes
How to Start Using Referral Codes
What's a Referral Code?
A referral code, similar to a referral link, is basically a unique code that consists of alphanumeric characters as well as, in some cases, complete words like a customer's name. 
This type of unique referral code is usually given from a company to members of its audience as a promo code that they can share with their friends and family. 
In other words, a referral code is a type of special ID – a unique combination of numbers and letters that's assigned to a person, the referrer, who wants to participate in a referral program, such as a refer-a-friend program. 
Author's Note: There are a few tips in terms of creating referral codes for your customers, including avoiding lowercase L's, zeros, and the letter O, to make sure that everyone will read your code correctly. 
There are several referral rewards that might be tied to a referral code.
A referral code might come with a discount code, which means that the referrer and the people they refer to the company will get a discount on the company's products or services.
Additionally, it might come in the form of a coupon code, with which the referrer and other shoppers using the code will get credit, cashback, or referral cash. 
Before we move into how a referral code works, let's see a referral code example to make this a bit more clear.
Here's how a referral code from the online bank app Monese looks: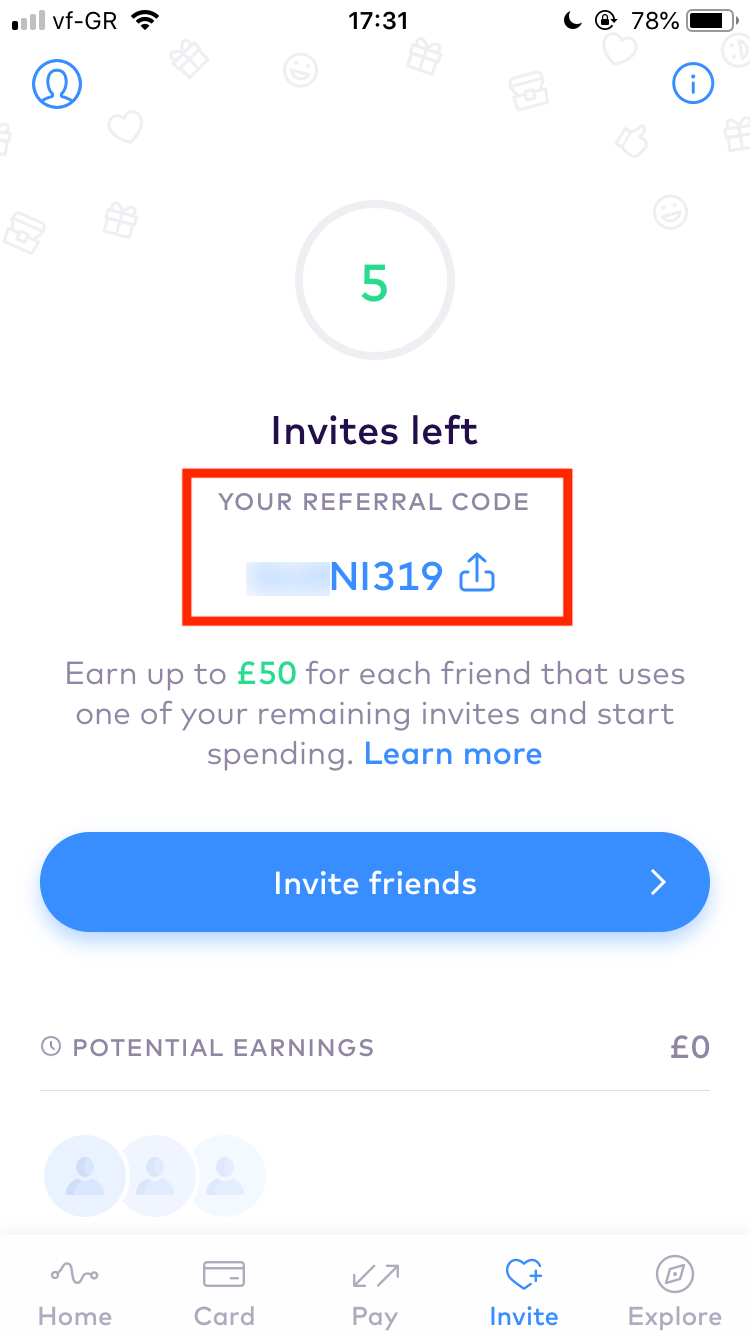 We've blurred out part of the code for privacy reasons, but you can see it includes a name and a few numbers.
The user can share the code and invite friends to the app. 
For every friend that signs up and starts spending money with the app, the referrer gets a reward. 
Let's jump into more details about how referral codes work exactly. 
How Does a Referral Code Work?
You know now what a referral code is, but you might still not know exactly how they work. 
In this part of our post, we're going to discuss the main steps in terms of how a referral code works. 
Here's step #1.
Step #1: Generate and assign a code to a customer
The first step you should take when it comes to referral codes is to generate a referral code and assign it to a customer.
In other words, you'll need to create a referral code for the customer to be able to refer your business to their friends and family.
Whether you're going to use a static code or you're going to create a unique code per referrer is entirely up to you and it depends on whether you're planning to give out incentives and rewards for every successful referral.
Put another way, if you're planning to give out referral rewards – which we totally recommend you should do! – to the referrers as well as the people that they refer to your business, then you should probably go for creating unique codes per individual.
Author's Note: Companies can either use a referral program software to automate and streamline the process or create them manually.
Step #2: Make it easy for customers to share the code
The second step is to actually have customers sharing their referral codes. 
More than simply asking them to share the code though, you need to put some extra care into making the process of sharing the code as easy and seamless as possible for them.
If you're planning to give your customers a referral code they can share with their friends and families right after they've made a purchase with your business, then make sure to add that code at the checkout.
Additionally, make sure to also email them the code so they can save it and share it at a later stage. 
On the other hand, in cases where you've established a referral program that's ongoing, you might want to consider creating a designated refer-a-friend landing page where customers can find out all about your referral program, including instructions on how they can use their referral codes.
Yet another great thing about creating a refer-a-friend landing page is that it allows users to access the referral codes at any time which, as you can probably imagine, maximizes the chances of them sharing the code with others.
Step #3: Give the referrer's friends their referral rewards
The third step of the process of creating and efficiently sharing a referral code is to give the referrer's friends their referral rewards.
Before getting there though, you need to decide what kind of referral rewards you're going to give your new customers to prompt them to start using your products and services.
The power of word-of-mouth marketing might be indisputable for ecommerce and other types of businesses, but, sometimes, the fact that someone from one's environment invited them into your business might not be enough.
However, giving referred customers a little promo item as a thank you gift, an Amazon gift card, a special offer, a discount code, or a welcome bonus for their first order can significantly help in terms of making them more willing to start trusting and engaging with your company.
Step #4: Give the referrer their referral reward
Referral codes are used by companies that want to establish the best referral programs as a way of identifying, keeping track of, and measuring the positive impact their existing customers create.
The main point is that, based on that data, companies should give back to their brand advocates for referring the business and spreading the word about it. 
Giving the referrer their referral reward for successfully using their own referral code is the final step of the process. 
Overall, for a referral marketing program to work, you need to be able to track referrals and new users that came from them. 
This way, you'll be able to give back to them and keep those referrals coming. 
Keep reading to find what the benefits are of referrals and why you'd want to keep them coming.
3 Benefits of Using Referral Codes
As you've probably already started thinking, there are several benefits that come with a well-designed referral campaign. 
Let's get into three of the most common ones. 
Benefit #1: Raise brand awareness and reputation
The first great thing about referral codes is that they help you raise awareness and brand reputation.
With 88% of consumers stating that their friends have a strong influence on their purchasing decisions – far more than the TV or influencers – we understand just how efficient referrals can be in terms of making more people aware of your business and giving them a good reason to trust you. 
The way referral codes work in terms of boosting brand awareness and reputation is quite simple.
If you've got five subscribers who have a circle of ten close friends or family members and you give them a unique referral code, they can share with their friends and get a reward for it, then you basically expand your customer base by a significant number of people. 
In other words, you give someone who's already doing business with you an invitation to bring more people into your business and give both sides an incentive to do so. 
Who'd say no?
Author's Note: Referral codes can be particularly helpful in terms of raising awareness when used as part of a go-to-market strategy for new businesses and new product launches.
Benefit #2: Establish strong relationships with your audience
Establishing stronger relationships with your audience is yet another benefit referral codes might come with, especially for online businesses that sometimes miss the essence of customer interaction.
A recommendation from a friend is 50x more likely to trigger a purchase and influence a buying decision which clearly shows us that consumers take their friends' opinion about a brand quite seriously.
Having your existing customers sharing your referral code is a great thing because to be willing to share your code probably means two things:
They're happy with what you offer

You reward them every time they promote you to their friends and family 
Either way, having someone using your referral code is like giving them the power to make your business bigger and get rewarded for it. 
This type of reciprocal relationship can contribute in terms of increasing customer retention and simply giving them reasons to keep engaging with your brand. 
Overall, referral marketing can be highly effective in regards to customer retention; customers acquired through referrals have significantly higher retention rates and stronger brand loyalty.  
Benefit #3: Save time and money
The last benefit of referral codes we want to bring your attention to is the following:
Using referral codes can generally help a business save money and time.
What we mean by that is that, through using referral codes, a business can acquire new customers in a less expensive way than running a paid advertising campaign for instance.
According to Jitbit, word of mouth generally brings double the sales of paid advertising. 
Think of it that way.
Creating a referral code and giving one of your existing customers the opportunity to share it with their friends is another way of activating word-of-mouth.
You basically tell your customers that they have a unique code they can share, through social media or email for example, with anyone they want and you're going to give them and their friends a little something as a thank you for the referral. 
This way you take a happy customer and convert them into a brand advocate who'll speak to others in a way that will resonate with them without you having to spend time and resources. 
We've said quite a lot about what referral codes are and what benefits using them can bring to your business.
Looking at how other companies are using them will hopefully make you feel inspired to start putting those referral codes in place and sharing them with your customers. 
Let's get right into it.
5 Examples of Companies Using Referral Codes
As promised, we're going to take you through five different examples of companies using referral codes for commercial purposes. 
Hint: You probably know all five of them so just keep reading to get inspired! 
Example #1: Uber
Uber is our first example and that's because the company is very popular for establishing a very successful referral program.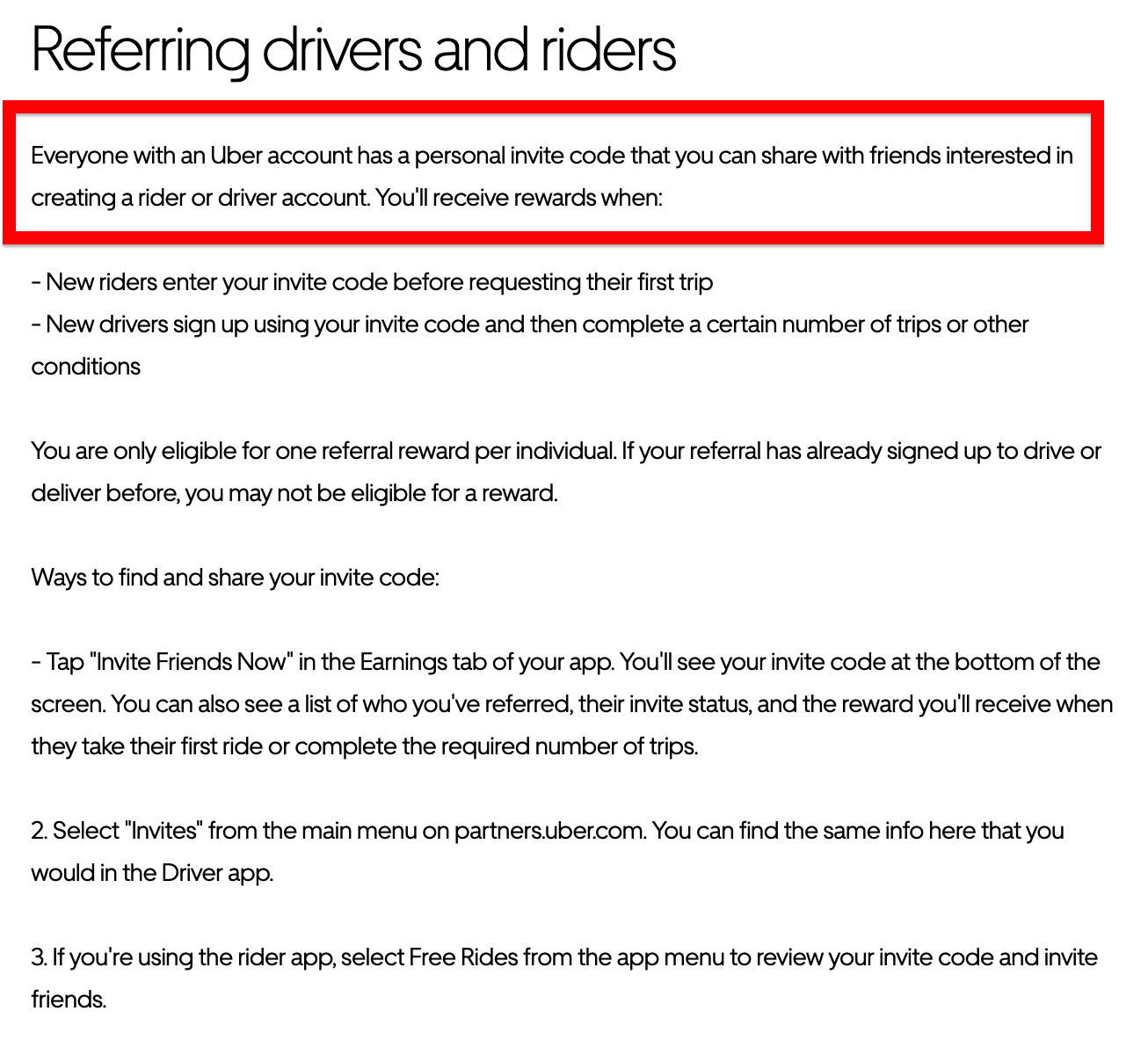 Image Source: Uber Help Center
As we read in the Uber Help Center, Uber users are eligible to share their referral code to refer both drivers and riders to the ride-share app.
What we love about this referral program is that users get their Uber referral code as soon as they sign up for an Uber account. 
Plus, it offers dual-sided rewards that give users the opportunity to refer their contacts with direct value. 
Showing direct value in a referral can naturally increase the chances of a new user signing up for the service  – far more than an annoying email that won't clearly show the recipient what's in it for them. 
Let's get to the next example.
Example #2: Dollar Shave Club
Dollar Shave Club is a niche company that delivers grooming products to its customers by mail. 
To build a community around the brand and bring more customers in – even now that they're already quite popular – they're using the power of referral marketing.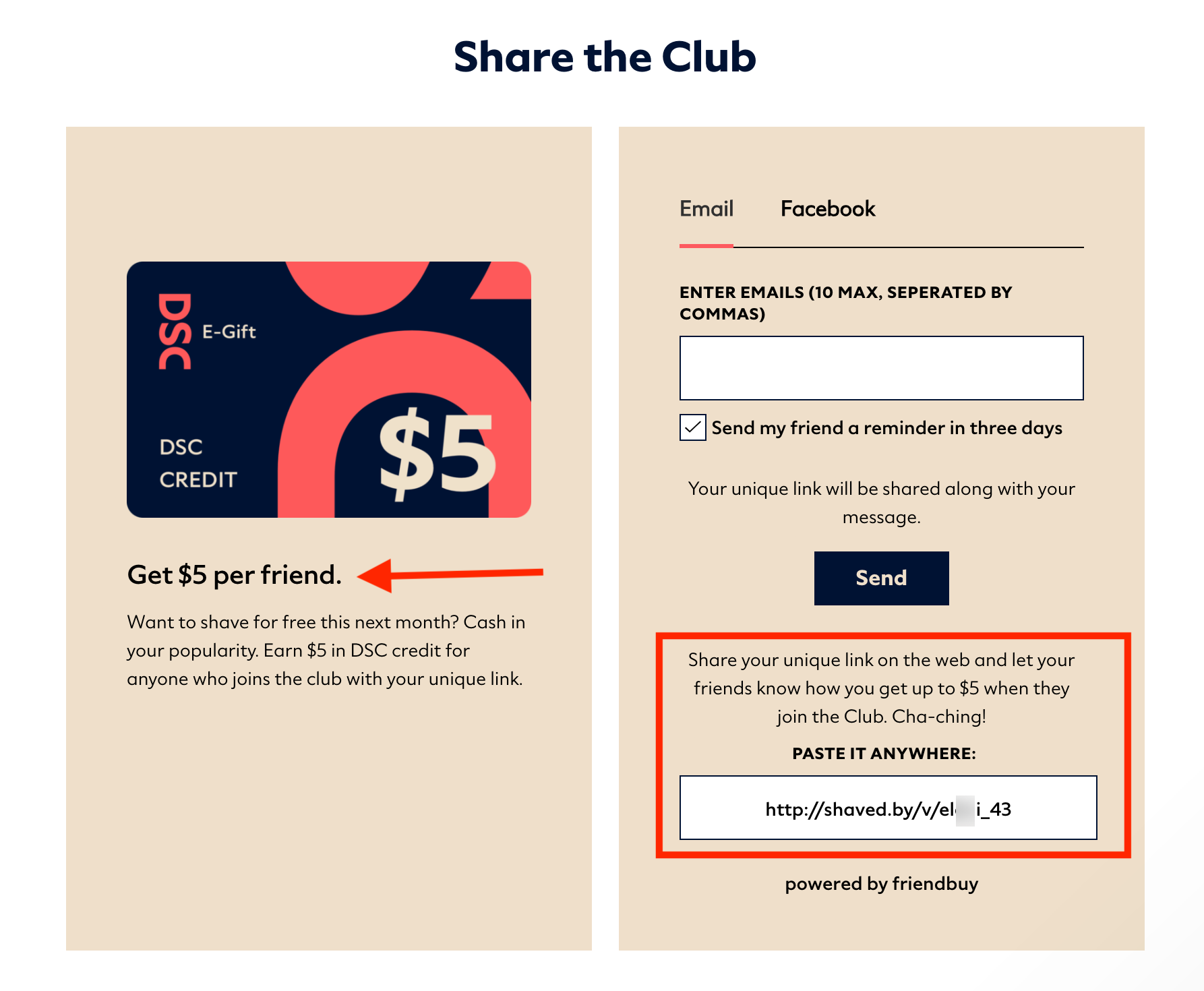 The way their referral program works is that they give you your unique code as soon as you create an account with them, which you can share with anyone on the web and get $5 when they join the Dollar Shave Club. 
In this case, there's no reward mentioned for the new customers, but the company definitely gives existing customers an incentive to spread the word about the brand and start sharing their code. 
It can be through Facebook, Instagram, or any other platform – although LinkedIn wouldn't probably be the best place to share your code – you might be using, as long as people that will be interested in signing up to see it, it works!
Moving on to the next example. 
Example #3: Dropbox
Dropbox is one more company that's known for using referral codes to make users spread the word about the company. 
In one sentence, users can invite their friends into the app using their unique referral link.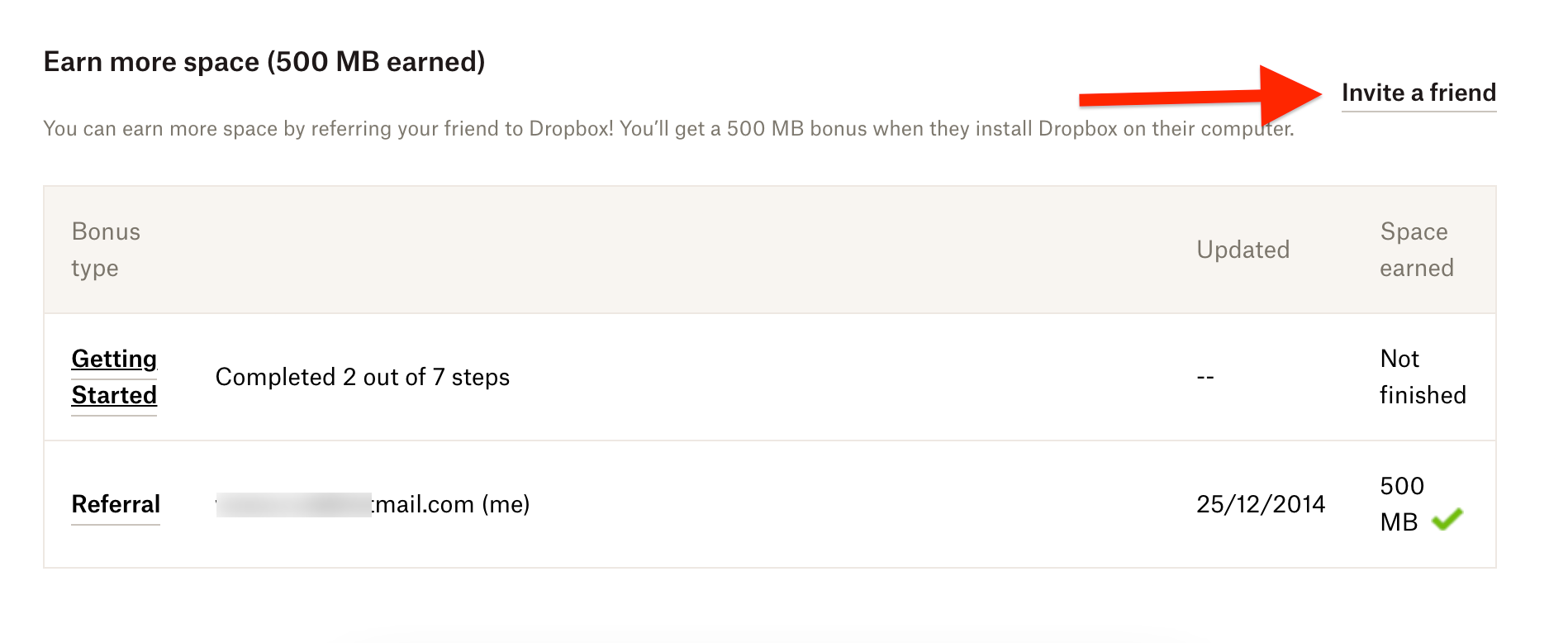 Everything you need to know about this particular program probably lies in the referral reward.
When an existing user shares their referral link with their friends and family, both will get additional storage space in Dropbox. 
Additionally, each user can get up to 16GB of bonus space for inviting their friends to join Dropbox.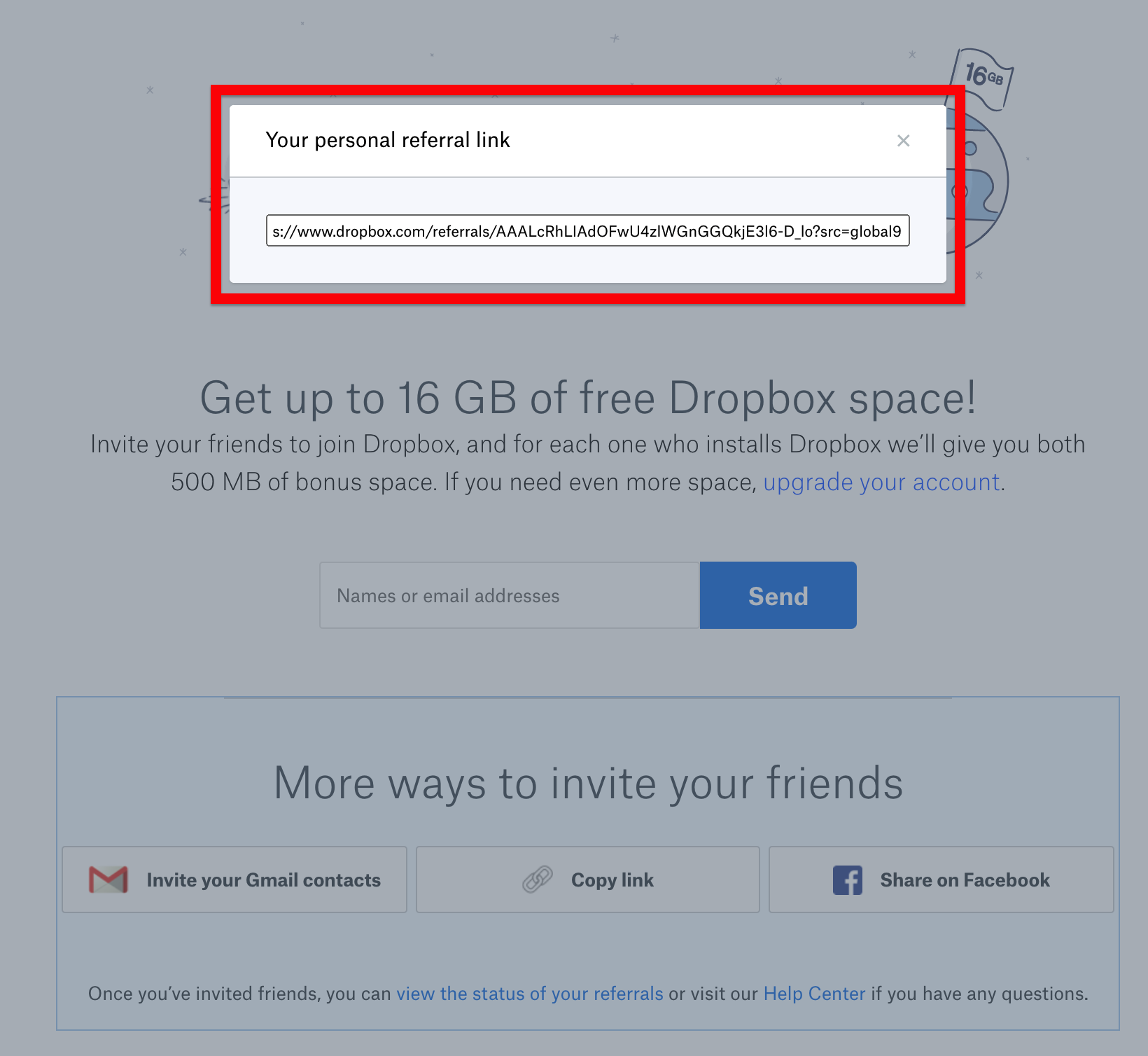 That's not too bad, right?
Let's get to the fourth example in our list of inspiring referral programs. 
Example #4: Tesla
Our second to last example is the electric car and solar energy company, Tesla.
Tesla is a big company that, like others in this list, uses referrals to raise awareness on their products and reward their customers for inviting their friends to the company.
Tesla's referral program is firmly linked to the company's products and services. 
More specifically, they give users that download the Tesla app the chance to invite their friends through sharing their unique referral link and win referral rewards. 
Have a look: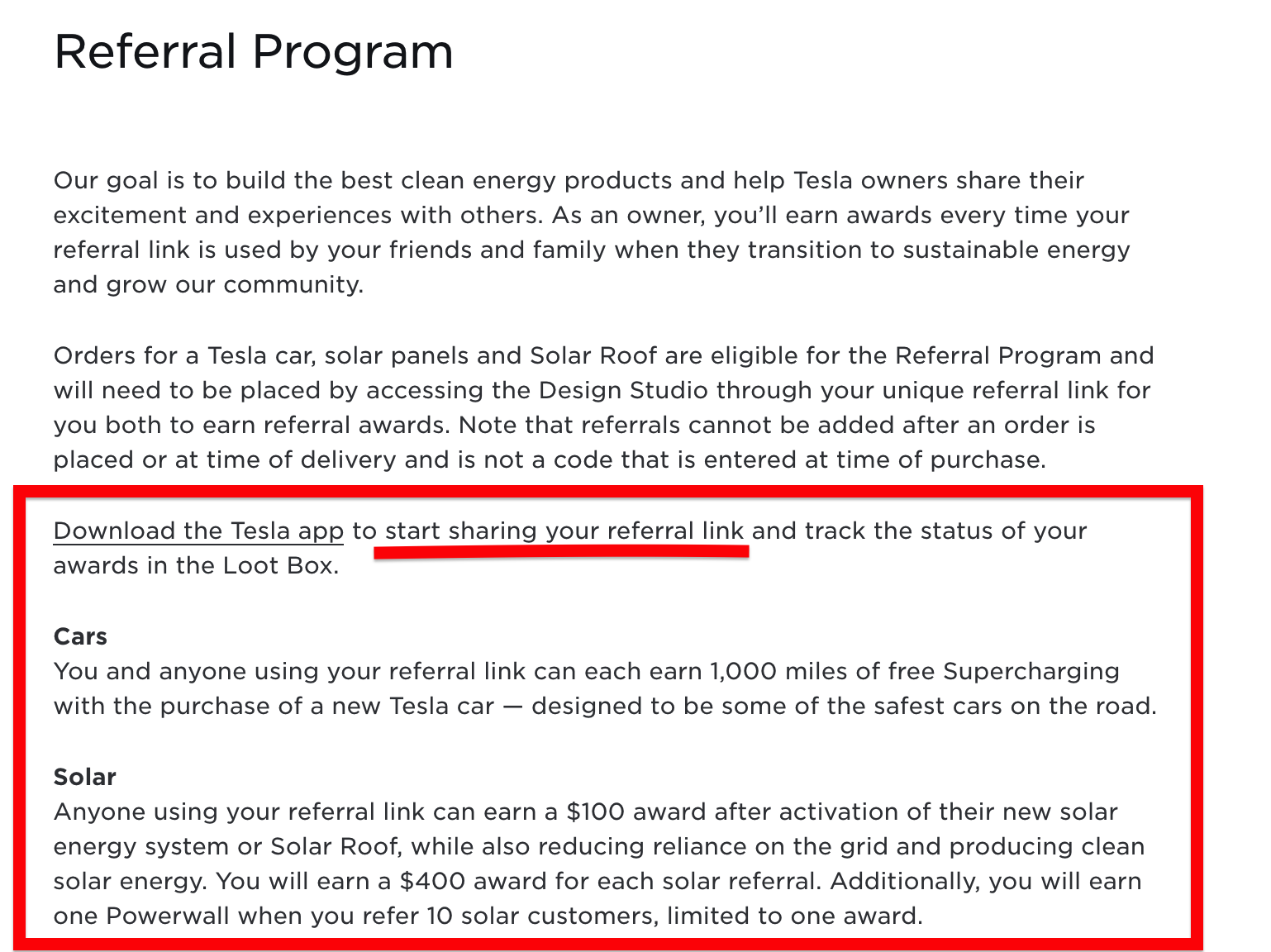 Image Source: Tesla
As you can see, the referrer as well as anyone using their link, can earn miles of free Supercharging when they buy a new Tesla car as well as earn $100 after activating a new Tesla solar energy system or Solar Roof.
What's more, customers can earn $400 for each solar referral they do. 
We can only assume that this referral program can make any Tesla customer scream out of happiness.
Our final referral program example is right below.
Example #5: iBotta
Our last great example comes from cashback app, ibotta. 
The company gives users a unique referral code as soon as they download the app.
All they need to do is to share their code with others. 
As soon as they do and their friends sign up with the app, users will earn a $10 referral bonus.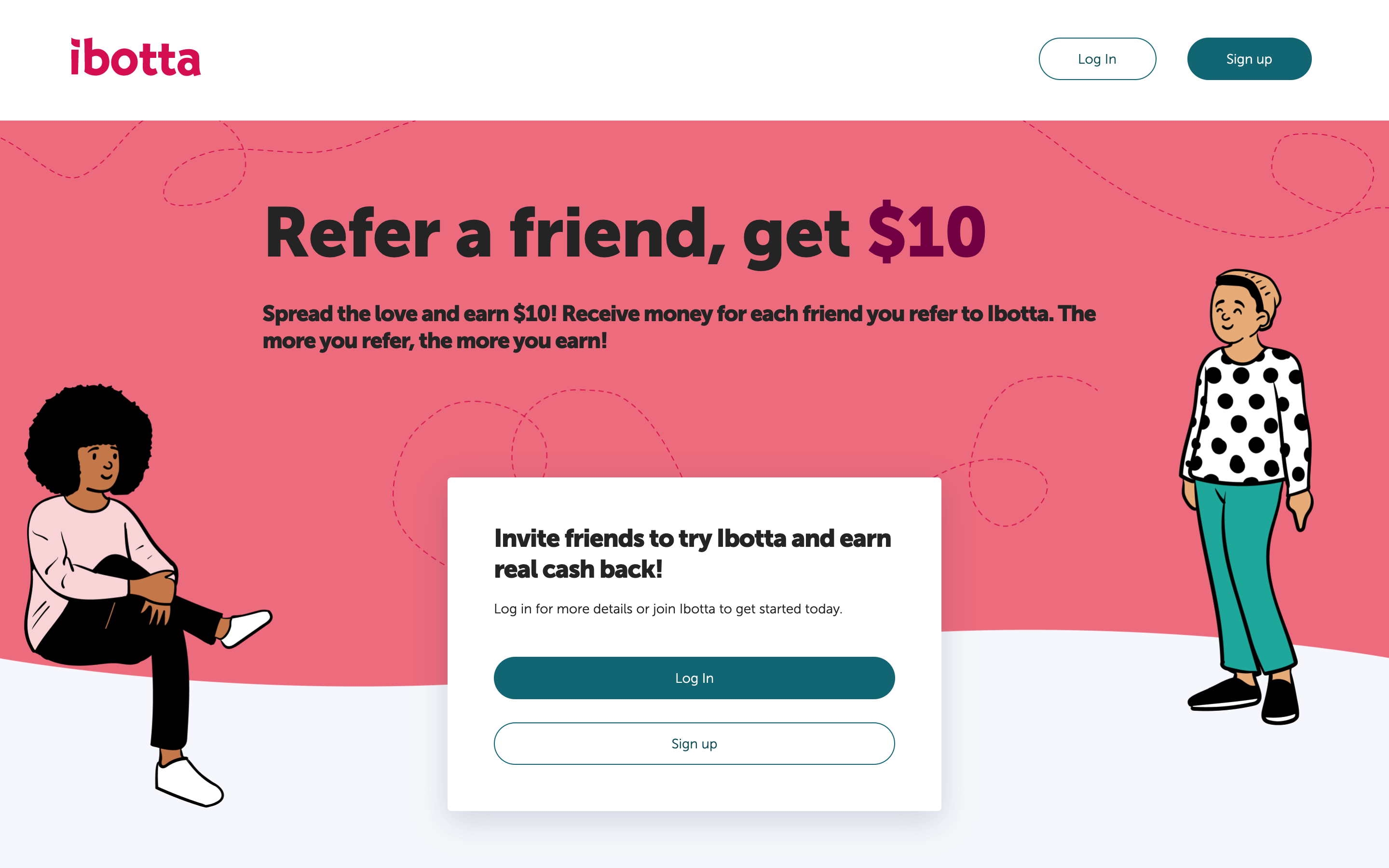 Image Source: ibotta
Last but not least, users can redeem their referral rewards in the app. 
As simple as that. 
We're now done discussing the five different killer examples of companies making the most of referral codes and links.
If you can't wait to start putting a referral program in place for your own business, keep reading this guide.
How to Start Using Referral Codes
We understand that getting started with referral codes might seem a bit confusing, especially if you've never done it before.
That's why we think it's absolutely necessary to have access to a relevant referral template that can help you automate the process of building a great referral program that's hassle-free.
To be more precise, we thought giving you access to our Refer a Friend template would be quite useful.
Get access to the template by clicking on the button below:
Get the Refer-a-Friend Template
Let's close this with some final thoughts. 
Before you go
You've come a long way but you now know quite a lot about referral codes and how they work. 
In this guide, we've broken down the way these codes work and provided you with examples of how other companies are using referrals to grow, expand their reach, and reward their customers.
Make sure to give our Refer-a-Friend template a try and start exploring the great world of referrals on your own.
Plus, if you want to learn more about how a referral marketing program can help your business grow, feel free to request a demo with us.
Good luck getting those referral codes out there!