Marketing your products or services involves a lot of work no matter if you run a small business or a large enterprise. 
You want people to be hyped up about what you have to offer and eventually buy. 
While there are different ways to do that, referral marketing remains an effective solution that stands out more than most. 
It's basically customers using word of mouth to grow your business. 
Fascinating, right?
How can you get started, then?
To begin, you will need growth marketing software for your referral campaigns. 
In this guide, we'll discuss ReferralCandy alternatives that can create buzz around your brand.
We'll take a deep dive into: 
Their cost

Features

How they work
Before we get into all that, there's a comparison table below that we think you'll find interesting. 
Table of Contents
ReferralCandy Alternative Comparison Table
What is ReferralCandy?
ReferralCandy Alternative Comparison Table
The comparison table we've created will give you a brief insight into alternative programs. 
More precisely, it highlights their pricing, best features, and what kind of customer support they have.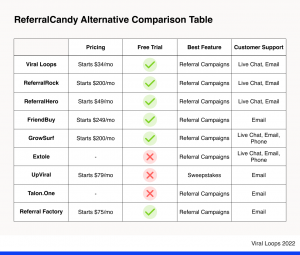 It also indicates the availability of a free trial for each referral tool.
Now that we've got that out of the way, let's get down to business.
What is ReferralCandy?
ReferralCandy is a referral marketing tool that helps brands increase their sales using word-of-mouth marketing.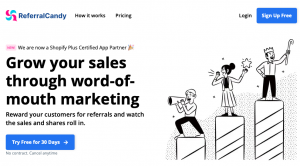 Image Source: ReferralCandy
This referral program runs by itself and rewards your customers when they bring in referrals.
Their systems are automated so coding knowledge isn't required.
After connecting ReferralCandy with your online store, you can give your customers a unique link via email or by using a widget on your site.  
Motivate your customers to share the link in order to get rewards, and watch your campaign grow. 
ReferralCandy is integrated with different tools you use for remarketing, emails, or analytics such as Bold, Analytics, Shopify, and MailChimp.
This referral program can be used by major eCommerce platforms, and some of ReferralCandy's features include:
Automated referral program

: Send automated emails immediately after a customer makes a purchase inviting them to join the campaign.

Customizable rewards

: Choose cash, store discounts, or custom gifts and send them to customers upon successful referrals.

Fraud prevention

: Track and ban suspicious activity.

Pay per performance

: Pay commissions only for new referral sales.
ReferralCandy has two pricing plans: premium and enterprise.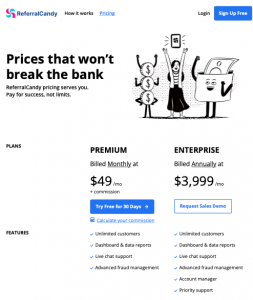 Image Source: ReferralCandy
The premium package costs $49 per month and comes with a free trial period of 30 days, while the enterprise package costs $3,999 per month (billed annually) and comes with a sales demo available on request.
You can find more details about that on their website.
Now, let's take a look at some of ReferralCandy's top alternatives.
Tool #1: Viral Loops
We open the floor with our very own referral marketing tool – Viral Loops!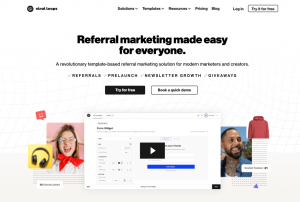 Viral Loops is one of those few tools that lets brand owners relax while we handle most of the hard work.
Let's break that down a little.
Viral Loops is a revolutionary, template-based marketing software that can help your brand go viral.
You can grow your email newsletter, promote your product, and find new customers using our tool.
Users have access to different templates inspired by some of the top brands that have experienced the kind of results you want to see.
What you have to do is choose a template that is user-friendly, in sync with your campaign idea or goals, and  input necessary details about your growth campaign.
It's a copy-paste sorta thing.
…well, not literally.
Viral Loops is also integrated with some of your favorite tools such as:
MailChimp

Ghost

AWeber

Google Analytics

ConvertKit

Shopify

HubSpot
Who is eligible to use our tool?
Viral Loops is great for creators, entrepreneurs, solopreneurs, and modern marketers.
By that, we mean anyone who wants to grow their business.
Let's go over some of our features.
Viral Loops Features
Our referral software helps you harness the power of viral marketing using  features such as:
Customized campaign templates

: Choose from different templates available for your campaign.

Landing page builder

: Still building your website? Create dedicated landing pages  to host your campaign.

Campaign performance dashboard

: Keep track and analyze the performance of your campaign and reward your fans.

Various integration apps

: Connect with other apps to ensure your campaign runs smoothly.

Customizable campaign widget

: Create widgets that match your brand's design.
Viral Loops Pricing
Our pricing plans are designed to meet the needs of any business.
Each package begins with a 14-day free trial after which you can choose from any of the plans below:
Start-up costs $34/month for up to 1,000 participants

Growing costs $69/month for up to 3,000 participants

Power costs $208/month for up to 25,000 participants

Enterprise for unlimited participants – contact us to learn more about this one!
Let's move on!
Tool #2: Referral Rock
Referral Rock is a referral and affiliate program software.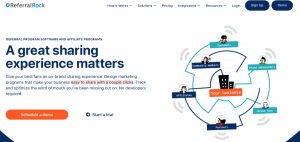 Image Source: Referral Rock
Referral Rock helps brands allow you to keep your referral campaigns on autopilot, helping to automate certain tasks that would otherwise be time-consuming.
Users can design marketing programs that'll make your business shareable within days.
With Referral Rock, you can build a customizable referral campaign by mapping out your workflow. Then you can launch and optimize.
The marketing software runs through widgets alongside a branded portal so you can also create different custom rewards.
Plus, users can also create email campaigns so they can connect with their customers and engage them for better retention.
It's integrated with a number of platforms that simplifies your workflow:
ActiveCampaign

HubSpot

WooCommerce

Google Analytics

WordPress

Intercom

Shopify
Who can use this software?
Well, growth marketers and companies who want to automate their referral program. More specifically, marketers in companies that operate as:
B2B

B2C

SaaS

Start-ups

Small and medium-sized enterprises (SMEs)
Referral Rock Features
This referral system helps you control the design of your referral program within your preferred marketing channel using features such as:
Social media sharing

Gamification

Dashboard management

Referral tracking

Lead engagement

Quick integrations

Fraud detection

Campaign management
Referral Rock Pricing
Referral Rock's pricing package is split into three options based on the per-feature price model.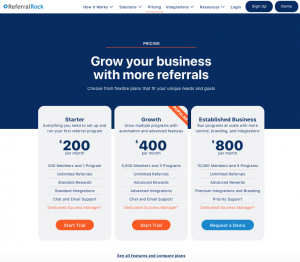 Image Source: Referral Rock
Two plans come with a 14-day trial period and the third one with a demonstration of how Referral Rock works.
Here's a breakdown of each package:
Starter plan

: $200 per month for 500 members and 1 program

Growth plan

: $400 per month for 5000 members and 3 programs

Established Business

: $800 per month for 10,000 members and 5 programs
Tool #3: ReferralHero
ReferralHero is another referral tool that can help you launch a referral campaign.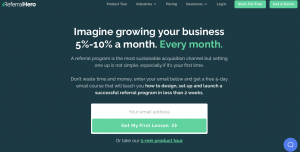 Image Source: ReferralHero
It leverages word-of-mouth marketing to help brands grow their customer base.
In other words, ReferralHero operates by using recommendations from customers to build sustainable growth for your business.
Users can customize this tool such that it takes customers through the entire marketing funnel.
For that to happen, you will need to start off with pre-launch campaigns to make people aware of your offer. ​
Then by using giveaways, you can get more people to join the campaign and subsequently grow your business.
ReferralHero can also be used by creators and marketers in any of these industries:
eCommerce

SaaS

Mobile app

Cryptocurrency

Fintech

Offline businesses
It's integrated with different tools such as MailChimp, Intercom, Hubspot, WordPress, and Moosend, which can help you get more work done.
ReferralHero Features
ReferralHero helps you launch growth campaigns using some of the features listed below:
Referral tracking

: Keep track of referrals your customers are bringing in.

Fraud prevention

: Helps you stay clear of fraudulent activities such as one person registering multiple times.

Campaign management

: Identify different strategies to meet your business goals.

Performance analytics

: Helps you track the performance of your referral campaign.
ReferralHero Pricing
ReferralHero has three pricing plans and allows billing on a monthly, annual, and biannual basis.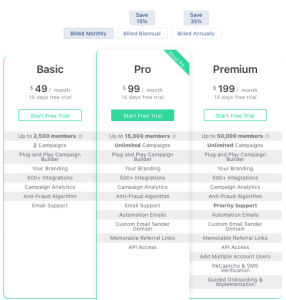 Image Source: ReferralHero
Here's a breakdown of their plans: 
The Basic plan:

$49 per month for up to 2.5k members

The Pro plan

: $99 per month for up to 15k members

The Premium pla

n: $199 per month for up to 50k members
Tool #4: Friendbuy
Friendbuy is the next ReferralCandy alternative on our list.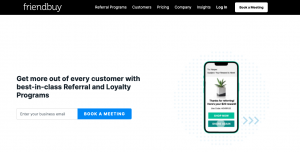 Image Source: Friendbuy
Friendbuy is a referral program that helps brands integrate referral marketing into their customer journey.
Simply put, it increases customer acquisition by rewarding existing customers to promote your brand or product.
Friendbuy uses flexible APIs and event-based triggers so that marketers can launch growth campaigns, run A/B tests, and keep track of the results.
You can begin your referral campaign by going through their different templates that simplify the onboarding process for customers and their peers via email, unique referral link, social media, and SMS.
Friendbuy is integrated with multiple tools to optimize your workflow such as:
Klaviyo

Yotpo

Shopify

Branch

Tealium  
They've also got tools in place that allow you to resolve inquiries about the program.
Friendbuy Features
Below are some features that come with this referral marketing tool:
Referral dashboard:

Give your customers insight into their earnings and invitations.

Fraud prevention:

Keep track and flag off any suspicious activity with your referral campaign.

Reward automation:

Deal with customers' rewards without manually intervening.

A/B testing:

Try out different variations of your campaign to find which one is performing better.
Friendbuy Pricing
Friendbuy has three pricing plans that can help you scale your business.
Image Source: Friendbuy
The packages have got a free trial period after which you can choose from any of the pricing plans below:
Starter plan

: $249 per month for up to $50k in a total company sales/month

Deluxe plan

: $749 per month for up to $100k in a total company sales/month 

Enterprise plan

: For companies with more than $100k in sales/month. Requires a consultation with their team.
Tool #5: GrowSurf
GrowSurf is another referral marketing program designed to automate customer acquisition for brands.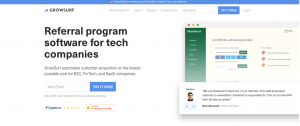 Image Source: GrowSurf
Companies that require instant referral solutions can get started with GrowSurf.
In other words, it can help automate your website's growth using automated rewards and integrations.
The GrowSurf tool is integrated with different providers such as:
Zapier

Webhook

Aweber

Active Campaign

Drip

Klaviyo
GrowSurf functions as a background application that attaches itself during the customer's sign-up process so it can keep track of the active referrals.
So, the tool offers a unique link to your customers that they can share with others.
Users can also get the product's JavaScript API link and share it with their peers.
Who can get the most out of GrowSurf?
Well, growth marketers in any FinTech, Startup, B2B SaaS, or Online insurance industry.
GrowSurf Features
Some of its features are listed below:
Automatic link generato

r: Automatically creates a link for each user to share so they don't have to sign up.

Copy-paste installation

: Allows instant sharing by embedding snippets of code into your system.

Fraud prevention

: Identifies and prevents suspicious activities.
GrowSurf Pricing
GrowSurf has three pricing plans and they all come with a free trial period.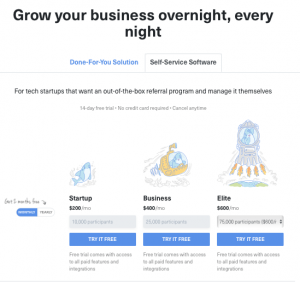 Image Source: GrowSurf
Here's what each package looks like:
The Startup plan

: $200 per month for 10,000 participants and $167 if billed yearly

The Business plan:

$400 per month for 25,000 participants and $333 if billed yearly

The Elite plan

: $600 per month for 75,000 participants and $500 if billed yearly
Tool #6: Extole
Extole is a digital marketing tool that uses referral and loyalty programs to grow businesses.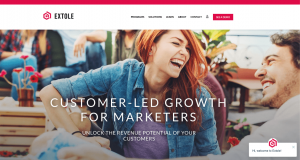 Image Source: Extole
They help you identify customers that can become advocates for your business and engage with them using creative rewards.
Extole comes with different templates you can edit to give customers a personalized sharing experience, customized share codes, and rewards.
This referral marketing service can be used by marketers in retail services or financial companies.
Extole's system is to optimize the sharing experience for customers while offering them different types of rewards such as coupons, loyalty points, and gift cards.
Extole Features
Extole helps brands grow their business using different features including:
In-store transactions

A/B testing

Fraud protection

Rewards engine

On-brand sharing

Omnichannel experience for advocates

API and webhooks
Extole Pricing
Extole doesn't have a pricing page publicly available. What they provide is custom pricing.
In other words, you have to reach out to them for pricing if you're interested in their software.
Tool #7: UpViral
UpViral is the next ReferralCandy alternative we're looking at.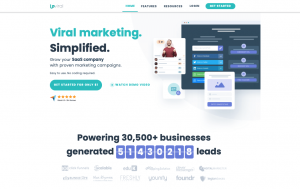 Image Source: UpViral
UpViral is a cloud-based marketing software that enables brands to launch referral campaigns.
It is more effective if you focus on different aspects of your campaigns such as lead generation or increased conversion rates.
Upviral is integrated with different marketing tools that can simplify your work such as:
AWeber

HubSpot

Klavier

Clickfunnels

HTML form

WordPress
Marketers can conveniently create different sweepstakes, competitions, and giveaways.
It helps manage the various aspects of your referral campaign from getting users to sign up to advertising it to more people on social media.
UpViral is good for marketers in any of the following industries:
eCommerce brands

Local businesses

Startups

SaaS companies

Online businesses
UpViral Features
We've listed some of its major features below:
Retargeting

Automated marketing

Fraud protection

Split testing

Social sharing

Rewards management
 UpViral Pricing
UpViral has three plans to choose from and a 14-day free trial for each of them.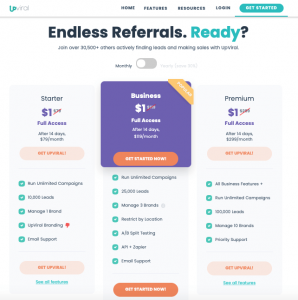 Image Source: UpViral
Below is a brief overview of what their plans offer:
Starter plan

: Manage 1 brand and 10,000 leads for $79/month

Business plan

: Manage 3 brands and 25,000 leads for $119/month

Premium plan

: Manage 10 brands and 100,000 leads for $299/month
Tool #8: Talon.One
Talon.One is a rewards management software that can help businesses promote their sales.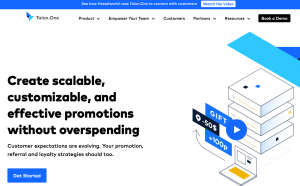 Image Source: Talon.One
By using this marketing tool, you can reward customers with personalized incentives depending on their level of engagement with promoting your brand.
They help you convert existing customers into brand champions, and their peers into loyal customers.
Who can use Talon.One?
Marketers who work with telecommunications, eCommerce, travel agencies, software vendors, gambling, and retail.
Their integrations help connect all of your customer's data and marketing tools in one place. Some of these includes:
BigCommerce

HubSpot

Contentful

Deity

Marketo

Microsoft Power BI

SendGrid

Tableau
Furthermore, Talon.One can help personalize coupon codes for your customers, link them to corresponding customer IDs, and assign expiry dates for their rewards and benefits.
Talon.One Features
This referral marketing tool offers various features such as:
Membership management

Referral partner list

Reward distribution

Customer activity tracking

Loyalty card system

Rewards management

Coupon tracking

Affiliate tracking

Geofencing
Talon.One Pricing
Talon.One has three personalized pricing structures for every business size: Starter, Professional, and Enterprise.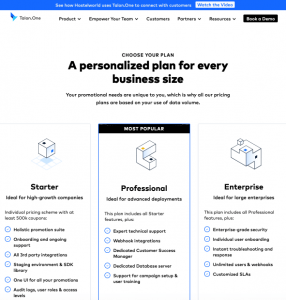 Image Source: Talon.One
You can contact their team for more details about their plans.
 Plus, you can also request a demonstration to experience how their tool works.
Tool #9: Affise
Affise is an affiliate marketing system designed to help marketers keep track and analyze their marketing campaigns.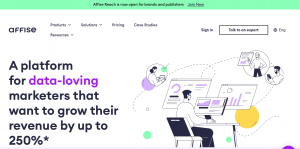 Image Source: Affise
It helps you increase your business revenue with its different features and it allows you to set policies and manage how you want the program to run.
In other words, you get to optimize the entire affiliate program from recruiting people to building relationships, giving out and tracking  rewards.
They are integrated with different marketing tools, including:
CAKE

Shopify

Taptica

Adcombo

Google Cloud

Amazon Web Services

Affilitest
Affise Features
They've got different features that help get more people on board including:
Pixel and postback control

ISP and device tracking

API support

Referral rewards

Custom domain tracking

Event tracking and custom goals
Affise Pricing
Affise has three pricing plans on their website tailored to meet the needs of different businesses.
Image Source: Affise
Their packages include:
Entry

plan at $500 per month

Scale

plan at $800 per month

Custom

plan at $1,500 per month
Tool #10: Referral Factory
Referral Factory is the last ReferralCandy alternative on our list.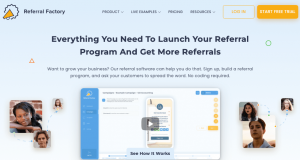 Image Source: Referral Factory
It's a referral marketing software that helps businesses grow by leveraging recommendations from referrals.
Referral Factory enables you to simplify tracking the referral process for your campaign.
Simply put, you can keep track of the campaign for more insight of its performance and connect that data with its API so you can  automate referral rewards.
It's integrated with email marketing and marketing tools like HubSpot, Intercom, Salesforce, MailChimp, and Zapier.
Who can use this referral marketing platform?
Well, marketers that work with SaaS platforms, retail businesses, eCommerce platforms,  services companies, and more.
Referral Factory Features
Referral factory helps you grow your business and uses different features that personalizes customer experience such as:
Rewards management

Campaign management

User notifications

Real-time tracking

User verification

External integrations
Referral Factory Pricing
Referral Factory has four pricing packages that all come with a free trial period and a demo session.
They are also based on a flat-rate pricing system.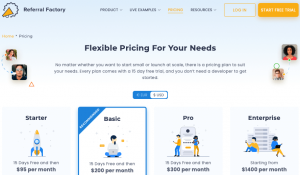 Image Source: Referral Factory
The Starter plan

: $95 per month for up to 2.5k users

The Basic plan

: $200 per month (includes everything on the Starter plan) for up to 25k users

The Pro plan

: $300 per month (includes everything on the Basic plan) for up to 25k users

The Enterprise plan

: $1,400 per month (includes everything on the Pro plan) for 100k users
Now Over to You
That's a wrap on our long list of ReferralCandy alternatives!
We hope this helps you decide which referral marketing solution is the right fit for your campaign.
What's next?
If you're not sure about your next steps, feel free to book a demo with Viral Loops.
We would be delighted to show you how to make your referral campaigns great.
Thanks for stopping by and good luck