As a growing business, one of your main goals is to see that your brand continuously generates more leads.
While there are several digital marketing strategies to get that done, you want to use a strategy that can increase your brand reach, follower count, and engagements, and also generate new leads for you.
What type of marketing can help you achieve that? 
Enter… reward-based marketing!
It's a form of marketing that uses rewards or giveaways to advertise your brand.
Running a giveaway might sound complicated, but it really isn't.
That's why we'll talk about how and why you should run a giveaway in this guide.
More precisely, we'll look at:
How giveaways work

The difference between a contest and a giveaway

Tips to ensure the campaign is successful
We know you can't wait, so let's jump right in!
Table of Contents
What is the Difference Between a Contest and a Giveaway?
How to Do a Giveaway in 6 Easy Steps
5 Tips to a Successful Giveaway
How Do Giveaways Work?
A giveaway is an offer or gift given by companies to people for promotional purposes. 
The aim of giving free stuff is to raise brand awareness and generate leads. 
This form of promotion lets brand owners engage with their audience and at the same time, advertise their products or services. 
It's as effective for large enterprises as it is for small businesses. 
So, how does it work?
To begin with, you need to: 
Pick a prize: Decide on the prize you want to give the winner. It can be anything but it has to be

relevant and useful to the winner

.  
Set out the rules of the giveaway: Only a handful of people will get the offer so you want to

streamline the overall selection process

.
Choose a winner: Select whoever wins the giveaway and hand their prizes to them. 
In the next section, we look at why you run giveaways for your brand.
Let's begin!
Why Should You Do Giveaways?
When businesses launch a marketing campaign, they put time and effort into making sure that more people are converted into loyal customers.
For most marketing strategies, only the brands are excited about it.
They take time to do research, leverage influencers that their audience loves for user-generated content (UGC) and hope people are convinced to buy from them.
But what if we told you there was a marketing strategy where the brand and customers are both excited about the campaign?
You wouldn't mind trying it out, wouldn't you?
That's where giveaway campaigns come in.
They get everyone excited about it.
Let's show you other reasons you should do giveaways.
They increase brand awareness:

A giveaway is a great way to

spread the word about your brand

or new product. 
How?
For starters, you're giving out something for free and if it's a valuable gift, rest assured that news will travel faster than the speed of light. 
Well, not literally but you get the point. 
Basically, that's an ad for your brand you didn't directly pay for.
As word about the giveaway spreads, your brand profits from it.
They generate leads:

There's no doubt that people jump on giveaways because of the offer involved. Despite that, it can be a good opportunity for brands to get more leads. 
They just have to do a follow-up on the leads when the campaign is over.
They expose your product to more users:

Your product will be in the limelight during the campaign even if you don't use it as a prize. 
The giveaway will help create buzz around it and leverage the fear of missing out (FOMO) so that people will want to get the product because it's being talked about.
That means new followers and potential customers for you.
They help grow your following and network:

News about giveaways as stated earlier, spreads quickly and that can increase your follower count on social networks.  

To save money:

Marketing your product or service costs money and time, but giveaways help you kill two birds with one stone. You give customers a free offer and they learn more about your brand and any product you'd like to market. 

To create a buzz:

The trick is to

find what interests your audience enough to get them talking about your brand

. Giveaways increase user engagement and help you trigger

buzz marketing

so that people want to rave about your product.
Let's move on!
What Is The Difference Between a Contest and a Giveaway?
The main difference between a contest and a giveaway is that winners are chosen at random for a giveaway while winners are selected based on their performance in a contest. 
Giveaway and contests are thought to mean the same during discussions about online promotions, but they refer to slightly different things.
We created a table to highlight the differences between both keywords.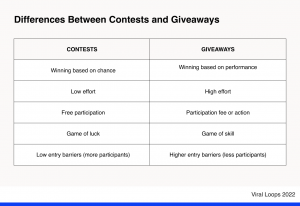 Let's briefly discuss both terms in detail. 
Giveaways
Giveaways are also known as sweepstakes, but irrespective of the term you decide to use, it refers to a promotional draw where prizes are given out for free to participants. 
For this type of promotion, every participant has an equal chance of winning and is chosen at random.
It's a game of chance for the participants. 
People love giveaways because they are not expected to do anything and they are free…
…and as you are well aware, everyone loves freebies especially when it comes with an added bonus.
In return, your business gets to enjoy engagement, awareness, and lead generation. 
Contests
In its literal meaning, contest means to engage in a competition in order to attain a higher position. 
For participants to win here, they have to prove they are better than others.  
As such, winners are chosen if their performance supersedes other participants. 
It's more a game of skills than luck.
Let's assume your Instagram contest is a cooking competition; participants will be required to prepare meals and they can only win if their recipe is the best. 
Now that we've cleared that up, it's time to get more practical. 
How to Do a Giveaway in 6 Easy Steps
Giveaways help ensure your content marketing campaigns are unique. 
Because of the offer involved, it leverages word-of-mouth marketing to get people involved. 
That means more people discussing your brand using the prize as the talking point. 
We've explained what a giveaway is and how it works; let's show you how to get started with our step-by-step analysis below. 
Step #1: Set your goal
As a marketer or brand owner, you want to have a high return on investment (ROI) from your marketing efforts. 
That makes it easy for you to want every metric box checked in your campaign. However, having only one or a couple of metrics is more realistic or achievable.  
What are we trying to say?
You need to set a marketing goal when organizing giveaways!
This way, you can determine the success of the campaign and measure the results. 
How do you set goals for a giveaway?
Well, you need to answer one question: what am I trying to achieve? 
The response depends on whether you want to:
Generate sales?

Increase engagements?

Raise brand awareness?

Get more subscribers?

Maximize social media followers?
The goal can be anything as long as it aligns with your overall marketing plans.
Plus, setting goals helps simplify the whole process. 
Step #2: Choose the prize
The next step you want to take is to choose the prize to be used for the giveaway. 
This is pretty much one of the most important steps of running a successful giveaway.
Why?
Well, if the prize is attractive enough, the people you want to reach will flock to participate.
In other words, choose a prize that's high quality and valuable if you want to attract many people and create buzz around your campaign.
There are no rules that state what kind of prize to go for, but you want it to be at least relevant to your business. 
An example of a relevant prize is this Devious-Off Road hoodie worth $100.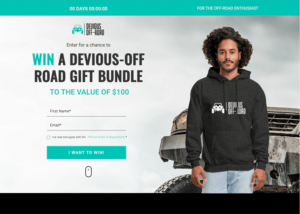 Image Source:  Devious Off-Road
Being a fashion brand, using one of their most expensive products as a giveaway prize is a move that will get their audience revved up about the promotion. 
The prize is valuable and relevant to their audience.
Asides from offering your product or services, some other giveaway ideas you can use for the campaign include gift cards or money. 
Step#3: Determine the rules (and make sure they are clear!)
What are the criteria for people to become participants? 
That's the next step to take when you want to do a giveaway. 
It's more like a plan to ensure the campaign is a successful one.
You need to outline the rules and regulations before launching the giveaway.  
What rules should be included in this stage?
You can begin with who can participate including their age limits, current location, or gender. 
Understanding who your target audience really is will be of help here. 
Other rules you need to consider include:
The duration of the giveaway; when is it starting and ending?

Winner selection

Entry methods; is there a specific point of entry or multiple entries?
It's good practice to use an entry method that's in line with your brand objectives. 
Also, if it's going to be on a social media platform, make sure you take a look at their guidelines regarding giveaways.
Platforms such as Facebook do not support asking your audience to share giveaways.
Step#4: Create an awesome landing page for your giveaway
Your giveaway needs its own landing page. 
Creating a landing page for your giveaway will motivate people to join in as the page will build excitement around the prize and will provide more details on participating.
Why can't I just create a pop-up or an announcement on my homepage? That sounds way easier.
Well, you can do it that way. 
But keep in mind that they may not be as effective as you want.
Here's what we mean:
Landing pages have been known to convert more traffic than other pages on your website because they're focused on the call to action (CTA).
They provide details about the offer for which it was created.
What makes them even more effective for your giveaways is the simplicity with which they were created.
That allows visitors to remain focused on the CTA rather than being distracted by different links.
How do you create a landing page for your giveaway?
That's where Viral Loops comes in.
We make creating one very easy as we've got several relevant giveaway templates you can use.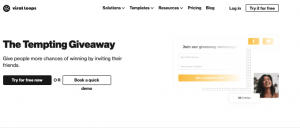 Essentially, all you have to do is drag and drop or edit and update.
If you would like to design your landing page from scratch too, you can do it with ease using our Viral Loops landing page builder.
 Step#5: Promote the giveaway
The next step is to promote your giveaway so people are aware of it. 
You need to have a good marketing strategy to get people to participate; you're then good to go.
There are different ways to promote your giveaway; however, we've highlighted a few effective options you can try out below.  
Post it on Social Media:

This is one of the easiest ways to promote your campaign. You can

share it on any social media platform you've built a community on

and ask them to tag friends in your comment section.
If you've got an Instagram account, you can post about the giveaway on your Instagram stories or add hashtags to your posts. 
Send a Newsletter:

Do you have an email list? If yes, send them an email to announce your giveaway. Ensure it

includes a link to your landing page and a convincing CTA

.
And keep sending reminder emails before the giveaway is live. 
Promote it with Ads:

This might seem like you're doing too much for a campaign where you will be giving out things for free.
But, it really isn't. Running ads for your giveaway will help you target your ideal audience.
Link to Your Giveaway from Your Website:

Use your website as a platform to promote your giveaway. You can create a banner or pop-up to announce the campaign. Adding a link in the footer of your website is also a good idea.
Step#6: Pick the Winner
The final stage is choosing the winner(s). 
Luckily, this is a giveaway and not a competition so there are no criteria for winning, only participating. 
As such, picking a winner is easy. 
However, you want to make sure that the process is transparent considering everyone should have an equal chance of winning.
So, how do you pick a winner?
You can use a random selection tool such as Google Random Number Generator.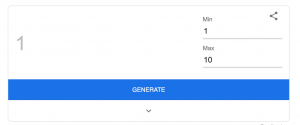 Image Source: Google Random Number Generator
To use it,  you need to input a minimum and maximum number then click on Generate. The tool will choose a number for you and just like that, you have a winner! 
Let's look at some tips to ensure your giveaway is successful. 
5 Tips to a Successful Giveaway
Giveaways are appealing to people because they mean getting something in return for doing nothing. 
While it seems like they aren't doing anything, the process leading up to the giveaway sparks engagement on the brand's social media account. 
In fact, research shows that an Instagram giveaway can increase follower count 70% faster in three months than not having a giveaway. 
For your brand to benefit from the giveaway, it needs to be done right.
That's why in this section, we will provide you with tips on how to do a successful giveaway.
1. Pick a prize relevant to your brand
Even though the prize can be anything, you want to choose a prize that aligns with your brand.
Picking random prizes such as an iPad if you're not Apple will only make people join the train because of the gift. 
So, what do you do?
Select a high-quality prize that's useful to your target audience and has the potential to increase brand awareness. 
By doing so, people will match the prize to your brand. 
Plus, you will attract people who care about your business and as such, will most likely stick with you after the giveaway. 
2. Follow the platform's giveaway guidelines
Each social platform has rules guiding giveaways and terms have different meanings on the different platforms. 
So, it's important to follow their guidelines, or running the giveaway may not be possible.
Simply put, go through the rules of each site you want to use and ensure that the terminologies you use match their guidelines.  
For a site such as Instagram, some of its promotion guidelines require you to include the terms of eligibility and contest rules. 
 3. Set a clear goal
Setting goals is so important that it's both a step and a tip. 
In other words, it plays a vital role in the success of your giveaway. 
Without it, your campaign will have little to no results. We know you want your giveaway to be successful.  
For that to happen, you need to have an objective. 
We already explained how you can set goals for the giveaway a little further up. 
So you can scroll back up to take another look. 
4. Join forces with another brand
A good way to ensure your giveaway is successful is to collaborate with companies in the same industry as yours. 
Why do you need to join forces?
You get to increase the results you'll get from the giveaway, possibly awareness or reach.
Plus, there will be more prizes to give out.
That means, more people will be attracted to both parties and your collaborators will get exposure for their business.
The partnership between Vital Farms and Bulletproof below is a good example of brand collaboration.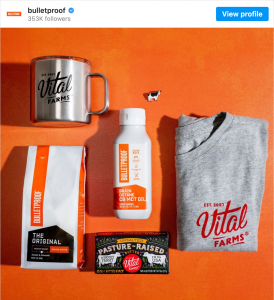 Image Source: Instagram
Being in the same food industry made them the perfect partners. The giveaway post became one of the most liked and engaged Instagram posts for both brands. 
It was a successful Instagram giveaway.
5. Set a clear timeframe
You need to have a start and end date/time for your giveaway. This will help you know when the first and last entry was collected without stress. 
Is there any specific reason for setting a time frame?
Well, of course!
It triggers two factors: scarcity and the fear of missing out (FOMO).
When entrants see there's a specific timeline, they understand that the offer won't last forever and they won't want to miss out on a chance to win the prize.
In other words, it makes it easy for people to get involved. 
Let's bring this piece to a close!
Now Over To You
It's a wrap of our step-by-step guide on how to do a giveaway. 
We hope you enjoyed reading this piece as much as we did.
Running a giveaway is a good way to market your product and the benefits outweigh the risks. 
Need more resources on subtle but effective ways to market your product or service?
Feel free to visit our blog as there are several resources you will find useful.
Thanks for stopping by and hope to see you Inside Viral Loops!