Whether you're a pro marketer or a marketing beginner, you probably know a thing or two about just how efficient giveaways can be for small businesses and startups. 
In this post, we're going to take you through nine giveaway ideas that you can follow to achieve any of the following:
Increase engagement on social media

Generate buzz for a new product

Boost your brand awareness

Improve customer loyalty

Acquire new customers

Grow your email list
Choose any of the ideas from the navigation below or read them all to get inspired. 
Here we go.
Table of Contents
What Is a Giveaway and Why Is It Important?
Idea #1: Run a Referral Marketing Campaign
Idea #2: Run a Social Media Contest
Idea #3: Create Your Own Branded Merchandise
Idea #4: Run a Hashtag Contest
Idea #5: Promote a Limited Edition Offer Through a Webinar
Idea #6: Give Away a Gift Card
Idea #7: Partner Up With an Influencer on Instagram – AKA Instagram Giveaway
Idea #8: Run a Sweepstakes Contest
What is a giveaway and why is it important?
A giveaway is a draw where a gift or a prize is given to one or a few lucky winners that's usually created for promotional purposes. 
To be more precise, a giveaway includes the involvement of a number of entrants that take part in a contest in which they can win a free gift from a company. 
The winner is chosen at random and usually gets the prize shortly after the contest finishes. 
In terms of the value of giveaways for brands of all sizes, the following graphic says it all. 
More specifically, according to research by Tailwind, Instagram accounts that hold contests tend to grow 70% faster compared to accounts that don't…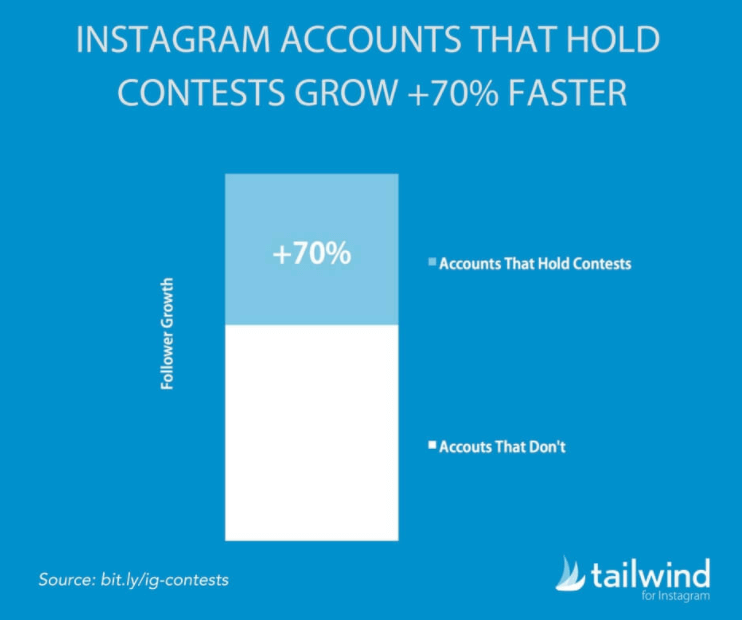 Image Source: Tailwind
… which clearly shows us that Instagram contests can be very efficient in terms of helping a company expand its reach and attract potential customers. 
The same research provides us with some interesting findings in relation to how contests can lead to increased social media engagement, with contest posts getting 64 times more comments than regular posts. 
Even though the research focuses on the benefits of Instagram contests, we can only assume that the same rule applies to all types of contests with regards to attracting new audiences and boosting a brand's organic reach on social media. 
Moreover, we can say that giveaway campaigns can be extremely effective for smaller companies; they allow them to increase brand awareness and communicate with their audience in a fun and direct way. 
Keep reading to find out more about some great contest ideas and social media giveaways you can organize for your social media audience as well as your audience in general. 
Let's get into the first promotional giveaway idea we have for you.  
Idea #1: Run a referral marketing campaign
The first giveaway idea we want to share with you is to run a referral marketing campaign. 
If you're familiar with referral marketing, then you might have heard this stat before:
Over 90% of consumers state that they'd trust recommendations from people they know as a reliable source and form of advertising. 
That's pretty impressive, right?
Stats like this one clearly shows us that referrals can give companies the boost they need to expand their network and successfully reach their target audience. 
The way this works is simple. 
Enter… word of mouth. 
Word of mouth is basically the process of a happy customer telling their friends and family that they loved a product or service and what they loved about it. 
The example that follows will make this a lot clearer for you. 
Example: Yac
Our referral marketing campaign example comes from the voice messaging tool for remote teams, Yac.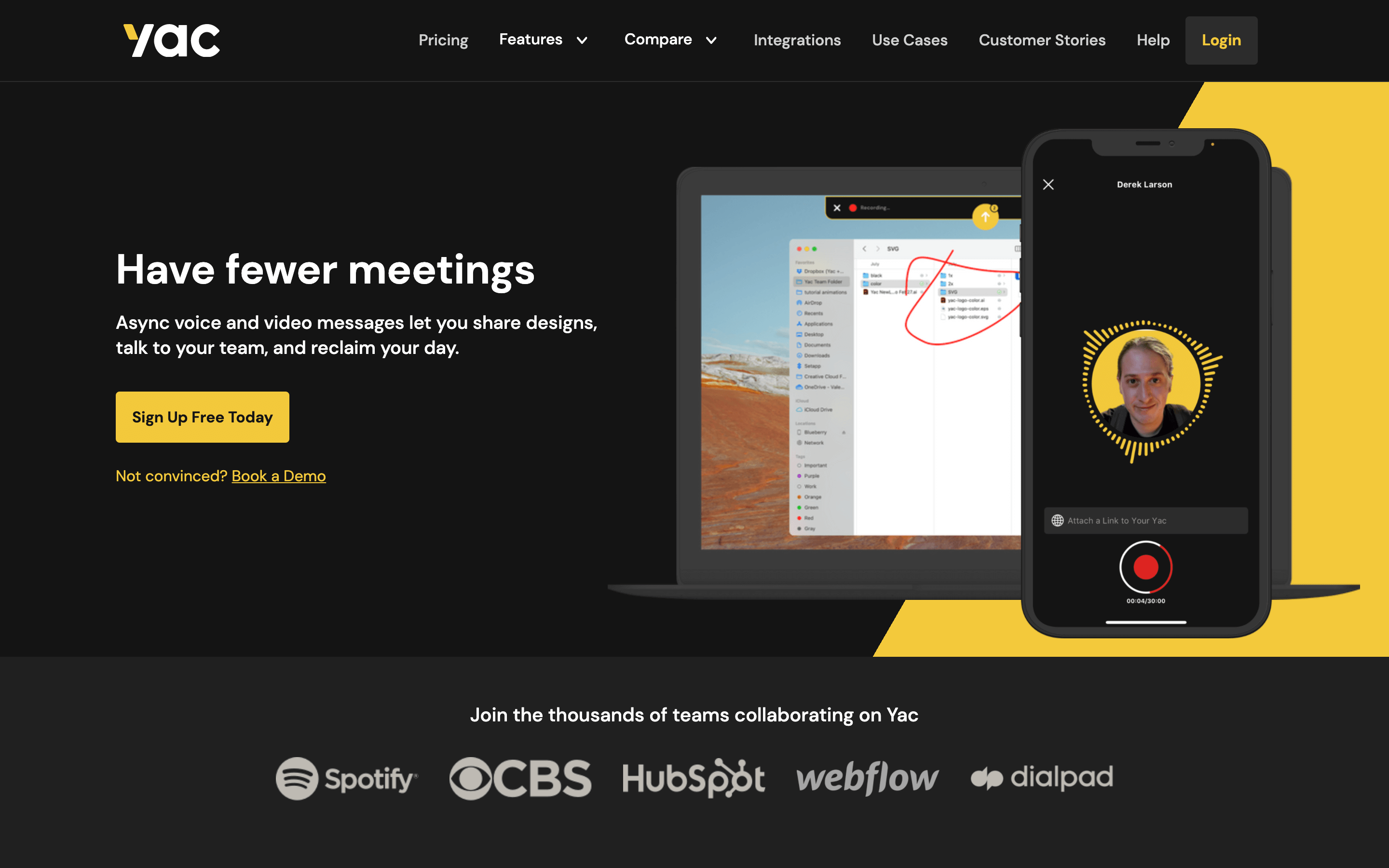 Image Source: Yac
To give you some context on how it started; Yac did a pre-launch campaign with Viral Loops that was basically based on the idea of getting users to invite their team members to the tool so they could all get early access to the product. 
In this case, we can see that the prize wasn't actually a tangible item that was being given away to the people signing up. 
Instead, users would simply enter to win early access to the private, beta-version of the tool. 
Here's what you got when you requested early access: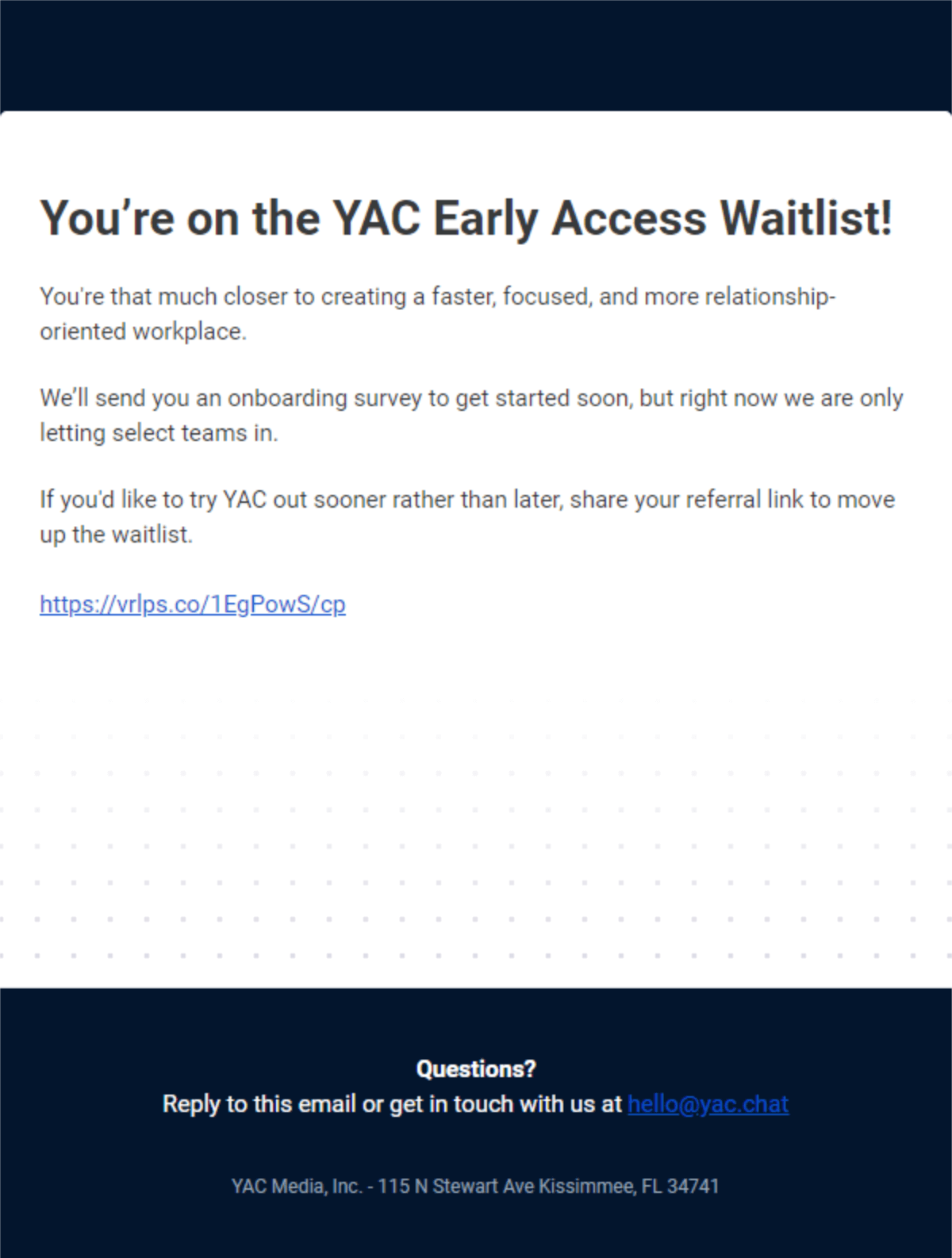 To sum up, this campaign was basically a referral promotion where entrants would receive a unique-share URL they could forward to their friends and teammates to move up the waiting list. 
Launching a pre-launch campaign can help startups raise awareness of their brand before they even put themselves out there fully.  
Let's get to the second giveaway idea we have for you. 
Idea #2: Run a social media contest
We've already talked about social media contests and how successful they can be for helping businesses increase their social media engagement and their following. 
That's why the second giveaway idea we want to discuss is how and why you should run social media contests. 
In a recently published blog post on Neil Schaffer's blog – Neil is a keynote speaker and author of the successful books Maximize Your Social Influence and The Age of Influence – blogger Aaron Lee summarizes the benefits of running social media contests in the following six points:
Build community

Incentivize people to follow

Build awareness

Increase subscribers

Increase sales

Increase engagement
Moreover, in a post written by Visme's content marketing manager, Chloe West, on SproutSocial  we also read the following reasons why companies should run contests on their social media channels:
Grow your following

Generate brand awareness

Increase your email list 

Jumpstart your engagement
Still not convinced?
These blog posts are only two of the many pieces of content that you can find online talking about social media contests and how they can elevate a brand's social media marketing game. 
 Let's see a well-known brand nailing a social media contest. 
Example: Dunkin Donuts
Dunkin Donuts is an American coffee and donut company that was founded in 1950. 
Even though the company is over 70 years old, they're generally nailing their social media game with frequent giveaways and user-generated content. 
Their Twitter account announces a giveaway to celebrate NationalDonutDay right in the intro.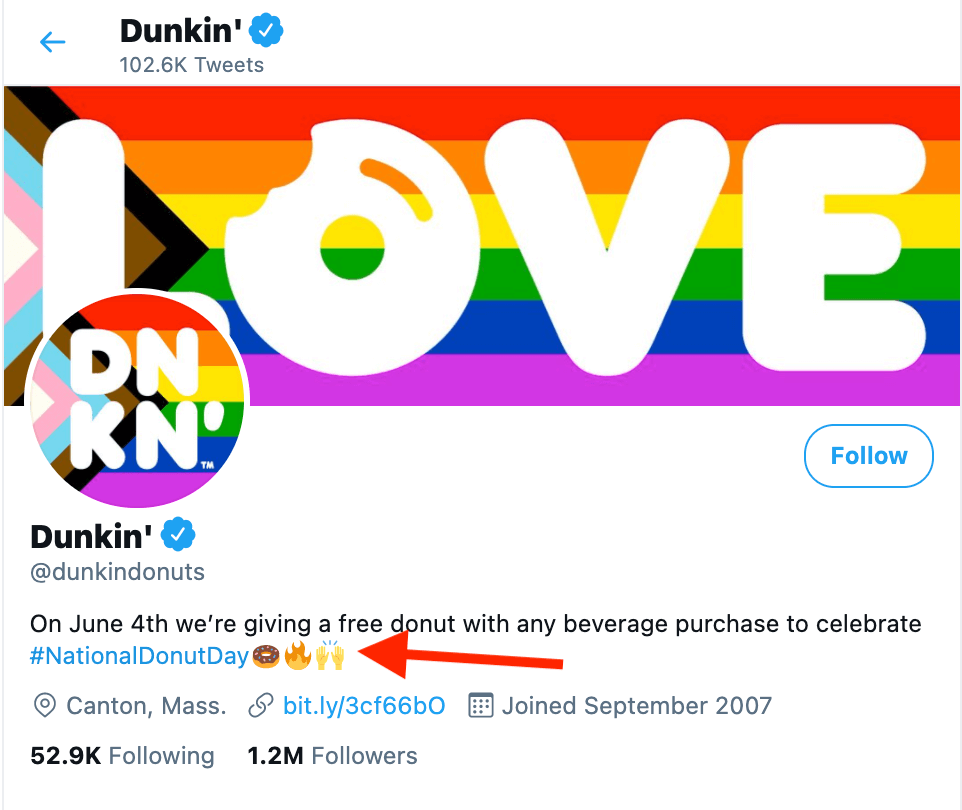 Image Source: Twitter
However, it's not the free donut giveaway we want to talk about. 
It's a Twitter contest they held a while back in April 2021: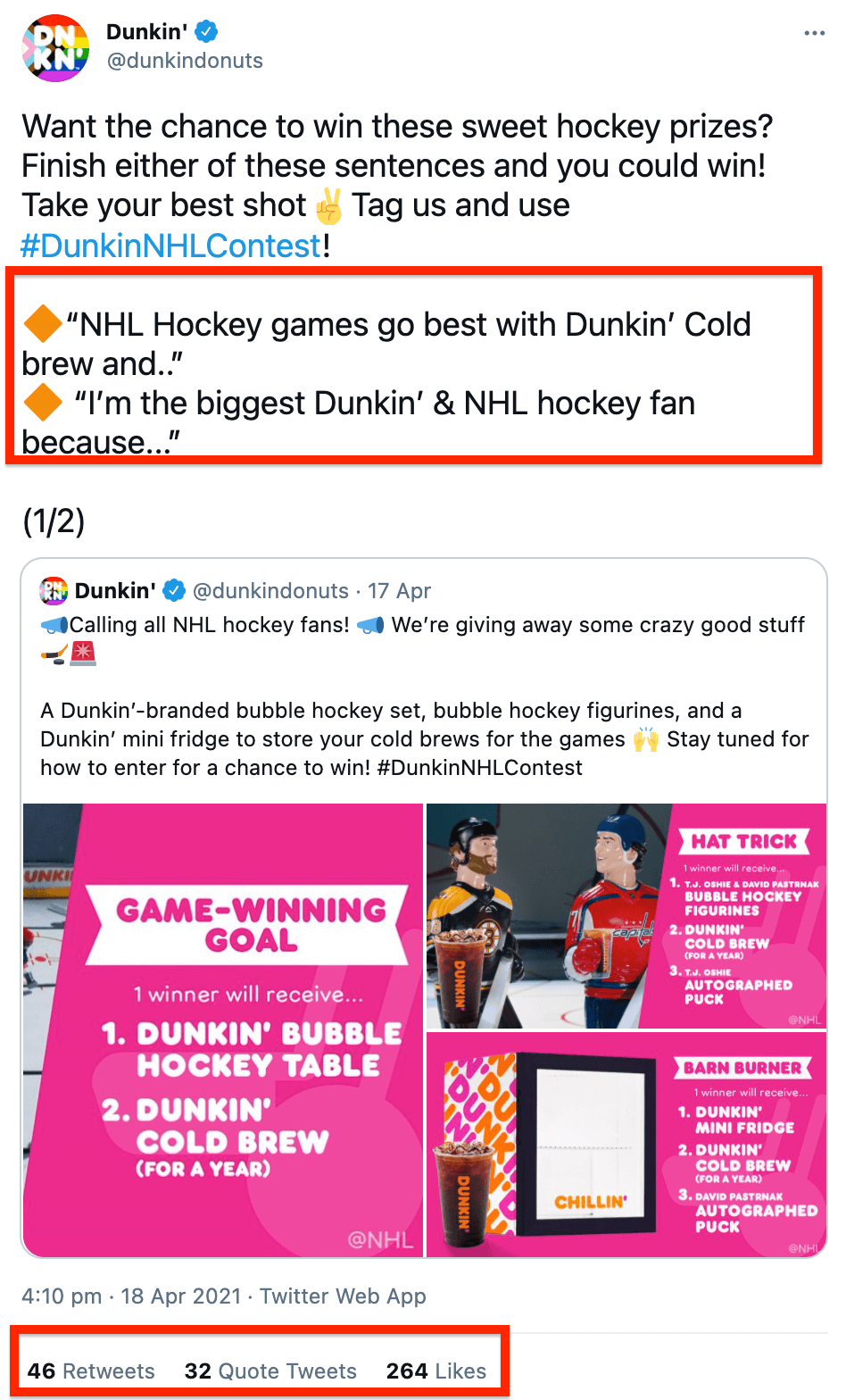 Image Source: Twitter
The contest rules were as easy as finishing either of the sentences highlighted above using the hashtag #DunkinNHLContest. 
The contest prize of this giveaway example was some cool hockey prizes that the winner would get. 
Dunkin's Twitter followers bought into the contest and did their best to finish the sentences given by the company in creative and fun ways. 
Here are a few examples: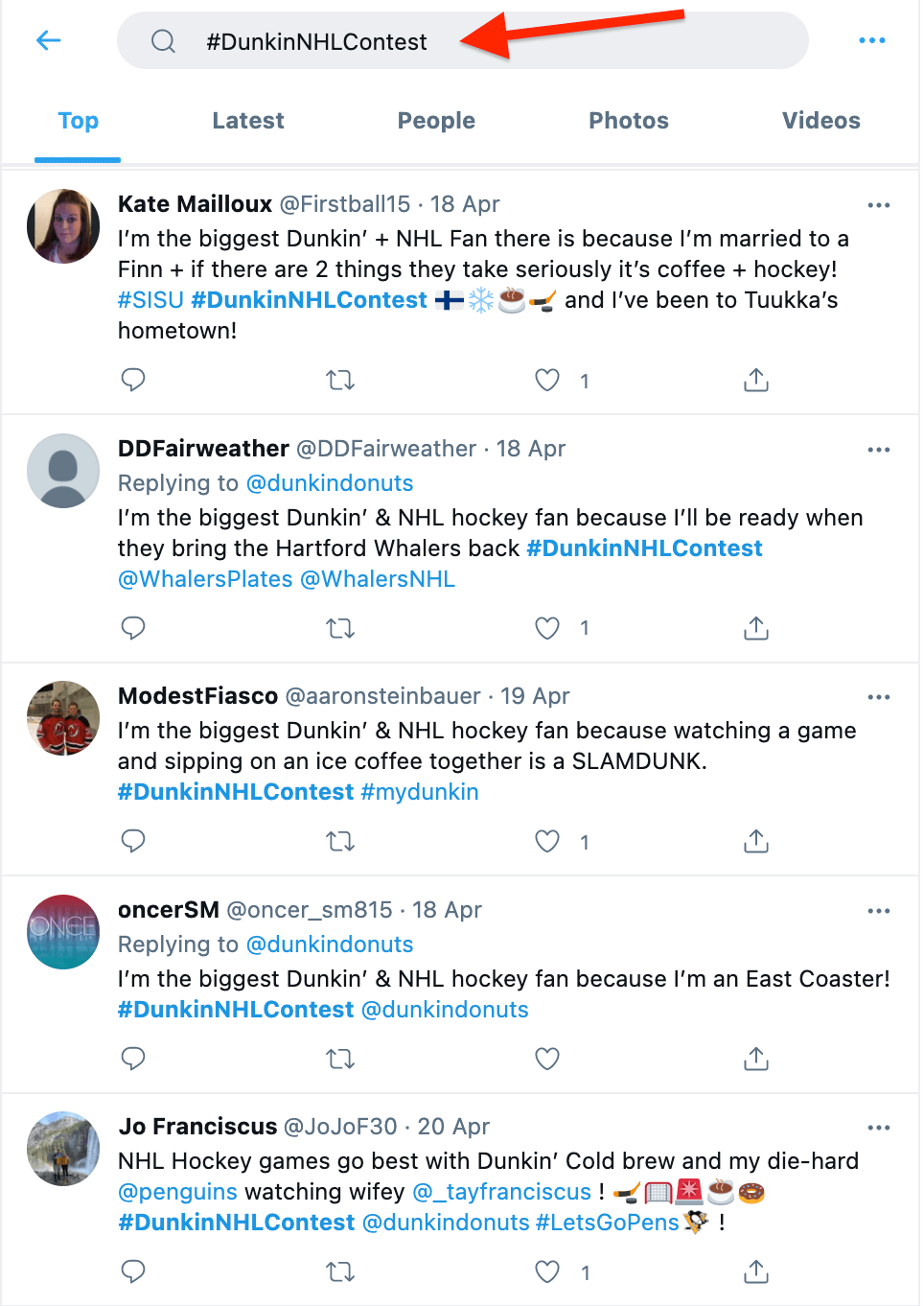 Image Source: Twitter
Dunkin might not be a startup, but older companies that still manage to remain relevant and get millions of followers on social media that want to get their giveaway prizes can totally teach us something about the efficiency of giveaways and finding creative ways of keeping your audience engaged. 
Author's Note: It doesn't have to be a grand, extravagant prize to make people engage with your contest!
Let's get to the next giveaway idea.
Idea #3: Create your own branded merchandise
Creating your very own promotional products and sharing them with your audience is one of the best things you can do to create an emotional connection with them and boost customer retention. 
What's more, a study of American consumers conducted by Promotional Products Association International (PPAI) showed that 83% of consumers surveyed stated that they'd love to get a piece of swag with an advertising message. 
High-quality, branded products can undoubtedly help establish a relationship between a brand and a consumer through what we'd call emotional branding. 
The following definition by CleverTap says it well: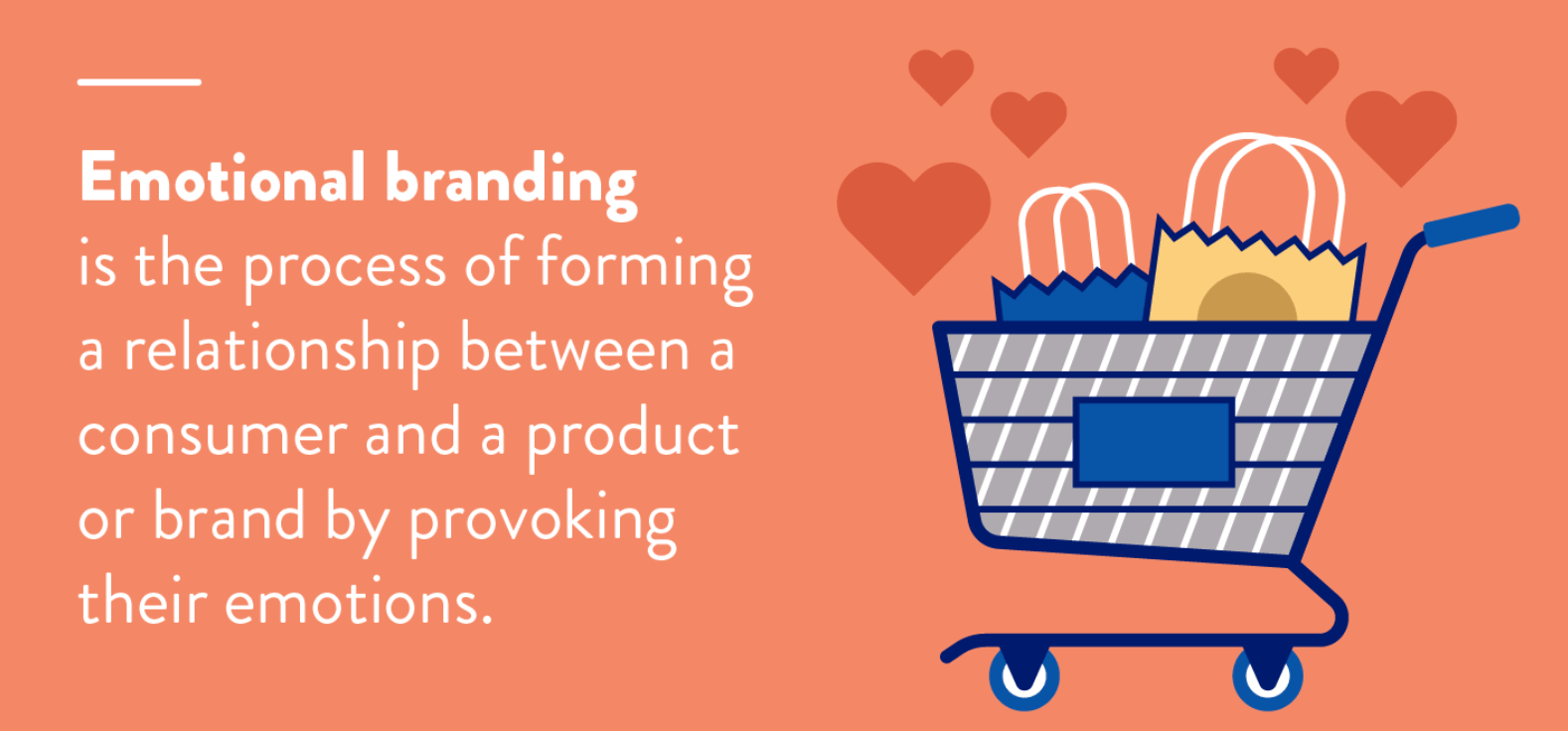 Image Source: CleverTap
"Why are we talking about emotions?" we hear you say.
Because emotional branding can help companies approach their audience in a more appropriate way, thus increasing their reach and, potentially, their ROI. 
Last but not least, a study published in Harvard Business Review showed that customers who are fully emotionally connected to a brand are 52% more valuable than customers that are simply satisfied but not connected with the brand. 
This shows us the value that brands can get from customers by connecting with their audience on a deeper level. 
What's a better way of connecting with your customers than caring for them and offering them thoughtful swag?
Let's jump right into an example. 
Example: Drift
Messaging and marketing platform for websites, Drift, is widely known for its growth tactics.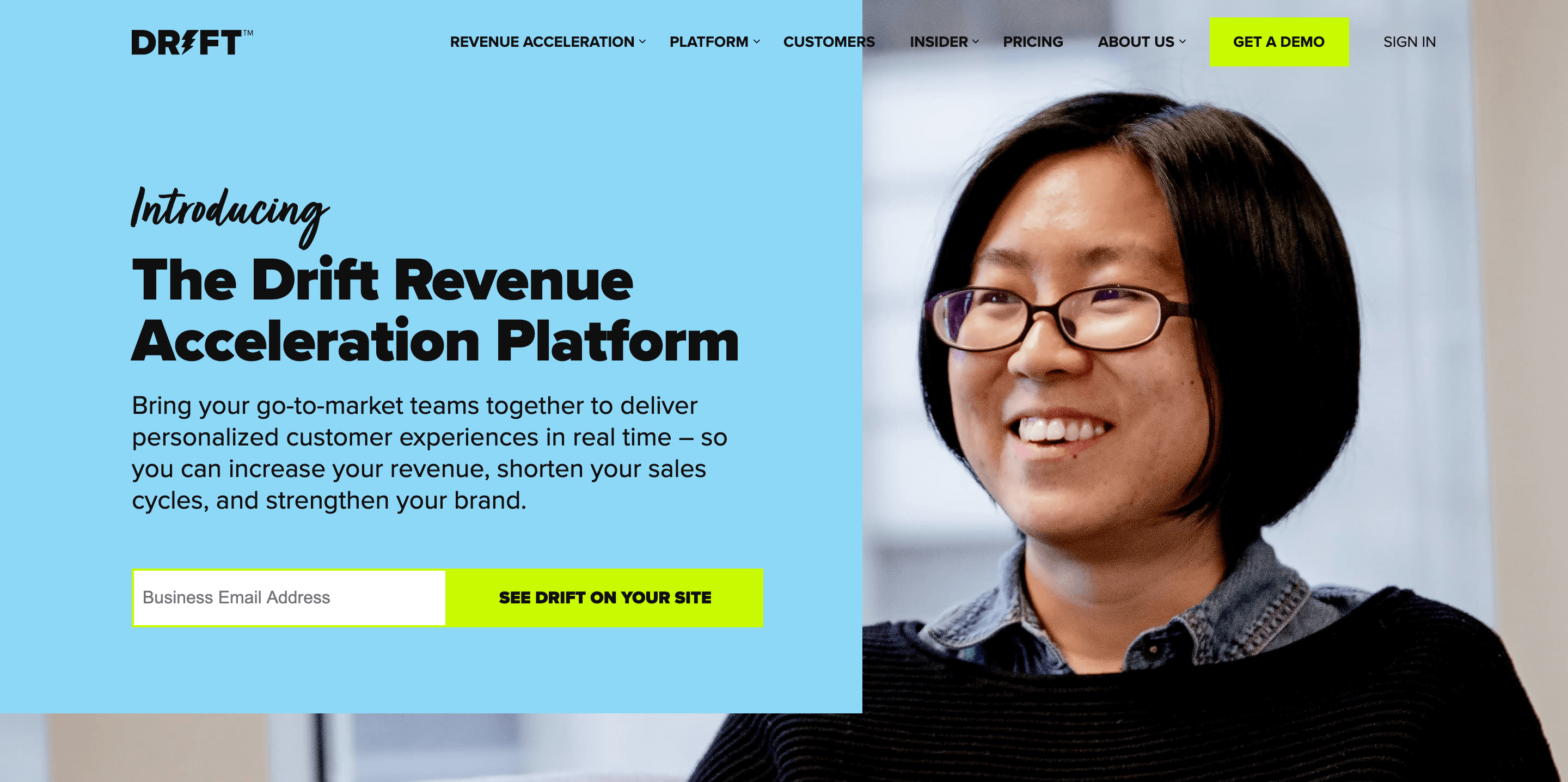 Image Source: Drift
What you might not know about Drift is that they invest in swag and actually have leveraged swag to build stronger connections with their audience and customers. 
To be more precise, what Drift does is use swag to close deals, keep their clients engaged, and also show their appreciation to their employees.
Here's just one example of a happy Drift user sharing some love for the branded t-shirt the company sent them: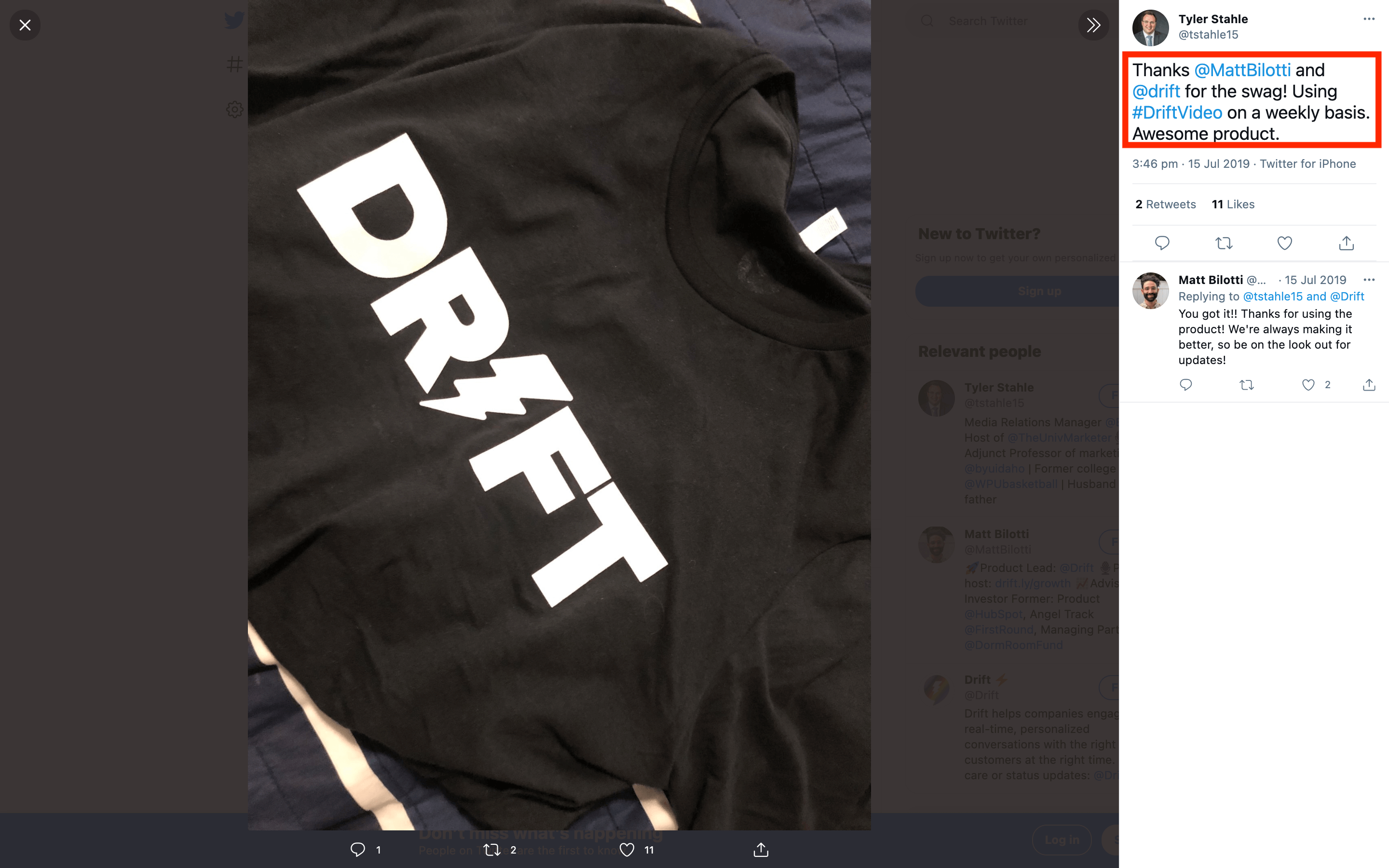 Image Source: Twitter
And another one: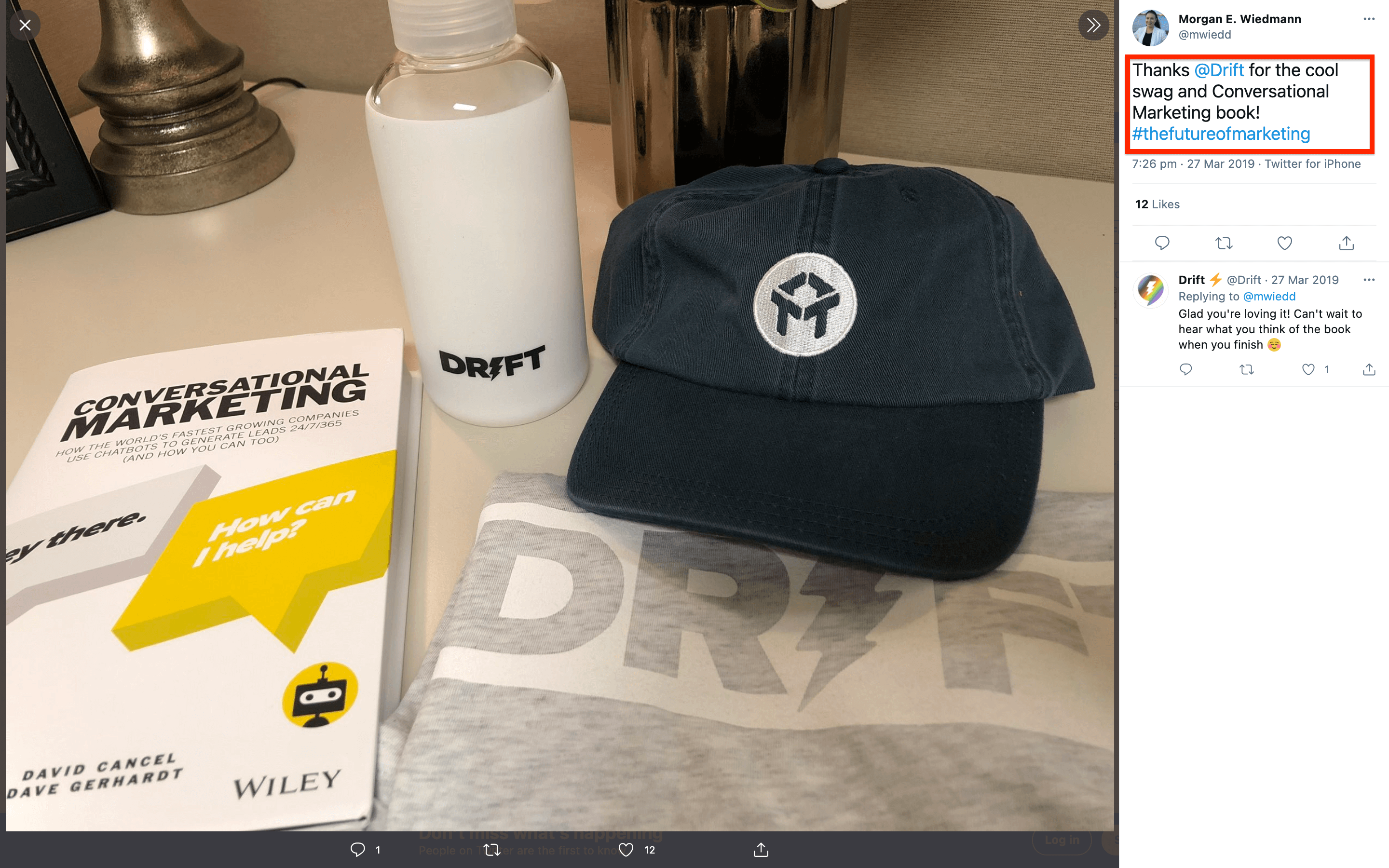 Image Source: Twitter
Overall, we would say that the same way Drift gives branded swag to their audience and potential customers, you can give branded swag in a giveaway to make the most of the power of merchandise.
Moving on. 
Idea #4: Run a hashtag contest
Similar to running any other type of content on social media, running a hashtag contest can also be very effective in keeping users engaged and making them want to take part in whatever it is that you're organizing. 
First things first, a hashtag is nothing more than a tag that's used to categorize items or posts that belong together. 
Moreover, hashtags facilitate users to find conversations and posts based on a specific topic. 
Using hashtags across different platforms is a process of basically placing your posts into a specific category and topic. 
Many hashtags being used about the same topic create trending topics or topics that many users are writing about, to put it simply. 
The example we've found for you will show you exactly how hashtag contests work. 
Example #1: TAG Heuer
TAG Heuer is a luxury watch manufacturer with a really long history in the Swiss timepiece industry – it was founded in 1860.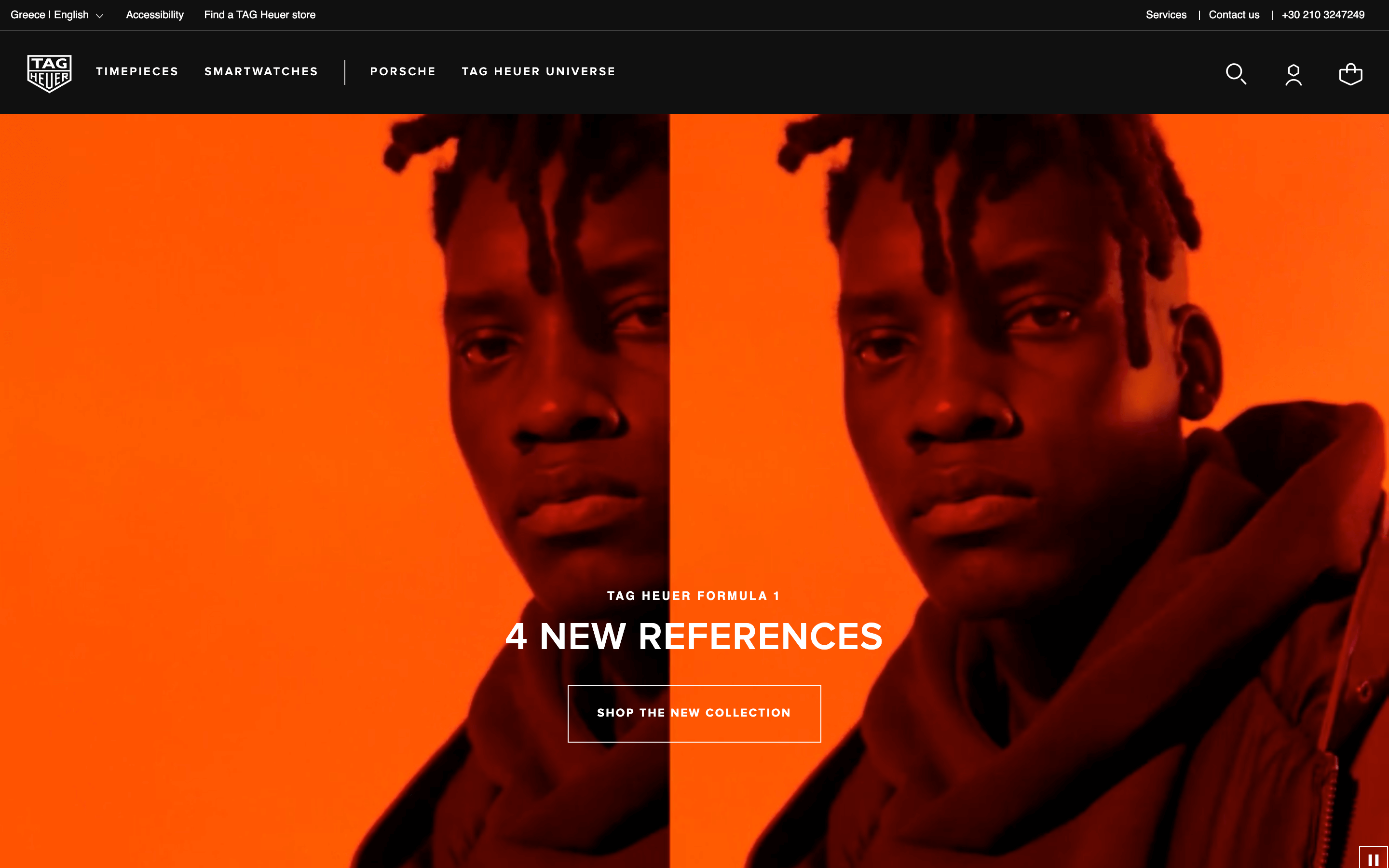 Image Source: TAG Heuer
Despite their long history, they seem to know how to play their social media game in terms of establishing their own hashtag on Instagram and prompting their audience to use it when they post relevant content. 
Have a look:

Image Source: Instagram
From what we can see, users seem to love using the hashtag #DontCrackUnderPressure. 
Here's one: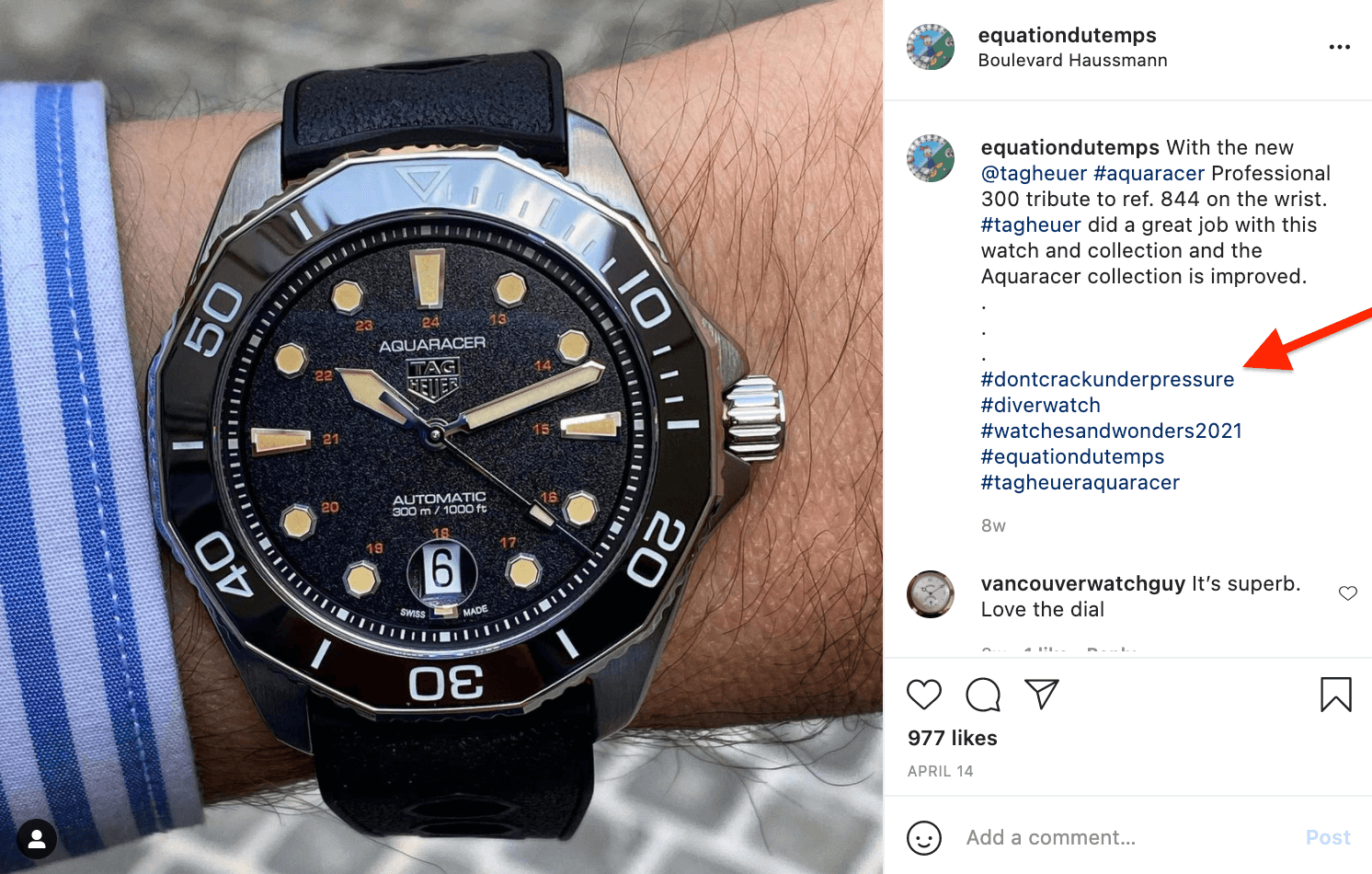 Image Source: Instagram
Here's another: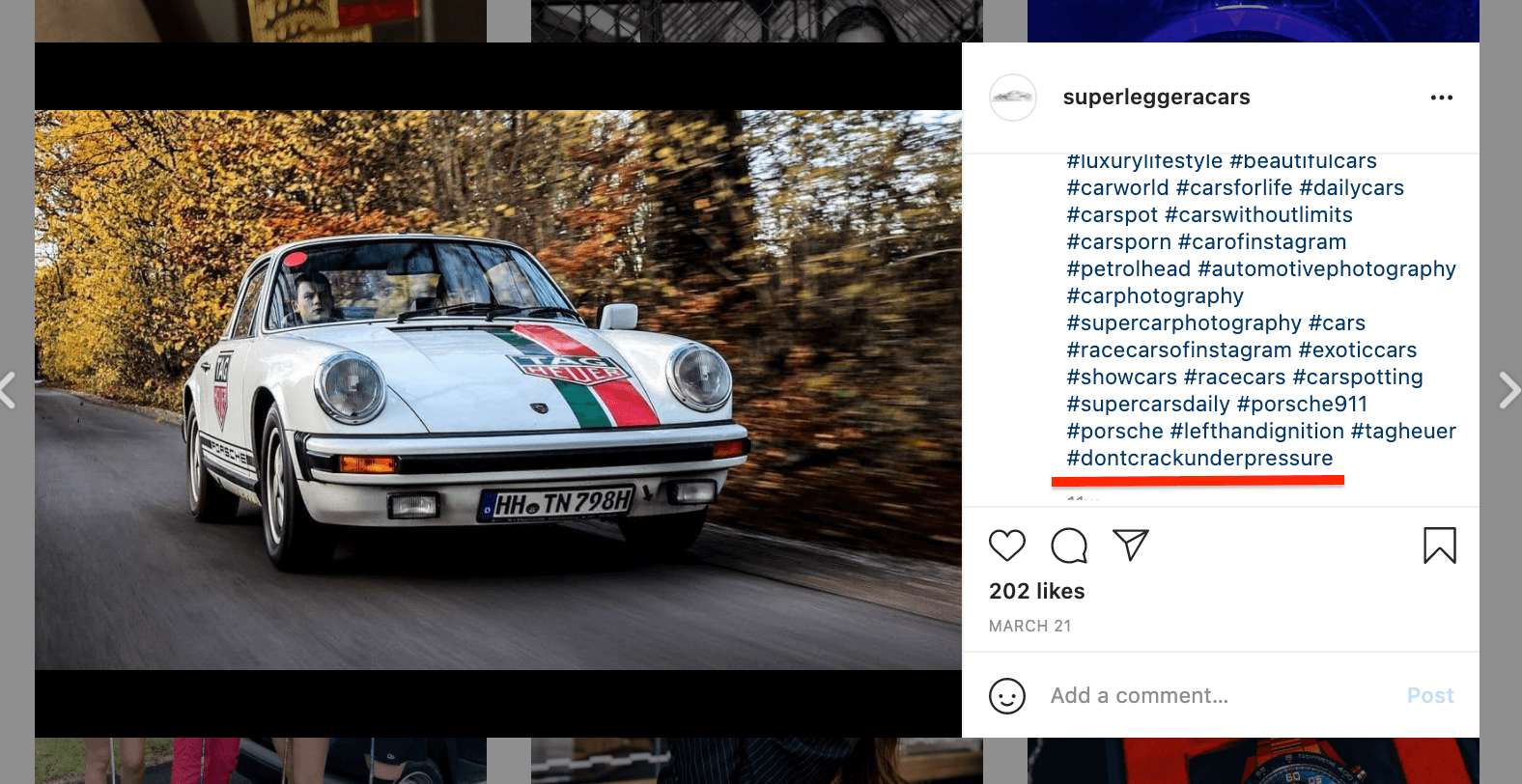 Image Source: Instagram
A third one: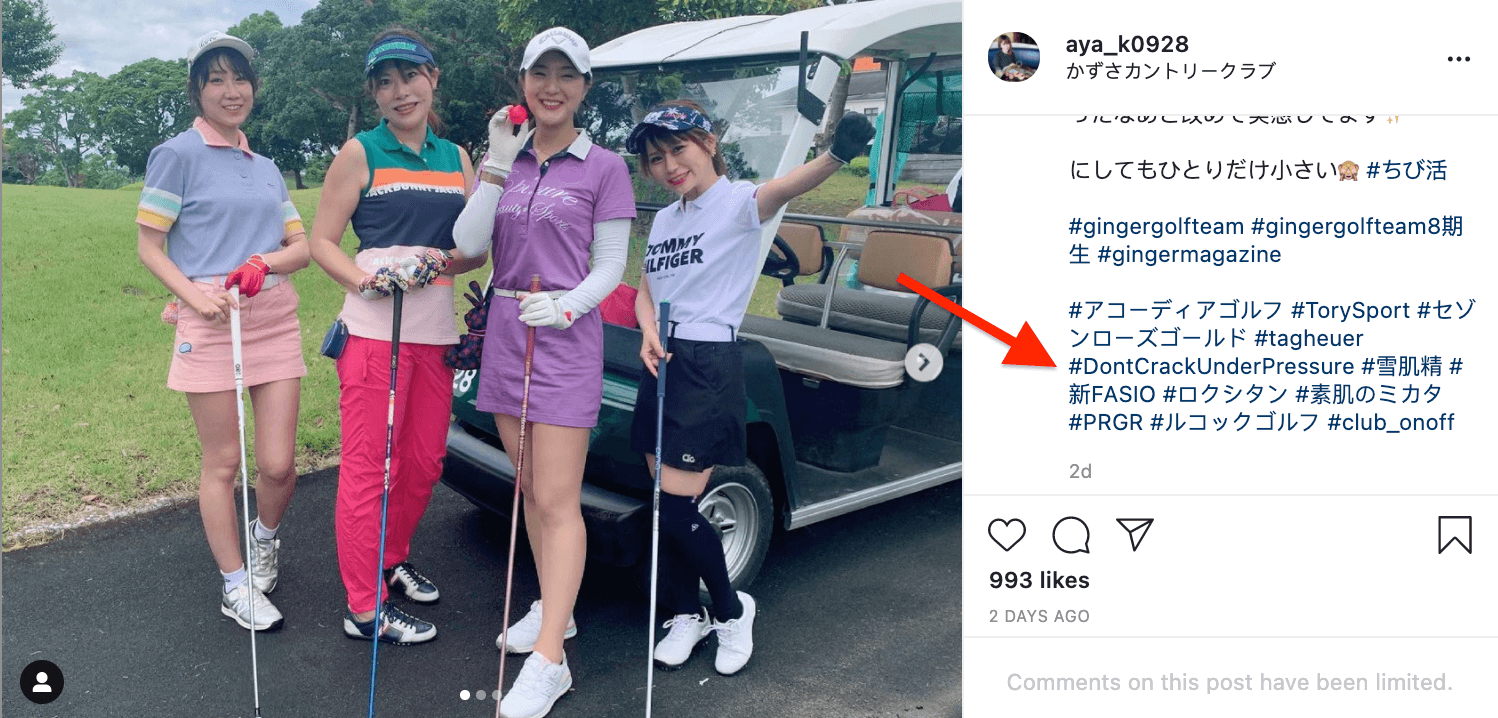 Image Source: Instagram
There are plenty more examples of users that posted their TAG Heuer watches using the #DontCrackUnderPressure hashtag.
Even though the TAG Heuer hashtag is not a contest per se, we totally think hashtags can work for successful giveaways on social media; they invite contest participants to use them and become part of your game. 
Let's now discuss another interesting social media hashtag challenge. 
Example #2: Gucci
If you're into watching fashion-related TikTok videos, then you may have heard of it already. 
Everyone, it's the #guccimodelchallenge!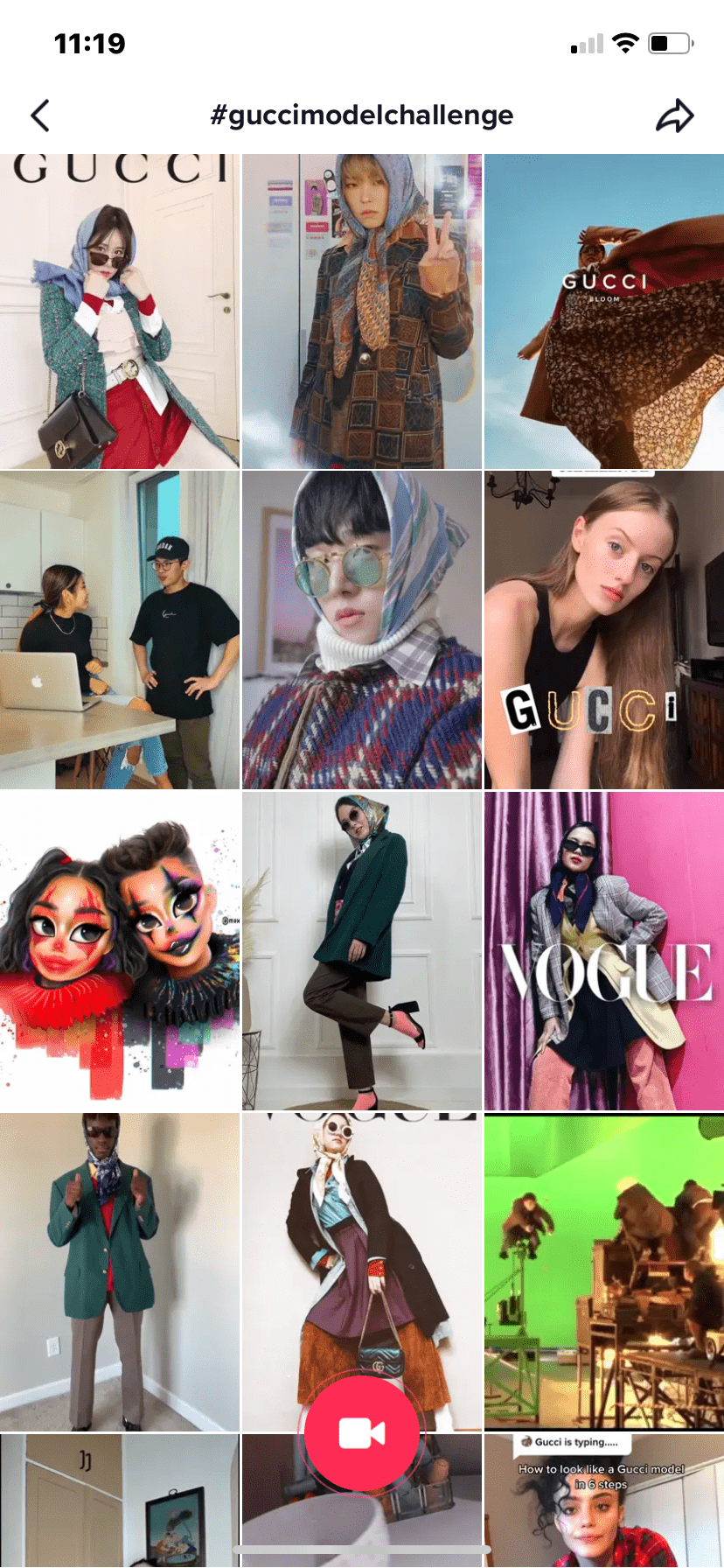 Image Source: TikTok
It was around summer 2020 that teenagers – and everyone else besides – started turning themselves into Gucci models by putting together iconic Gucci looks with whatever they had in their closets. 
It all started on TikTok. 
The challenge didn't start from Gucci but has definitely helped in terms of making more and more social media users aware of the company's aesthetics and sense of style. 
What we need to mention is that the challenge was so successful that it also transplanted over to Instagram.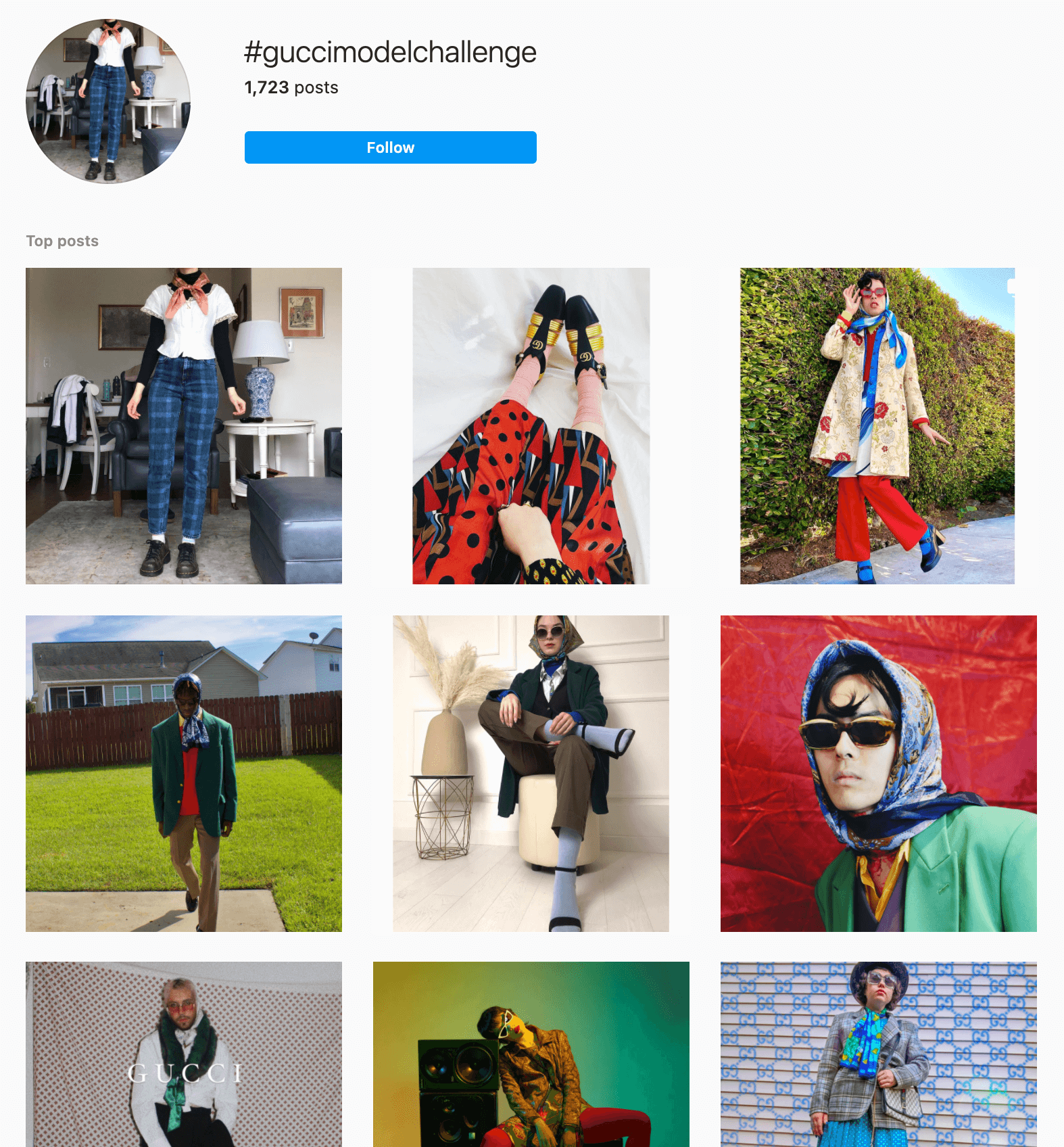 Image Source: Instagram
As you can probably tell, the challenge went viral and was also mentioned by Gucci itself.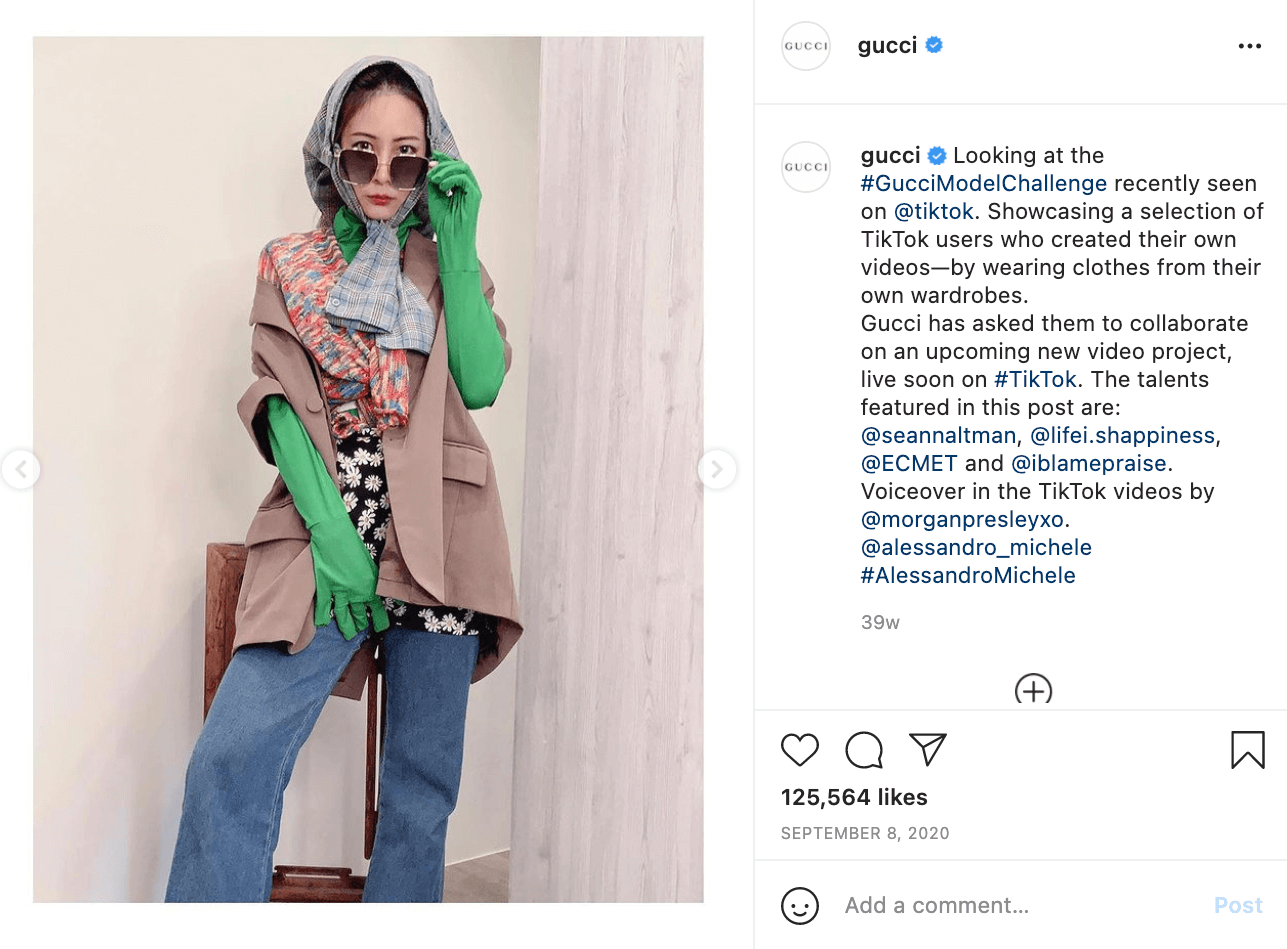 Image Source: Instagram
A key takeaway here is that hashtags can totally increase engagement while spreading the word about your brand and content. 
We're now moving forward with the fifth giveaway idea we have for you. 
Idea #5: Promote a limited edition offer through a webinar
A great way for startups and small businesses to reach a wider audience and boost brand awareness is to promote a limited edition offer through a webinar. 
This can actually be a nice way to enhance your content marketing efforts and make more people aware of your work. 
Additionally, a limited edition offer helps you achieve both:
The opportunity for your existing customers to further engage with your brand and benefit from an exclusive offer

The chance to reach a new audience and give them the chance to test your brand and possibly engage with it in the future
Like we did with our other ideas, we're going to discuss an example. 
Example: Lemlist
Cold email platform, Lemlist, is known for its expertise in creating anticipation for their product and services.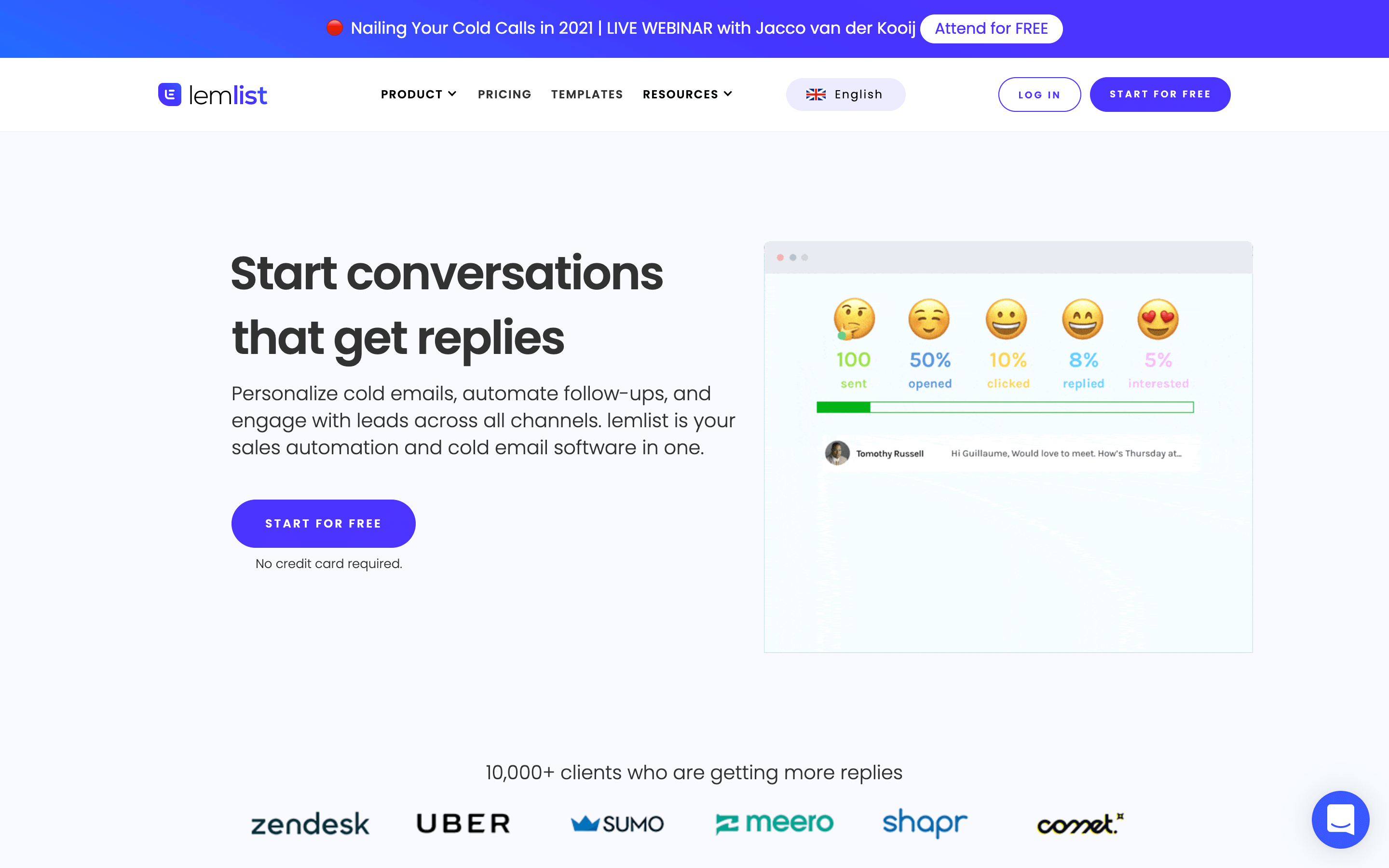 Image Source: Lemlist
Their successful go-to-market (GTM) strategy and the way they engage with their Lemlist family prove it. 
Earlier in spring 2021, the Lemlist team organized a webinar that was based on the idea of creating an event packed with value and insight that would lead to an exclusive offer for the Lemlist cold email masterclass at the end: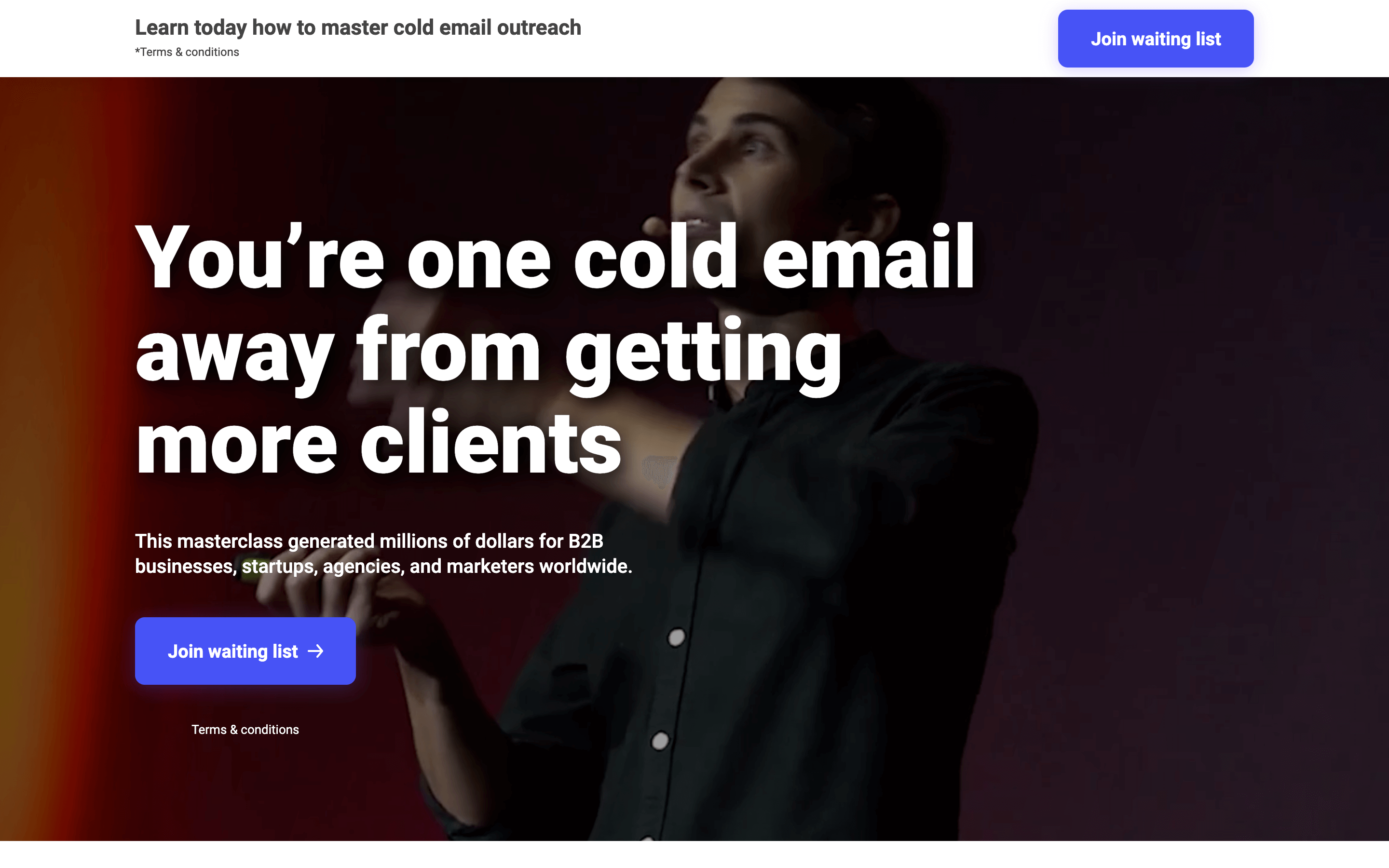 Image Source: Guillaume Moubeche
The initial plan was to wait until the end of the webinar to announce the masterclass as a surprise for the around 4,000 webinar attendees. 
However, something went wrong and the Zoom presentation linked to the masterclass purchase landing page, which basically made people buy the masterclass almost from the beginning.
This kind of spoiled the surprise, but it totally helped the brand get over 50 masterclass purchases in the first two minutes and a total of around 340 purchases in the first twelve hours. 
Not too bad for a $297 masterclass, right?
Here's giveaway idea number six.
Idea #6: Give away a gift card
There might be endless prize ideas companies can use in terms of what kind of gifts they could give their contestants or members of their audience. 
However, giving away a gift card or a voucher will always be an all-time classic in terms of giveaway gifts. 
Gift cards might seem a bit impersonal or cold, but the truth is that they can also be very thoughtful since they basically allow the winner to buy whatever they want to buy. 
Additionally, they can be a great gift idea for companies on a budget.
Here's an example. 
Example: Select Health
Select Health is a non-profit that provides medical insurance plans and a wide range of health-related resources.
The reason we're mentioning them in our post is that they regularly run Instagram and Facebook giveaways. 
The prizes vary depending on the case, but, most of the time, Select Health offers vouchers…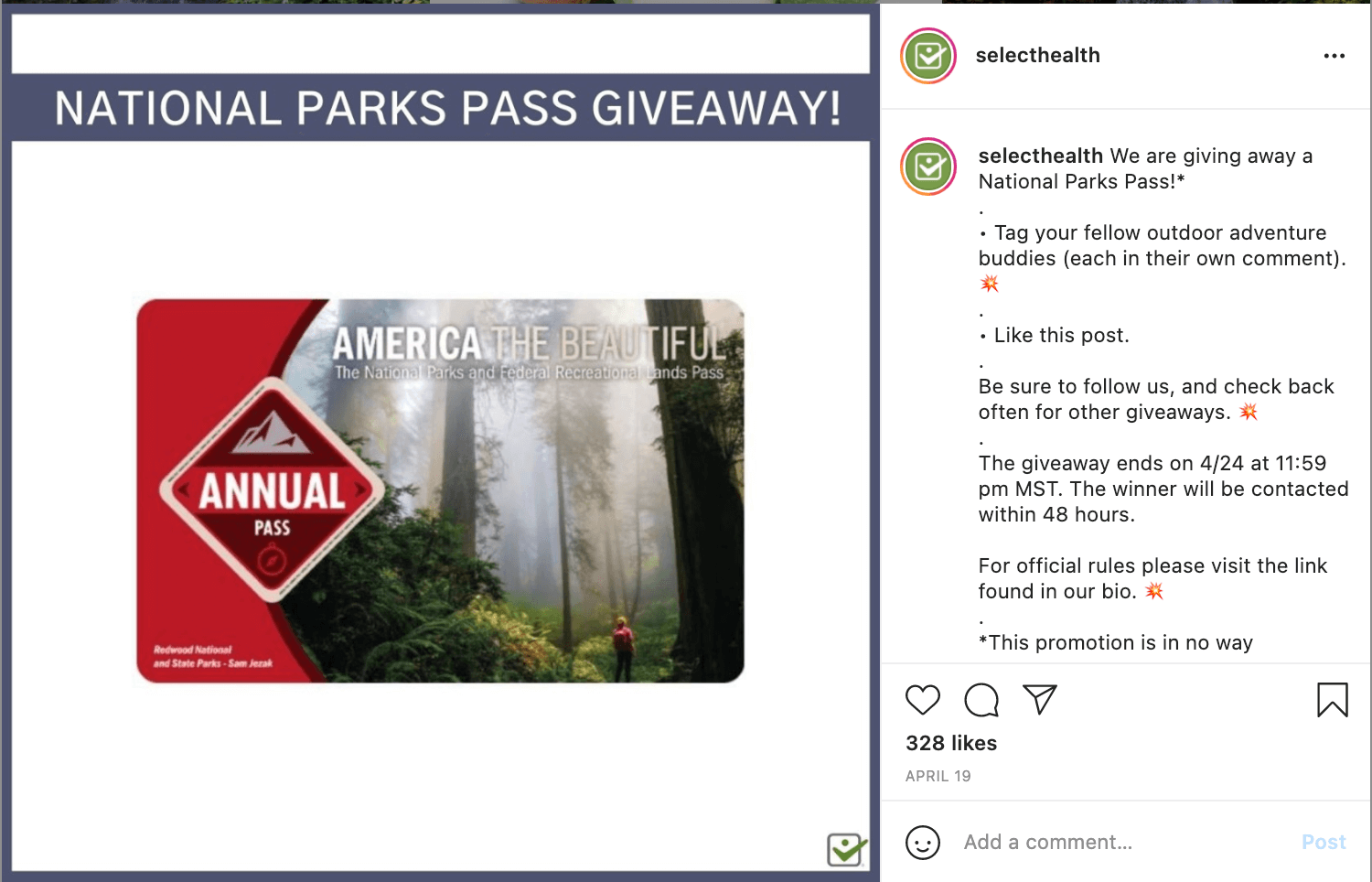 Image Source: Instagram
… and gift cards: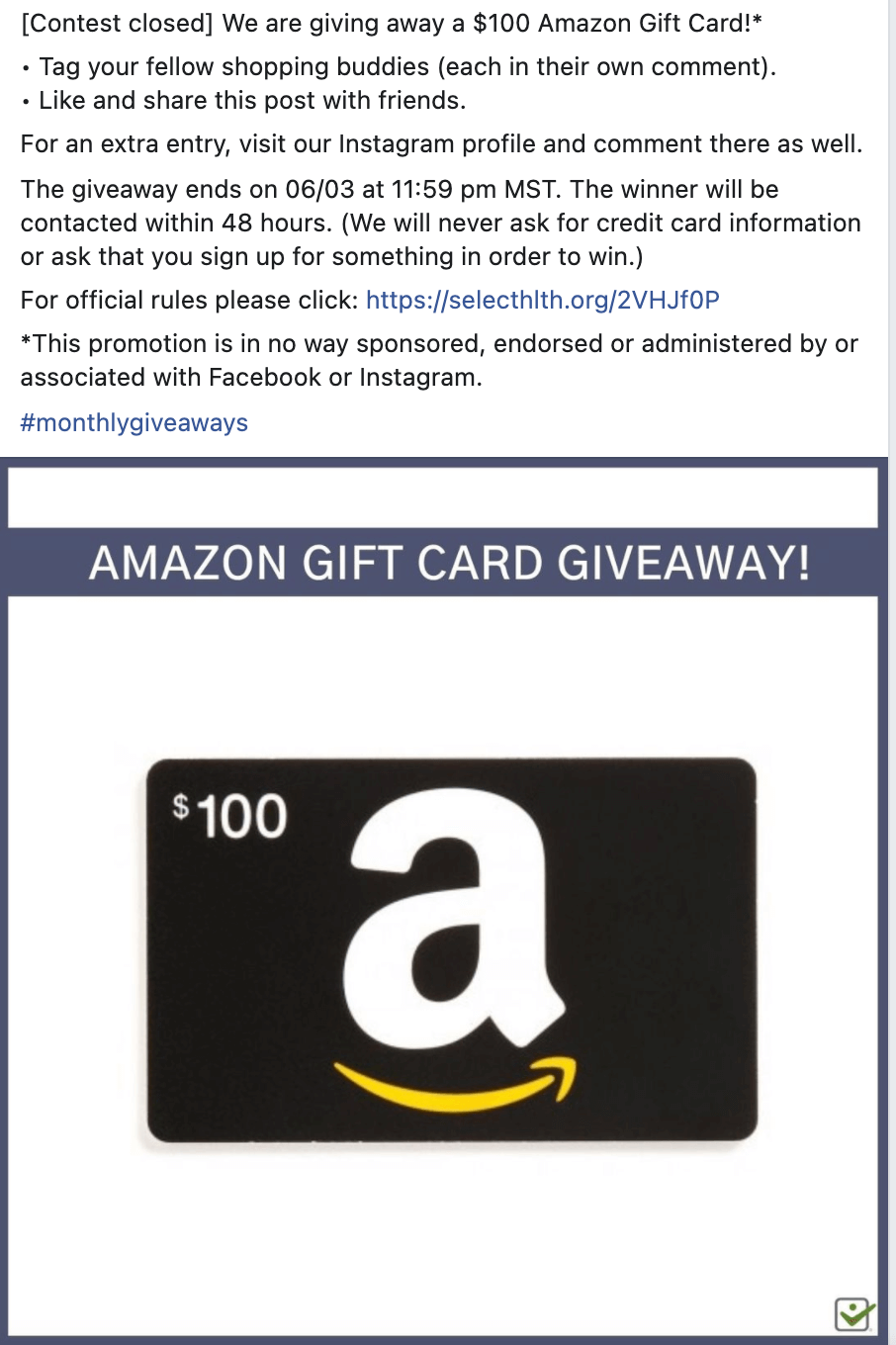 Image Source: Facebook
This allows the nonprofit to bring more people to their Facebook page and also raises awareness of their cause. 
How exactly do they do that?
If you've noticed the captions that accompany the Facebook and Instagram post shown above, Select Health asks users to leave a comment in which they need to tag a friend or few. 
We're assuming that anyone with a social media account has been tagged by their friends in a giveaway they didn't know was happening at some point in their lives. 
Through tags between friends and people who know each other, more and more people get to see a post, thus managing to spread the word not only about the prize, but also about a particular Instagram account that runs the giveaway as well as the company as a whole. 
Let's get to the next giveaway idea. 
Idea #7: Partner up with an influencer on Instagram – AKA Instagram Giveaway
According to Google, 4 in 10 millennial subscribers state that their favorite digital creators, like YouTubers etc., understand them better than their friends. 
We can only assume that the same applies to pretty much any other social media platform where creators can directly communicate and interact with their audience. 
As weird – or even sad – this might sound, it definitely proves that creating relationships that seem more like friendships than fan worship between influencers or digital marketing creators and their audience is definitely happening. 
What's more, companies of all sizes need to be aware of the trend if they want to actually be able to efficiently communicate with their audience. 
Here's how Nespresso does it, using one of the most popular and influential influencers of the 21st century. 
Example: Nespresso
Nespresso partnered with Italian entrepreneur and fashion blogger Chiara Ferragni to create a cute collection of Nespresso must-haves with Ferragni's logo all over.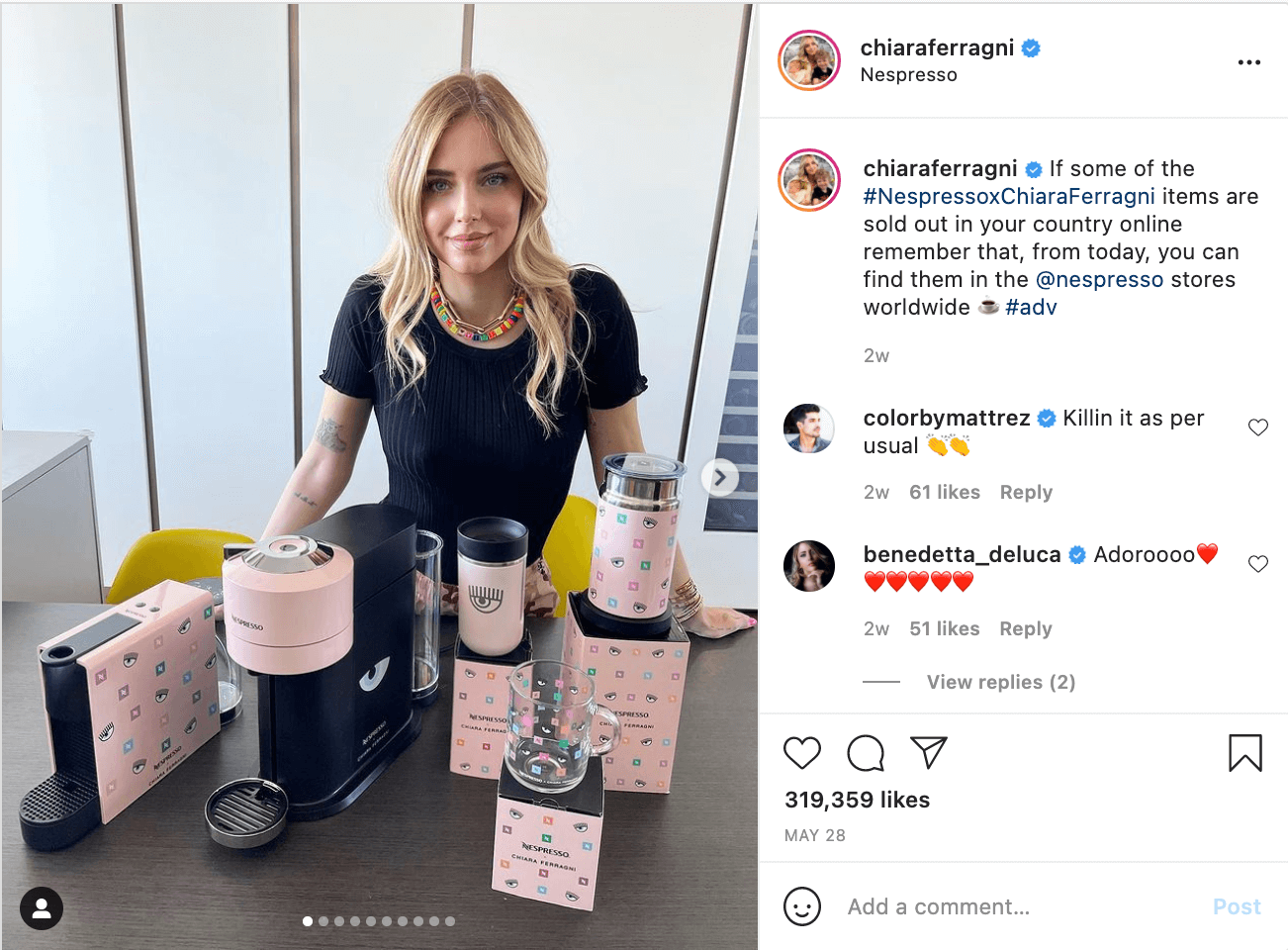 Image Source: Instagram
We probably need to mention that Ferragni was one of the first fashion and lifestyle influencers who today has over 23.5 million followers. 
Whether you're as big as Nespresso and you can actually afford to create a new product line along with a well-known influencer or you want to simply give away one of your products with the help of an influencer in your niche, our advice is to definitely go for it. 
Partnerships with influencers can help you boost awareness and reach wider audiences. 
Who doesn't want this to happen for their company?
We're moving towards the end of our nine giveaway ideas for small businesses. 
Below is our second to last idea. 
Idea #8: Run a sweepstakes contest
We couldn't write a giveaway ideas post without mentioning sweepstakes contests. 
A sweepstakes contest is quite similar to any other contest, including the social media contest we talked about a little further up in this post. 
The main difference between a sweeps contest and other social media contests is that the winner is chosen randomly without having to do anything in particular or demonstrate a skill. 
Users can usually enter such a contest just by showing interest in it.
The following example will show you exactly what we mean. 
Example: Jarritos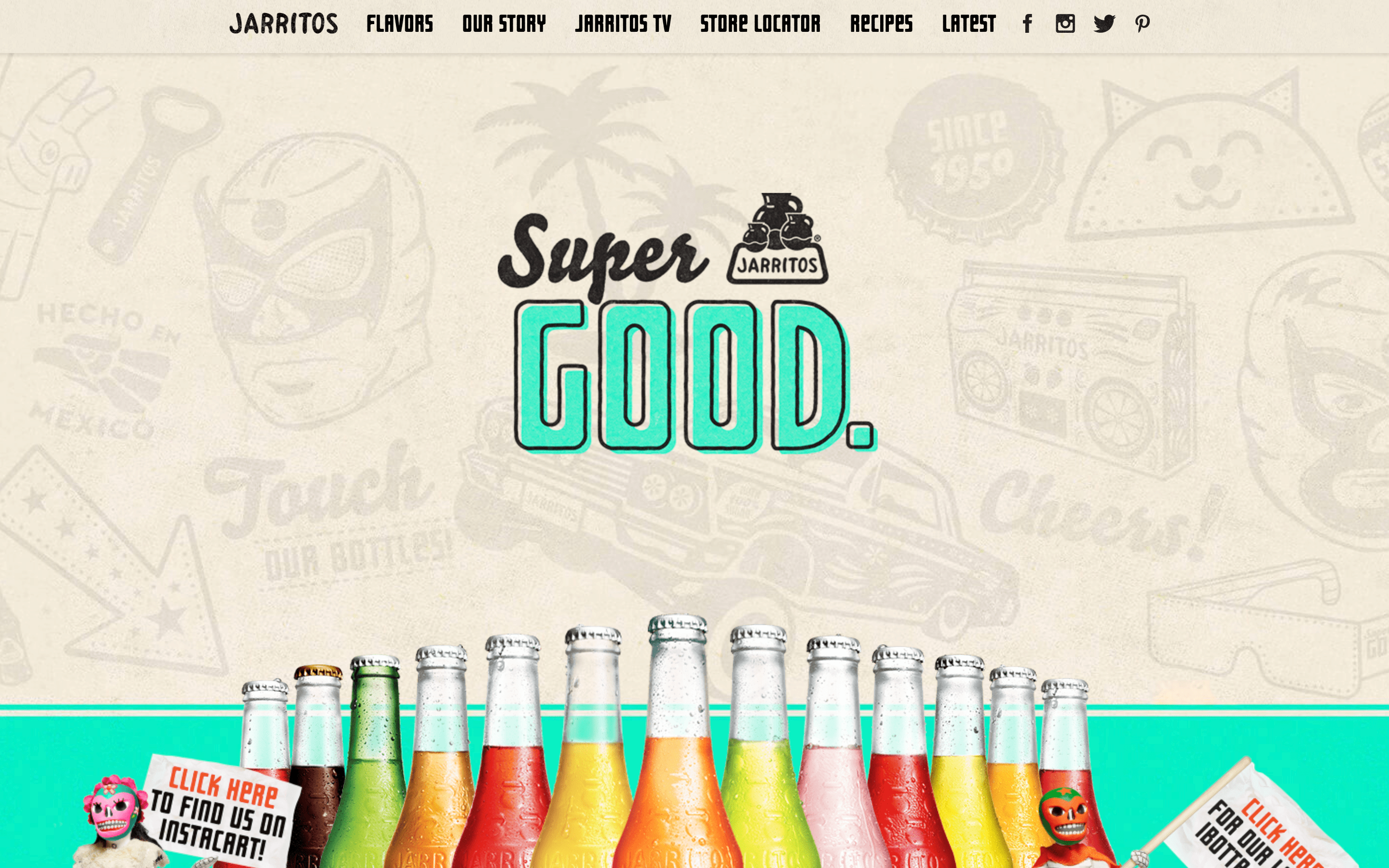 Image Source: Jarritos
Jarritos is a soft drink brand from Mexico that's generally quite active on social media. 
For your information, the brand has around 120,000 followers on Instagram…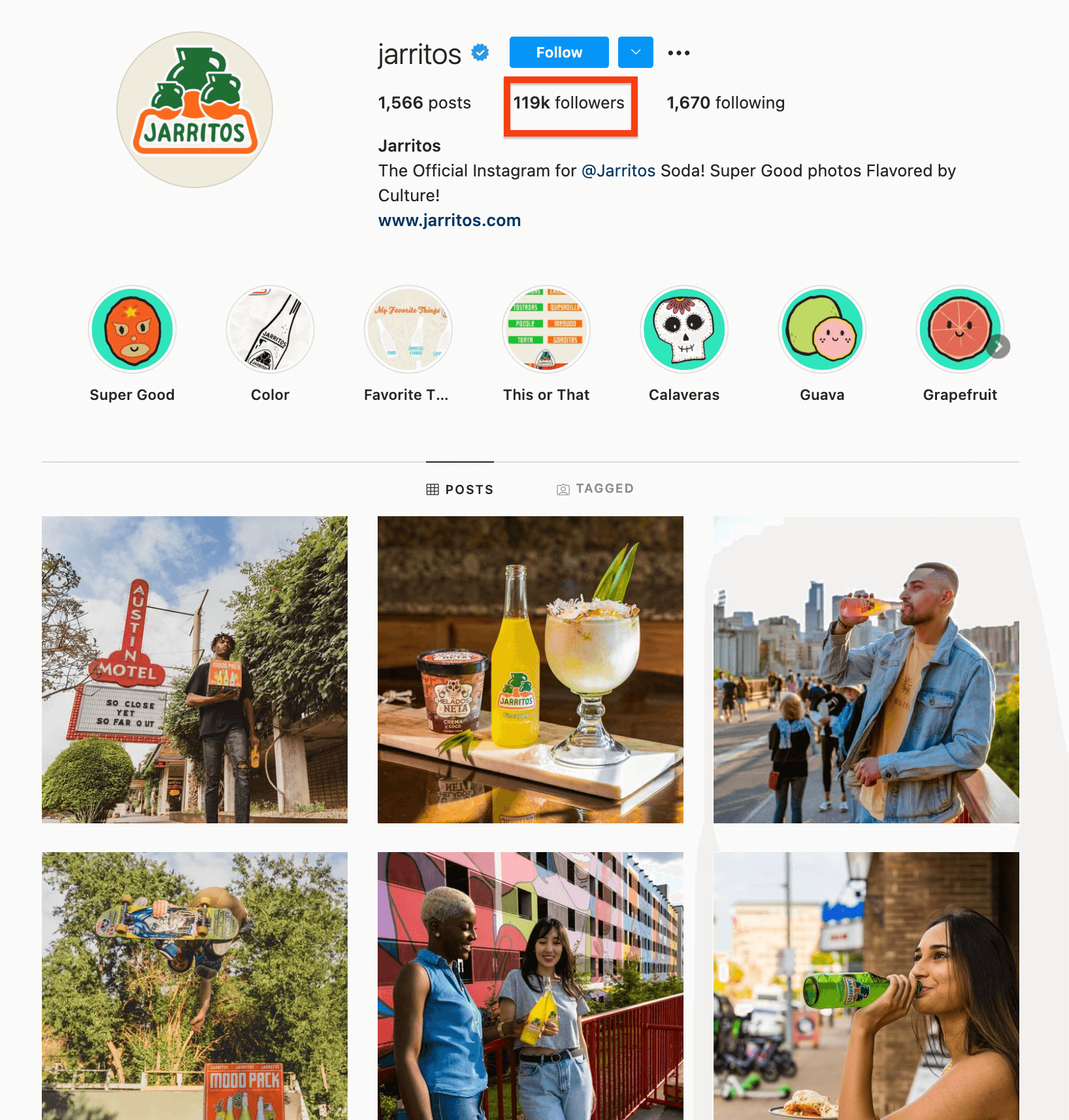 Image Source: Instagram
… which is quite a lot if you consider that it's mostly sold across the Americas and the US and has only recently entered the European market. 
Here's a sweepstakes contest Jarritos threw a while ago: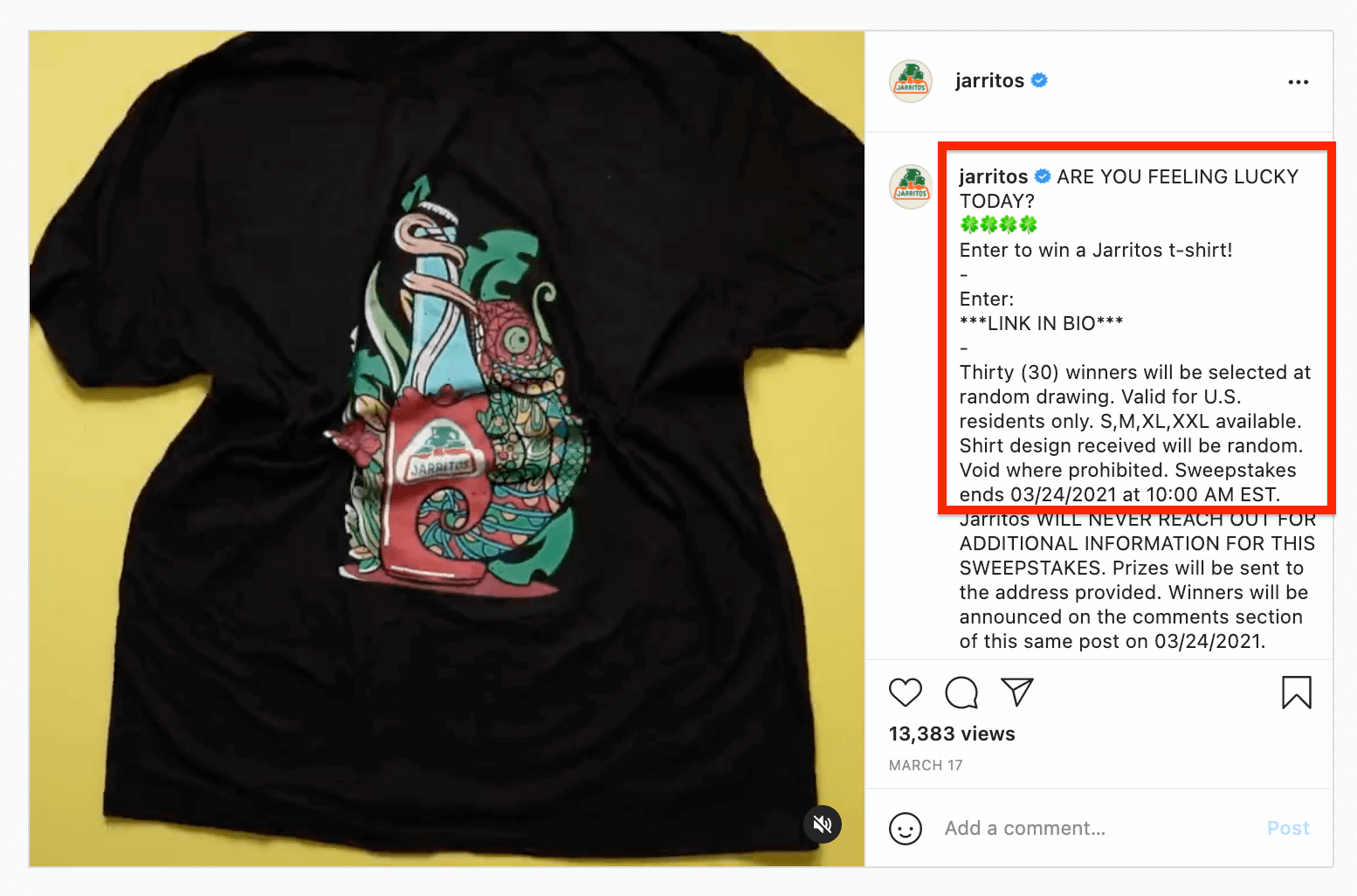 Image Source: Instagram
It's worth noting that this post got over 13,000 views which is quite awesome if you think that the company usually gets around 1-2,000 likes for their posts. 
As we mentioned earlier when we talked about social media contests, these types of contests can help you build a community and awareness within your audiences' social networks. 
Keep reading to find our very last giveaway idea for small businesses and startups. 
Idea #9: Run a photo contest
Our final idea that could easily be used by almost all small businesses and startups, no matter the industry they're in, is to run a photo contest. 
In fact, you likely already know that photo contests are generally considered to be among the most popular giveaway ideas. 
It's especially true when it comes to platforms that rely on photo content, like Instagram and Facebook, where a photo contest is definitely the way to go. 
Let's see an example of a photo contest that might inspire you. 
Example: Street Style Store Official
Our example comes from Street Style Store, an Indian eCommerce brand that has over 700,000 followers on Instagram: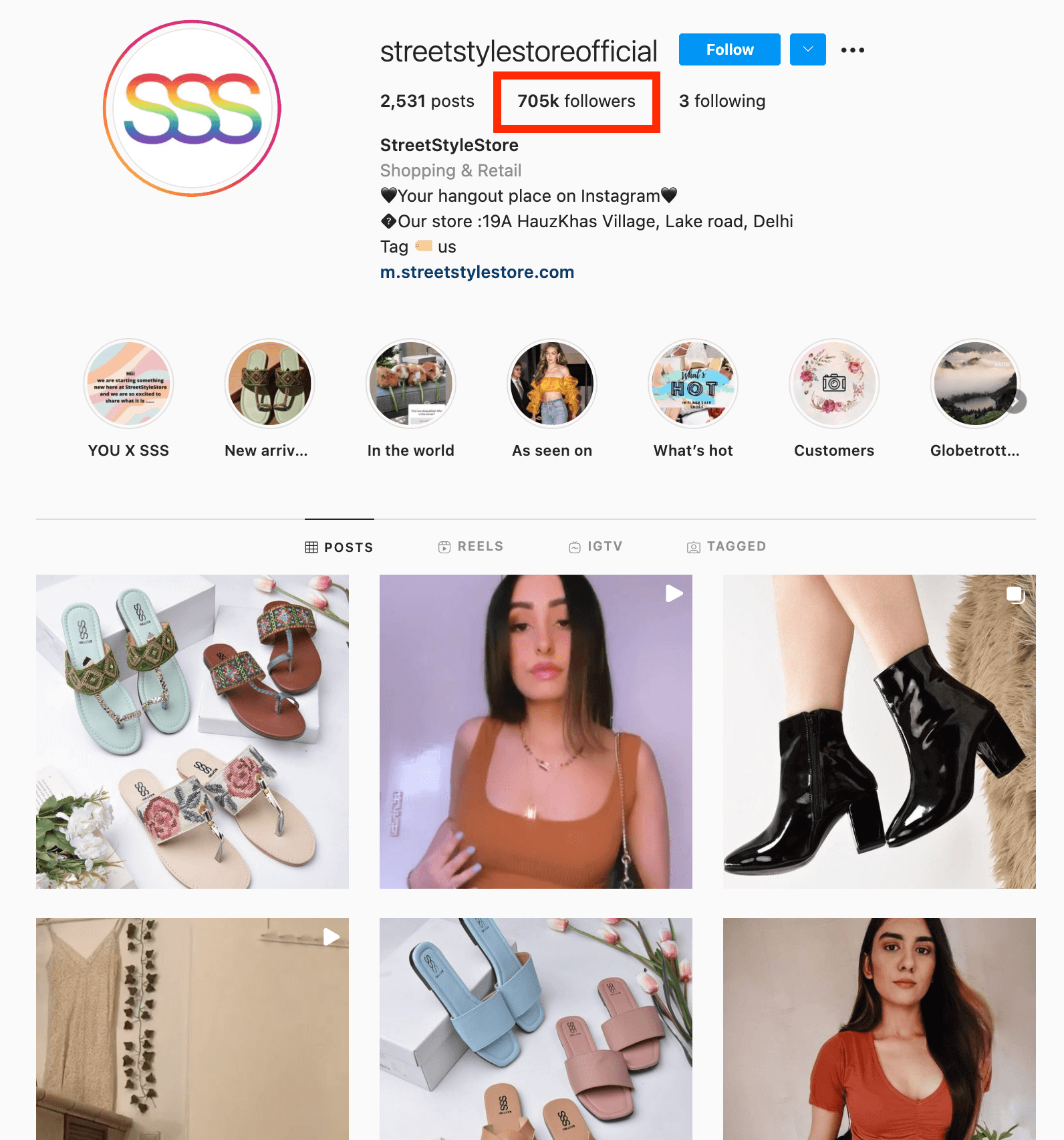 Image Source: Instagram
For one of their photo contests, the brand used the power of one of the most popular – or maybe THE most popular – TV series of all times, Friends. 
More specifically, they asked their followers to recreate famous Friends looks.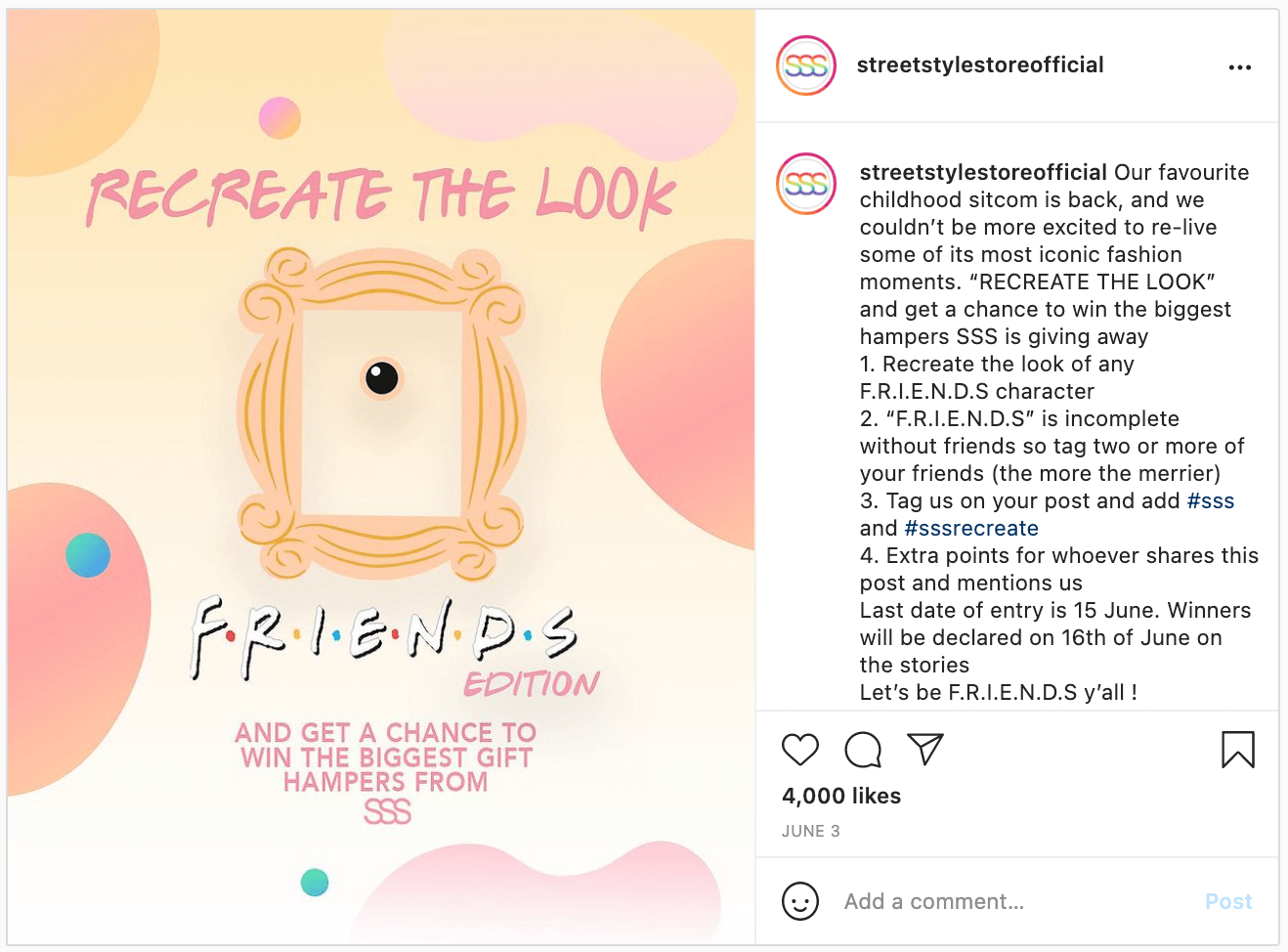 Image Source: Instagram
The user who made the most successful recreation of a Friends fashion moment would get a Street Style Store hamper. 
As simple – and fun – as that!
Let's wrap up this post. 
Before you go
There you have it. 
Our list of nine giveaway ideas for startups and small businesses that want to take their interaction with their audience to the next level is now complete. 
Keep in mind that virality and creativity lie at the core of almost all of these different ideas we've discussed in this post. 
Good luck building your special giveaways!