Content comes in a wide variety of formats such as videos, blog posts, eBooks, social media posts, and more.
While those types of content can offer great benefits to a business, there's one element that's usually missing to make them more actionable.
This is where interactive marketing comes in; a practice that triggers your users' preferences and behaviors.
In case you're not familiar with the term, don't worry!
We'll explain everything you need to know about it in this guide to help you take your content marketing strategy to the next level.
To be precise, we're going to cover:
What the benefits of interactive marketing are

What the types of interactive marketing are

Examples of interactive marketing campaigns
Plus, a great set of tools to help you get started.
Are you as excited as we are? Let's get straight into it.
Table of Contents
What is Interactive Marketing?
What are the Benefits of Interactive Marketing?
What are the Types of Interactive Marketing?
4 Interactive Marketing Examples to Inspire You
Tools to Help You With Your Interactive Marketing Efforts
What is Interactive Marketing?
Interactive marketing is a type of marketing that calls users to actively engage with a piece of content by performing a set of actions.
For instance, instead of simply publishing content on your social media platforms, you create what's called a "two-way interaction" for your target audience to interact with your content.
Such content can come in the form of quizzes, calculators, infographics, chatbots, and anything else that'll spark the user's interest to take an action.
Think of it like giving a public speech; you can either keep talking as if you're having a one-way conversation, or you can ask questions that'll catch your audience's attention and make them actively participate in the conversation.
The latter is more interesting, right?
Users almost always think so too, since interactive experiences are more fun and direct.
Actually, marketers say that interactive content generates twice the amount of conversions compared to static content.
Plus, over 46% of them rate interactive marketing as very or extremely effective compared to only 9% who rate it as either not very or not at all effective.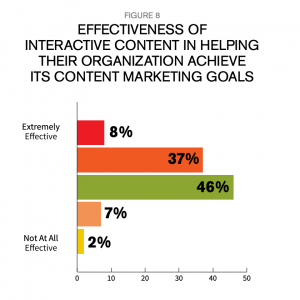 Image Source: Content Marketing Institute
Marketers and business owners don't use this type of marketing by chance; they know that it can bring a wide variety of benefits to their brand's online presence.
Let's have a look at them.
What are the Benefits of Interactive Marketing?
Like any digital marketing technique out there, interactive marketing comes with its own benefits that any type of business, big or small, can take advantage of.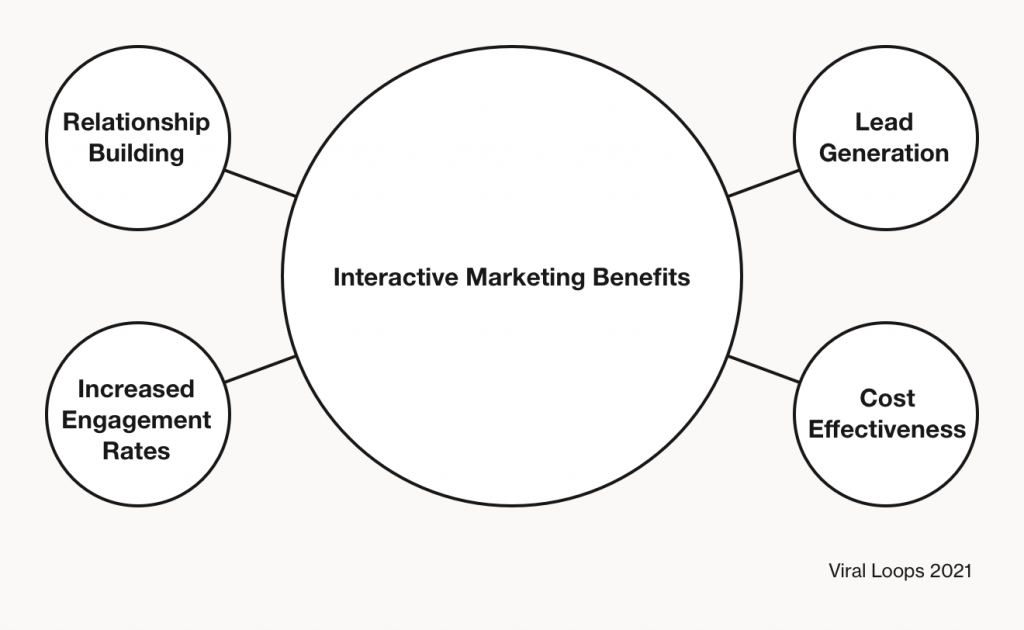 Whatever your goals are, we believe that the following list will encourage you to take your marketing strategy to the next level and deliver a better customer experience.
Without further ado, let's get into it.
Benefit #1: You create relationships
Enhancing customer satisfaction and loyalty have become an integral part of today's marketing efforts.
While this isn't something easy to achieve, marketers constantly strive to create relationships with their audience as a way of building strong communities and connections with it; this is often referred to as relationship marketing.
Relationships are crucial for long-term engagement and increasing your customer lifetime value); factors that traditional marketing tactics often fail to satisfy.
According to a study, 85% of marketers believe that online communities can increase an organization's trust.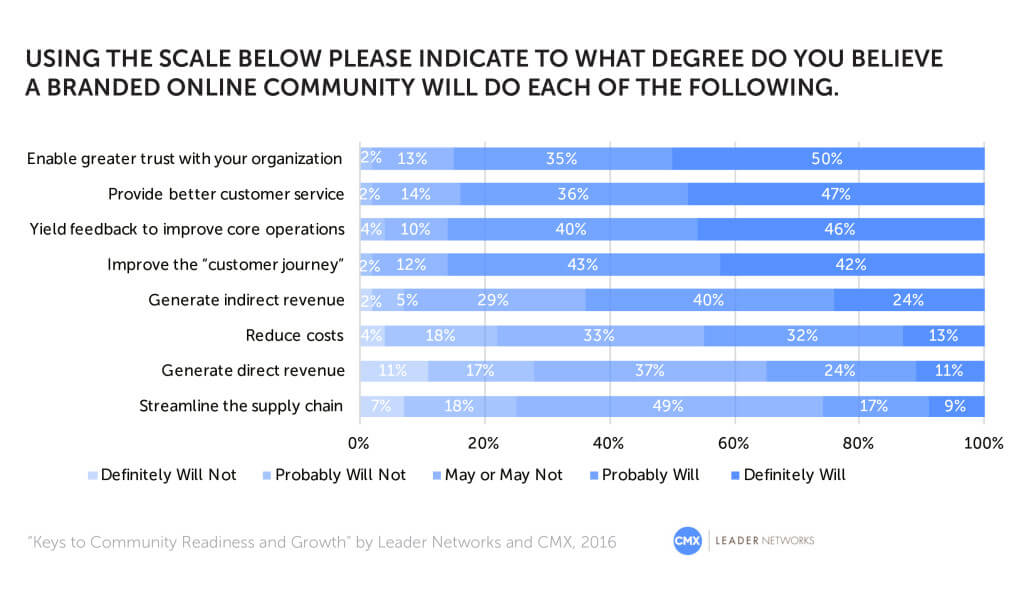 Image Source: CMX
Interactive marketing can really contribute to this and help brands create strong relationships with their existing or potential customers.
Why?
Because having your users actively participate in the content you've created gives them a sense of being part of something.
User-generated content (UGC) is a good example since incentivizing people to create their own content that'll be included in your influencer marketing campaign fosters deep connections between them and your brand.
Overall, communities are all about interactions with people who share similar interests, so it makes perfect sense to establish an interactive marketing strategy that'll facilitate these interactions.
Let's continue to the next benefit.
Benefit #2: You increase engagement rates
Your engagement rate can be defined as the percentage of interactions a brand receives on a piece of content compared to the total impressions it gets.
Depending on the type, engagements can come in the form of:
Likes

Shares 

Comments

Sign-ups

Downloads
Or any other action by the user.
Interactive content specifically aims to incentivize those actions in order to increase the engagement rate and, therefore, benefit the business.
How does that happen, we hear you ask?
Interactive marketing encourages more actions than just one click.
Instead of simply reading, listening, or viewing a piece of content, users are also called to take a wide variety of initiatives through a set of interactive tools.
Quizzes can be integrated into blog posts, Q&As can be used in live streams, and UGC can be included in social media giveaways, just to name a few examples.
That way, engagement can increase exponentially through the use of interactive content.
Let's continue.
Benefit #3: You generate more leads
Lead generation is an essential part of any business's survival, whether it's in eCommerce, the services sector, or any other type of industry.
By implementing a good interactive marketing strategy, you can gather your users' contact information in order to promote your new products directly to them – via email marketing for example – or perform retargeting campaigns.
While we'll showcase many examples further on in this guide, think of how a quiz can contribute to demand generation.
By setting one up on your website, you can request your users enter their email address after completing it so they can see their results from the quiz; email capturing can be as simple as that!
For instance, in the following image, you can see a quiz about SEO built by Outgrow.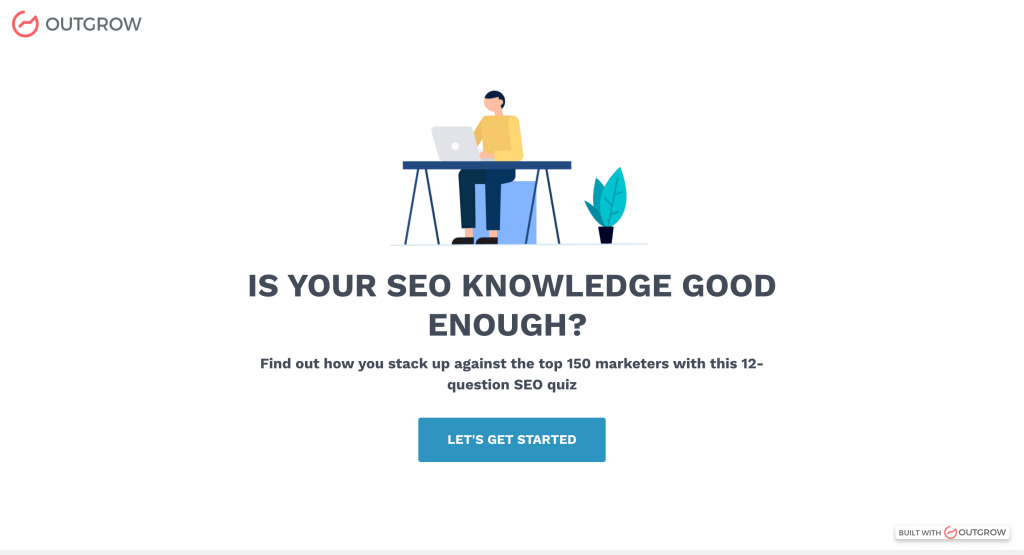 Image Source: Outgrow
After completing it, if you want to see the results, you're requested to enter your email.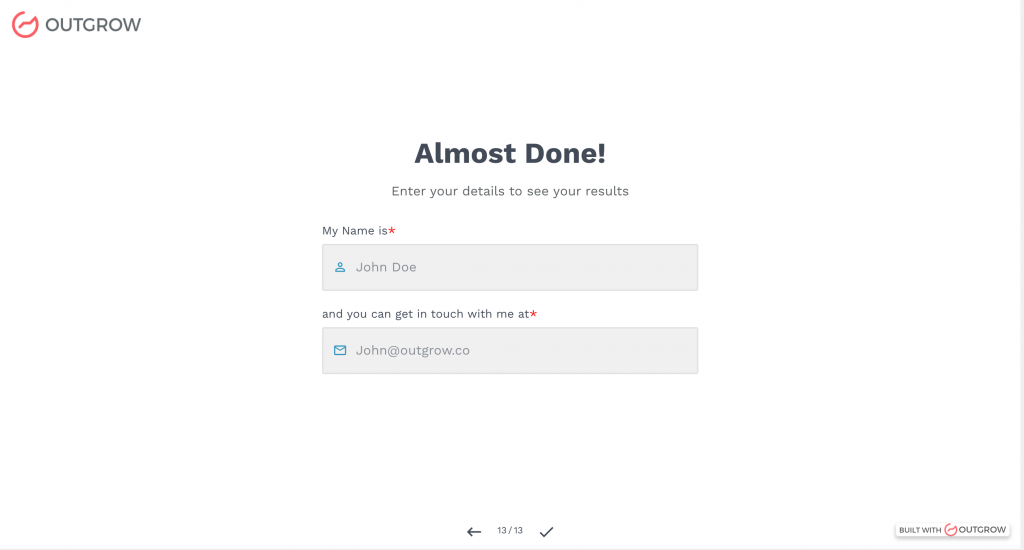 Image Source: Outgrow
What's more, interactive content will help you qualify those leads by deciding which of them aren't quite suitable for you.
If you put out targeted content and specific questions, you can exclude any of those unsuitable prospects and save precious time by not needing to contact them.
Makes sense, right?
Moving forward.
Benefit #4: It's cost-effective
Possibly one of the greatest advantages interactive marketing has is the fact that it's cost-effective.
After all, what all marketers crave are techniques with low marketing costs but good results at the same time.
Interactive marketing can meet those needs; it's based on content that draws attention and can gather customer data.
That data can then be used for sales purposes, which saves labor costs by actively reaching out to customers through ads or other paid means of advertising.
What's more, interactive content can be recycled and turned into other forms of relevant content.
A good case is that of polls and surveys; after conducting them and gathering all the necessary information, you can turn them into blog posts or social media posts that present their results.
For example, the following image shows a blog post where Martech gathered the results of a marketing survey it conducted.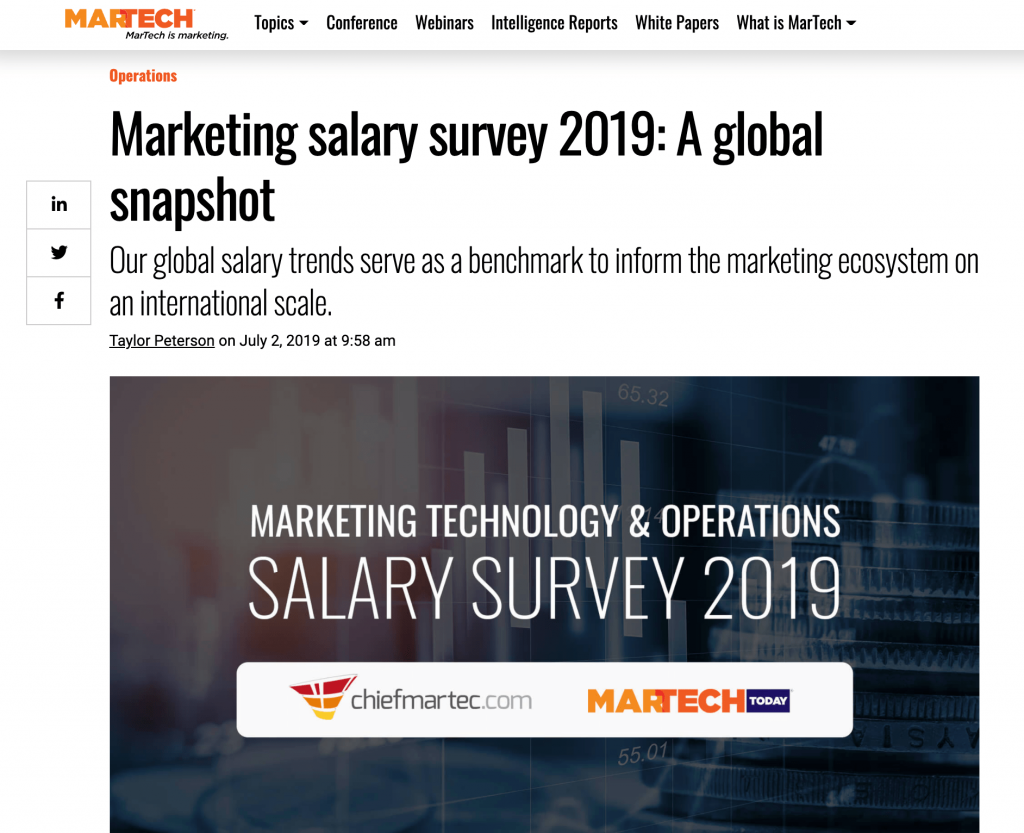 Image Source: Martech
Overall, if done in the right way, interactive marketing can prove to be an effective marketing tool with great benefits for any business.
Let's now have a look at some forms of interactive marketing that you can use for your own business.
What are the Types of Interactive Marketing?
In this part of our guide, we're going to talk about the different types of interactive marketing that exist.
Since there's a lot of variety, we'll keep our focus on the most prominent ones.
Let's get started with the first one.
Type #1: Leaderboard giveaways
Raising awareness for your products or services isn't always a walk in the park.
While there are quite a few ways to do so, giveaways have proven to be one of the most effective ones in the market.
Especially when it comes to a new product launch, finding the right audience for it is essential.
This is why we believe leaderboard giveaways can really help you get things off the ground.
This type of giveaway is based on referral marketing, meaning that the more people participants refer to you, the more chances they have of winning the giveaway's reward.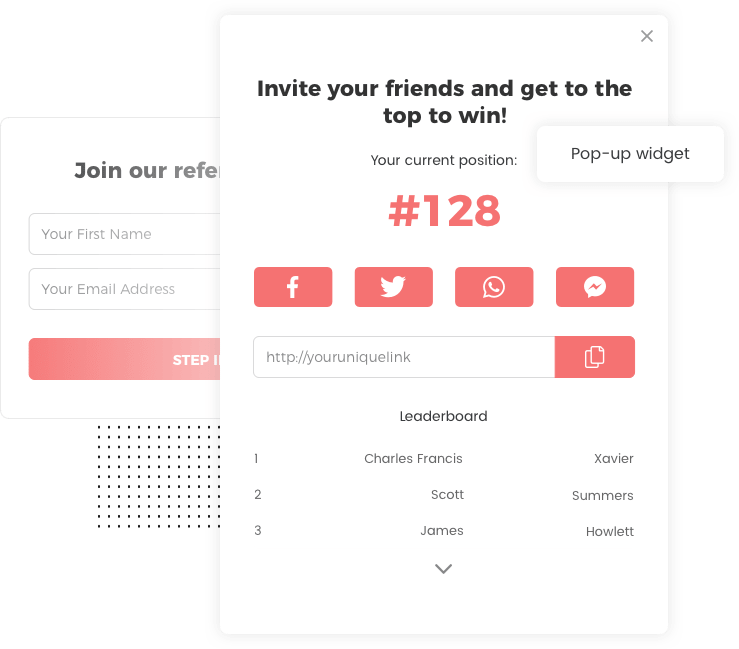 This works as a great incentive when it comes to decision-making because it encourages users to promote your contest for their own benefit; it really is a win-win situation!
If you're looking for interactive content ideas that'll help you get to the next level, then leaderboard giveaways should be a no-brainer.
Moving forward.
Type #2: Quizzes
One of the reasons why interactive marketing is effective is that it allows you to track customer behaviors.
Quizzes are a great way of doing so – not only do they entertain your users, but they also offer user-generated insights that you can then use to understand your audience better.
This is particularly useful for market research purposes.
What's more, quizzes offer interactive elements that make them easy to share and can potentially make them go viral.
This not only gives your brand awareness, but more users will complete your quiz, meaning that you'll have more valuable data to work on.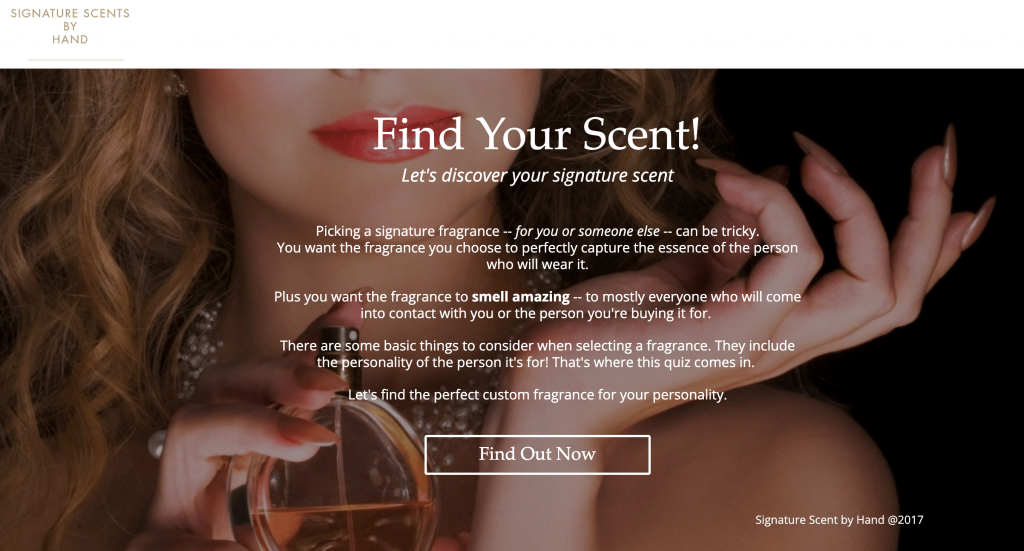 Image Source: SignatureScents
In the image above, we can see a quiz example by Signature Scents by Hand, helping users decide what their ideal perfume is through a set of questions.
Those questions will help the brand understand more about their audience's demographics…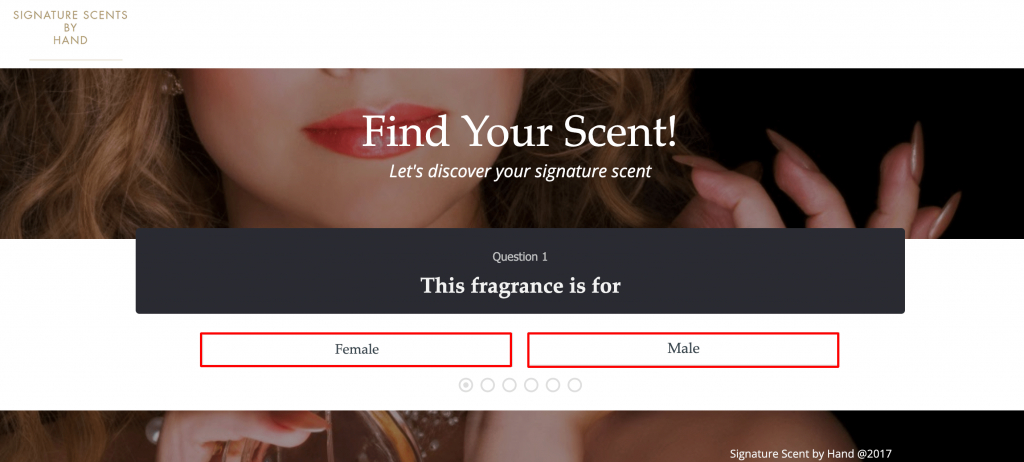 …as well as their preferences: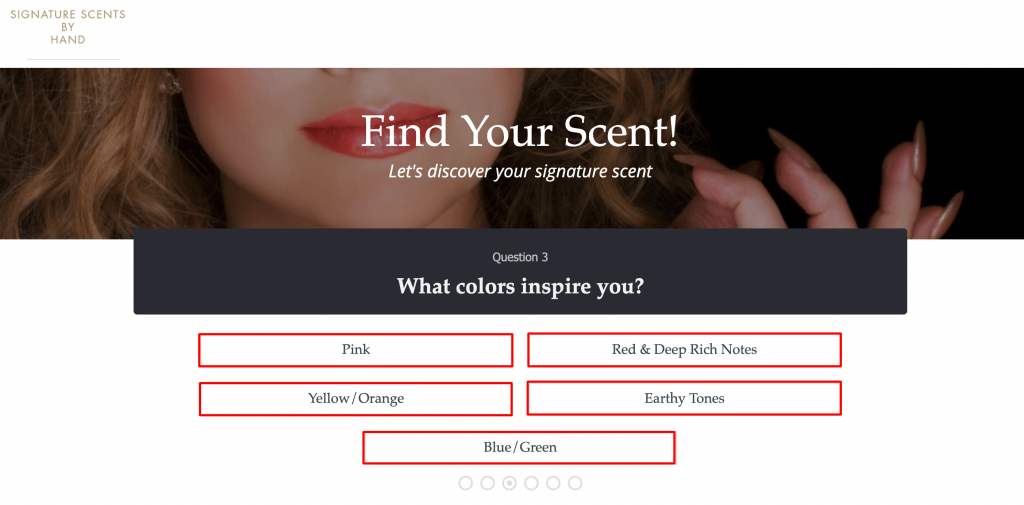 At the end of the quiz, the results will prompt users to buy the fragrance they're most suitable for according to their answers.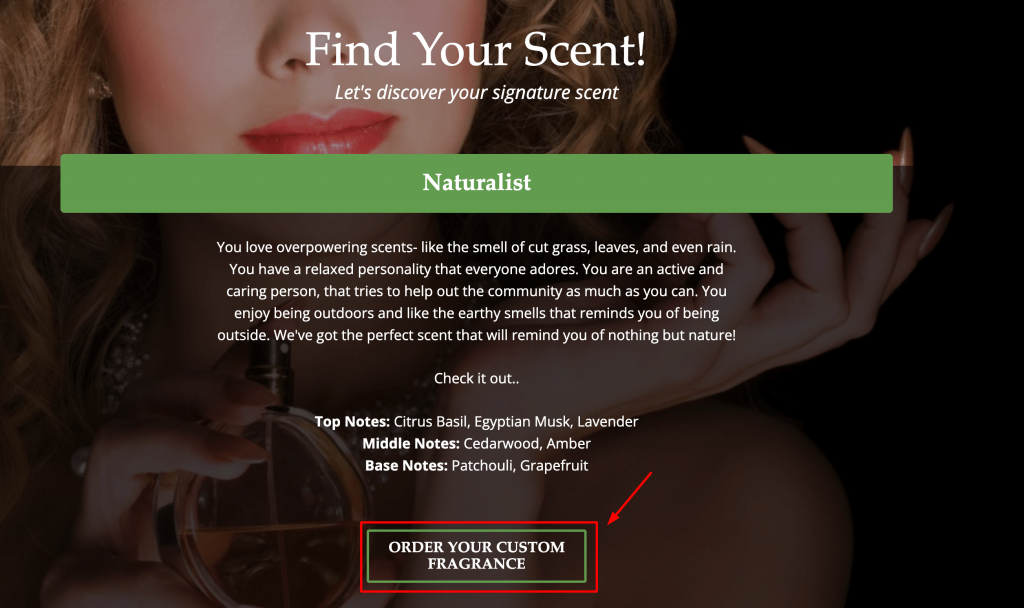 As you can see, quizzes can be an integral part of your interactive marketing strategy; you gain valuable insights about your audience, you raise brand awareness, and you generate more leads.
Sounds good, right?
Let's continue.
Type #3: Chatbots
Although chatbots have been around since as early as 1966, they still haven't been harnessed by most brands, so there are many ways you can use them to help your users out and distinguish your business from the rest.
To put it simply, chatbots act like virtual assistants that reply to users in real-time and can answer any questions they might have, as well as promote products and services to them; all in an automated way.
As you can see below, the main use cases of a chatbot are mainly around customer support, but also around performing actions such as paying a bill or making a reservation.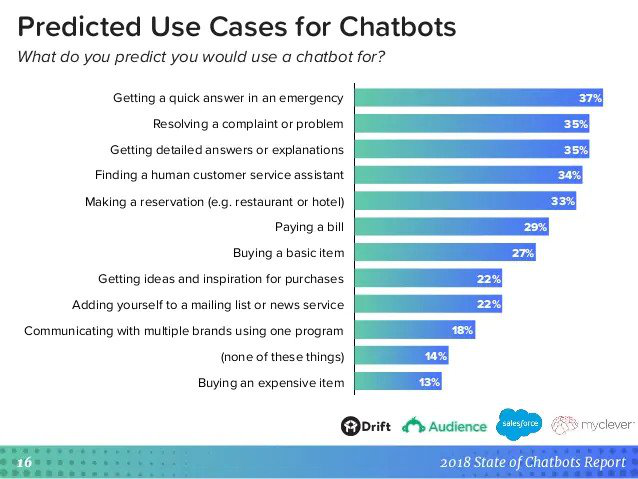 Image Source: Drift
What's more, they're usually built on chat apps like Messenger, WeChat, and WhatsApp, which are used by over 4 billion people worldwide.
Chances are, your target audience is already on those apps.
According to Google Trends, search demand for the term "chatbots" has seen a significant increase over the years.

Image Source: Google Trends
We'll cover this type of interactive marketing with a great example further on, but for now, we believe that the following image explains chatbot marketing – or conversational marketing as some call it –  well.
German grocery chain Lidl launched "Winebot Margot"; a chatbot assisting users with anything they might need to do with wine.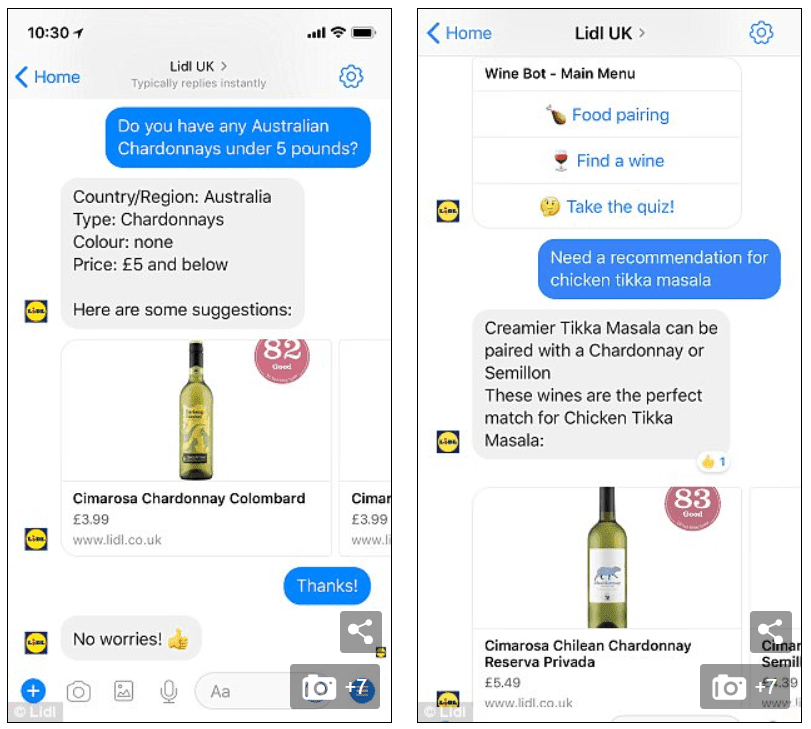 Image Source: ManyChat
Users can get guidance on which type of wine is the best for them in terms of flavor and pricing, as well as tips on food and pairing.
Sounds fun, right?
This is exactly why chatbots are so popular among consumers; they're a fun way to interact with a company and get answers to questions.
In return, companies not only get satisfied users and an increase in customer engagement, but they also get valuable insights and feedback from the types of questions they receive.
Let's continue.
Type #4: Free tools
Free tools are a great way to attract targeted traffic to your website.
By offering things like calculators, checkers, schedulers, and more, visitors can use them to perform an action and satisfy their job to be done search intent.
Companies benefit from this because those visitors can go on to explore more things on their website and potentially buy a product, book a demo, or even sign-up for a newsletter.
For example, investing and copy trading platform, ZuluTrade, offers a wide range of free tools that are capable of attracting the right type of audience.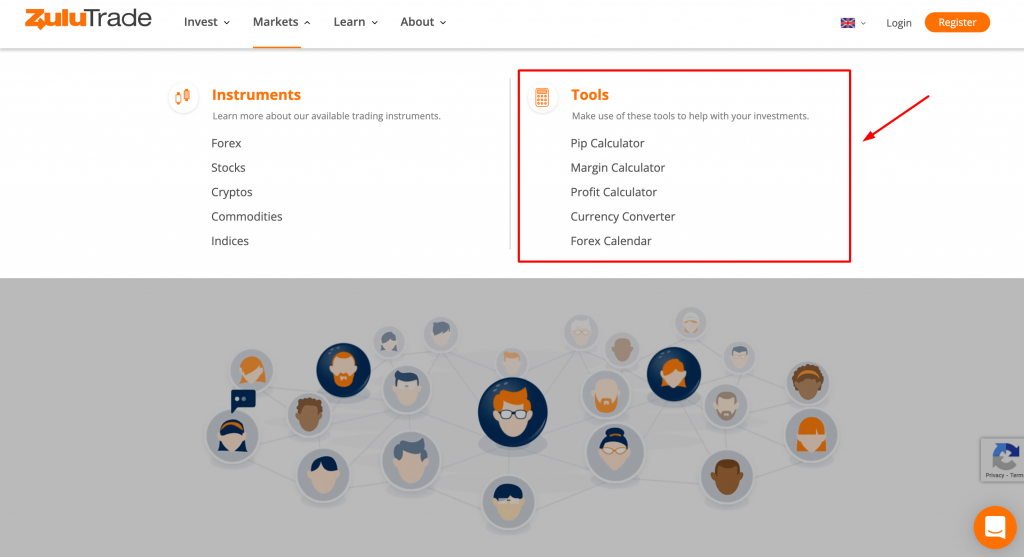 Image Source: ZuluTrade
After all, a profit calculator, a currency converter, and a Forex calendar are all free tools that interest the type of people the company is targeting as potential customers.
Makes sense, right?
Tools are generally one of the best ways of having your users interact with you and gain great value from what you offer; this can go on to increase your brand loyalty, consumer engagement rate, and even contribute to lead generation.
Those were a few of the most prominent types of interactive marketing you can find in the market.
While each has its own benefits, we suggest opting for ones that are suitable for your brand and make sense to use.
If you're looking for more inspiration from other brands that have taken advantage of interactive content, we've got you covered!
Let's have a look at some.
4 Interactive Marketing Examples to Inspire You
In this section of our guide, we're going to take a look at four examples of interactive marketing from companies that have done it in a great way.
We'll try to cover a variety of examples and we hope you'll find them both useful and inspiring.
Let's get started.
Example #1: World Health Organization
Going back to the topic of chatbots, here's a great example of how they can be taken advantage of in an impressive way. 
In order for the World Health Organization (WHO) to spread awareness about COVID-19, it created a Messenger chatbot to answer any questions users might have and educate them on related matters.
More specifically, users can select between different options, such as:
Getting a question answered

Getting updates about a country of their choice

Getting tips about managing stress
Plus, many more interactive options that users might find useful.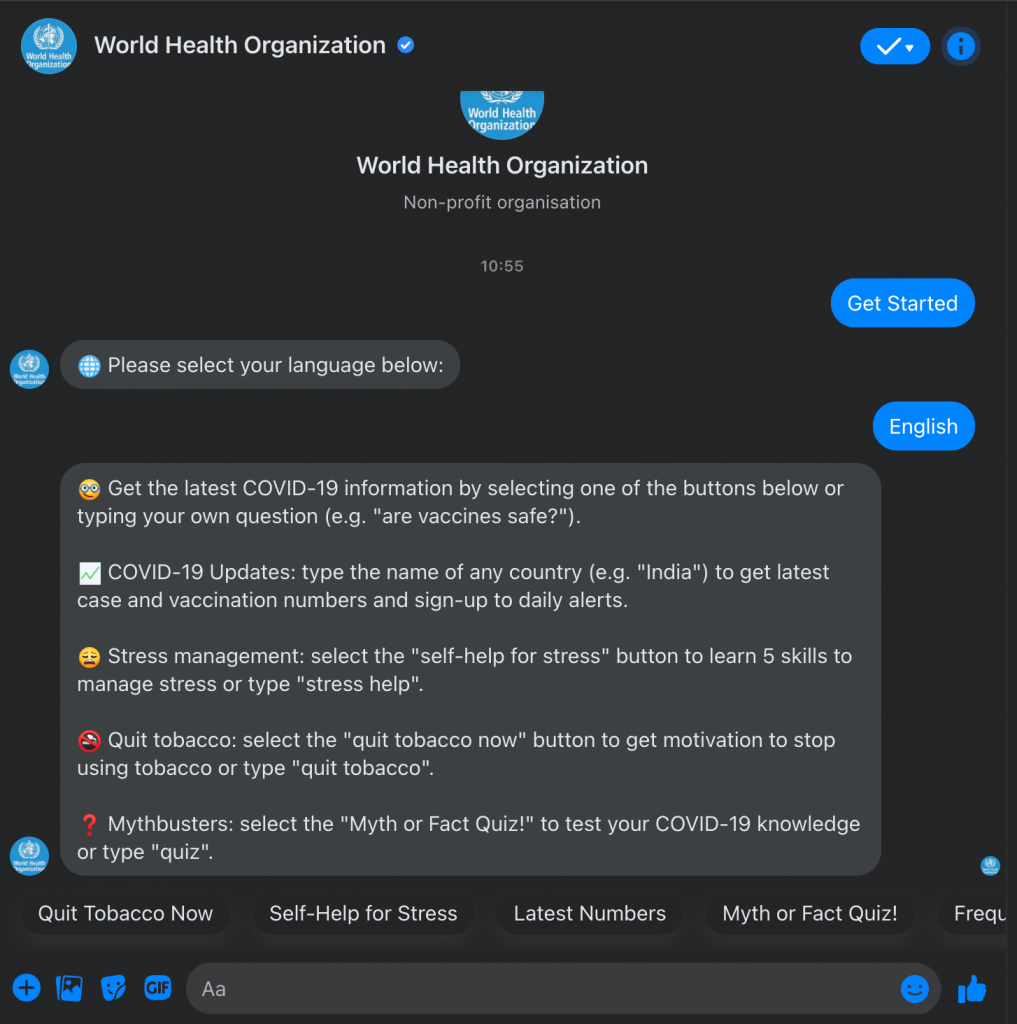 For instance, if we decide we want to get COVID-19 updates for the USA, by simply typing "USA" the chatbot will respond to us…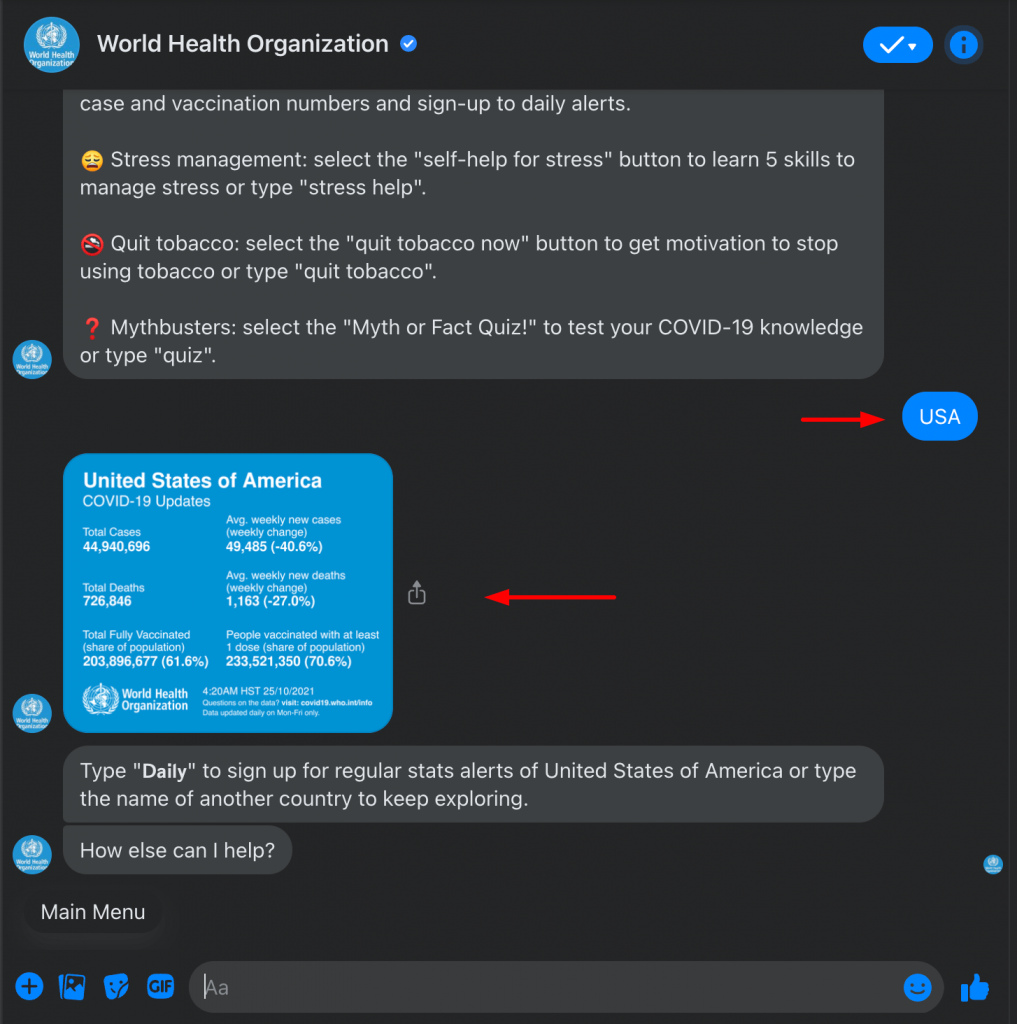 …thus providing us with the latest case numbers and vaccine rates in the USA.
Assuming we want to receive travel advice, by entering "travel advice" we'll be presented with a list of tips to stay safe while traveling.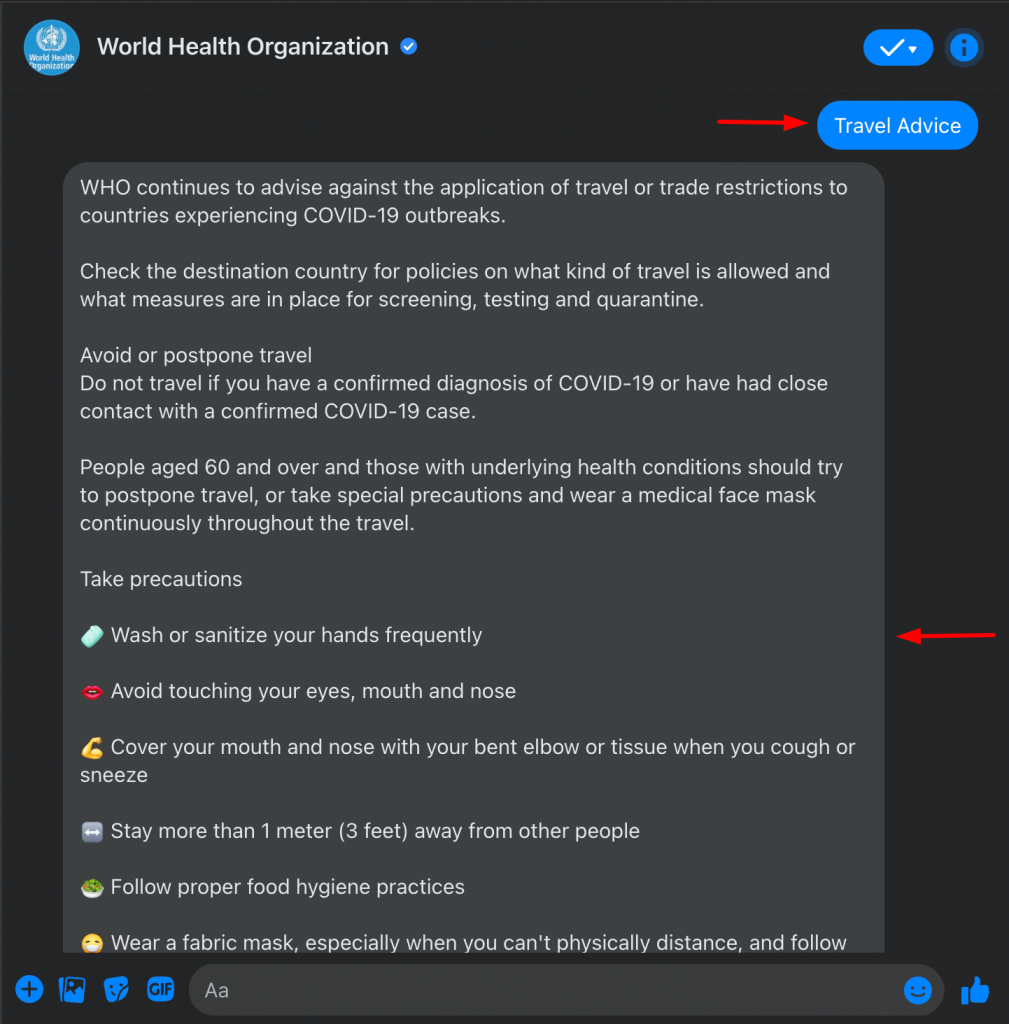 Interesting, right?
This is both a fun and interactive way to educate and communicate with your audience, and it's way more efficient than manually having to answer questions.
Just to give you an example, when meal-kit company HelloFresh decided to install a chatbot to manage the increased number of messages, response times were cut by 76%.
Particularly for brands with a high volume of messages, chatbots should be a no-brainer!
Type: Chatbot
Difficulty level: Medium
Investment: Medium
Let's continue with our next example.
Example #2: Nike
You all know Nike; one of the world's leading sports clothing brands.
While a user can easily navigate through the website's online shop and order products, the company came up with a great way to promote its shoes using interactive marketing.
More specifically, users can customize their own shoes online any way they want and have their favorites made for them.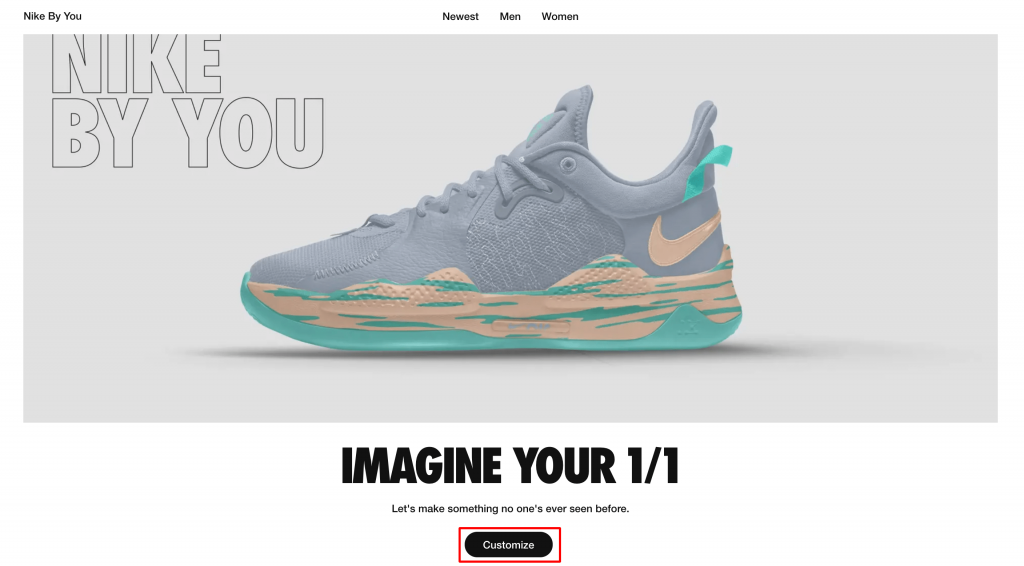 Image Source: Nike
You can select the colors you want your shoes to have, the type of leather, shoelaces, sole, and anything else a shoe consists of.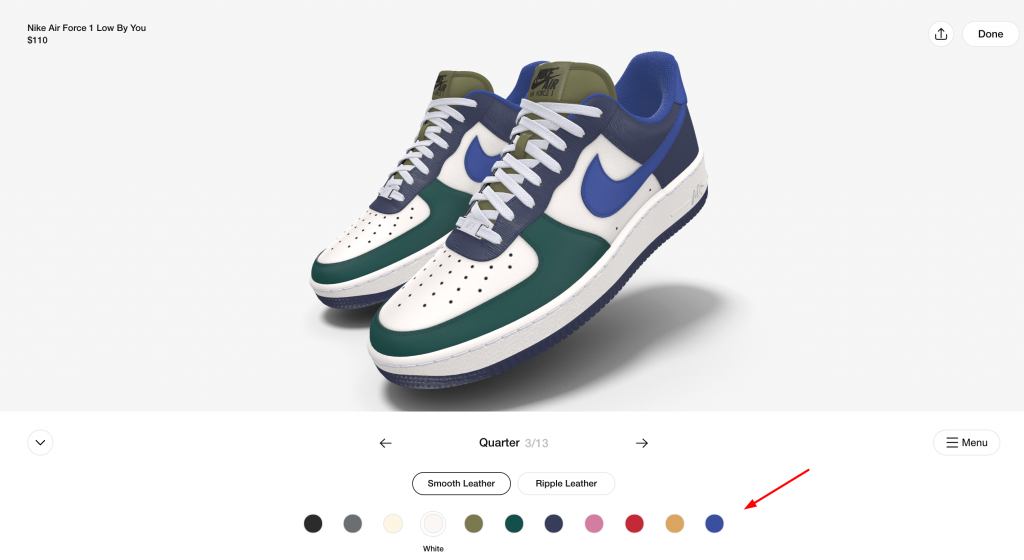 Image Source: Nike
After you're done, there's the option of ordering the pair exactly as it's been customized.
Impressive, right?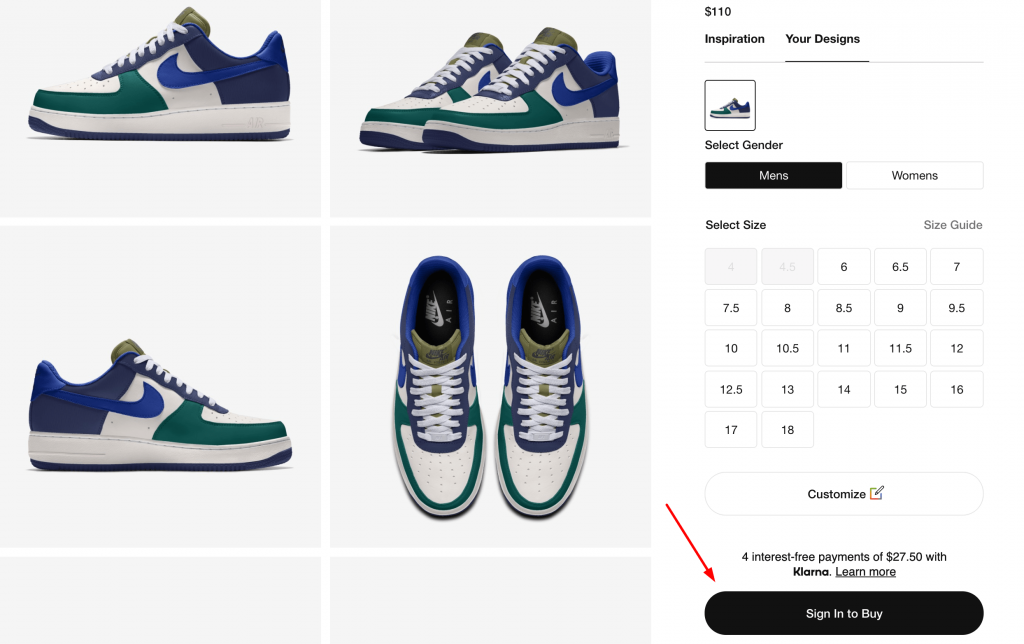 Image Source: Nike
As you've probably already figured, this is a great way of increasing sales by offering consumers a fun and interactive experience.
Needless to mention that brand loyalty can also reach new heights; it's a unique type of interactive content that not many businesses offer.
Type: Customized content
Difficulty level: High
Investment: High
Moving on to the next example we have for you.
Example #3: Biteable
Biteable is a video editing software that enables users to create interactive videos and animations, through a variety of templates and tools.
The company took advantage of a calendar in the form of a free tool to not only inform its visitors about international days and holidays but also offered a free video template for almost every one of them.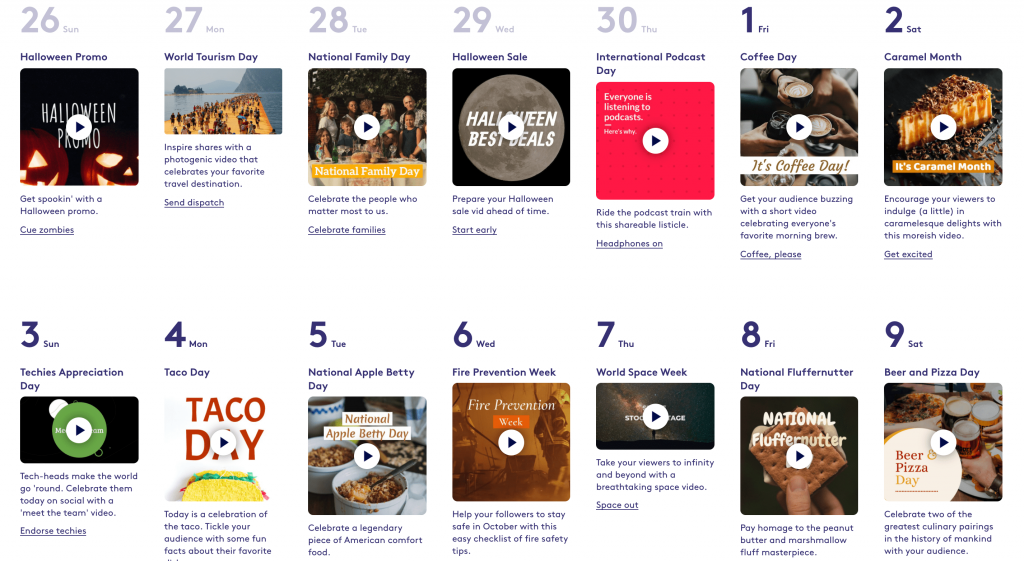 Image Source: Biteable
That way, users could select one and use the template to make creative videos to share on their website or social media profiles.
Just to give you an example, October 31 is Hallowe'en, so a marketer or business owner can edit the video template in order to create a special video for the day including products, offers, and more.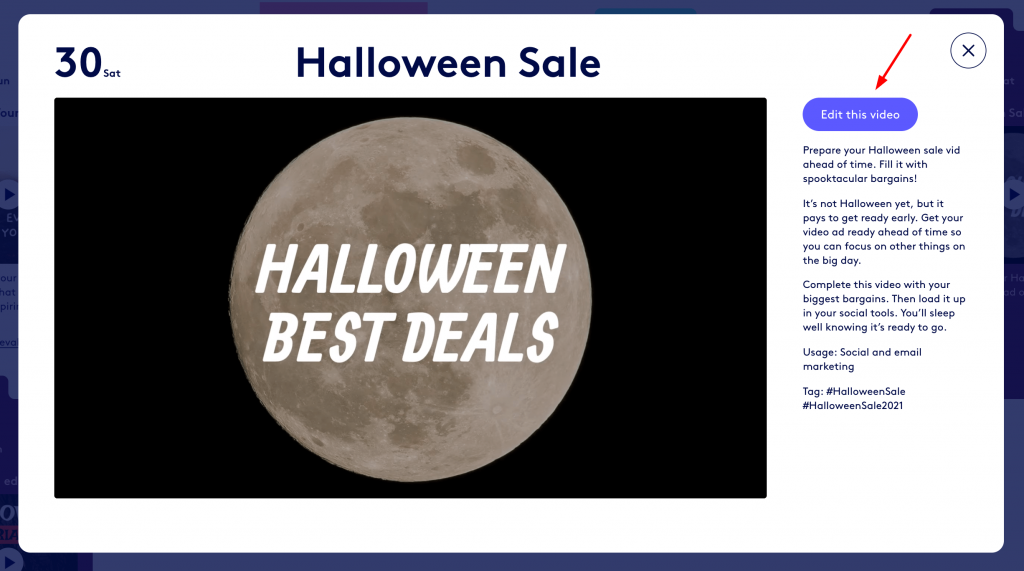 Image Source: Biteable
Without the templates being included in a free marketing calendar, then chances are they wouldn't be as easy for searchers to find them.
As you can see below, Biteable ranks on Google's first page for the term "marketing calendar".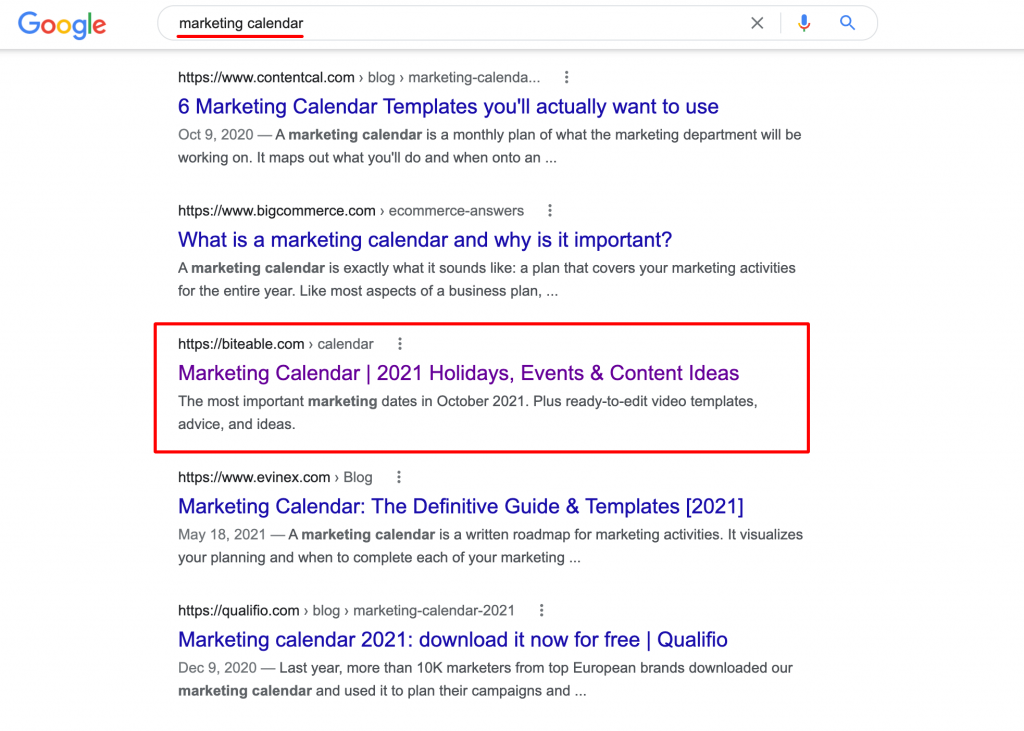 There's also sufficient demand for the term, meaning that the company can attract a good chunk of the total traffic searching for it.

Overall, calendars, just like any other free tool, can bring in targeted visitors who can potentially be converted to paying customers.
Type: Calendar
Difficulty level: Low
Investment: Low
Let's continue.
Example #4: UserOnboard
Optimizing the customer journey of one of your landing pages, or your website in general, is both crucial and difficult.
UserOnboard aims to help businesses achieve this and increase the likelihood of new users being turned into customers.
How does it manage to attract new visitors?
It uses interactive content and, more specifically, offers a breakdown of how various websites handle their customer's signup experience.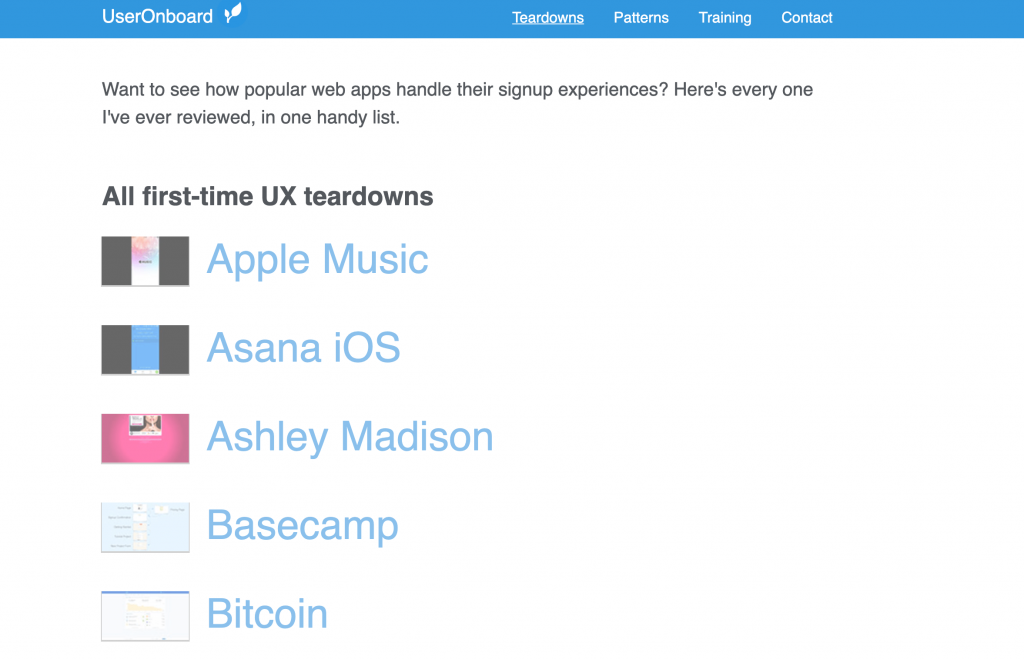 Image Source: UserOnboard
There's actually a whole list of websites – each with its own presentation on the step-by-step process a user has to follow.
In the following image, you can see that there are over 75 slides explaining how Duolingo onboard its new customers.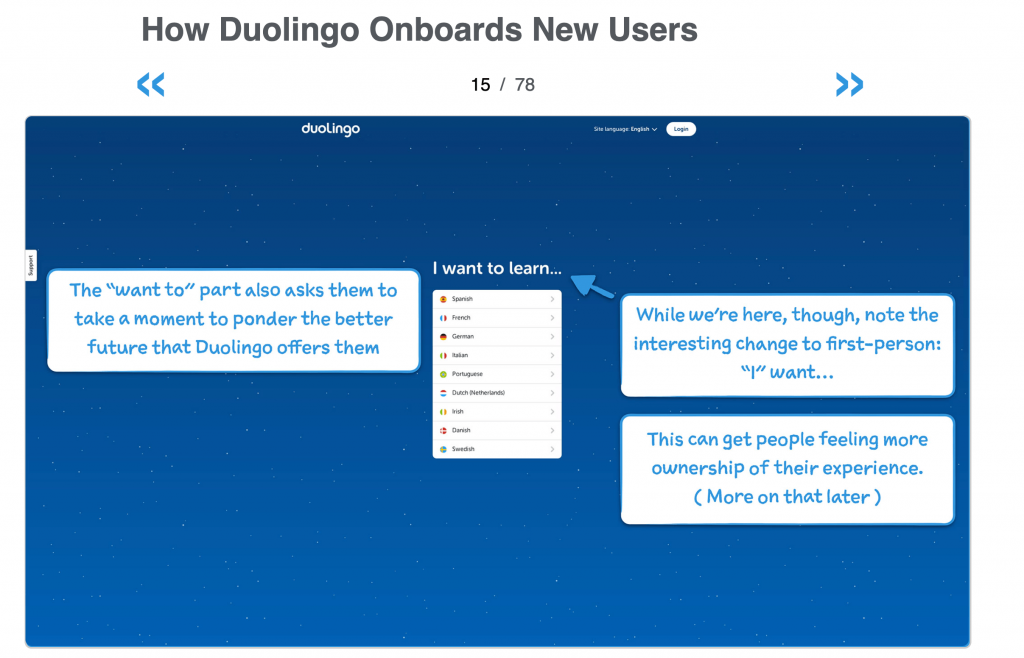 Image Source: UserOnboard
By going through them, you can clearly see the level of expertise UserOnboard has on this matter; you can even enter your email address at the end of the presentation.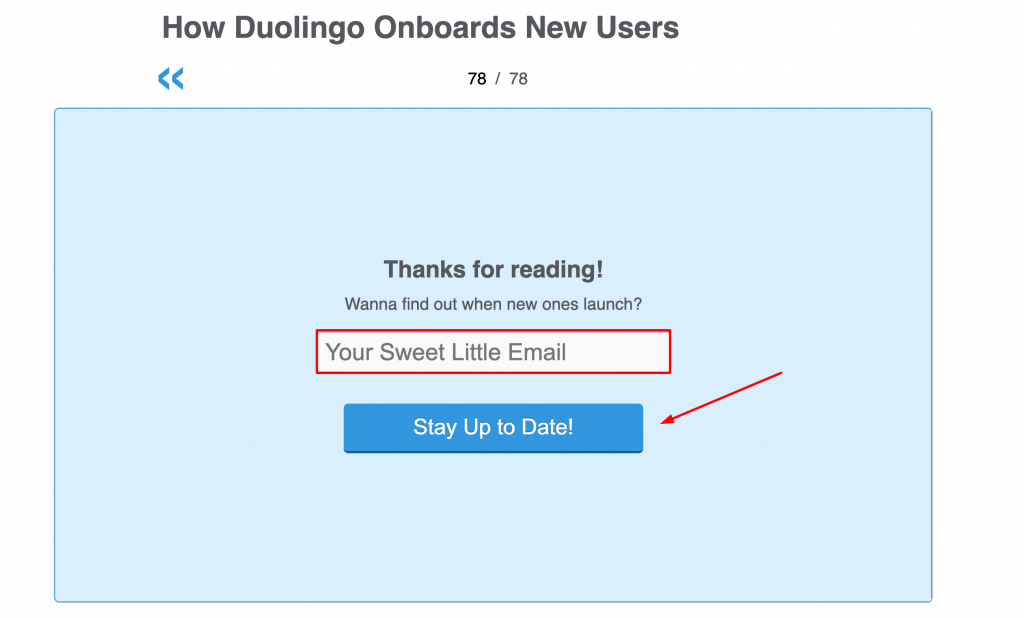 Image Source: UserOnboard
This was all made possible because of the creativity inserted into a unique interactive marketing strategy such as this one.
Type: Case studies
Difficulty level: Medium
Investment: Low
To sum up, every company opts for a different interactive content type, based on what's most suitable for it.
Simply test out what works best for you and the results can be great.
What'll help you in this process is a set of tools in order to create and then execute your interactive marketing ideas.
Let's have a look at some.
4 Tools to Help You With Your Interactive Marketing Efforts
In this last section of our guide, we're going to cover four tools to help you with your interactive marketing efforts.
Each has its own benefits and capabilities, so let's get into them.
Tool #1: Viral Loops
First up on our list is our very own tool Viral Loops.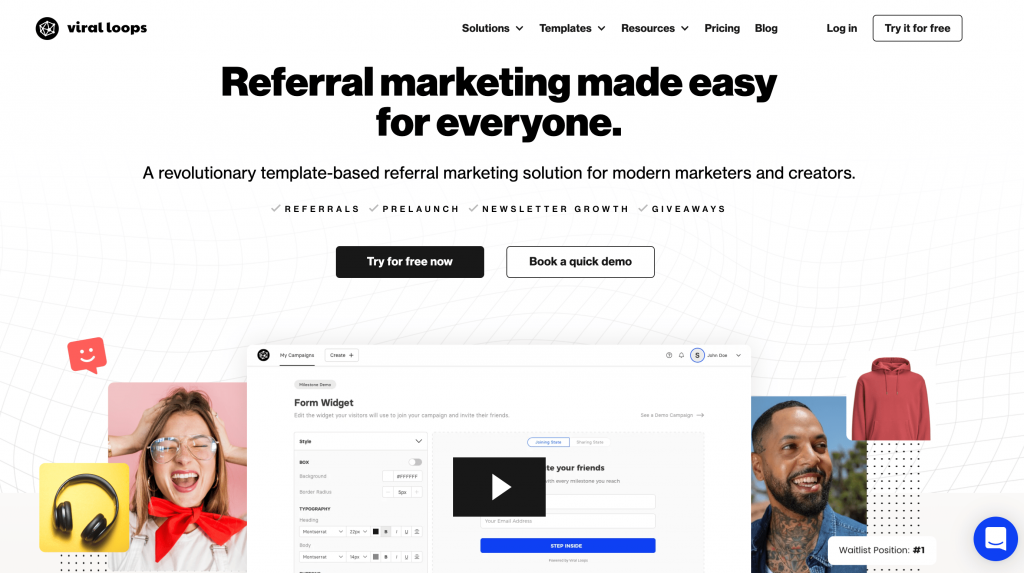 Image Source: ViralLoops
Viral Loops is a referral marketing software with a huge variety of templates and integrations to choose from.
If you want to turn your interactive marketing efforts into a seamless process, we've got you covered!
With our tool, you can create messenger giveaways with the use of chatbots, milestone referral campaigns via Messenger, as well as leaderboard giveaways like we saw earlier.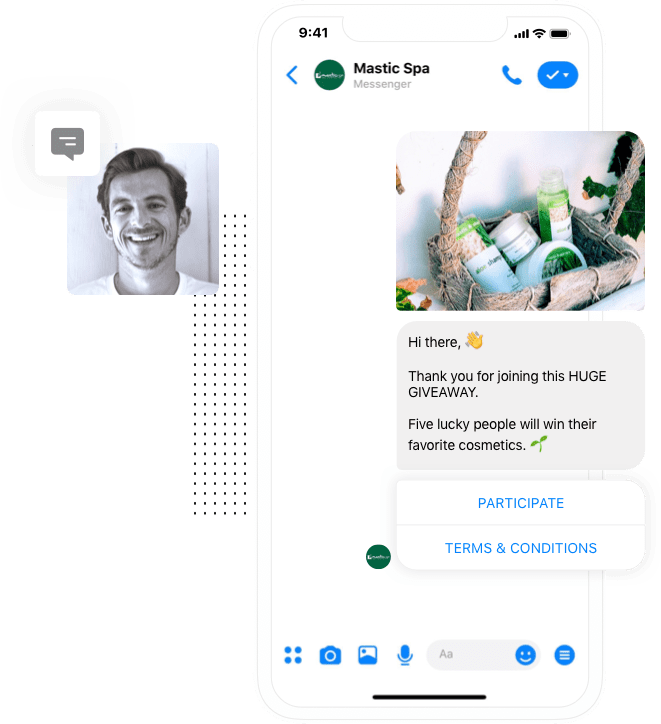 What's more, we offer integrations with third-party tools such as MailChimp, Facebook, LeadPages, ManyChat, and more, in order to take your interactive marketing campaign to the next level.
Our pricing structure is pretty clear.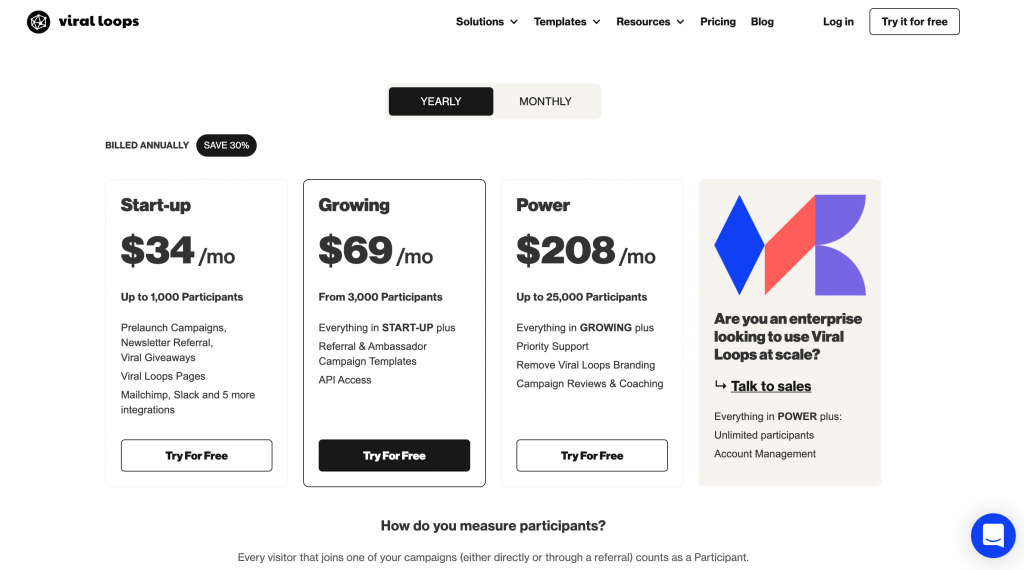 You can choose between three flexible plans based on your needs, mainly depending on how large your user-base is.
The best part?
You can give Viral Loops a go for free and see the benefits first-hand.
Let's continue.
Tool #2: Outgrow
The next tool on our list is Outgrow.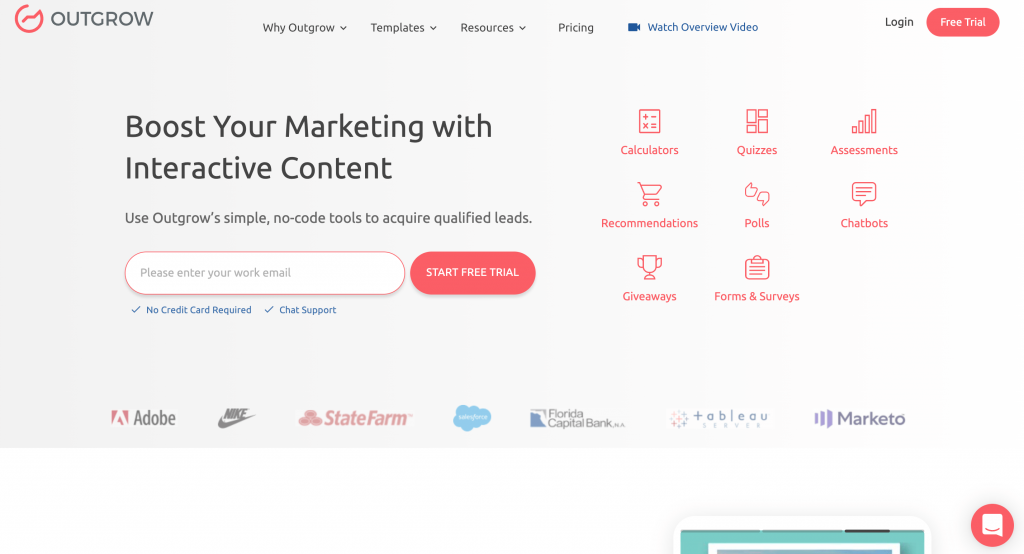 Image Source: Outgrow
Remember the different types of interactive content we looked at earlier on?
Outgrow is an all-in-one tool to help you create them; from calculators and giveaways to chatbots and polls.
What does the pricing look like?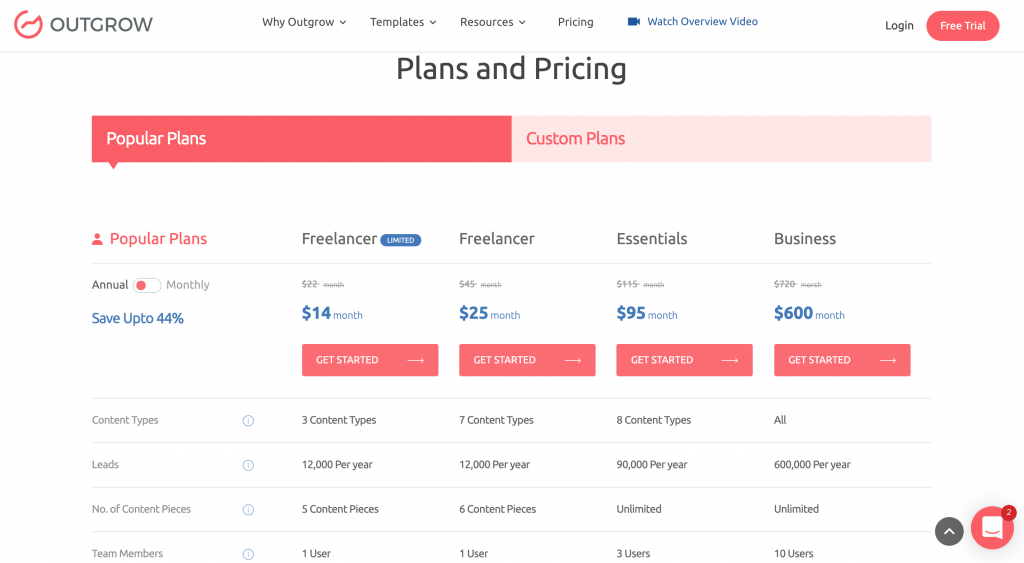 Image Source: OutGrow
You can choose between four plans based on your needs  – such as the types of content you want to create and your team members – starting from Freelancer all the way up to the Business plan.
Overall, Outgrow is a good tool that can help you with your interactive marketing efforts.
Moving on.
Tool #3: SurveyMonkey
We assume you've already heard of SurveyMonkey, which is the next tool on this list.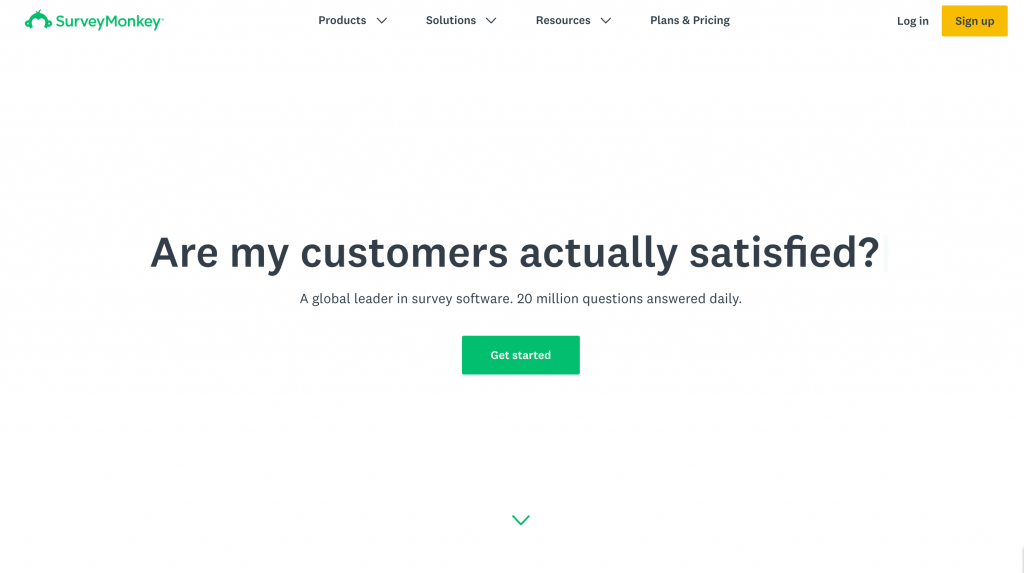 Image Source: SurveyMonkey
While the software mainly focuses on one type of interactive content- polls and surveys – we believe that it's worth covering.
With SurveyMonkey, you can create polls for your audience in just a few simple steps and gain valuable insights about them as well as conduct market research.
It's also particularly useful for companies wanting to test their product idea by gathering feedback from respondents.
Sounds good, right?
If you want to try it yourself, you can first choose a pricing plan that suits you best based on your needs.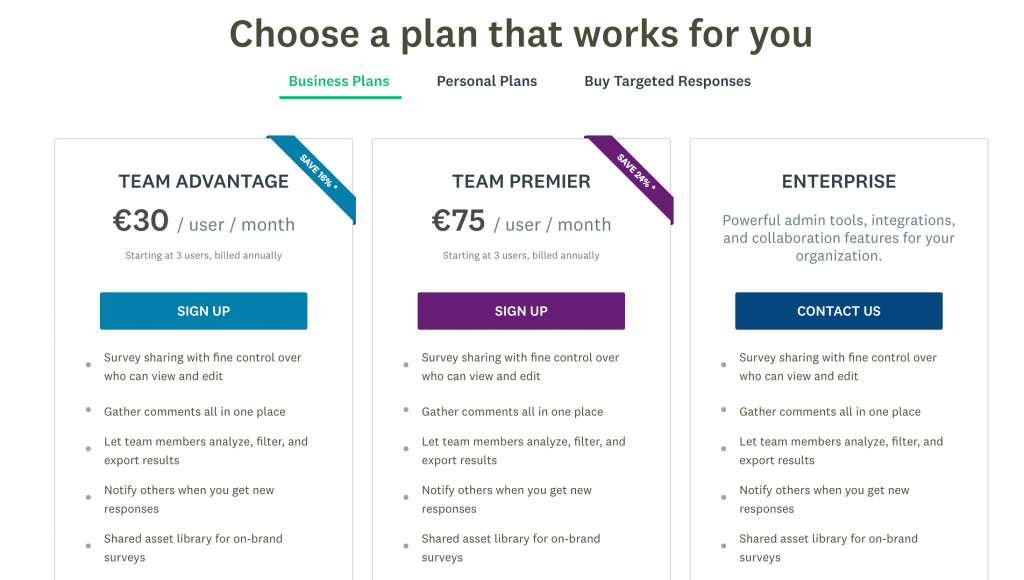 Image Source: SurveyMonkey
SurveyMonkey is one of the best tools out there when it comes to conducting polls and surveys as part of your interactive marketing strategy.
Moving on to the last software.
Tool #4: LeadQuizzes
The fourth and last tool we've got for you is LeadQuizzes.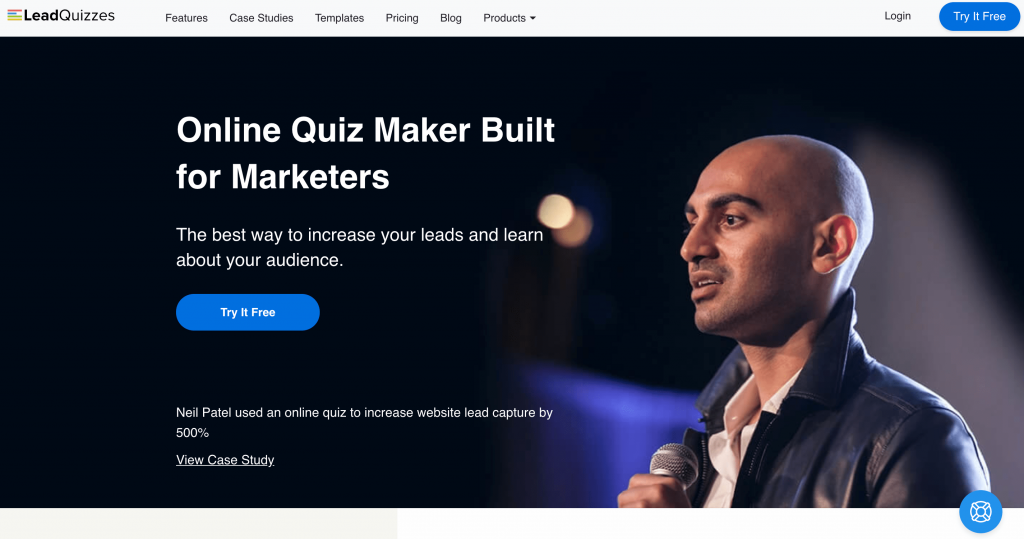 Image Source: LeadQuizzes
Since quizzes are a prominent type of interactive content, there are many tools out there helping you build them for marketing purposes.
LeadQuizzes is one of them; it allows you to choose between a wide range of templates in order to create a great quiz and gather valuable information.
Some of the templates cover:
Matching quizzes

Personality quizzes

Trivia quizzes
And many more.
Here's what the pricing looks like: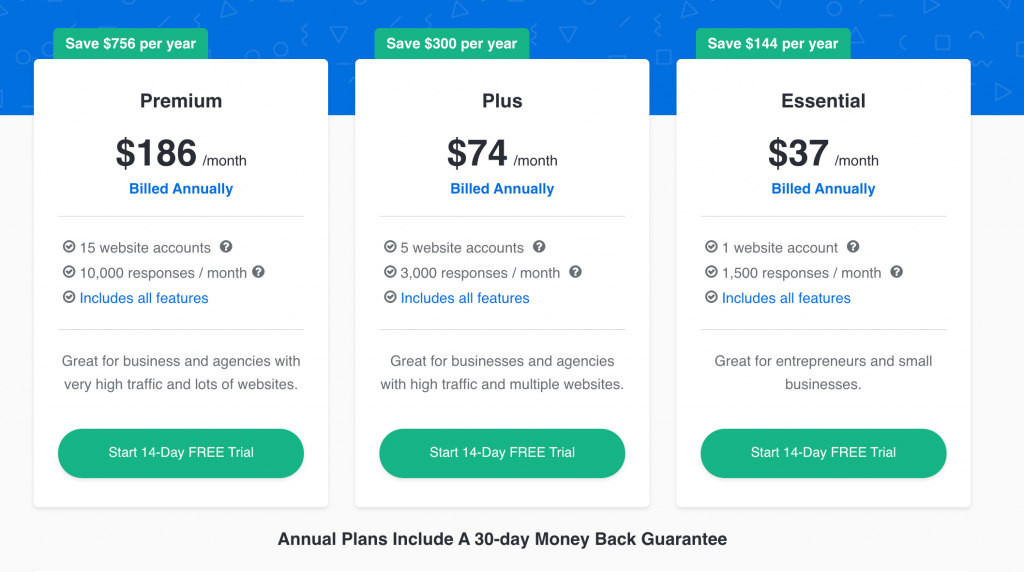 Image Source: LeadQuizzes
There are three plans to choose from, each with its own capabilities in terms of website accounts and amount of responses you need.
To sum up, LeadQuizzes is one of the market's best tools when it comes to building quizzes.
Let's wrap things up with some final thoughts.
Before You Go
There you have it.
Our full guide on interactive marketing has come to an end.
We truly hope you enjoyed it, as well as gained valuable knowledge that'll help you in your future marketing efforts.
Remember that, whichever of the types we covered you go for, you should make sure it's the right one for you and do it according to your brand's guidelines.
Also, try to always offer an interactive and fun experience to your users; the outcomes can be valuable!
If you need any assistance in your next interactive marketing campaign, please don't hesitate to request a free demo from us and we'll do our best to help you out.
Thanks for reading!