It's almost Christmas!
I had to write this article because everybody does the same; and God, I hate doing the same.
So why am I doing it?
Because I was being too selfish to actually understand that there are people out there looking for solutions.
So, not writing this article, would mean that I would be killing the Christmas spirit.
I don't want to be that person.
Here's how to boost your Christmas sales with Referral Marketing.
If you're not familiar with Referral Marketing, you can learn literally anything about it on our blog.
More specifically, I propose to start from these:
Listen, I will make this as short as possible. You have a lot to do these days.
Here are the 2 most viable options (in terms of referral campaign's type):
You can build an ambassador program.
You can do a giveaway.
I'm here to help you find the best option for your case.
Ambassador program.
What is an Ambassador program?
The concept is simple: You repeatedly reward people for bringing more people to buy from you.
I know it doesn't sound so good, but it's the blunt truth.
How could it work for you?

You can offer discounts or gifts, in exchange for referrals. The difference with a simple referral marketing campaign is that these rewards are tiered.
In other words, you give people goals to reach.
E.g.
Refer 1 friend= Get 10% discount for next purchase.
Refer 3 friends= Get 20% discount for next purchase.
Refer 5 friends= Get 40% discount for next purchase.
You also have the option to offer physical products as rewards, gift cards, discounts in monetary value, etc.
Does it work?

It worked for Unicorn Snot like a charm.
Even though they used an Ambassador Program for their pre-launch campaign, their end goal was to drive sales.
That's why most of the rewards they offered were tightly connected with purchases, as you can see in the screenshot below: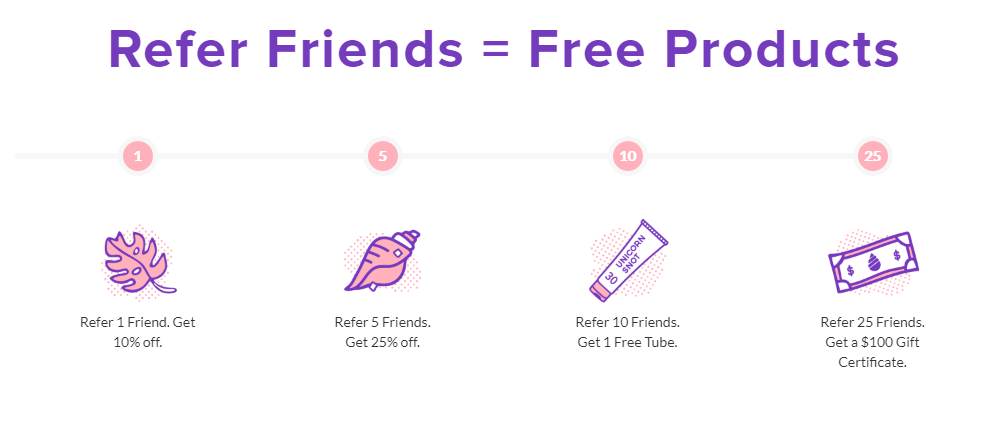 Let's see some numbers, shall we?
48% of signups shared their referral link. (Referral-to-Participants).

7 out of 10 signups came from referrals.

3 people signed up for every 2 social shares.

CTR of 2.7% and a CPC of $0.10, on Facebook.

46% of Twitter shares resulted in a referral.

25% of Facebook shares resulted in a referral, with 3X more total shares than all the other channels.
What should you pay attention too?
Even though some clients and products are more difficult to promote than others, and starting with a high-demand product, there are 4 things you should keep your eyes on:

Pick your incentives carefully.
The rewards you offer can make or break your campaign.
Craft your copywriting carefully.
Do you want to build an Ambassador program to boost your Holiday sales?
You can use our Milestone referral template to implement your idea, and turn it into a living mechanism.
The installation of this template is really simple, and you can read everything on how to do it in our documentation.
Now, if you are more into watching videos than reading, we also got your back.
I made a video about it, showing the process step by step:

Also, if your own a Shopify store, you can connect with Viral Loops for Shopify, and run an Ambassador Program.
Giveaways.
Everybody does it.

But, is it worth?
'Depends', I'll say; If you're selling furniture, the 20K contacts you got in exchange for an iPhone will not be of much use.
You have to give away something that is part of what you do.
How could it work for you?
Since you decide that you're going to run a Giveaway, you have 2 options for the implementation:
What's the difference between them?
The Leaderboard giveaway feels like a game. People who enter, start ranking on a leaderboard.
The more referrals they bring, the higher they climb in ranking. You can choose how many of the top referrers will be rewarded, and the kind of prize they'll win (if you have more than one to give away).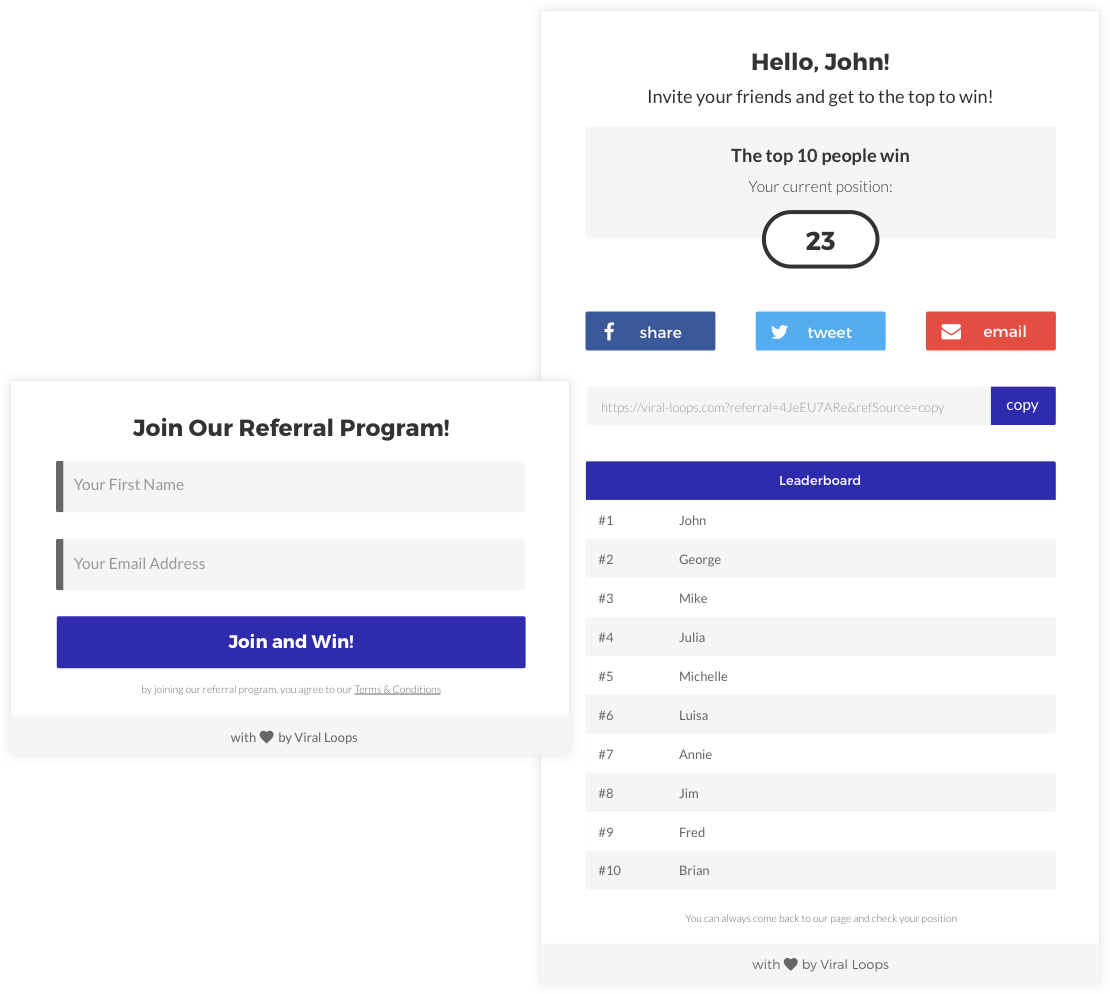 The Tempting Giveaway, on the other hand, offers a simpler mechanism for your giveaway.
Your visitors will enter the contest, and by referring their friends they get more chances to actually win.
E.g.
You give visitors one participation for getting into the contest, and 3 more for every friend they refer.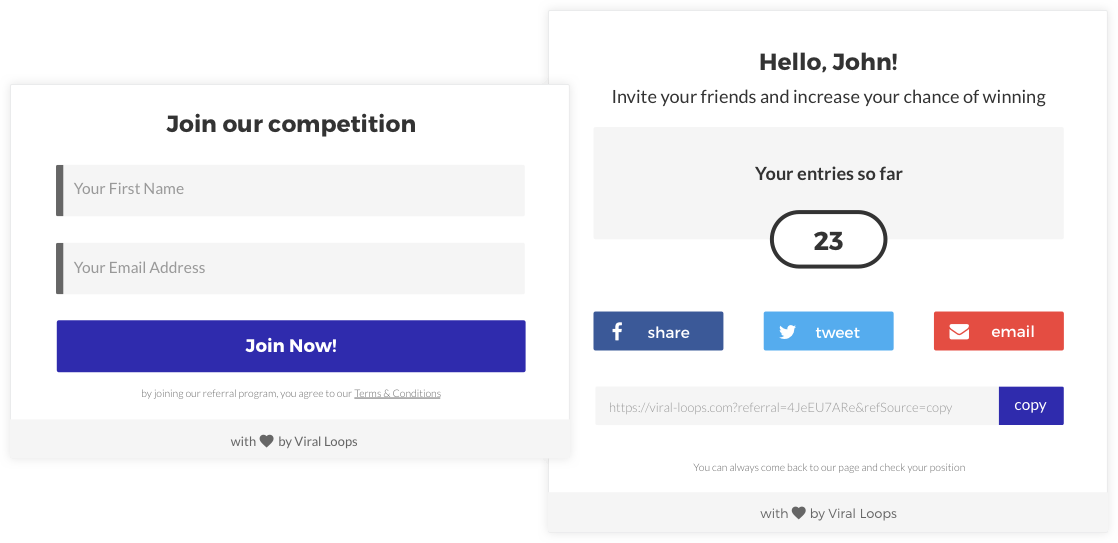 Does it work?
You have to be creative. You have to think outside the box, and I know it sounds cliche as hell.
But Jet did it.

They made a leaderboard giveaway for their pre-launch campaign, but they didn't offer simple gifts. Instead, they decided to reward the top referrers with company shares.

A guy spent $18K to win the contest; he won.
Do you understand the impact of something like that?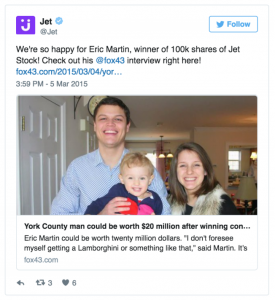 What should you pay attention too?
The rewards are what makes or breaks your giveaway but here are a few other points:
Your rewards should be closely related to your company or what you're selling.
Be creative & think outside the box with your rewards.
Communicate clearly what people need to in order to win. Simple copywriting is the best copywriting.
Don't be afraid to boost your campaign with ads. Giveaways are time-sensitive and you need that momentum.
A soon-to-be, available alternative.
You get inside a train. It's half full and people are scattered trying to kill time in every corner. Now count how many stare at their smartphones' screens.
We are constantly consuming information. We are also taking a lot of photos; but most importantly, we are texting.
A lot.
Question:
What do you check more often, your email or your messenger inbox?
Companies that develop Messenger bots, know the answer. There was a big hype around Messenger bots.
We like them. We use one.
Wouldn't it be cool to run a giveaway through Messenger?
Let that sink in!
Basically, you don't have to. Soon we will make it available for you to use.
You can subscribe for the pre-launch now!
You can run a tempting giveaway via Messenger. Ain't that great?
Consider your subscription, and what you are going to see, as a small glimpse of what you can do with this Messenger Giveaway.
Before you go.
I know you want to boost your Christmas sales. I gave you some viable solutions.
It will be difficult and it can get frustrating, but work is just work. Christmas time is about friends and family.
How much are they worth?