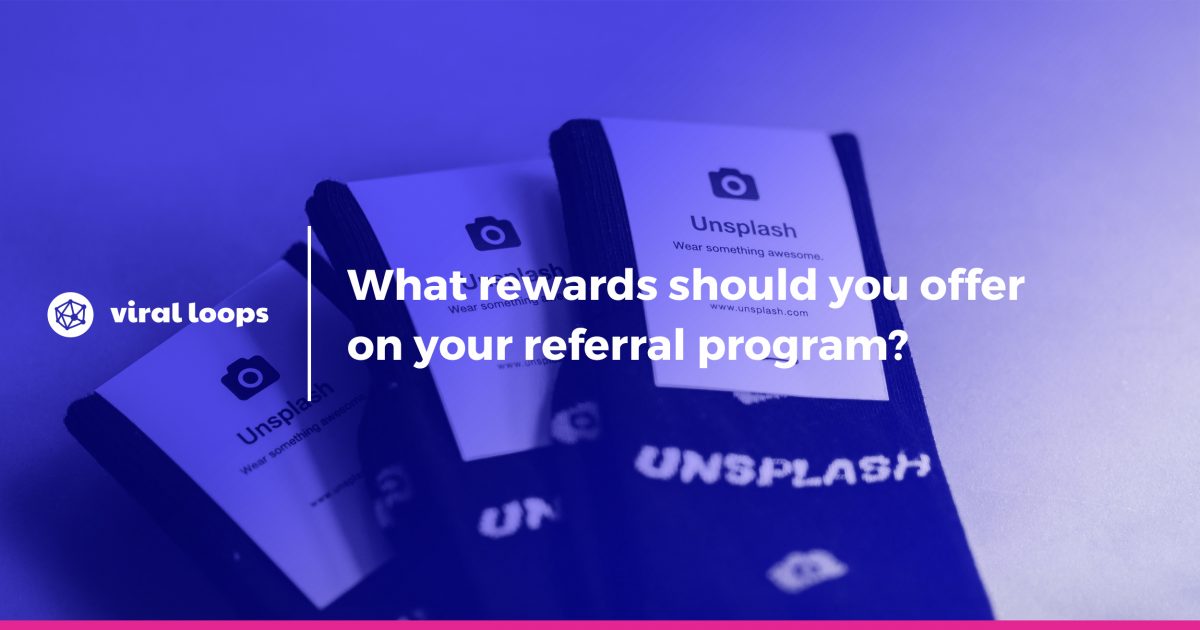 In some of our previous articles, we analyzed the importance of building a referral program for your business, plus how companies like The Hustle & Harry's did it - in a very successful way.
Since we made it for you easier than ever to build your referral program with Viral Loops, I thought of preparing this article in order to help you considering the most interesting aspect of your referral campaign.
The rewards.
By now we've seen a plethora of  referral programs; that's enough for us to know that apart from copywriting and well-planned following up with referrers, the rewards you're willing to provide is one of the things that can make you or break you.
First of all we should cover what's considered a great referral reward and what's the worst choice you can make.
The best referral rewards one can think of
To set this as plain as possible, the worst choice you can make is to reward people with something that doesn't have to do anything with your brand identity - directly or indirectly.
That being said, no iPhones for 50 successful referrals for a shoe retail business.
The point of a referral program is not to bribe people to talk about something they don't care about.  Yes, you'll surely get more referrals by providing an iPhone than free shoe laces for a lifetime, but the reason you build a referral program in the first place is your need for quality leads.
Great rewards align perfectly with what your company or brand stands for. What you offer should boost the connection between your user/customers with you; it should put people in a position where they can't do anything but to talk about you.
I know that this kind of things might sound poetic to you, but I got your back. This piece is dedicated in helping you find the right reward.
Free products
This is an obvious choice. You give free stuff to people for referring their friends. There's not much to say about it, as Harry's has already shown how to do it right.
Harry's followed the concept of a "Milestone Referral Campaign", meaning that when people reached a specific number of referrals (milestone), they instantly win the corresponding prize.
There were 4 milestones in total:
Referred 5 friends = free shave cream
Referred 10 friends = free razor
Referred 25 friends = free premium razor
Referred 50 friends = free shaving for a year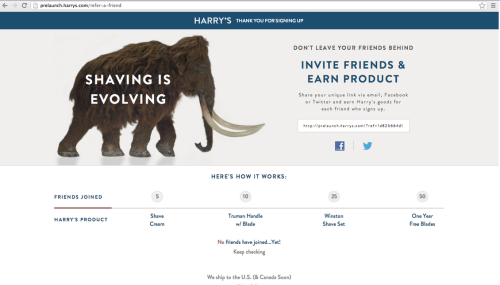 Internal currency
This concept of rewarding revolves around the idea of giving to your users a little extra in exchange for referring you to their friends. This is exactly the system that Dropbox used in its referral program.
Dropbox rewarded with more space on their servers, for each successful referral. The more friends your referred, the more space you got.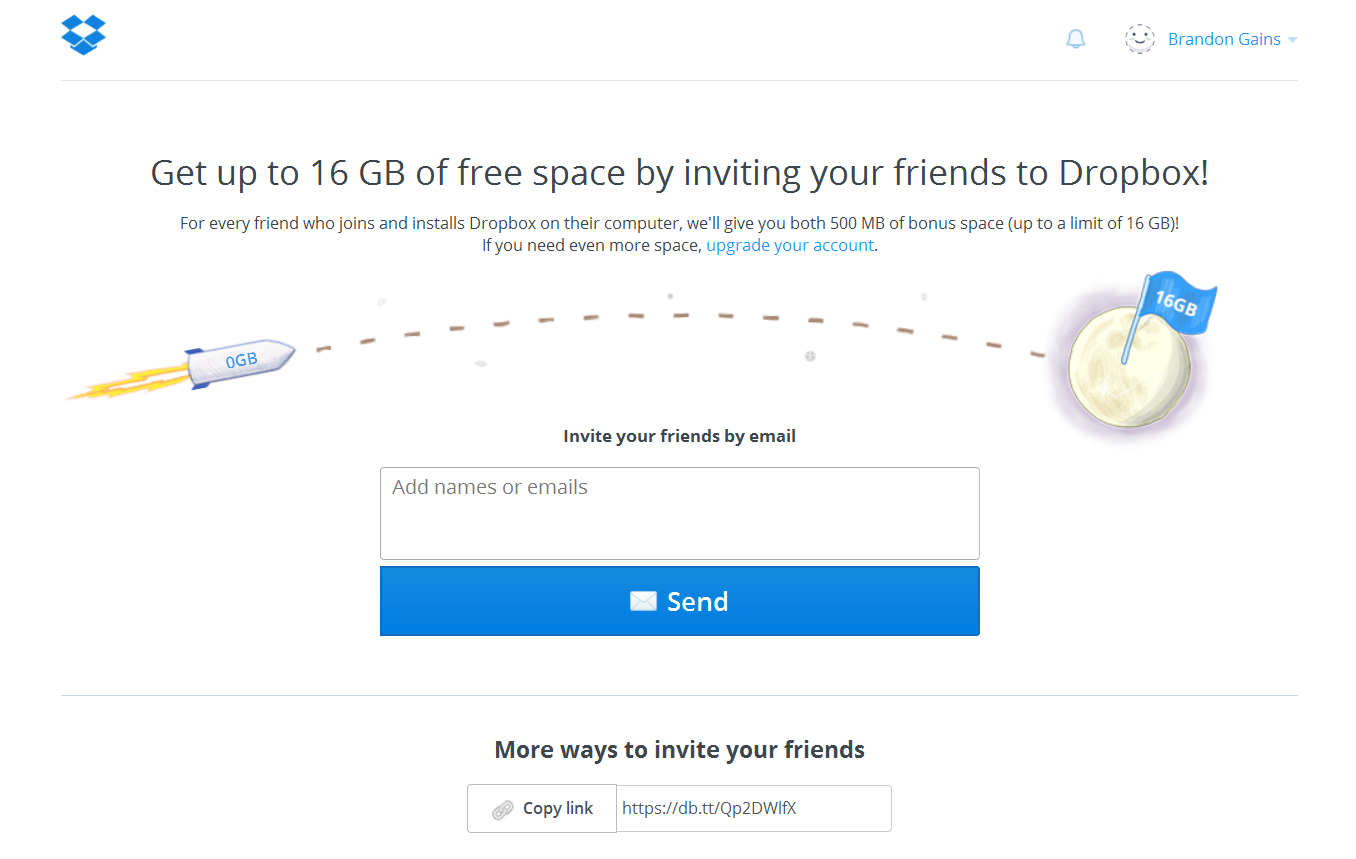 Discounts
This is the most popular option among eCommerce and marketplace businesses that choose to run a referral program.The best practice to follow is to offer 2-sided rewards- that way both the referrer and the referred have something to gain.
This is exactly what Airbnb did by offering $25 discount for accommodation booking to both sides. This referral program became known as the 'altruistic referral'.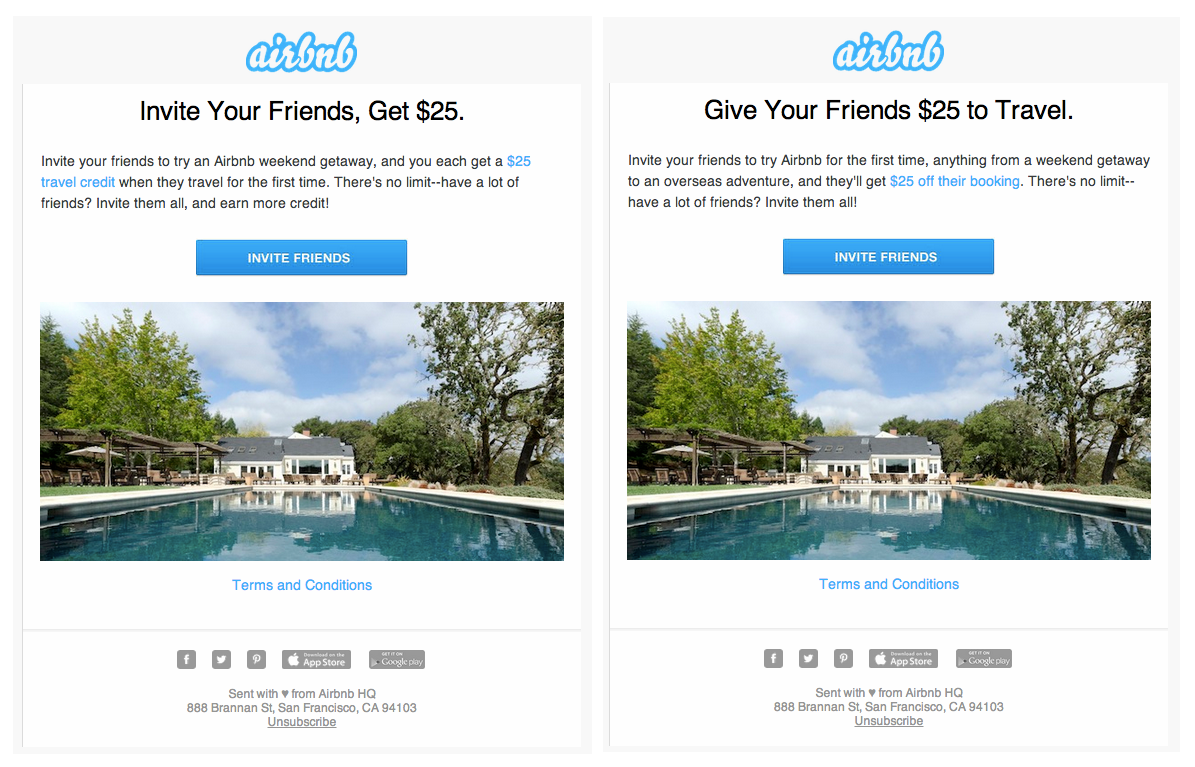 Company Swag
People love stickers, cool t-shirts and colorful socks. Oh, they also love to feel like they are part of a movement. One of the best ways to reward them for being your ambassadors is to make them feel they are part of your team; a team needs a uniform.
A few weeks ago I wrote how The Hustle used company swag to build and establish a kick-ass email list. Be like The Hustle.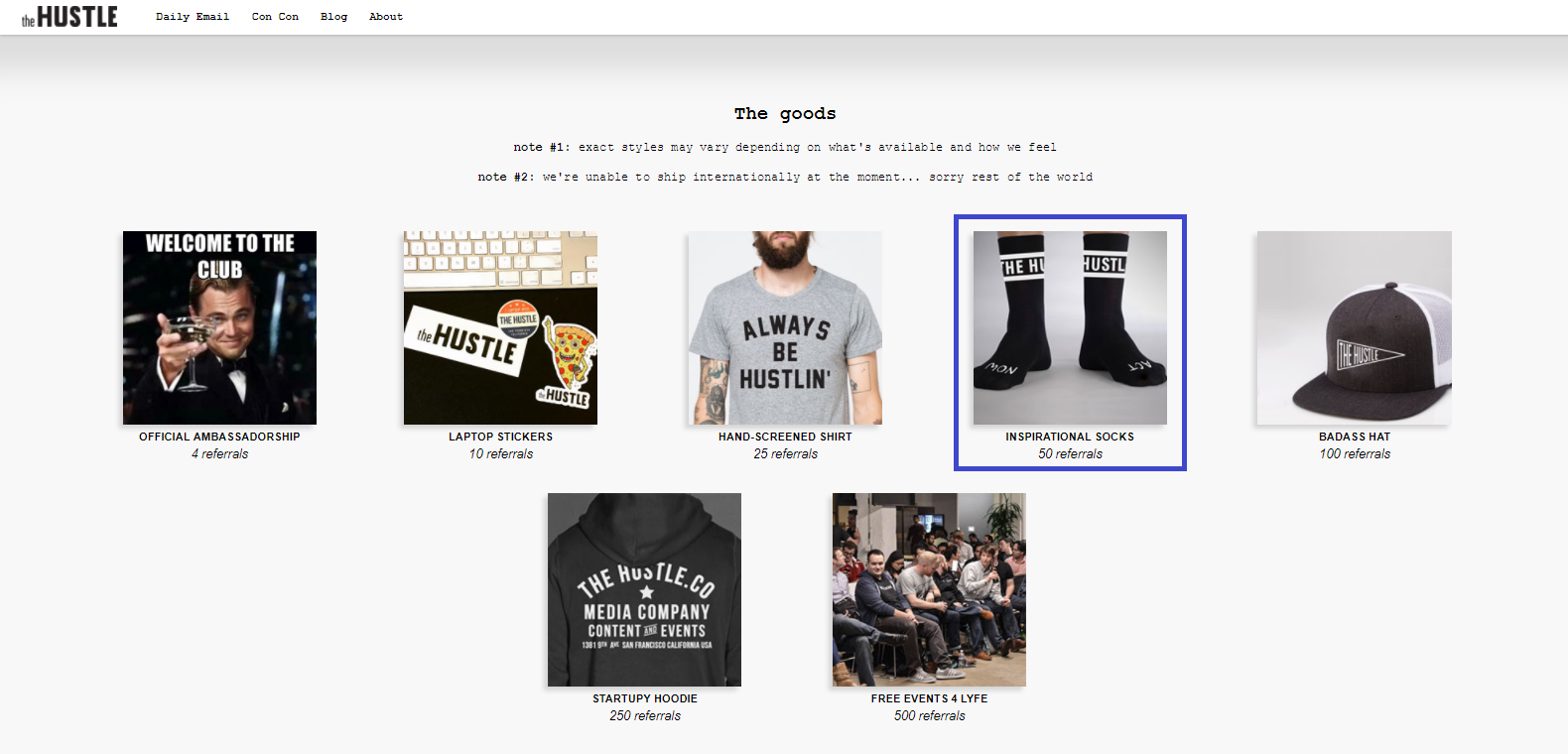 Exclusive content
When you're starting off, the fact that you can't afford to give the reward you want can get awfully irritating. But a valuable reward is not always something that has a big monetary value.
There are things that money can buy, such as your attention and affection towards your users and ambassadors. It's things that you might have in your stash and will make people's lives easier.
Recently, Growth Summit used exclusive access to eBooks, videos, webinars and PDF guides to intrigue people to share the event with their friends.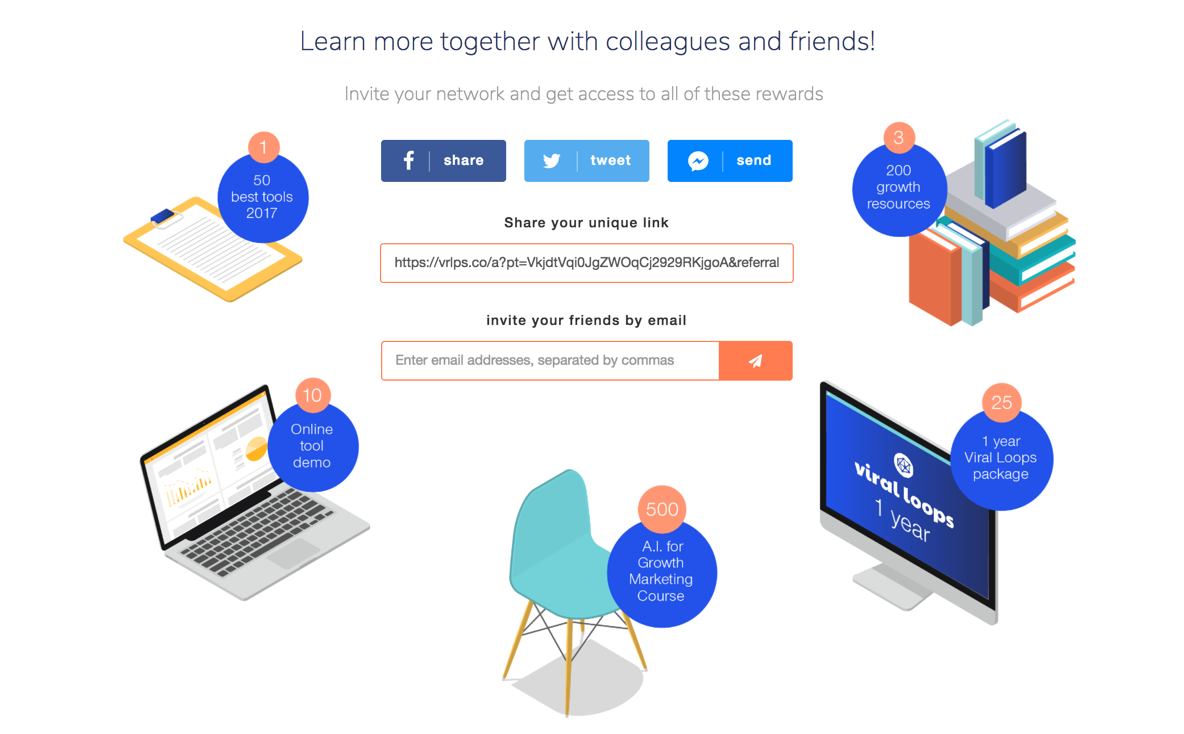 Early access
The feeling of trying something first is a hipsterish sin that I can't keep myself from committing, but that's the way that most of us work. Allowing priority listing to your top referrers is a game changer.
You know why? Because it's a competition, and almost all the achievements of our kind are based on the fact that we are competitive beings. Robin Hood and HeyEngage used a leaderboard campaign to gather all the email addresses they needed in order to launch to a pre-warmed audience.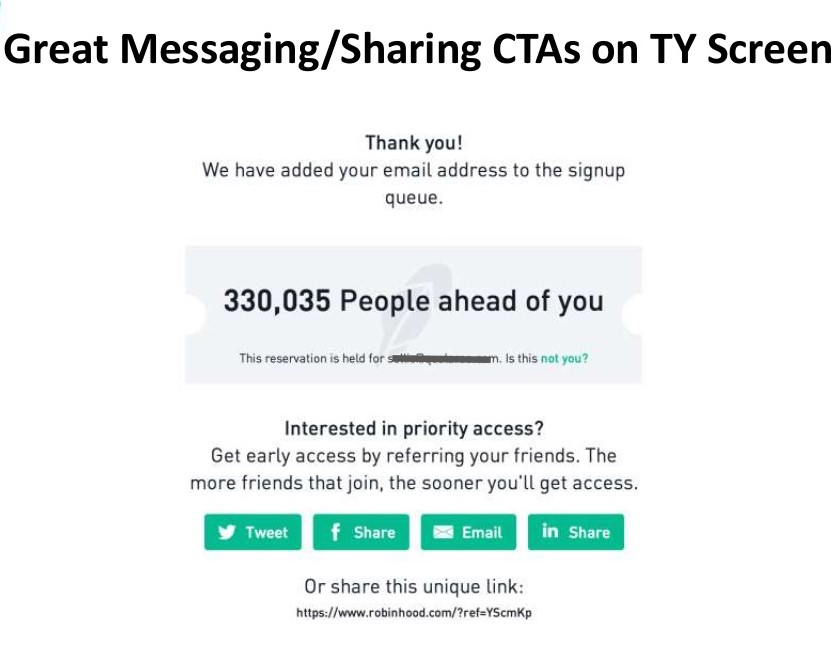 Access to private communities
This is kinda of a combination of making people feel part of the team along with the promise of exclusive content. Facebook groups are thriving and people are dying to part of a community.
The Hustle (once again) offers access to their private Facebook group in exchange for only 4 referrals.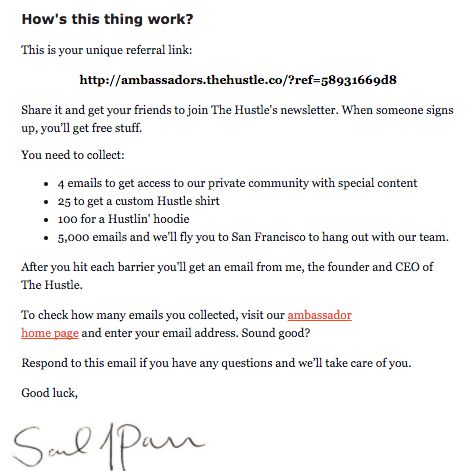 Company stocks
Jet gave free stock options just for becoming an early email subscriber. The used a leaderboard referral program to give to the top 10 referrers 10,000 stock options, and the top referrer received 100,000 stock options.
Eric Martin referred the most people to Jet.com.  At the time, Eric disclosed that he spent just $18,000 on online ads in order to drive Jet.com signups.
When Walmart acquired Jet.com for $3 billion, Martin's share became worth of $20 million. Not such a bad incentive, right?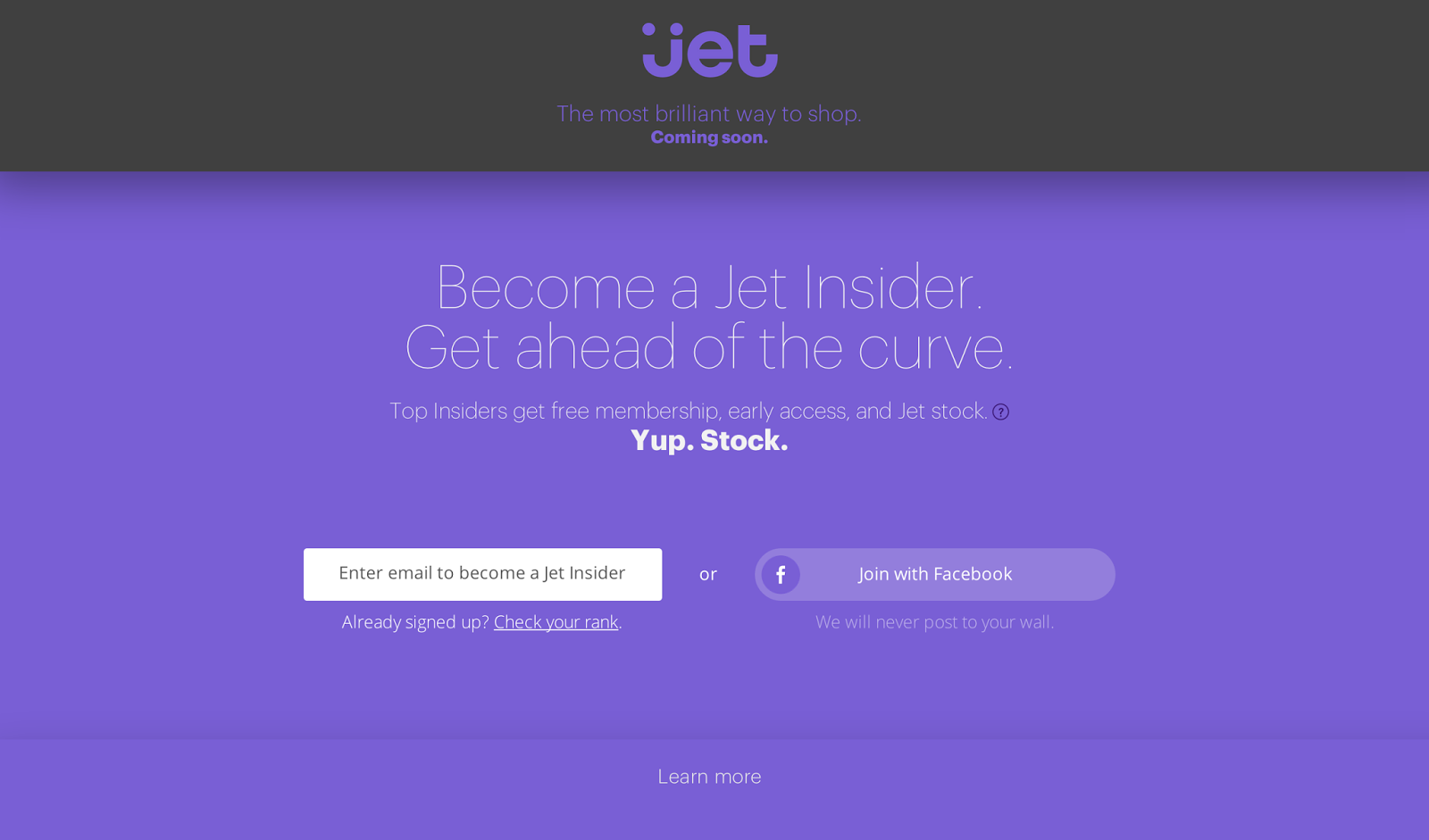 Pure copywriting
There comes one time in everybody's life that we have an epiphany about how this world works. For me, it was the moment that I realized that you can get from anyone, anything, by just using the correct combination of words.
All kinds of rewards described above might not even matter. Back in the day that GrowthRocks started, they thought that a great way to generate clients, was to educate their market about what growth hacking is.
The application for the free seminar was through a landing page. GrowthRocks searched for a way to make people invite their co-workers, partners etc. but had nothing to give in return.
That's why they made an offer that people could resist. After submitting for the seminar, attendees got informed that growth hacking is a team sport, and if they want to get the most out of the seminar then they should invite their teammates.
The outcome: 66% of attendees referred at least one friend.
Before you go
As I wrote in the beginning, referral rewards are kinda of a big deal- or deal breaker. The best way to decide what's the best for you, you can start by considering the options you have in hand.
Search for rewards that will push the awareness about your brand a bit further with the assistance of your happy ambassadors.
Don't overthink. Work with what you have and don't forget that when you can offer more, you should probably do it.
BTW, we're hosting a webinar on viral & referral marketing this Wednesday. Claim your spot now and come chat with us. ✌️

Cheers 😎