Well-executed sweepstakes and contests can always help you as they're excellent promotional tools.
With social media now taking over as an integral element of any company's marketing strategy, your campaigns or promotions can have a much greater reach and help you attract new consumers.
In this guide, you will find a full comparison between sweepstakes and contests so you can be on top of your game.
Let's get right into it!
Table of Contents
What is a Sweepstakes (Giveaway)?
What's the Difference Between Contests and Sweepstakes?
4 Examples of Contests and Sweepstakes
3 Tips on Running Sweepstakes and Contests
Sweepstakes vs Contest: Which is Better?
What is a Sweepstakes (Giveaway)?
Sweepstakes (also known as giveaways) are prize contests where winners are selected randomly from all eligible entrants. 
Prizes might range from stickers and t-shirts to mansions, automobiles, and vast sums of money. 
Also, the only requirement is that the award has some monetary value or is a prize pool.
Occasionally, sweepstakes include extra entries for activities such as introducing friends, sharing the sweepstakes on social media, browsing a website, or viewing a video.
What is a Contest?
A contest is a giveaway that chooses winners based on merit. 
The contest's winner will be the submission with the funniest pick-up line, the most touching essay, the most picturesque snapshot, the tastiest recipe, or anything else that matches the contest's subject. 
Additionally, public voting can determine contest winners.
The main contrast between contests and sweepstakes is that contests don't depend on a random selection process to determine a winner.
What's the Difference Between Contests and Sweepstakes?
The main difference between sweepstakes and contests is the entry and winner selection methods.
Since the promotional policy is relevant to your campaign, one of the most critical components of execution is how you communicate your promotion to your target audience.
Moreover, the campaign you choose to run is entirely up to you and depends on your ultimate marketing goal and marketing materials. 
Sweepstakes are straightforward to arrange and execute; you can establish a microsite and collect participant data online to expand your database, boosting your brand, and your message might spread to millions through viral effects.
Typically, contests are more intimate, attracting a smaller audience. 
However, they can be excellent sources of user-generated material for brand awareness and marketing for business owners.
Sweepstakes: Pros & Cons
Sweepstakes have a lot of potential, even when it's a game of luck.
Yet, you must have a full round of the bad and the good before making up your mind for the sake of your marketing efforts.
Advantages of sweepstakes
Encourage people to visit websites and participate:

 
A fantastic product is useless to a corporation if its clients are unaware of its existence. Giveaways assist businesses in attracting visitors to their websites so they may learn about their products.
People are highly motivated to visit a company's website because of online sweepstakes, and many will continue to browse the site to discover what the firm offers.
Hence, companies take advantage of this social media promotion by "teasing" prospective customers with content they are likely to love. 
Can help build an email list fast:

 
A company's email marketing list is a terrific marketing tool to engage you in conversation and keep you updated about its products and services.
This is why most competitions and sweepstakes include the option to join the sponsor's mailing list; they might even make subscribing a prerequisite for entry and promotional drawing.
Since newsletters are a critical means of contacting potential clients, many businesses use newsletter signups to determine the effectiveness of a gift.
Offer useful market research
Many contests include optional or obligatory survey questions on their sweepstakes registration forms. 
Why?
Because many corporations can leverage survey findings to create more successful types of giveaways in the future.
Let's see what the disadvantages are all about.
Disadvantages of sweepstakes
Not targeted enough audience:

 
Anyone can go through the contest entry process, including those who have no interest in the brand.
People can just enter to win rewards or prize draws to receive free stuff, increasing the likelihood of receiving low-quality leads.
Users participating in the sweepstakes can forget about the brand once the promotion has concluded. 
Consequently, they may not return for a purchase.
Generally, sponsors run contests and sweepstakes because prize promotions efficiently increase their revenue. 
As soon as sweepstakes are no longer lucrative, businesses will discontinue them. 
To encourage organizations to continue doing additional prize giveaways, it's crucial that sweepstakes have the desired results.
Sweepers also have rights; participating in contests doesn't require getting spam or purchasing.
By knowing how to protect themselves from unsolicited marketing mail and detecting the indications of a sweepstakes scam, sweepstake participants can prevent firms from taking advantage of them when entering sweepstakes.
Contests: Pros & Cons
It's time to weigh the pros and cons of contests.
There's always more to a contest than just a game of chance. Let's see this right below.
Advantages of contests
After building brand awareness and increasing your subscriber base, the next logical and essential step is to increase sales. 
Contests are a great way to convert your business leads into valuable customers, especially for the winners who have just tried your product for free (if you chose to offer your own product or service and not a random iPad) and will likely return to purchase more if they're satisfied.
Remember that if the product is relevant to them, they were probably seeking it in the first place, and by providing it for free, you have moved ahead of your competition.
Turn followers into brand ambassadors: 
Internet users are always eager to spread the word about something free. 
If you launch a social media contest that gives anything of value for free, such as a present from your business, a free term of service, a trip, a book, or a gift card/certificate, you are sure to receive a flood of submissions. 
In addition, many participants will want to share the money (or potential for it) with their family, friends, and colleagues. 
As a result, your followers will become brand advocates.
Contests can develop emotional relationships. 
This frequently occurs when contestants are requested to provide content, such as images, films, pinboards, slogans, or jingles.
Similarly, contests that allow participants to select a winner foster emotional bonds. In addition to promoting customer-brand engagement, these contests promote discourse across relevant online groups.
Now, it's time for the negative aspects.
Disadvantages of contests
Demand for money and time:
If your company is small, you may not have a dedicated individual to oversee the implementation of a social media contest. 
You'll need someone to answer questions, collect entry forms and entry fees, and distribute the reward to the winner. 
In addition to time, you will also be awarded a monetary or physical prize. 
Regardless, this will incur costs, so you must ensure you can afford it. 
Hopefully, the contest will result in more sales, but you should still ensure you can afford the initial outlay.
Having legal restrictions:

 
In addition to legal requirements, holding a contest has other ethical responsibilities. 
To win a reward, contestants must submit sensitive information such as their address or phone number while entering a competition. 
Hence, the official rules and law require safeguarding the data when collecting, storing, or exploiting information on customers or prospective customers.
Due to the many state laws and restrictions, it may take time to establish an internet marketing competition. 
Because it must comply with several regulations, you must carefully plan the contest regarding its scope and eligibility requirements. 
Therefore, it may not always be a less expensive method of marketing the firm in some cases.
In general, remember that contests requiring some effort from the contestant are more interesting since the fan is actively participating—in other words, being involved. 
Adding a voting or sharing component, which happens frequently in these contests, increases participation by including others.
4 Examples of Contests and Sweepstakes
If you're looking for some contest inspo, the below examples will give you some ideas.
Let's see how these businesses created successful contests and sweepstakes.
Example #1: Baskets Galore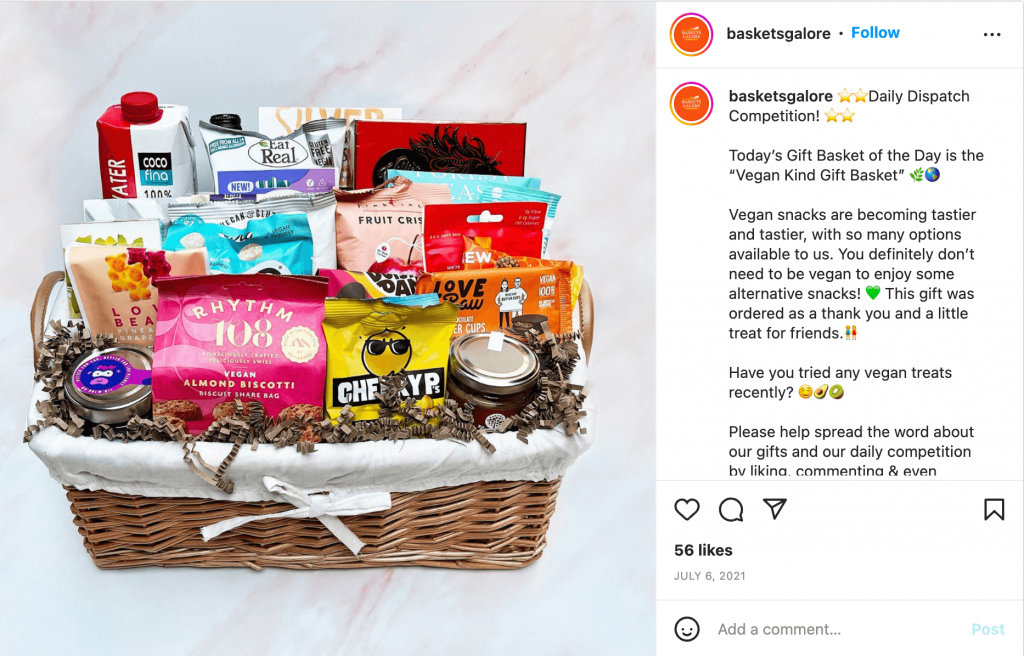 Image Source: Instagram
This Instagram giveaway from Baskets Galore employs a new method. 
Instead of the traditional "like and comment" to enter, they ask followers to select one of their "daily dispatch dates" to promote continued involvement.
They also entered everyone connected with those daily dispatch postings across their social media profiles into a random draw to win a luxury gift basket. 
This Instagram contest is a terrific example of an inventive technique to avoid once-and-done submissions in which a participant completes the entry requirements but then unfollows your accounts or never interacts with your company again.
Example #2: Primally Pure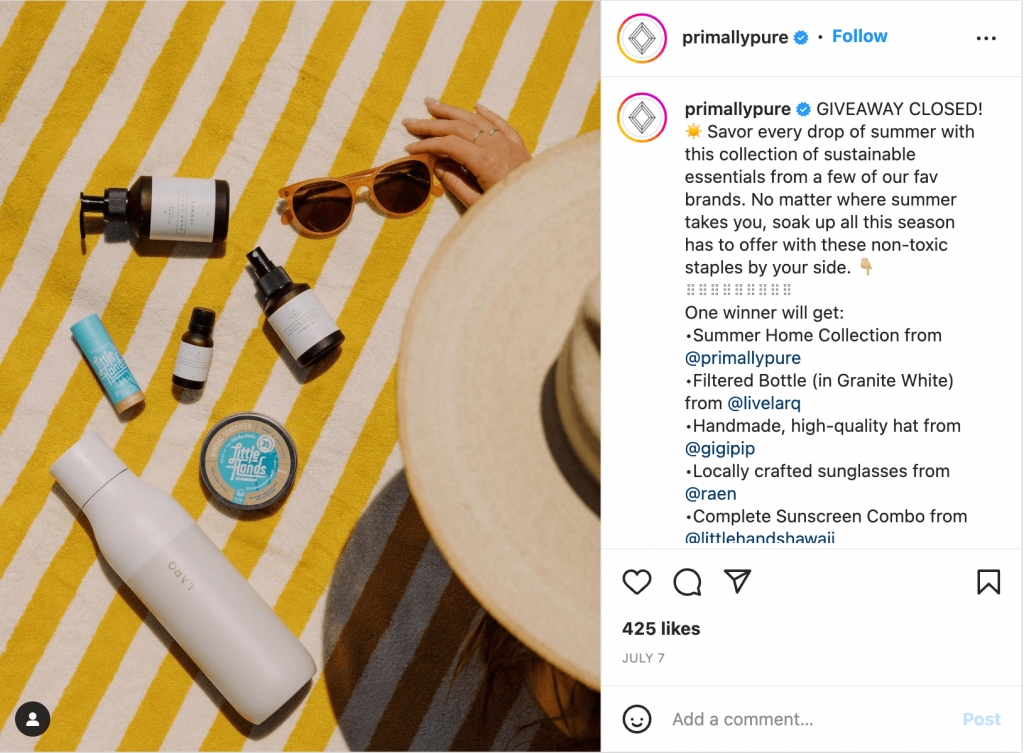 Image Source: Instagram
Co-hosting a giveaway with businesses your target audience already follows is a tried-and-true method for expanding your reach. 
Primally Pure made a very smart move by combining its resources with fellow businesses to build the best possible reward package. 
You can always employ the "follow to win" tactic by requesting that contestants follow you and your partners.
Example #3: Funko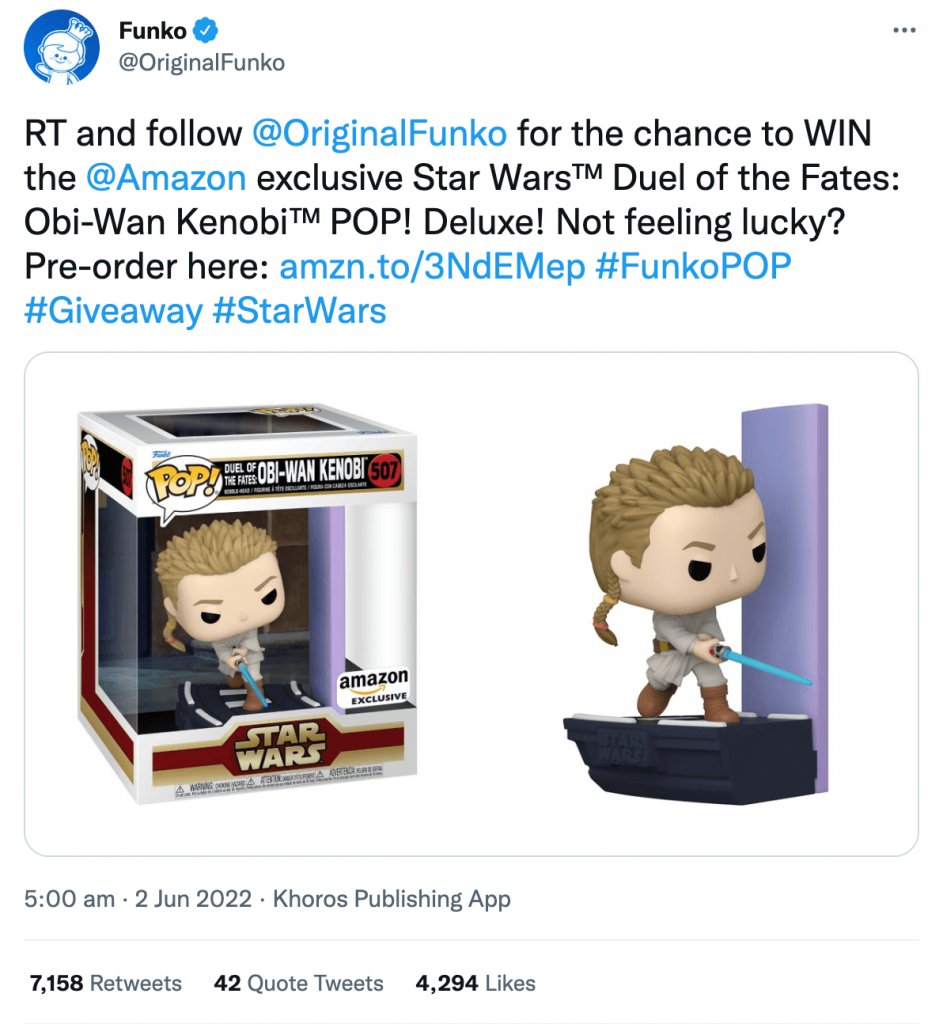 Image Source: Twitter
Ask users to follow your social network profile in exchange for a chance to win.
As simple as that, with an element of luck!
In return for a follow, the pop culture toy company Funko gave users the chance to win an exclusive Obi-Wan Kenobi toy. 
For those who didn't want to wait for the sweepstakes to conclude, Funko also provided a link to Amazon.com.
Example #4: Sococo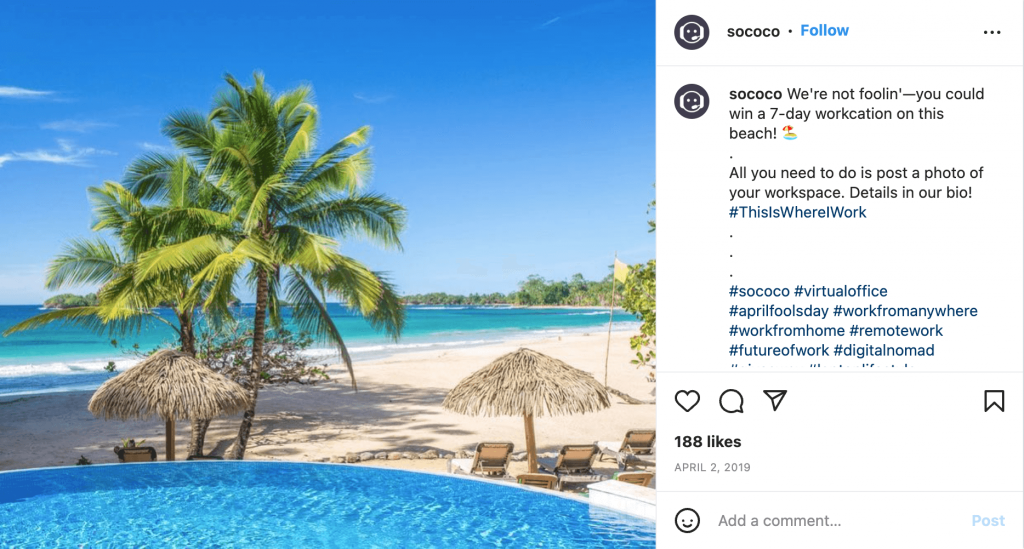 Image Source: Instagram
Sococo provides a seven-day workcation to anyone who submits the best image of their workspace.
The message is simple, and the award is relevant to Sococo (which is an online workplace for distributed teams). 
Who wouldn't like to work remotely from this location?
The most effective way to market your photo contest is by announcing it in an Instagram post that describes the contest, emphasizes the prize, and encourages others to participate.
Furthermore, to maximize awareness and participation, you should continue posting reminders until the submission deadline has passed. 
In addition, sharing some of the most excellent submissions you've already received is a great way to generate excitement and encourage others to submit their work.
3 Tips on Running Sweepstakes and Contests
While setting your goals and putting everything together, you'll need more of a kick.
These tips will help you move forward!
Tip #1: Choose brand-relevant prizes
It's essential to favor quality over quantity when submitting entries. 
The objective is to attract individuals likely to purchase your products or services, so you must attract people interested in your services. 
Therefore, consider offering your service as an incentive.
Users who win a reward associated with your service are more inclined to share it with their social networks, mainly if you provide an incentive. 
This type of organic sharing is vital since it's effectively a word-of-mouth (WOM) endorsement for your brand. 
Also, suppose the reward is something your company sells or is directly related to. 
In that case, additional individuals and new customers will be interested in participating in your next campaign to learn more about your brand.
Tip #2: Spread the word
Many businesses wrongly assume that people will magically learn about their contest and hurry to register, since who doesn't like free stuff? 
Sadly, it's not that straightforward. 
If you want your offer to have a significant impact, you must advertise it often and across all channels. 
Create a space on your website, include giveaway information in your newsletter, and share the word frequently on social media. 
Moreover, change your wording and timing on social networks and monitor the response rate as you make these modifications. 
You may discover that more individuals are eager to engage in the evening when "distraction time" is available and they're reaching the end of the day.
Tip #3: Leverage tools
You can always use tools to market your giveaway or run sweepstakes. 
It will make your life a lot easier!
When using suitable tools, you'll have better access to any required data, and you'll be able to enhance your brand awareness.
You can do just that by giving our Viral Loops templates a shot; you'll be able to utilize an effective giveaway strategy to build your prelaunch list.
In addition, we have different templates for various giveaways, and you can try them for absolutely free.
Sweepstakes vs Contest: Which is Better?
Hosting sweepstakes or contests depends primarily on your marketing objectives or the activities you want your audience to participate in.
Sweepstakes winners are selected solely by chance and often have a simple entry process or an alternative method of entry. 
With contests, you have greater discretion over how you choose your winners. 
Also, some companies may choose a third-party agency to select the winners of their giveaways, while others may encourage their supporters to vote or decide.
Contests allow businesses to be more explicit about the activities they want participants to perform. 
For instance, if you wish to curate user-generated content, you might establish audience criteria. 
Now Over To You
That's a wrap!
Remember to determine the type of promotion you will run by identifying your business objectives in advance. 
Ask yourself this question: "What is the major goal of this promotion?" You will be able to select the best element of consideration for achieving this objective. 
Feel free to visit our blog to learn more about various topics.
We hope to see you soon!